Make a dinner the whole family will love when you select from this collection of 40 delicious and easy Chicken Recipes! There are casseroles, stir fries, salads and more.
Chicken is one of those foods you can make in so many ways. And, it's a good thing! If your family is anything like mine, it seems we end up eating chicken in some form or another, several nights a week.
But, when there are a variety of ways to cook and serve it, why not?
I believe the trouble with most of us, myself included, is we get stuck in a rut with the same old ways of preparing it or using one of our tried-and-true recipes.
But, after so many times of serving it the same old way, that once delicious chicken dinner can be kind of blah and boring, right? If this sounds familiar, then you are going to love this collection of Easy Chicken Recipes!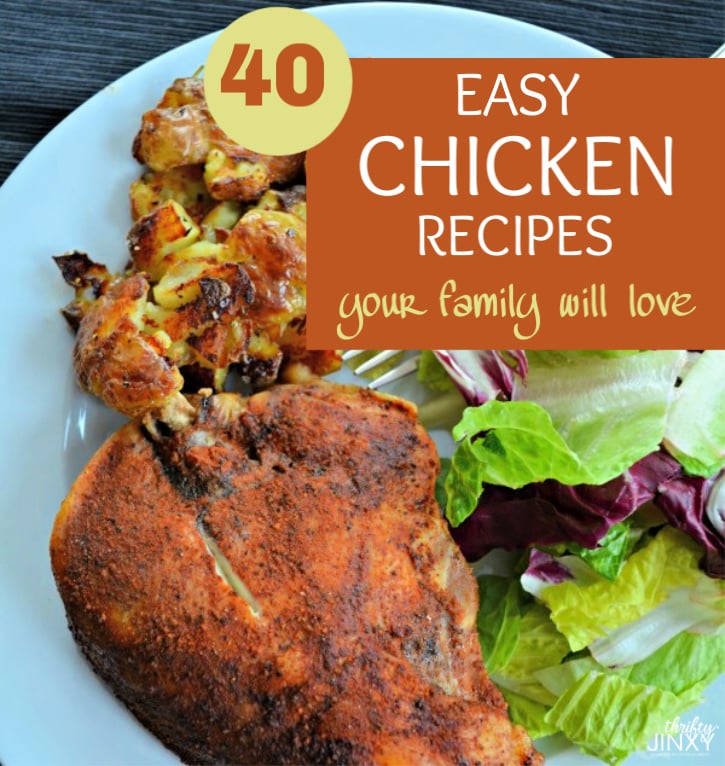 In this yummy collection, we have 40 absolutely delicious chicken recipes your family is sure to love! Each of the recipes is super easy to make and they all use common ingredients – as in none of that fancy stuff you can't pronounce let alone know what it is 🙂
And, with 40 new recipes, it opens up a whole new world of yumminess! Instead of hearing "chicken again?", sit back and watch the smiles on your family's faces!
So, grab a cup of coffee or your favorite beverage and come sit a spell. Browse our yummy collection and pick out your favorites.
Better yet, print them out or bookmark the page so you can come back to it. Give a few a try and work them into your menu rotation for a delicious change of pace. Your family is sure to love them!
Keep reading below to see all the delicious & easy Chicken Recipes!
40 Easy & Delicious Chicken Recipes
Tired of cooking chicken the same old ways? Then, you are going to love this delicious and easy collection of Chicken Recipes! These recipes are super easy to make and use common ingredients.