Recently there has been a lot of news regarding the dangers associated with certain dog treats, particularly those made with chicken or sweet potatoes, and dogs becoming ill or dying – particularly from kidney failure. A great way to avoid these dangers is to make your own treats! Plus, you have the added assurance of feeding your dog something freshly made by YOU and they are a lot cheaper than store-bought treats too.
I already love to make homemade potato chips in the microwave for the humans in our family to eat, so I slightly adapted that recipe to make homemade sweet potato dog treats for our Toby. They are easy to make and Toby LOOOOVES them!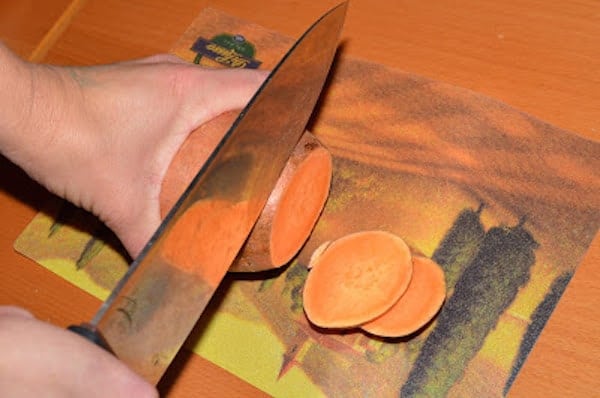 Homemade Sweet Potato Dog Treats in the Microwave Recipe
Ingredients:
Sweet Potatoes
Cooking Spray (I prefer oil in my own Misto mister bottle.)
How to Make Homemade Sweet Potato Dog Treats:
Start by scrubbing potatoes well. I leave the skin on, but you could peel them if you like. Cut into 1/8″ thick slices.
Spray a microwave-safe dinner plate lightly with cooking spray. (You can use a canned spray, but I prefer using my own oil in aMisto mister bottle for both our food AND the dog!) Spread the slices out so they aren't overlapping. If you have any thicker slices, put them on the outer edges.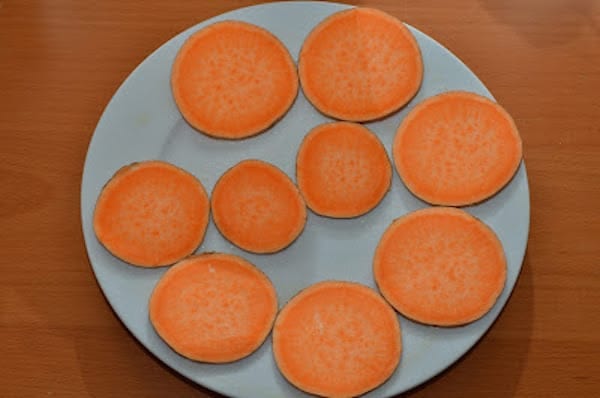 The next step of actually cooking them will vary greatly depending on the wattage of your microwave oven. I have a small 600 watt oven so I cook them for 5 minutes on one side. Flip them over and cook for 5 minutes on the second side. Flip again – cook 2 minutes. Flip again – cook 2 minutes. If your oven is more powerful, I would recommend starting with 3 minutes per side. Keep flipping and cooking until the slices have started to turn crunchy. They will continue to crisp up after you remove them from the oven.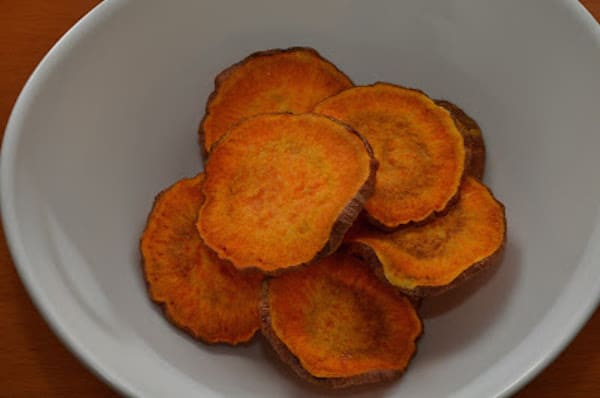 Leftovers can be stored in an airtight container for several days, but if your dog loves them as much as Toby does, they probably won't last that long! I love a cute dog treat canister with a tight-fitting lid. If you try the recipe, please come back and tell me how your dog likes them! If you try the recipe, please come back and tell me how your dog likes them!
Pet Canister 9.8 Cup Dark Grey Paw
Buddy's Line Hammered Stainless Steel & Copper Top Treat Jar, 16 oz
Now Designs Dog Biscuits Tin, Ivory
Also be sure to try our Peanut Butter and Pumpkin Dog Treats Recipe!
&