Combine ground beef and potatoes with some veggies and cheese to create this delicious Hamburger and Potato Casserole! It's the perfect comfort food dinner idea.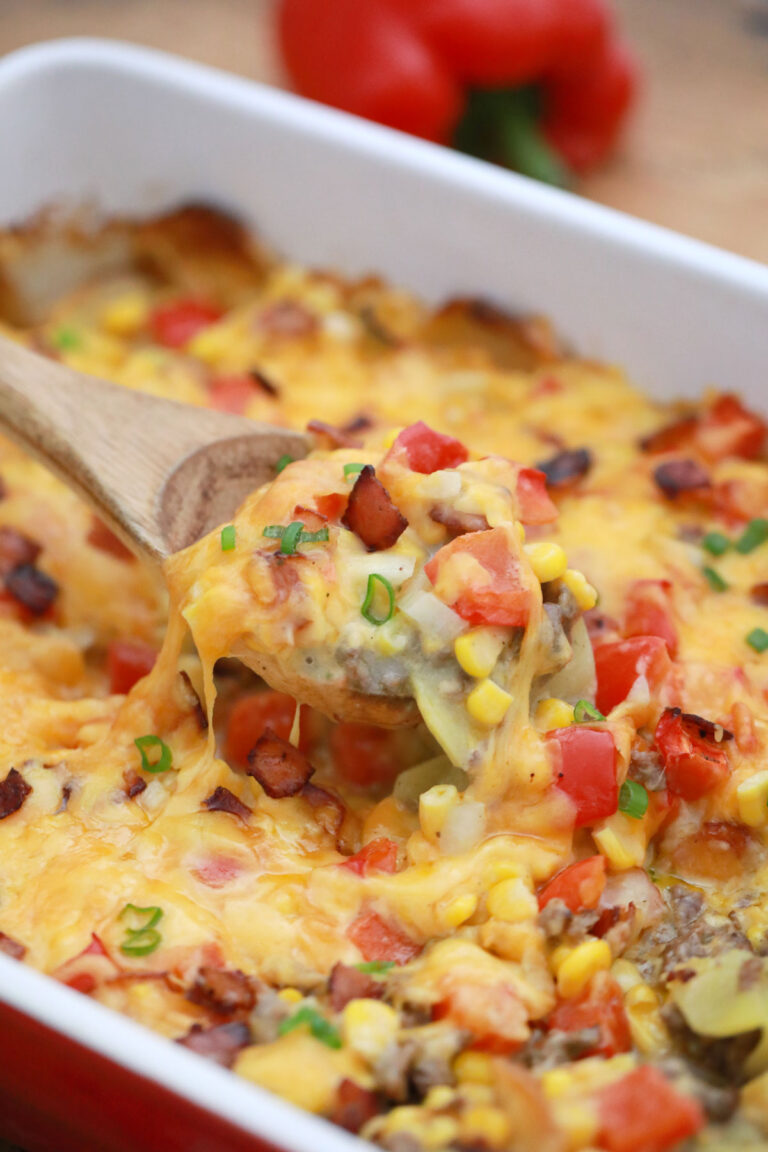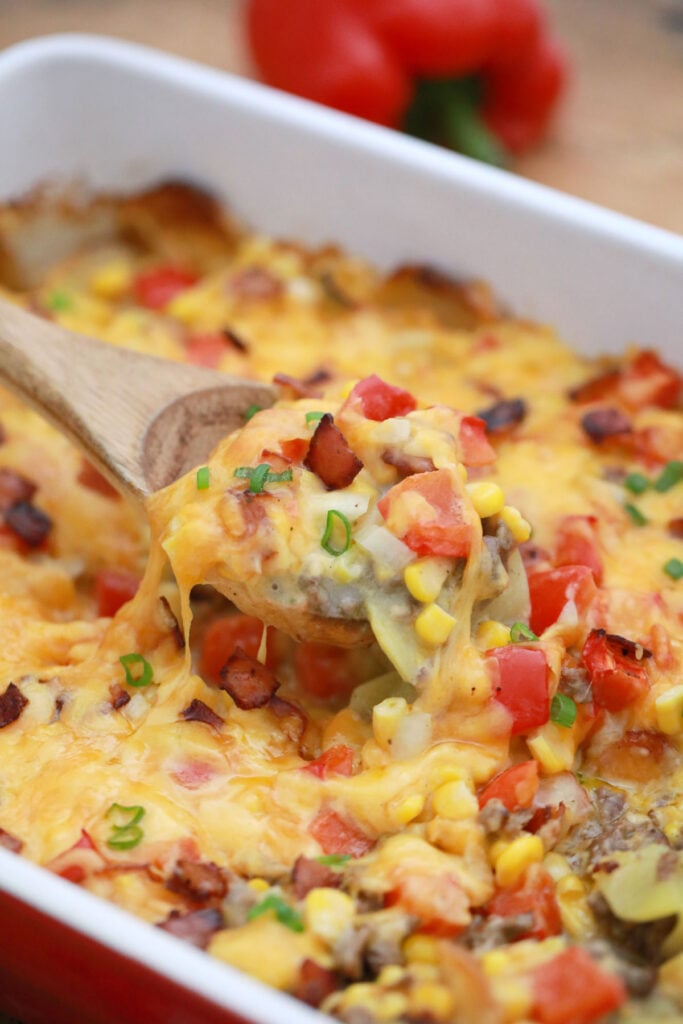 Hamburger and Potato Casserole is one of those easy casserole recipes that is the definition of comfort food. It's delicious, filling and a whole meal in one dish.
All you need is a handful of basic ingredients you probably already have in the kitchen like ground beef, potatoes, and creamy soup.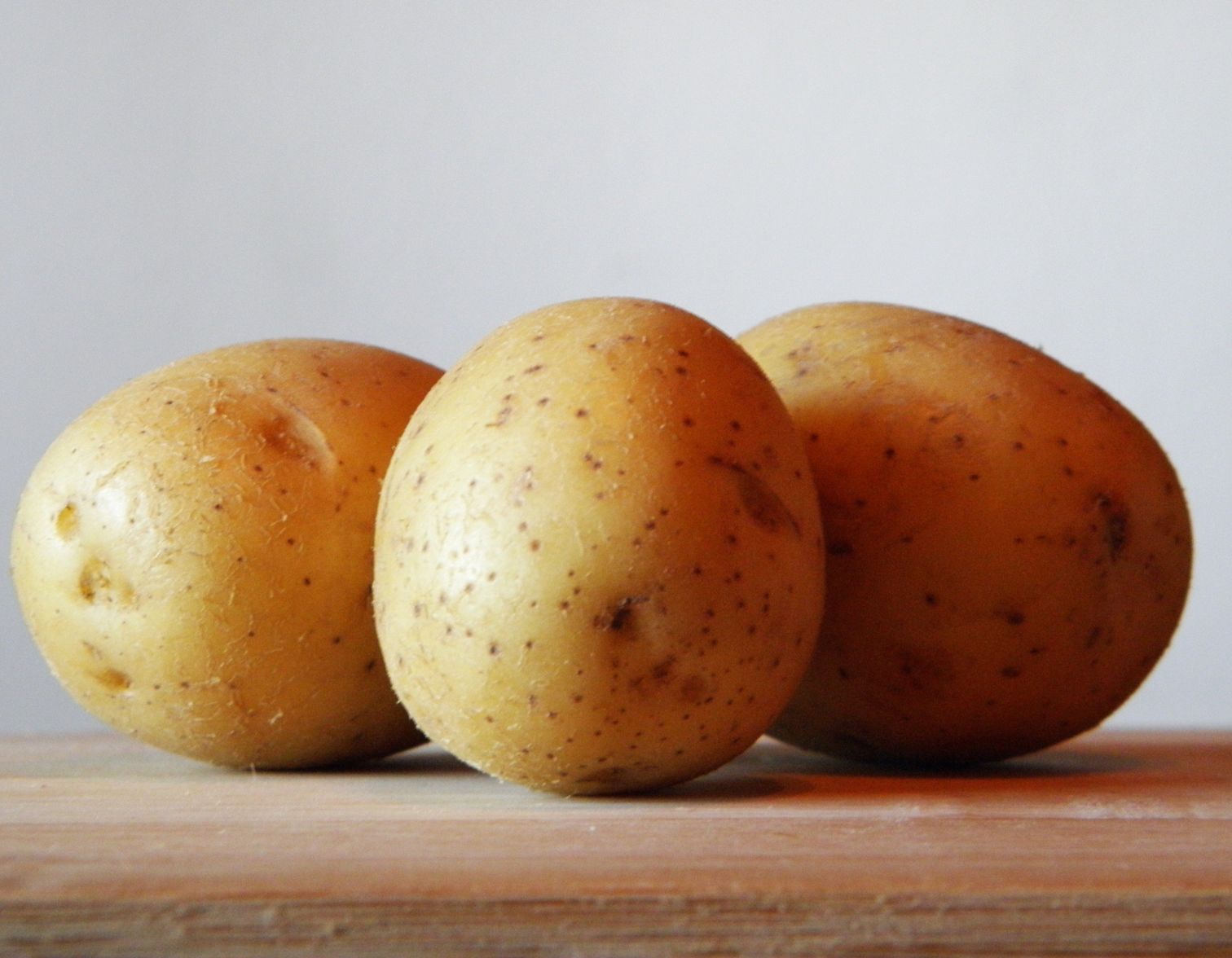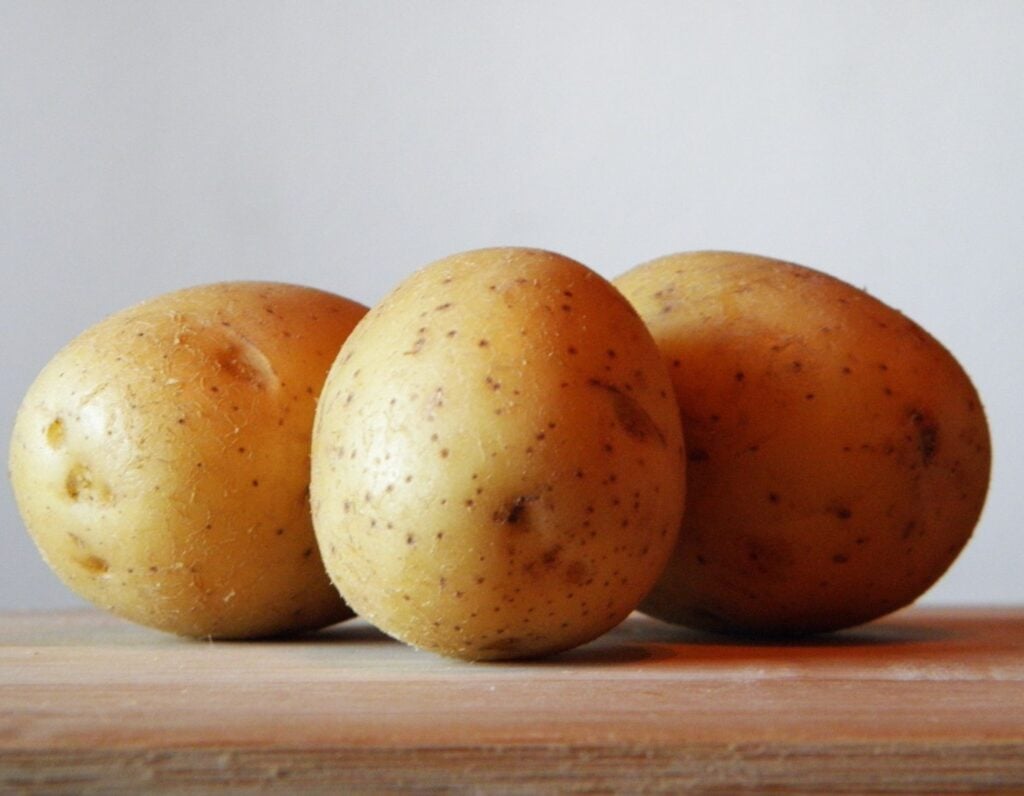 If this is your first time making a meat and potato casserole, you don't have to worry. This is the easiest kind of main dish you can make.
Even if you just chop everything and randomly toss it in the baking dish, it will still taste delicious.
Add some shredded cheese and chopped green onions on top and you have the best comfort food for a cold day.
If you want your casserole to be even more homemade, you can skip the canned condensed soup and make our homemade condensed cream of mushroom soup instead!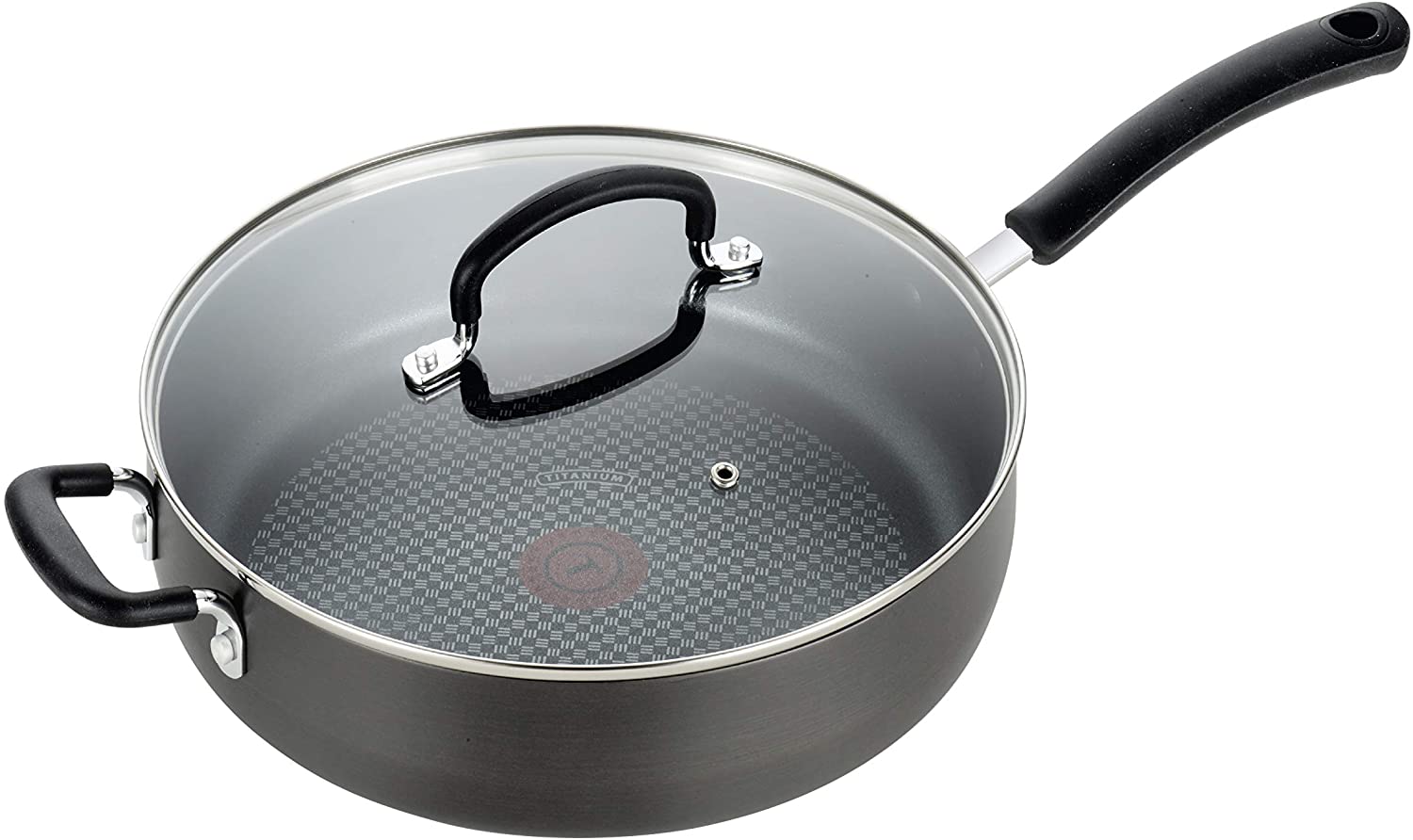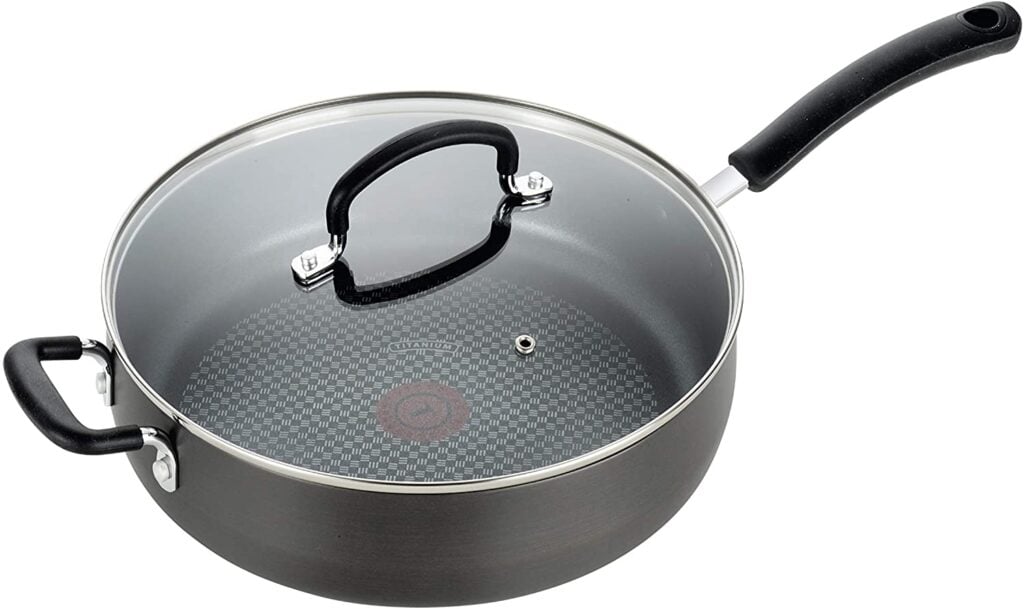 I have some more details below about the cooking tools I used for this recipe, but one kitchen tool I LOVE and use for at least 50% of our meals is this big 'ol jumbo sauté pan.
It fits a lot, is nonstick so it cleans up super fast and even has a glass lid that is oven safe. It is SO versatile! (The only thing different is they have changed the handle style now to be a "knob" instead of this handle.)
Tools I used for this recipe:
Totally Bamboo 5-Piece Utensil Set ♻, Includes: 5 Unique Pieces 100% Organic Bamboo

OXO Good Grips Freezer-to-Oven Safe 3 Qt Glass Baking Dish with Lid

T-fal B36090 Specialty Nonstick Dishwasher Safe Oven Safe Jumbo Cooker Saute Pan with Glass Lid Cookware, 5-Quart, Black

I also just can't rave enough about my bamboo utensils. I don't know why I ever waited so long to start using them!
These utensils are super sturdy and easy to clean. (The "recommended cleaning method" is hand washing, but mine have gone through the dishwasher hundreds of times!)
I also like that they are made of a natural material. It's hard to believe they are about the same price as those horrible plastic utensils you find at the dollar store.
I have the solid bamboo utensils linked above, but I just found this awesome set of bamboo utensils with colored handles and they look fun!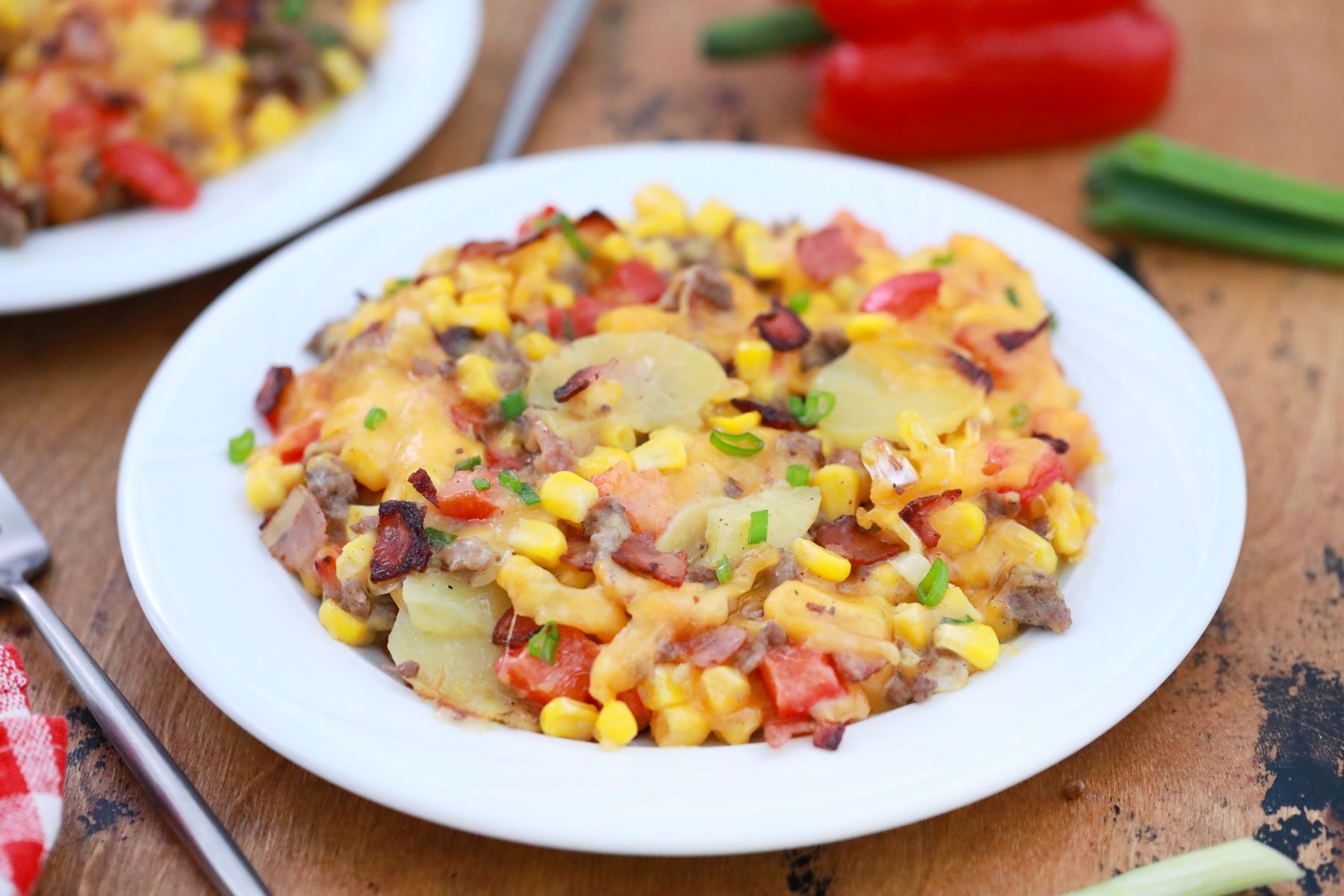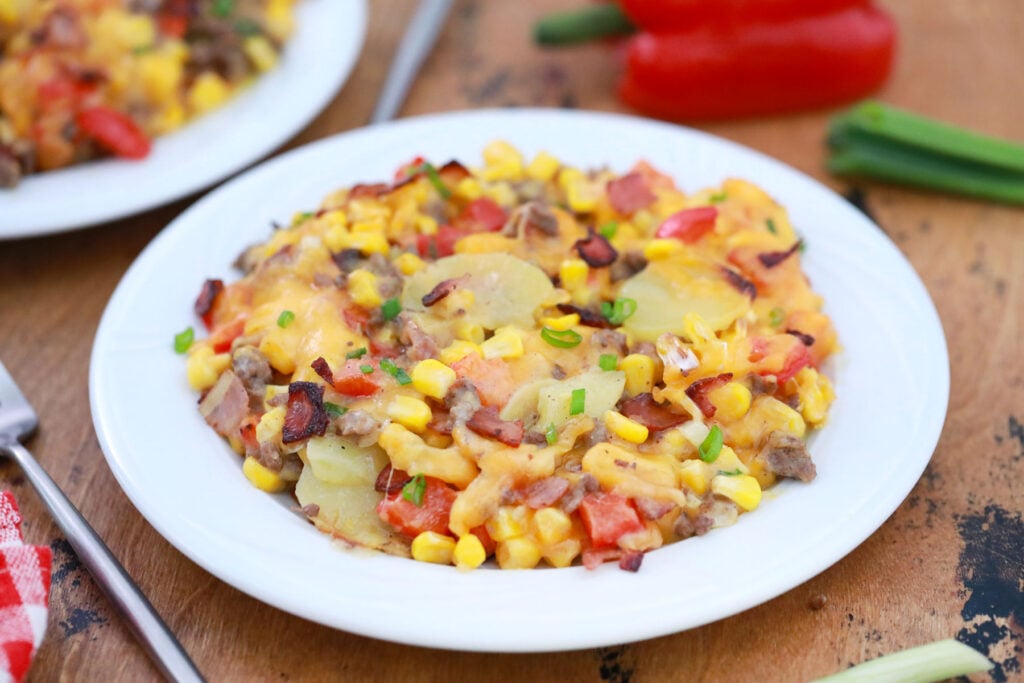 Hamburger and Potato Casserole Recipe
Even though casseroles are a comfort food and an easy dinner recipe, you do not have to feel guilty about serving this to your whole family.
With lean ground beef and potatoes, this great meal is packed with protein and vitamins. An easy and budget friendly dinner that everyone will enjoy.
When a budget is tight, hamburger is one of the most cost effective meats you can buy!
For another option, if you're in a hurry, try this quick and easy ground beef pasta dinner, that is creamy, cheesy, filling, and incredibly delicious.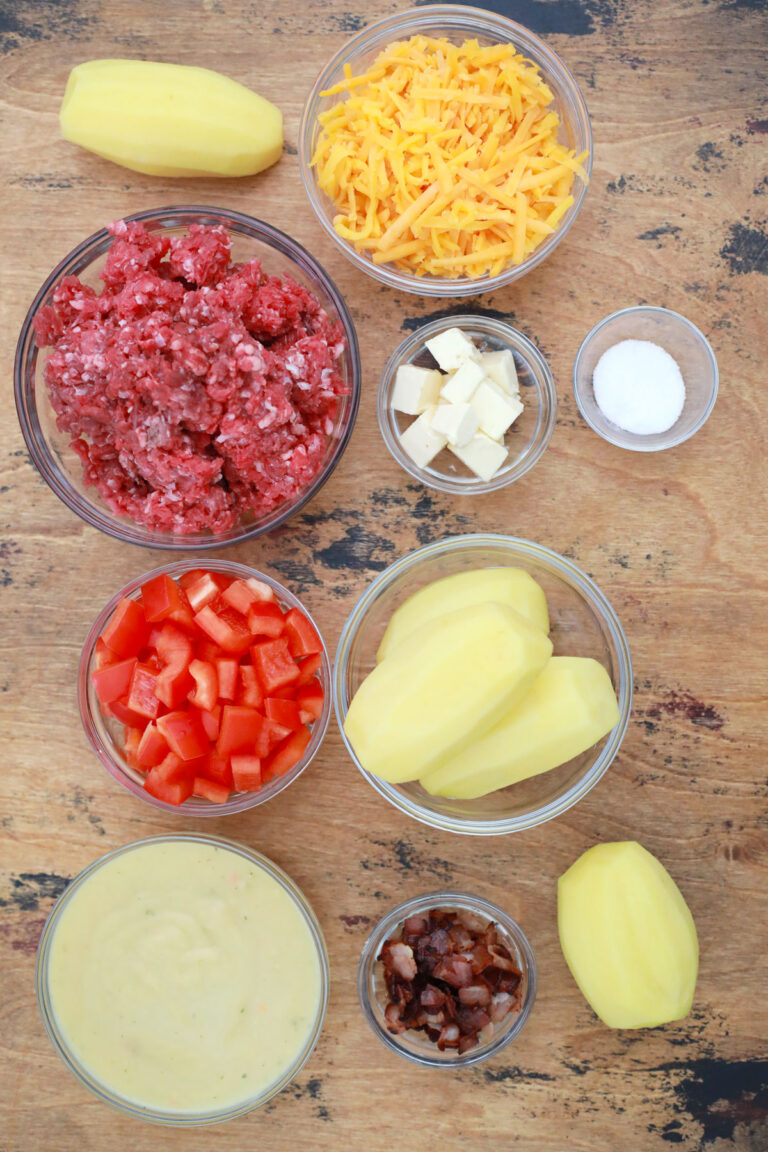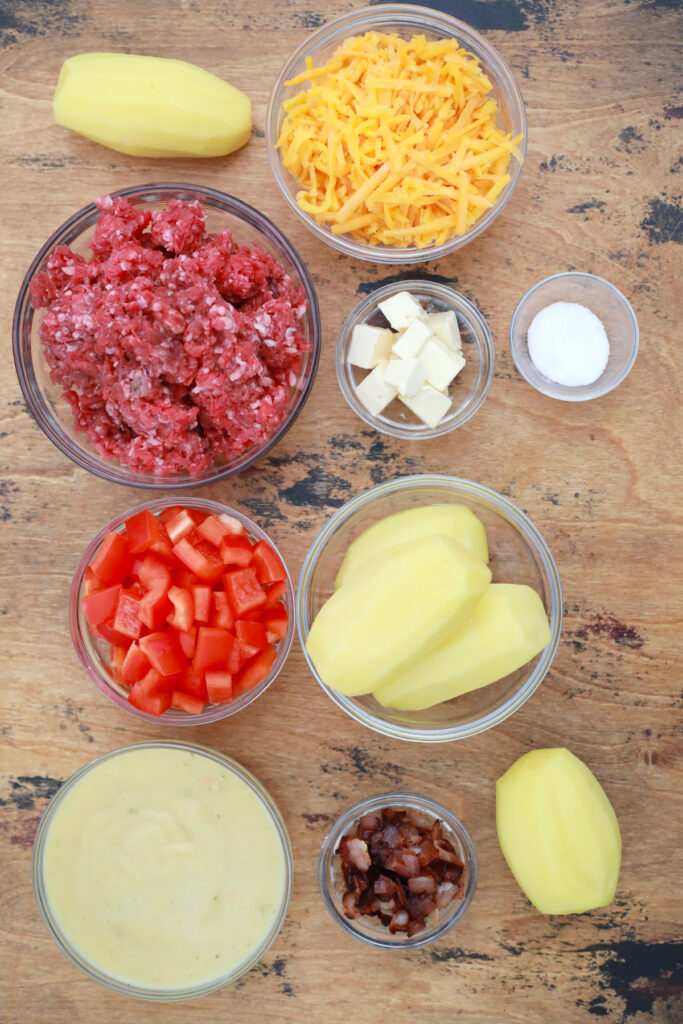 Ingredients needed:
These are the main ingredients you need for this deliciously cheesy ground beef and potato casserole recipe. Scroll down to our printable recipe card for the specific measurements and directions.
Russet potatoes: Peeled and sliced thin.
Butter: Melted and cooled to room temperature.
Ground beef: We used 80/20 lean ground beef.
Corn: Either canned or frozen will work.
Red bell pepper:
Condensed cream of mushroom soup: Not diluted.
Whole milk: Or you can use skim milk or almond milk, whatever you like.
Onion:
Shredded cheddar cheese: We used sharp cheddar cheese.
Crispy bacon:
Fresh parsley:
Garlic powder
Salt
Pepper
How to cook this casserole from scratch?
Preheat: To begin, preheat your oven at 400 degrees F and grease the bottom and sides of a 13×9-inch casserole dish.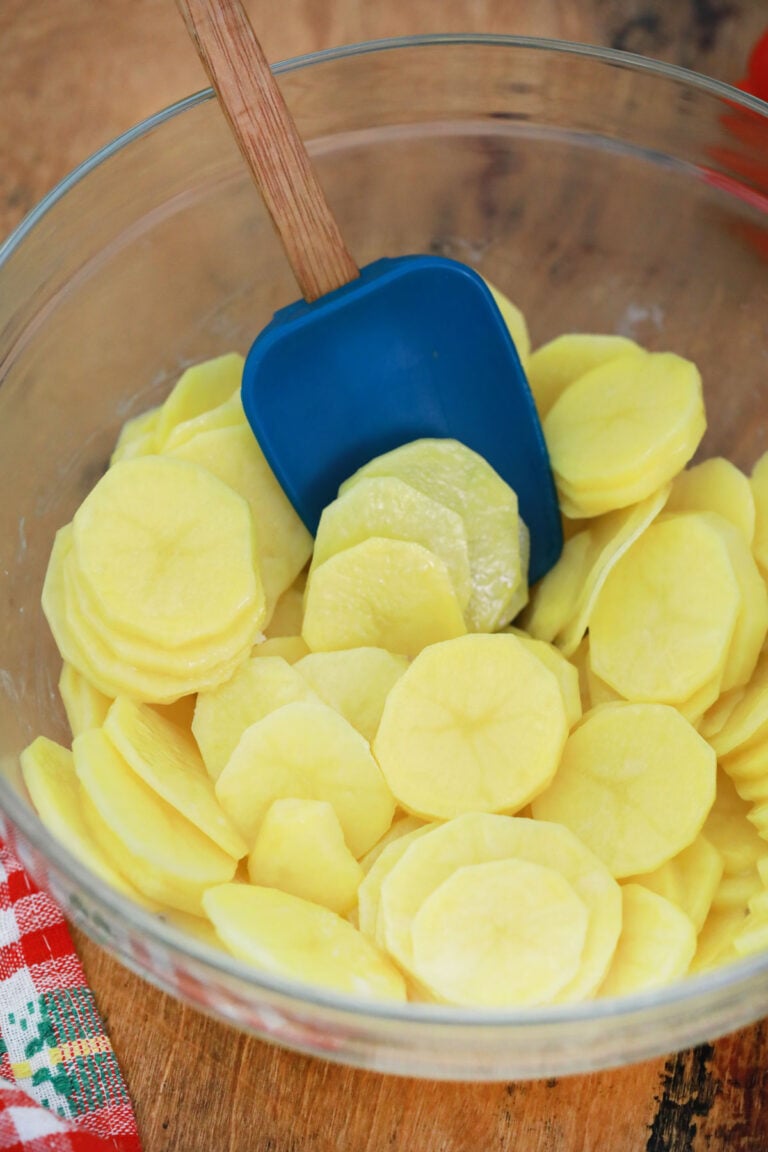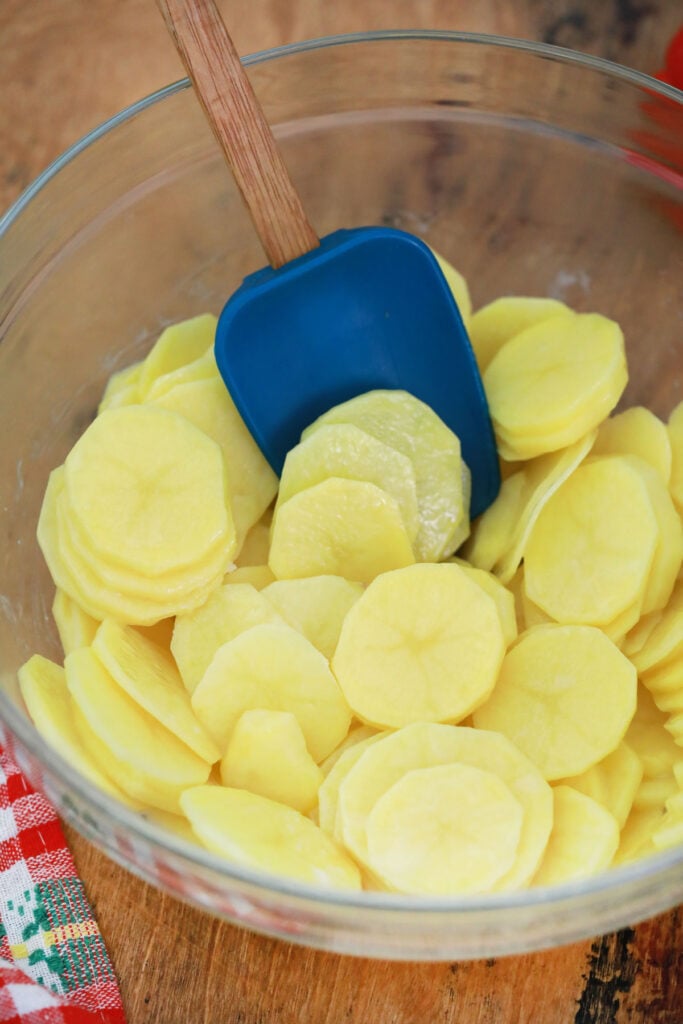 Cook the potatoes: Meanwhile, toss the potatoes with salt and butter in a large bowl. Then, arrange them on the bottom of the dish and up the sides. Bake in the preheated oven uncovered for 25 to 30 minutes or until they are almost fork tender.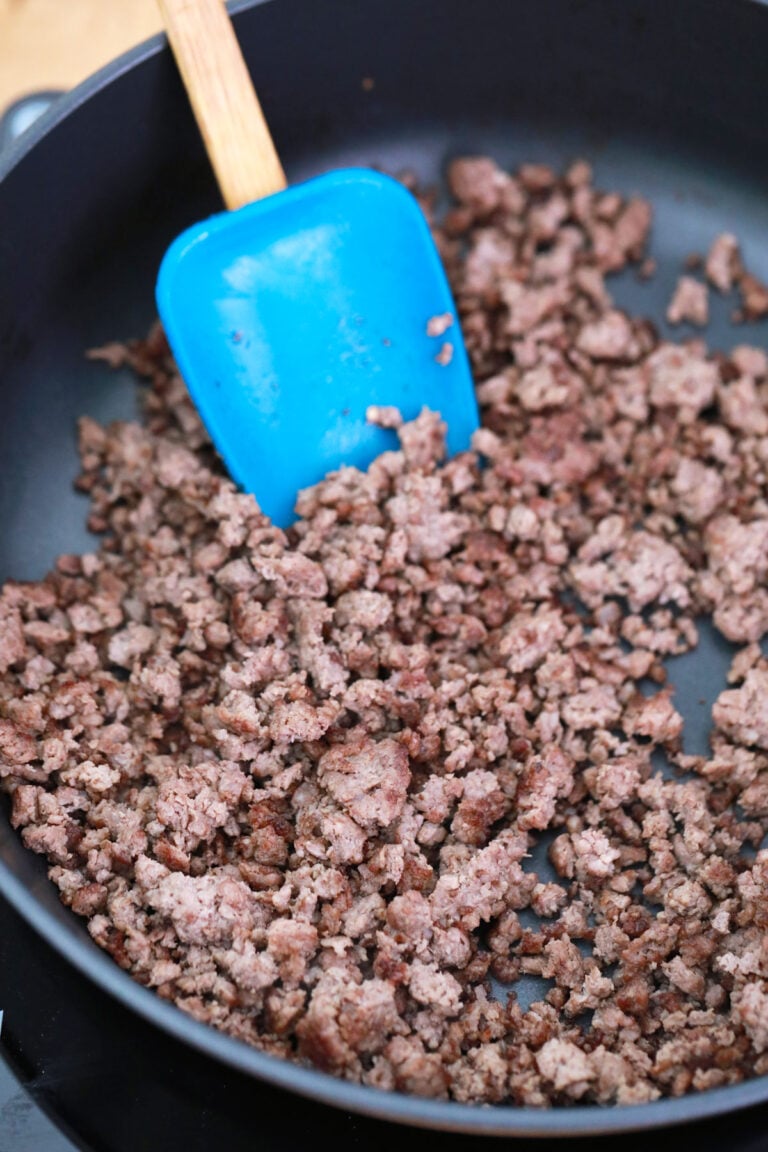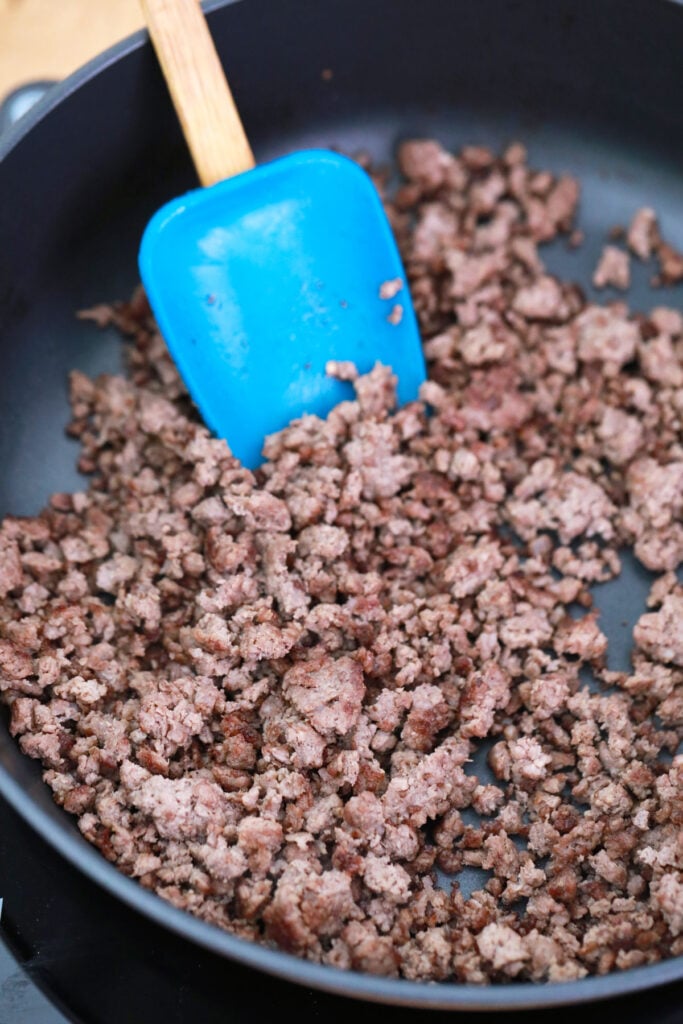 Cook beef: While the potatoes cook, brown the ground beef in a large skillet over medium heat until it is no longer pink and drain excess fat. After the potatoes are done, sprinkle the beef and corn on top.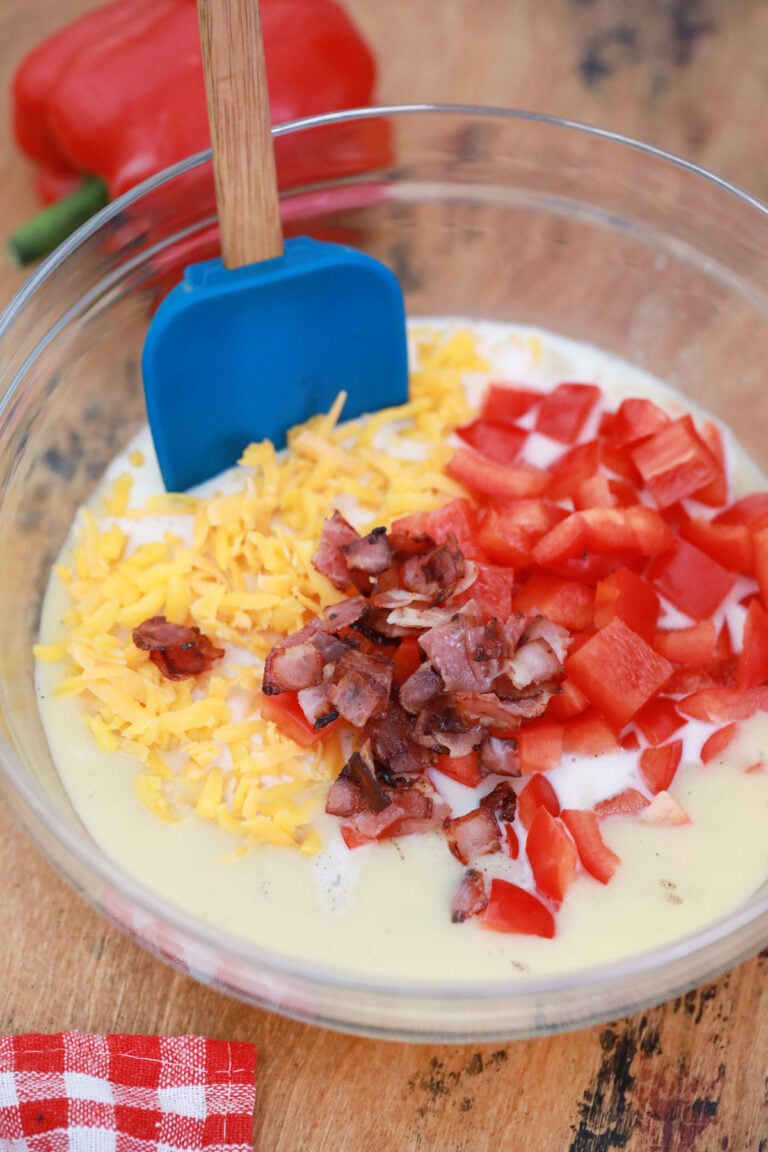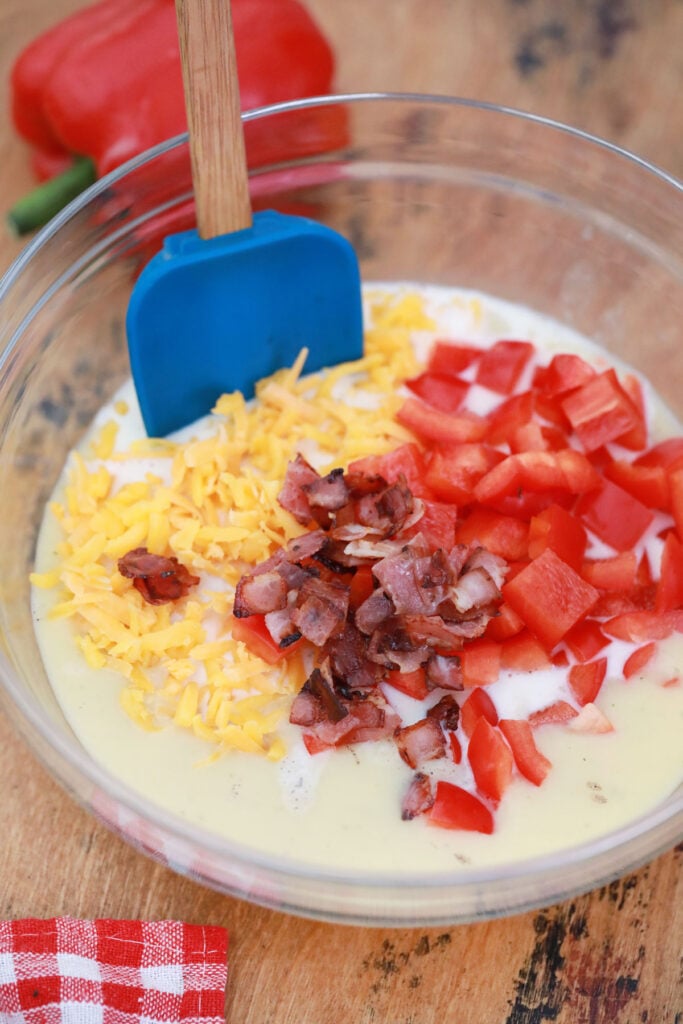 Make the soup mixture: Next, mix the bell pepper, seasonings, milk, soup, onion, half the bacon, and one cup cheese in a mixing bowl. Then pour the soup mixture over the meat mixture.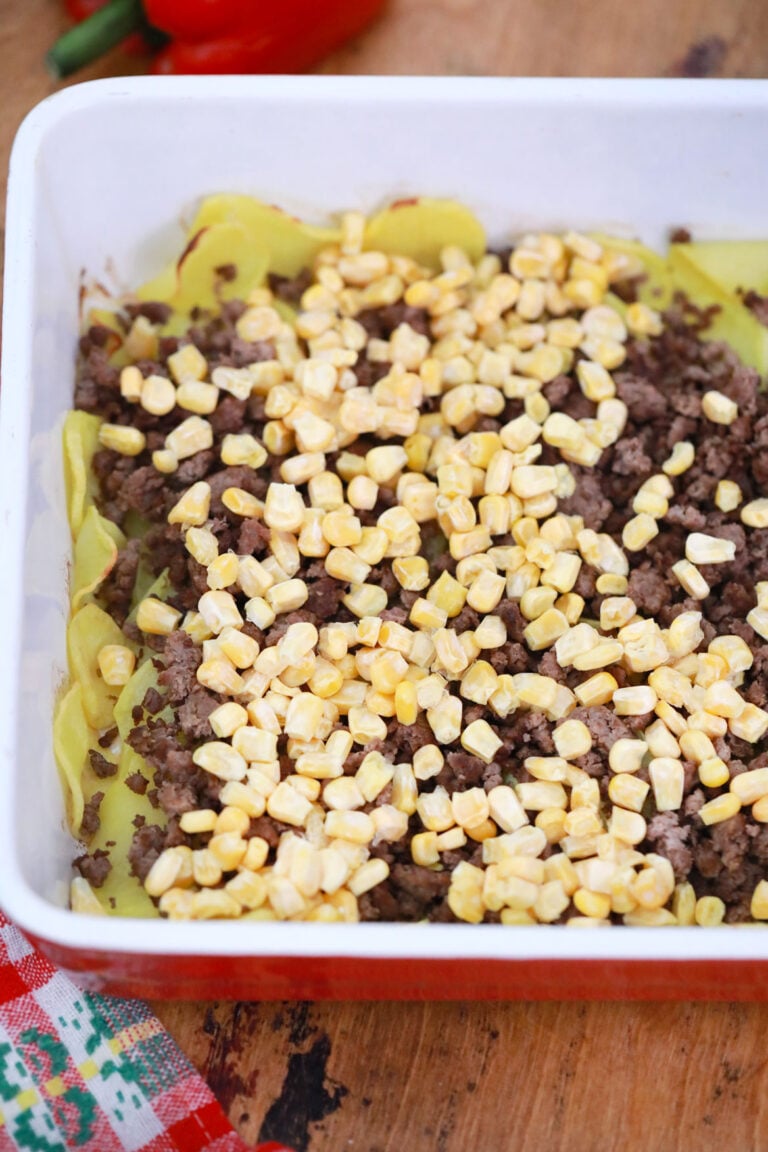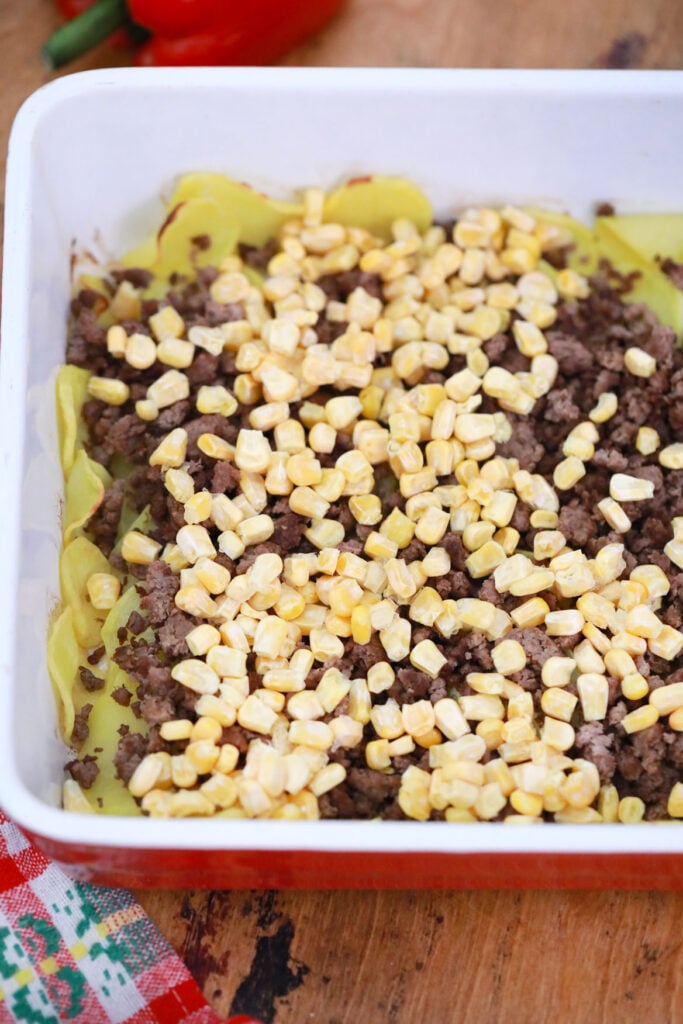 Bake: Lastly, bake your ground beef casserole uncovered for 20 minutes at 400 degrees F or until the mixture bubbles. The veggies should be tender. Sprinkle on the rest of the cheese and bake for two more minutes to melt.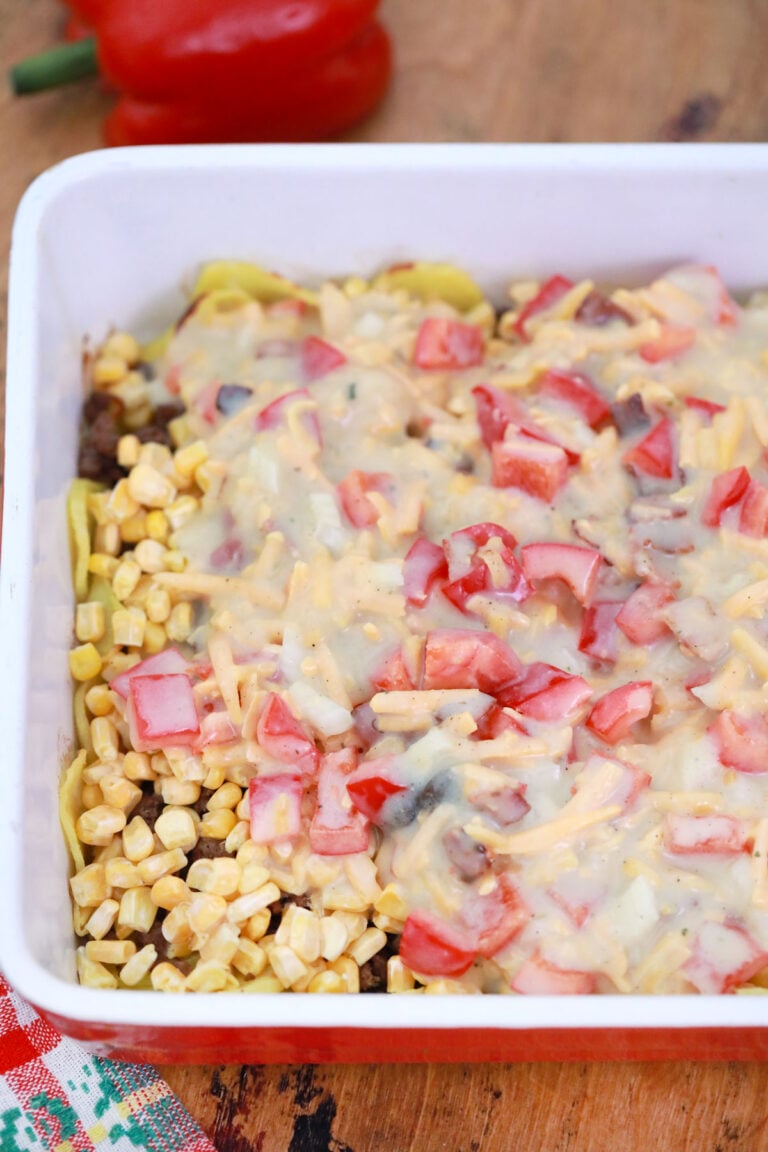 Serve: Finally, sprinkle the parsley, chopped onion, and the rest of the bacon on top before serving.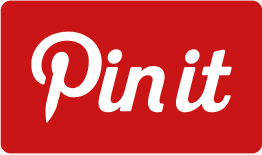 Recipe variations:
Add more veggies: Add fresh green beans, carrots, and your other favorite vegetables to your casserole for a hearty meal.
Layer it: Alternatively, layer your potatoes and meat. Just add half of the potatoes to the dish with half of the ground beef mixture and repeat before adding the delicious creamy sauce.
Extra seasonings: Feel free to add your own favorite extra seasonings like Italian seasoning mix, dry ranch dressing, or even taco seasoning.
Cheesy steak: Instead of ground beef, try using sliced beef for a cheesy steak casserole.
Different soup: You can change the flavor by using cream of chicken or cream of broccoli instead of mushroom soup.
Unpeeled: You do not have to peel the potatoes if you don't want to. There are a lot of nutrients in the skin such as potassium, calcium, iron, vitamin C, and vitamin B.

What to Serve with Ground Beef and Potato Casserole:
You can serve this delicious main dish with your favorite side dishes for a nice easy meal on a busy weekend.
There are very few cooking steps, and it does not have to cook for a long time so you can have your family seated and eating in minutes.
You may like to try one of these tasty serving suggestions.
Serve this dish with a dollop of sour cream on top.
Add more shredded cheese right before serving for extra cheesy casserole.
This easy ground beef casserole goes great with a salad and breadsticks.
The joy of a casserole is that you can serve it on its own or with whatever side dish you like. Try this with a medium bowl of fresh fruit and other vegetables your family can add if they want to.
Another great idea is to use your leftovers to make another delicious casserole. Add it to scrambled eggs and you have breakfast for tomorrow.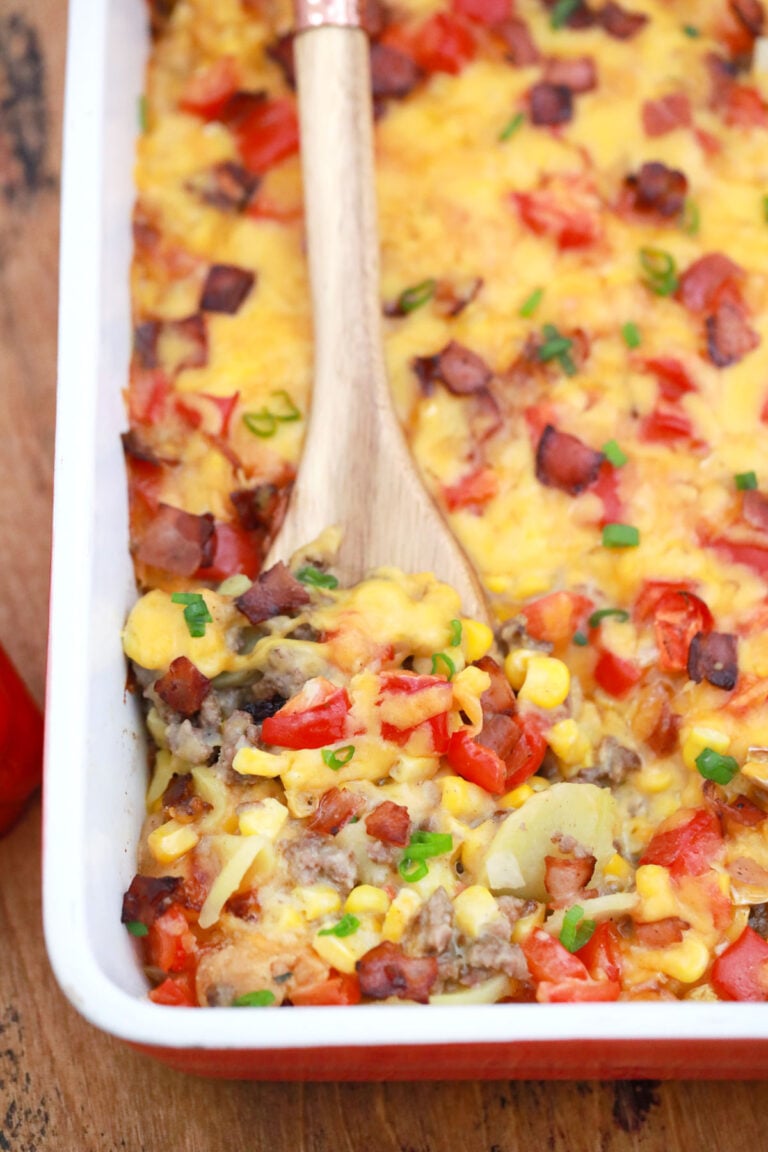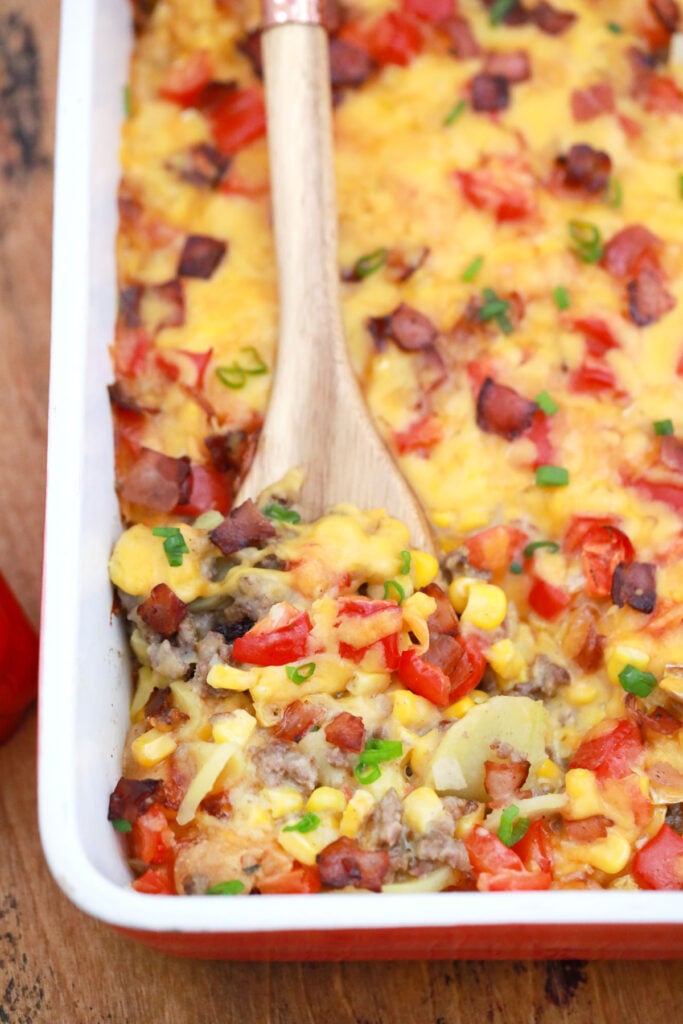 Frequently Asked Questions
What are the three main parts of a casserole?
Every great casserole has a base, an extender, and a binder. The base would be the main flavor or texture like the ground beef in this hamburger potato casserole recipe.
An extender is what helps thicken the dish. This may be potatoes, breadcrumbs, crackers, pasta, or rice.
The binder is some kind of liquid that holds everything together such as a can of soup, milk, eggs, or broth.
Do you have to brown meat before adding to a casserole?
In this hamburger casserole, it is important to brown the meat before using it.
First, because no matter how lean your ground beef is, there is always going to be grease or fat that you have to drain.
It also makes a big difference in the flavor if you brown it first.
Some say it's not healthy to mix raw hamburger with other foods, so that may be another good reason to brown your hamburger first.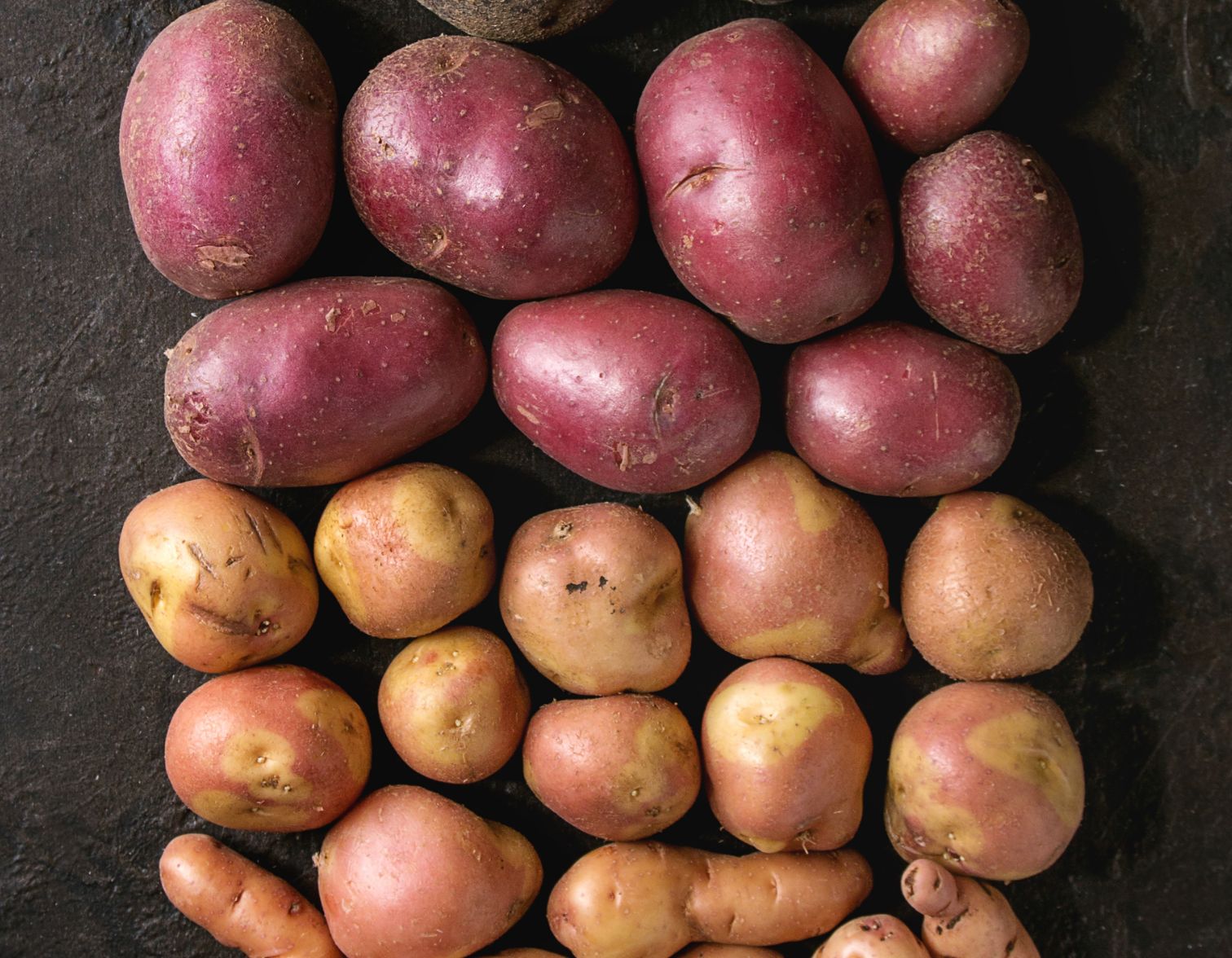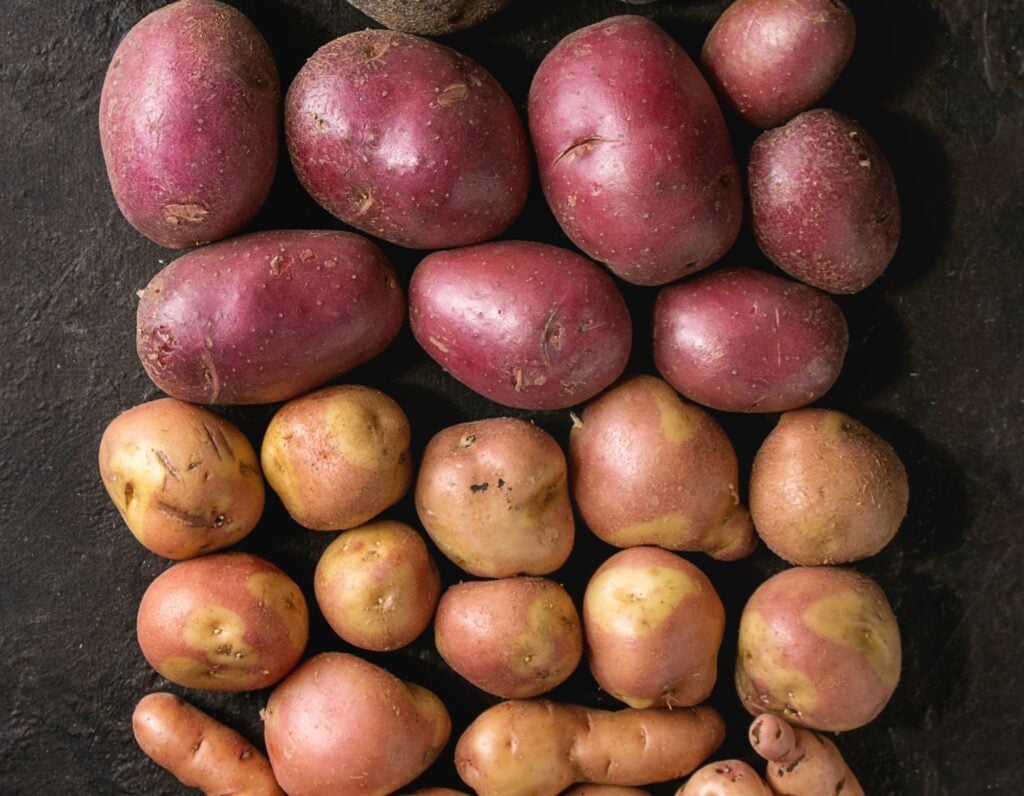 What is the best kind of potatoes for this recipe?
There are dozens of potato varieties and each one seems to have its own special quality.
Russet potatoes are dry and hearty, so they work in almost any dish.
White potatoes are smoother and excellent for when you need unpeeled potatoes.
Yellow potatoes such as Yukon gold potatoes, are a little waxy and fine-grained, perfect for chunky casseroles.
Fingerlings are small and have thin skin, so they are wonderful for boiled potato recipes.
New potatoes are just the younger version of the other potatoes.
Colorful potatoes like blue or purple have a nutty flavor with dense flesh, making them an excellent baked potato.
And sweet potatoes are soft and sweet, perfect for mashed or baked potatoes.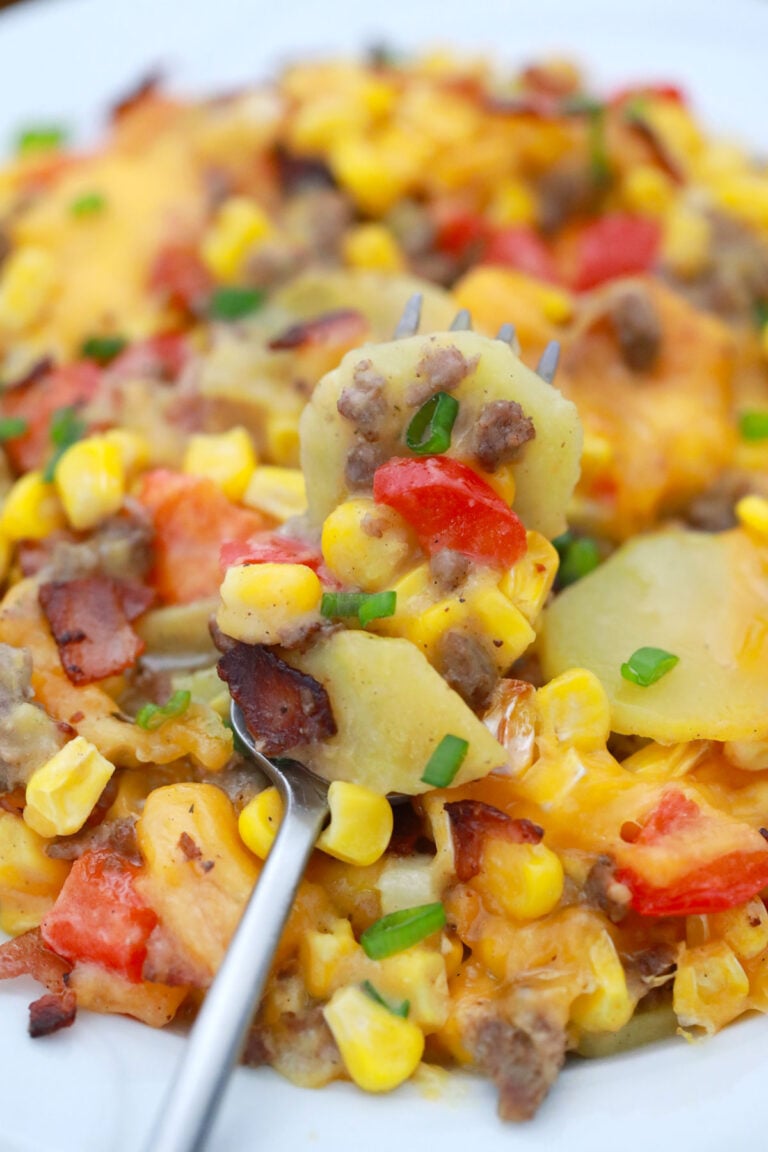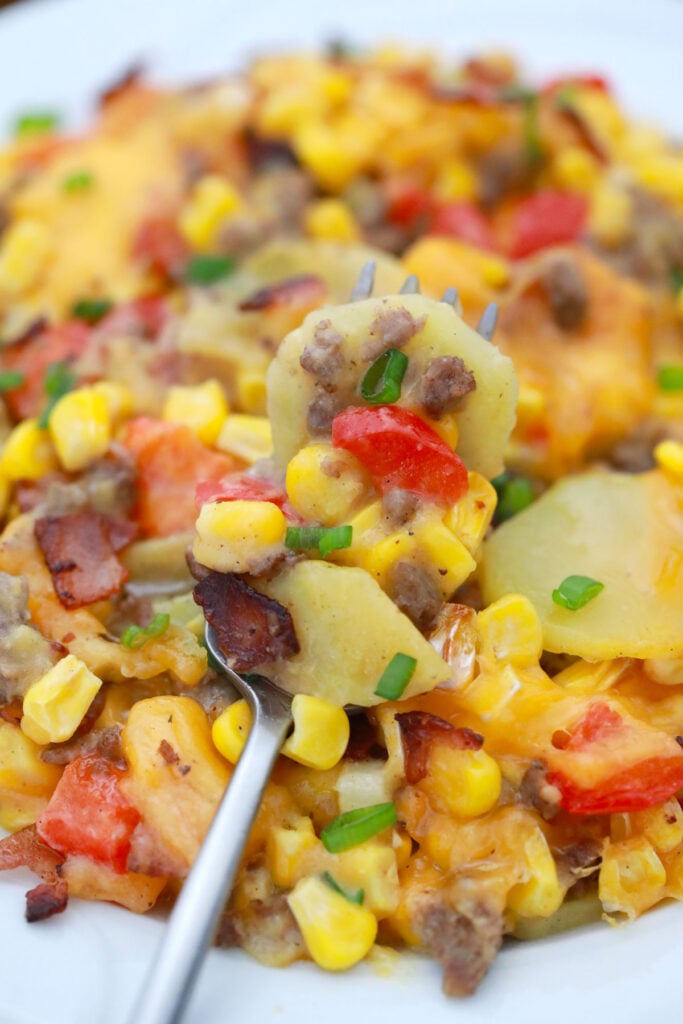 How to store leftovers:
Store:Casseroles store easily in an airtight container for three to five days in the fridge.
Freeze: Make extra and freeze it for future dinners or lunches. It will stay fresh in a freezer bag or container for three months.
Thaw: For best results, thaw in the fridge overnight before reheating.
Reheat: Pop some casserole in the microwave for a minute or two for a fast lunch or snack.

Recipe tips:
To save time, use frozen cubed potatoes, onions, and chopped green pepper. You can buy this in the freezer section of your grocery store by the hash browns.
If you are using fresh potatoes, do not cook them too long or they will get mushy.
The cooking time may vary depending on the type of potato you use and how thick you cut them.
Also, your cooking time varies depending on the kind of casserole dish you use. It will cook faster in a metal cake pan than in a glass or ceramic dish.
If the top is getting too dark, cover with aluminum foil.
Yield: 6 servings
Hamburger and Potato Casserole with Veggies and Cheese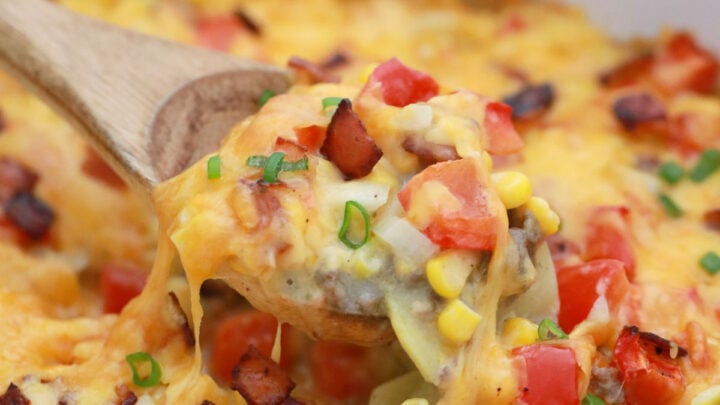 Combine ground beef and potatoes with some veggies and cheese to create this delicious Hamburger and Potato Casserole the whole family LOVES! It's the perfect comfort food dinner idea.
Total Time
1 hour
20 minutes
Ingredients
4 cups thinly sliced peeled potatoes
2 tablespoons unsalted butter, melted
1/2 teaspoon salt
1 pound ground beef
10 ounces canned or frozen corn kernels
1 chopped red bell pepper
1 can (10-3/4 ounces) condensed cream of mushroom soup, undiluted
1/2 cup whole milk
1/4 teaspoon garlic powder
1/8 teaspoon pepper
1 tablespoon chopped onion
1 1/2 cup shredded cheddar cheese, divided
1/2 cup chopped crispy bacon
Minced fresh parsley
Instructions
Grease a 9x13" baking dish and set it aside.
Preheat oven to 400 degrees F.
After thinly slicing the potatoes, add them to a large bowl and toss with the melted butter and salt.
Arrange potatoes on the bottom and up the sides of the prepared baking dish.
Bake, uncovered, for 25-30 minutes or until the potatoes are almost tender.
In the meantime, place a large non-stick skillet over medium heat, and cook the beef breaking it with a wooden spoon, until no longer pink; drain fat.
Sprinkle the beef and corn over potatoes.
In the same skillet used for the beef, combine the soup, milk, garlic powder, pepper, onion, bell pepper, half of the bacon and 1 cup cheese; stir to combine.
Pour the mixture over the beef and potatoes.
Bake, uncovered, for 20-30 minutes or until the vegetables are tender.
Sprinkle with the remaining cheese and broil until cheese is melted.
Sprinkle with parsley, chopped green onions and remaining bacon before serving.


Recommended Products
As an Amazon Associate and member of other affiliate programs, I earn from qualifying purchases.
Nutrition Information:
Yield:
6
Serving Size:
1
Amount Per Serving:
Calories:

621
Total Fat:

34g
Saturated Fat:

15g
Trans Fat:

1g
Unsaturated Fat:

15g
Cholesterol:

118mg
Sodium:

938mg
Carbohydrates:

43g
Fiber:

4g
Sugar:

9g
Protein:

37g
Nutrition is calculated automatically and may not be accurate.