Whether you're looking for a gift for your own cat or for a cat lover, we have pulled together some of our favorite cat toys and gear in this Cat Gift Guide!
When it comes to buying gifts for our own lovable cats or for the people we love that love THEIR cat, there are so many options, but some are much better than others. It's tempting to buy every cat product we see, but it's best to put our money toward the best of the bunch.
Let's admit it – our cute cats are just like our little furbabies so we want to spoil them. Yes, most cats can be a pain from time to time (some more than others) but their cuteness and cuddles more than make up for any headaches the cause.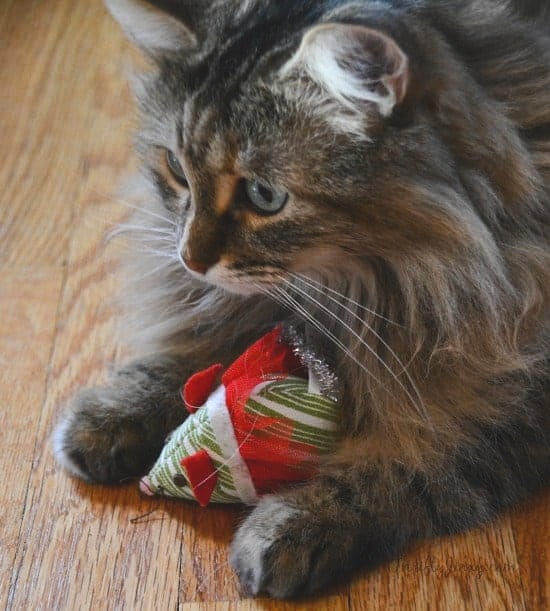 I love how easy it is to buy cat products online because variety and new things in their life keeps cats entertained – and an entertained cat has less time on their paws to get in trouble!
Here are some of our favorite cat gifts – all things that my own cats love:
Cat Gift Guide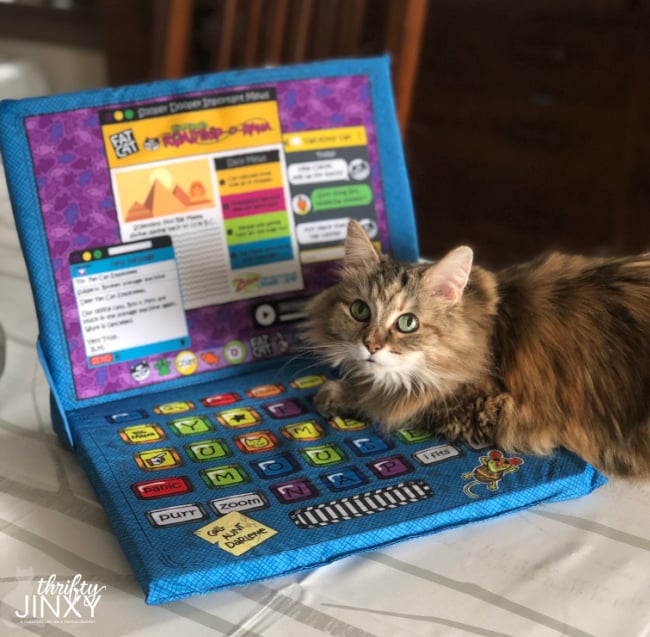 The FAT CAT Lappy Toppy Cat Mat is our cats' latest toy. Since Lucky is always trying to sit on my MacBook, I just had to see how she would react to the Lappy Toppy. She loves it! Of course it helps that the mouse is filled with catnip.
The design is super cute with funny messages and on the screen and keys. My favorite is the two keys marked with "I Fits" and "I Sits".

The PetSafe Drinkwell Original Pet Fountain is a MUST in our house. Actually, we have the larger version which is the Drinkwell Big Dog Fountain, because it is used by our three cats AND our German Shepherd.
We originally got the pet fountain when one of our cats was extremely ill and the vet said that he needed to drink more water. This fountain encourages them to drink and the free-flowing water is always much fresher than water just sitting in a bowl. Find out more about how to encourage your pet to drink more water.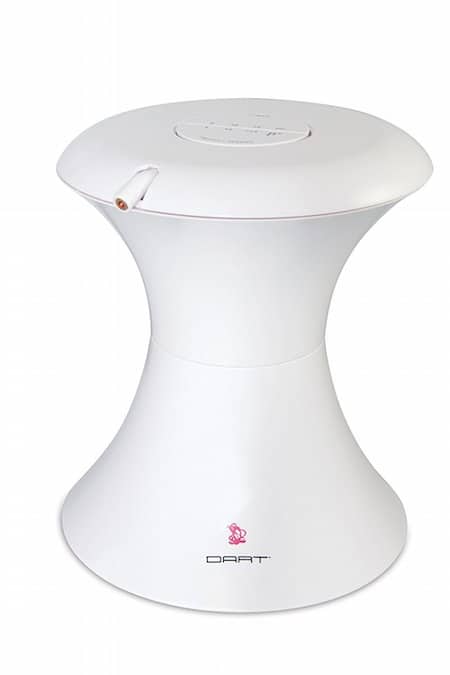 My Sammy goes absolutely NUTS for the PetSafe Dart Automatic Rotating Laser Cat Toy. As soon as I press the button to turn it on he jumps up from wherever he is to start stalking and pouncing on the laser lights it sends out. It is a great way for me to distract him and get him off my desk when he insists on "helping me with work".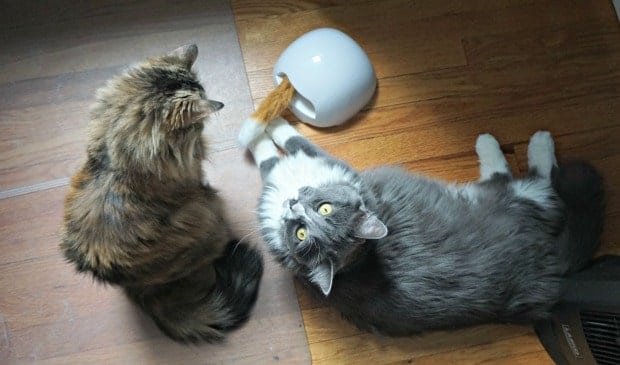 Another fun cat chasing toy is the Premier Pet Fox Den Automatic Cat Toy. The fox tail darts out at erratic intervals and is pretty irresistible. It has an automatic on/off switch and also can be set to activate automatically, encouraging your cat to play throughout the day.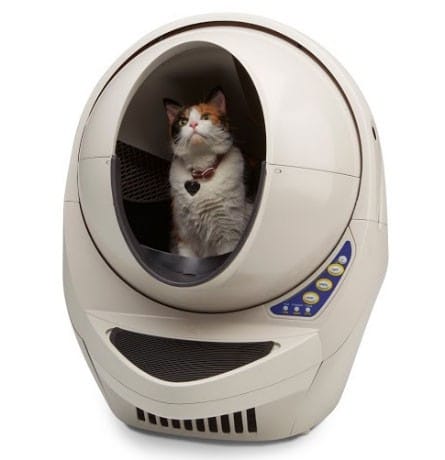 The ULTIMATE in litter boxes is the Litter-Robot III Open Air. Having had cats for over 30 years, I have tried a LOT of litter box solutions and none comes close to the Litter-Robot III Open Air. It is an automatic self-cleaning litter box.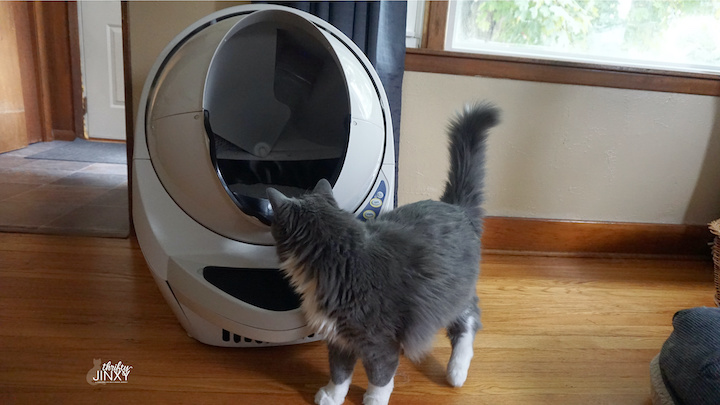 After your cat does its business, the patented sifting process automatically separates the waste from the clean litter and drops the clumps into the waste drawer below.
It's super easy to just pull the bag out of the drawer (I use regular kitchen garbage bags), toss it out and replace with a fresh bag. I love that there is no work involved and that my cats have fresh litter every time they use it.

Another thing our cats love is the Bergan Turbo Scratcher Cat Toy. It both serves as a scratch pad to keep their nails filed (and keep them from scratching the furniture), but they also have a blast chasing the ball around and around and around and around!
The scratcher can be replaced once the cats have torn it up. This has been a favorite of our cats for over 5 years now, which is noticeable since in this photo my Sammy was only a kitten and he's much bigger now and my nephew has grown from a little boy to a tween!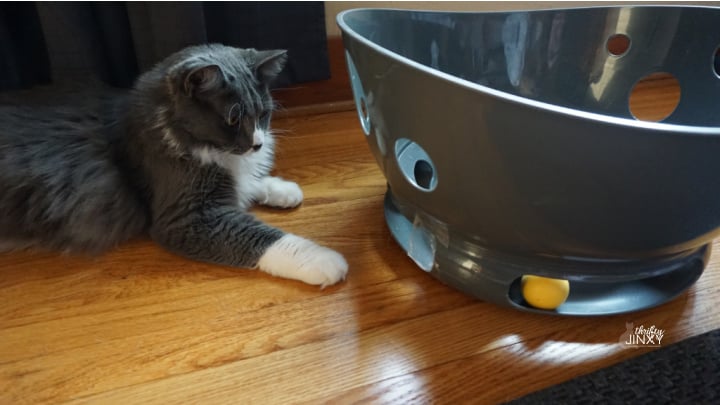 A similar toy that my cats love is the Jackson Galaxy Space Station. It also has a ball that whooshes around the track with multiple openings on the sides for cats to attack. You might notice tape on my photo because this was the very first edition of this toy and the ball had a tendency to escape. I was informed that this is no longer the case with the updated model.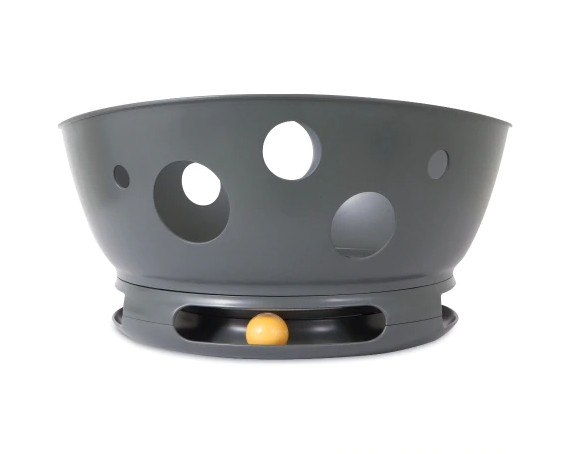 Inside the Space Station is a scratch pad and, yes, I have walked into a room to find one of my cats tired out and taking a nap inside.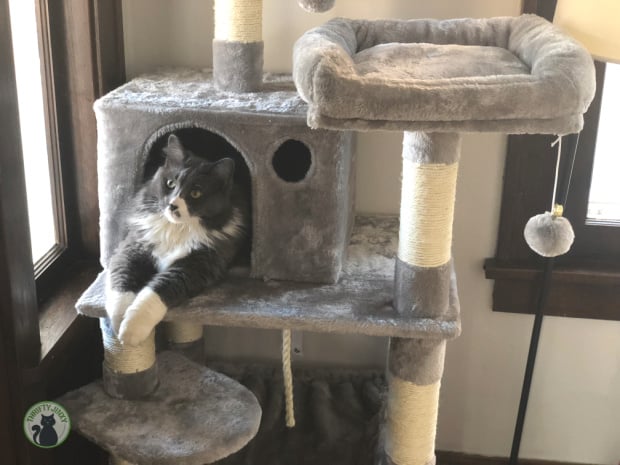 Another absolute MUST in our house is a cat tree, because our cats just love to hang out in it and we like them to have a place of their own. Check out our guide on How to Choose a Cat Tree and see why we love the tree we picture above.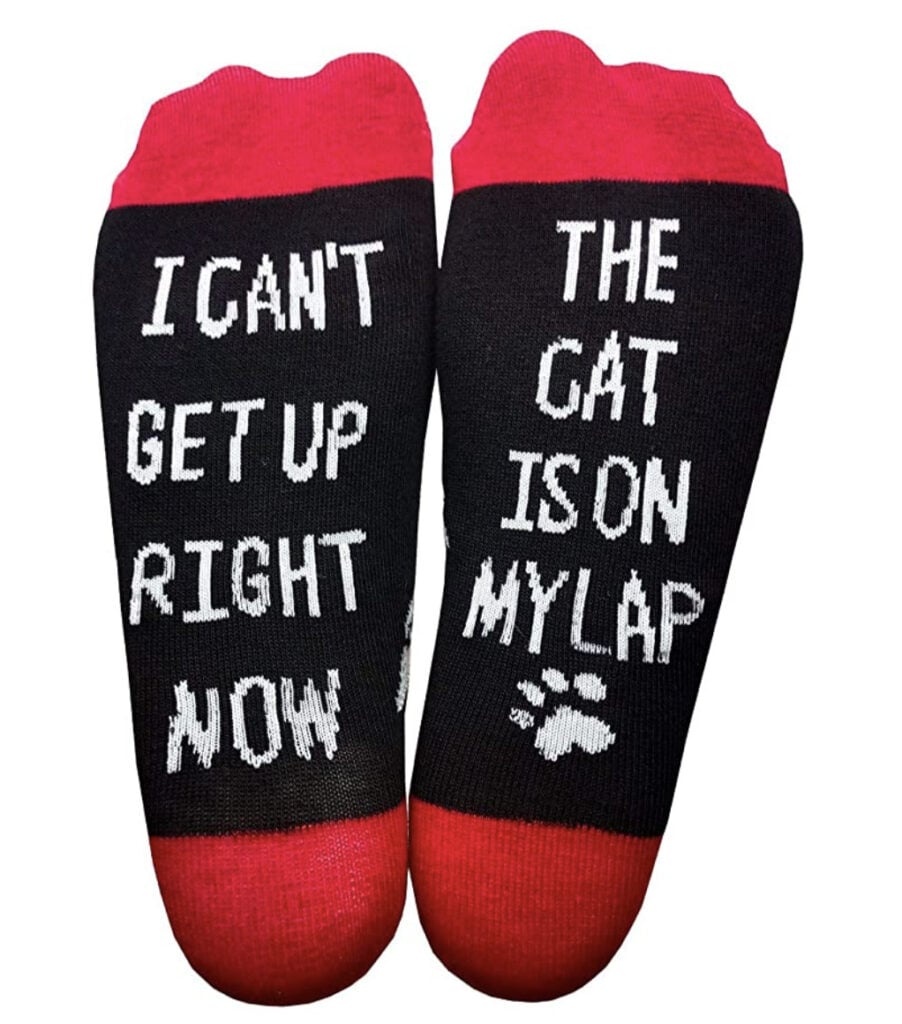 And for the cat-loving human, these cat person socks are too perfect! I don't know how many times I have actually said "I can't get up. The cat is on my lap." out loud!!