Use these helpful tips to find the best cat tree for you, your cats and your home!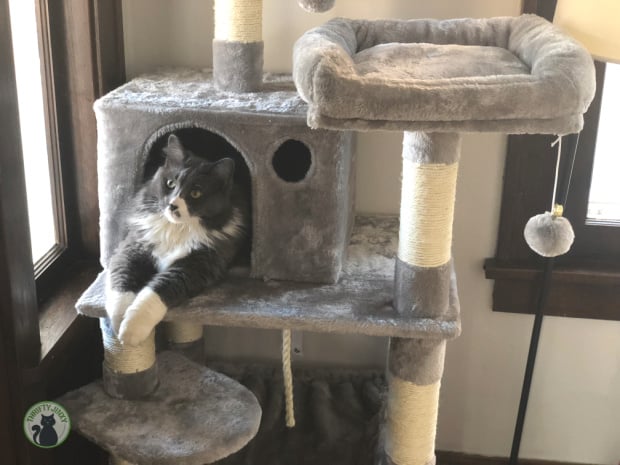 I will be the first one to admit that I like to pamper my cats. They totally deserve it because for every nice thing I do for them they more than pay me back with cuddles, snuggles, and lots of laughs.
Over the years, one thing I have come to learn that cats LOVE is to have a cat tree. It not only gives them a comfy place to relax, but it gives them a way to somewhat escape from what's going on at ground-level (i.e. the robot vacuum) and also gives them a nice "high up" view of what's going on in the house and outside any nearby windows.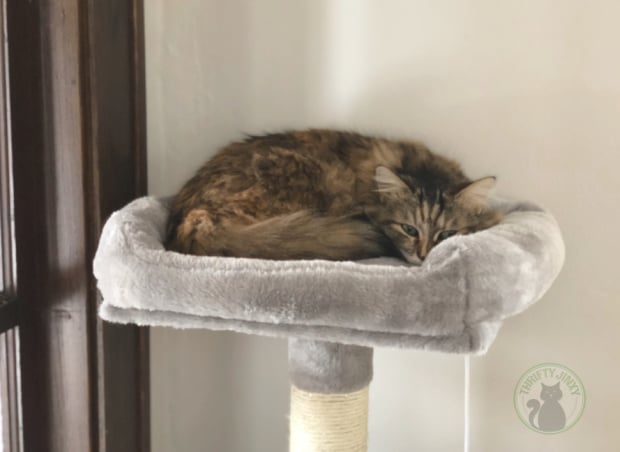 We had a cat tree in our living room for years and it was looking very beat up, so I had been looking around for a new one for a while. Since we have had several trees in the past, some better than others, I have learned there are several things to consider when looking for a cat tree.
How to Choose the Best Cat Tree
When looking for a cat tree, there are several things to consider to make sure you get the one that is the best fit for you, your cats and your home.
Size
Cat trees come in all different sizes, so it's important to get one that fits your space. We have a very specific spot in our living room where we like to keep the tree. It is behind the front door when it opens (so it isn't the first thing visitors see) and is adjacent to two windows so the cats always have something to look at.
That perfect placement also means that the tree had to be a very specific size. When looking at cat trees, be sure to check the measurements for the base of the tree and make sure it will fit in the area you will be placing it. Also check the height of the tree to make sure it will fit in your room and that your cats will still be able to stand on top of it without hitting the ceiling!
Also don't forget to consider the size of your CAT! Our can Sammy is BIG, so we went with the theory that in choosing cat trees for large cats you need to have platforms and cubby holes that are big enough that the big ol' guy can actually fit.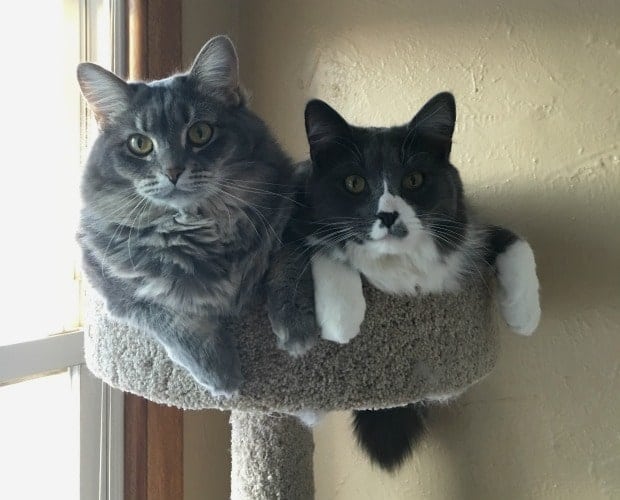 Number of Cats
If you have multiple cats, you will want to make sure that they are all able to use the tree at the same time. While we often only have one cat in the tree, if we are hanging out in the living room for the evening it is likely that all three cats will want to be near us in the tree. That means there has to be at least as many perches on your tree as you have cats.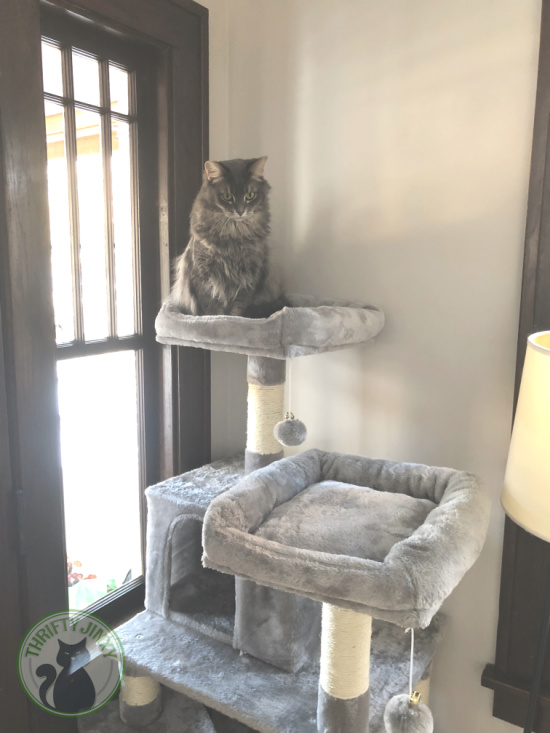 Appearance
There is no getting around the fact that a cat tree is BIG, so you want to make sure that it looks good in the room where you'll be keeping it. Choose a color that compliments your room. You might also consider getting a tree in a color similar to your cats' fur so that doesn't look as dirty when fur builds up.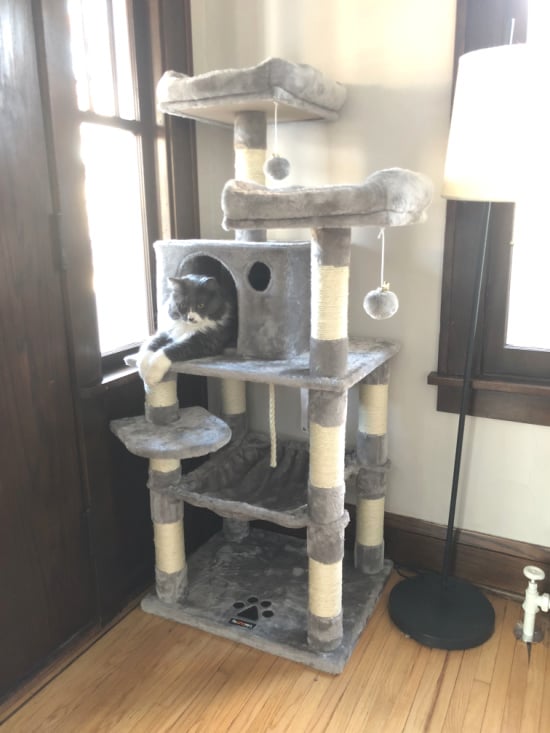 Special Features
Cat trees offer lots of bells and whistles, but different models offer different things. For us, scratching posts are a MUST! We also like having at least one area where the cats can climb inside and hide away. For the perches, we like to have sides on the perch so that the cats have something to snuggle against. Another fun feature is toys such as puff balls hanging on strings, etc.
Since I had been looking for a new cat tree for a while, I was excited about the prospect of trying out a cat tree from SONGMICS and received the SONGMICS 58" Multi-Level Cat Tree. I have nothing but good things to say about it.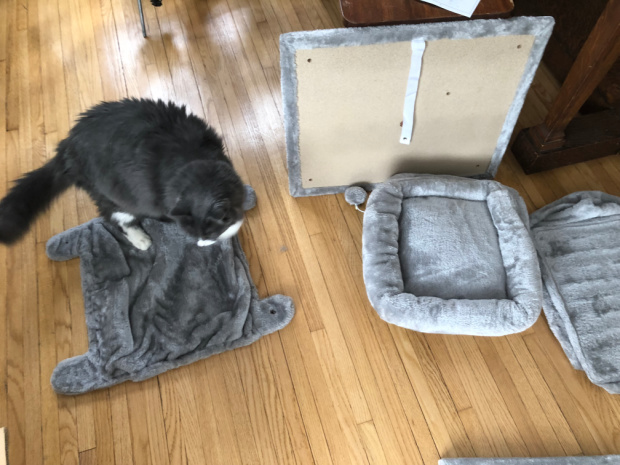 When the box first arrived I let it sit for weeks because I didn't want to have to put it together. When I opened the box I realized what a bad decision that had been because it was SO EASY to build the cat tree and it was actually pretty fun. My cat Sammy also "helped" me and just couldn't wait for me to get finished building.
This SONGMICS cat tree has everything that we need for our cats. It has several different beds and a cool "hideaway" where the cats can climb all the way inside. It also has pom pom balls hanging on strings, which are fun when the cats are in a playful mood. And, very importantly it has several scratching posts so they can give their claws a workout.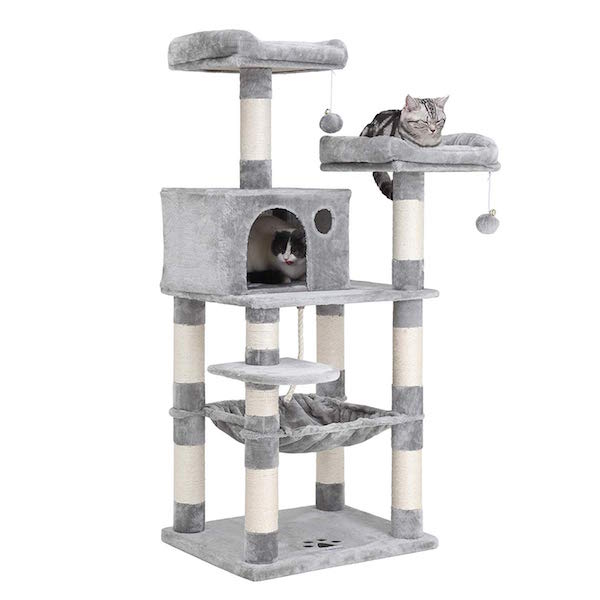 I also appreciate that this cat tree is very sturdy and stable. It also includes safety hardware to attach it to the wall for extra safety. On top of it all, the tree looks great! As it's on display right in our living room, that makes a big difference!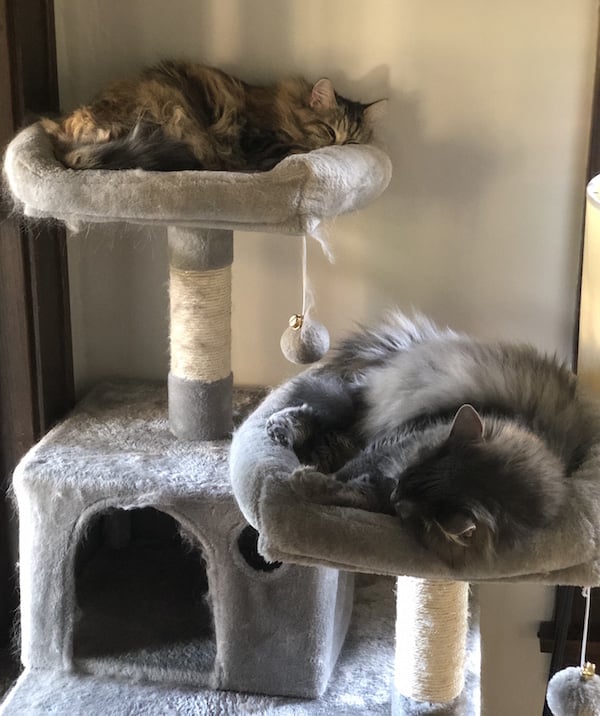 Does the cat tree work for multiple cats?
Yes! Often two of my cats will be relaxing on the tree at one time. If I wake up early enough in the morning, I might find my two female cats both snuggled on the tree (see above!)
Does the cat tree work for LARGE cats?
Why, yes! My sammy is a BIG cat, weighing over 20 pounds, and he fits just fine – even in the little "house" part of the tree. That's him at the top of the photo below.
You can find this cat tree and others from SONGMICS HERE to choose the cat tree that's best for you you and YOUR cats!