What's better than a nice bath or shower with luxurious bath products? One with luxurious bath products you made yourself like this DIY Whipped Sugar Scrub! If you have ever looked at the label of most bath products there is a looooong list of all kinds of chemicals. By making your own, you know exactly what's in them and what you're putting on your body. We already love a basic sugar scrub, but this whipped sugar scrub makes a fluffy, smooth scrub that's really a treat to use.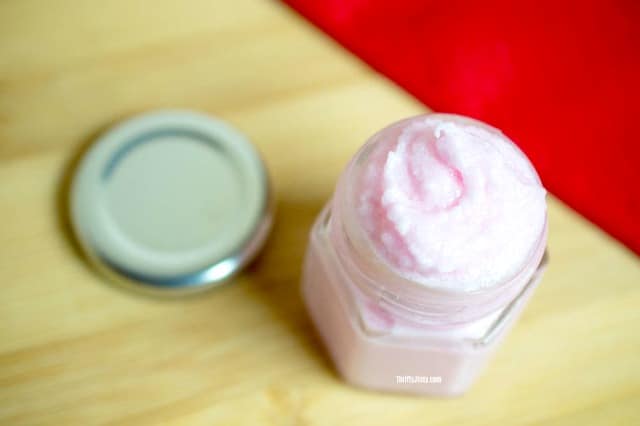 Homemade bath products also make great gifts! When you mix up a batch of the whipped sugar scrub for yourself, make a second batch to share with your friends and family. Since this is such a nice, basic recipe, you can play around with scents and colors to make it suitable for any holiday. We love a red tint with strawberry scent for Valentine's Day, with cinnamon for Christmas or with lilac scent for Mother's Day! The scents are easy to add with just a few drops of essential oil.
Your whipped sugar scrub can be stored in any closed container, but I'm a fan of glass jars. They look pretty and keep your scrub close by and ready to use every day.
Viva Naturals Organic Extra Virgin Coconut Oil, 16 Ounce
GoJars 1.5oz Hexagon Glass Jars 24 pack (24, 1.5oz)
Food Coloring Liqua-Gel – 12 Color Variety Kit in .75 fl. oz. (20ml) Bottles
Lilac Fragrance Oil – Premium Grade Scented Oil – 10ml – 2-Pack
Cinnamon Fragrance Oil – Premium Grade Scented Oil – 10ml – 2-Pack
Strawberry Fragrance Oil – Premium Grade Scented Oil – 10ml – 2-Pack
DIY Whipped Sugar Scrub Recipe

Ingredients:
¼ C Coconut oil (solid form)
¾ C White sugar
1 drop of red food coloring (optional)
Several drops essential oil – cinnamon, strawberry or lilac (optional)
Instructions:
Using a stand mixer (or a hand mixer if that's what you have), whip coconut oil for 30 seconds. Place in freezer for 3 minutes. Whip again for 1 minute. Add sugar and whip for another minute. If using food coloring, add and whip until thoroughly combined.
How to Use:
Use a small amount and gently rub onto skin. Rinse.
**tip: if your coconut oil is too liquid, place in freezer until firm.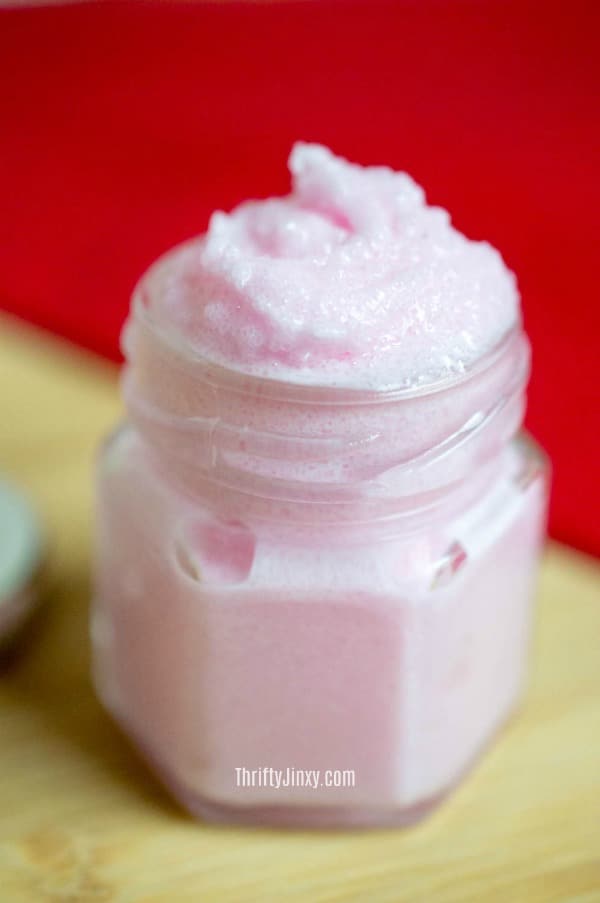 Find 25 more recipes for homemade beauty products including more body scrubs, lip balm, soap and more with this list of 25 Homemade Beauty Products for Mother's Day!