If you've been shopping for a self-cleaning litter box, here is everything you need to know about the Leo's Loo Too!

I have had cats for decades now and one thing (of the many things) I've learned is that a good litter box matters.
There are lots of litter box options out there and:
Cat parent life is easier with a good litter box.
Not all litter boxes are created equal.
A self-cleaning litter box makes life easier.
Not all self-cleaning litter boxes are created equal.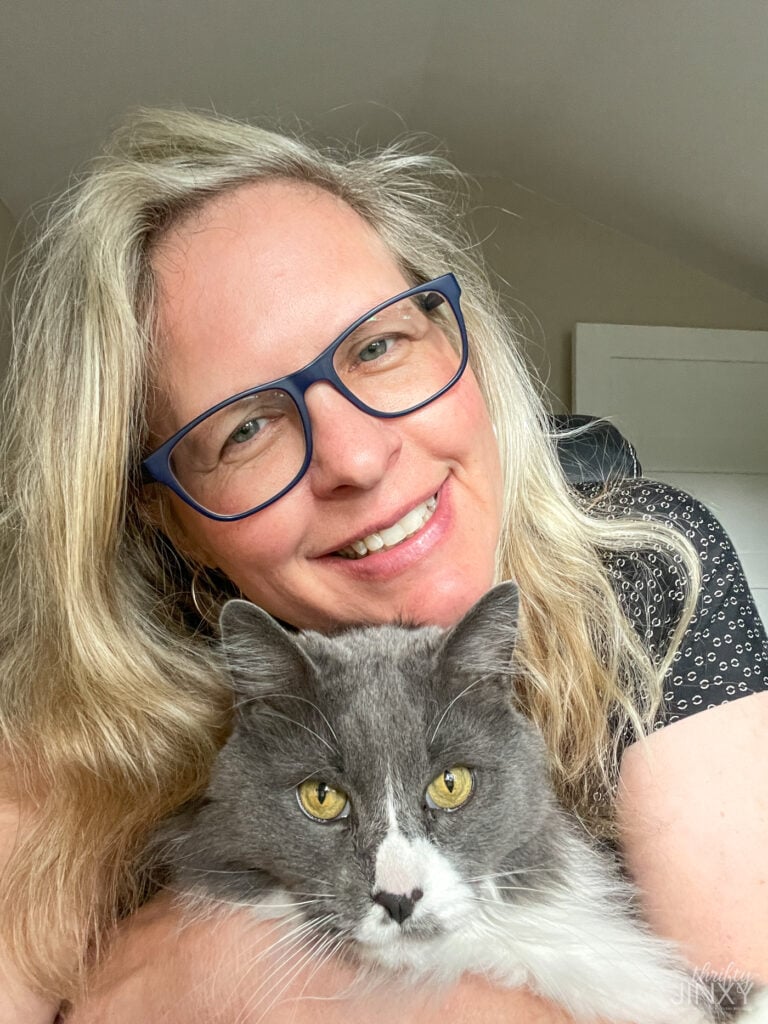 To be honest, I hadn't heard of Leo's Loo Too from Smarty Pear until they asked me to try it out with my cats. But, I'm always up to find something to make life with cats easier so I was totally game.
I know that I like to have all the details before I make a decision about a sizeable purchase, so I'm going to try to share as many details about the Leo's Loo Too as I can. If I miss anything and you still have a question, feel free to leave a comment or email me and I'll try to help.
I'll start out with what the Leo's Loo Too actually is and what it can do for you and then move on to let you know what it's like once you actually get it in your house.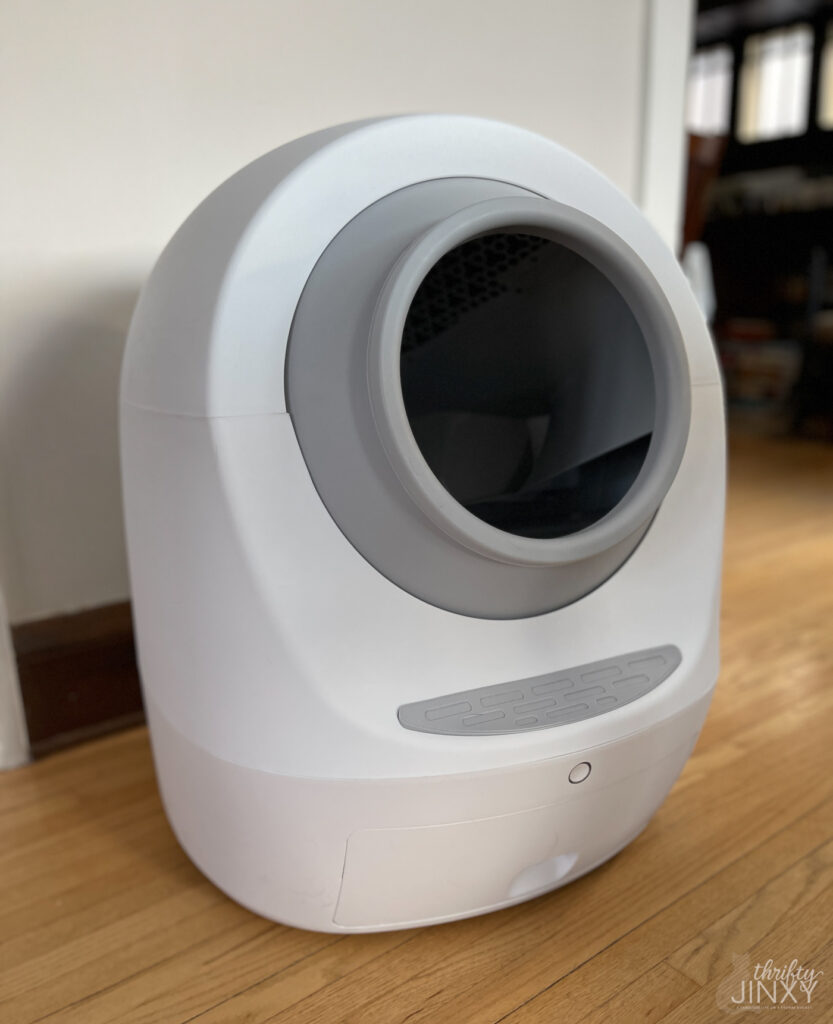 What is Leo's Loo Too
Leo's Loo Too, the newest addition to the Smarty Pear family, is an advanced covered self-cleaning litter box. If that sounds awesome, it is.
Basically, your cat goes inside the Loo to do their business. Once they leave, the drum inside the box rotates, dumping the waste into a lined compartment and returning the unused litter back inside the drum for kitty's next visit.
What that means is you will never have to scoop litter again. All you do is wait for the bag inside the waste drawer to fill and then take out the bag and toss in the trash. Super easy! Here's a video of how it works:
Leo's Loo Too Features
There are lots of great features that go into making this a good litter box experience for your cat and less work and odor for you! Some of the advanced features include:
Self-Cleaning
Large Waste Drawer
UV Light Bacteria Elimination
Radar Detection
Anti Pinch Sensor Safety System
Weight and Activity Data
Wi-fi Enables + Mobile App
Alexa and Google Assistant Voice Controls
Whisper Quiet Sifting Technology
Single Mold Leak Free Drum
4 Color Options – Leo Gray, Avocado Green, Baby Blue, Pretty Pink
Now that I've told you the basics about the Loo, let's move on to what it's like once it arrives at home.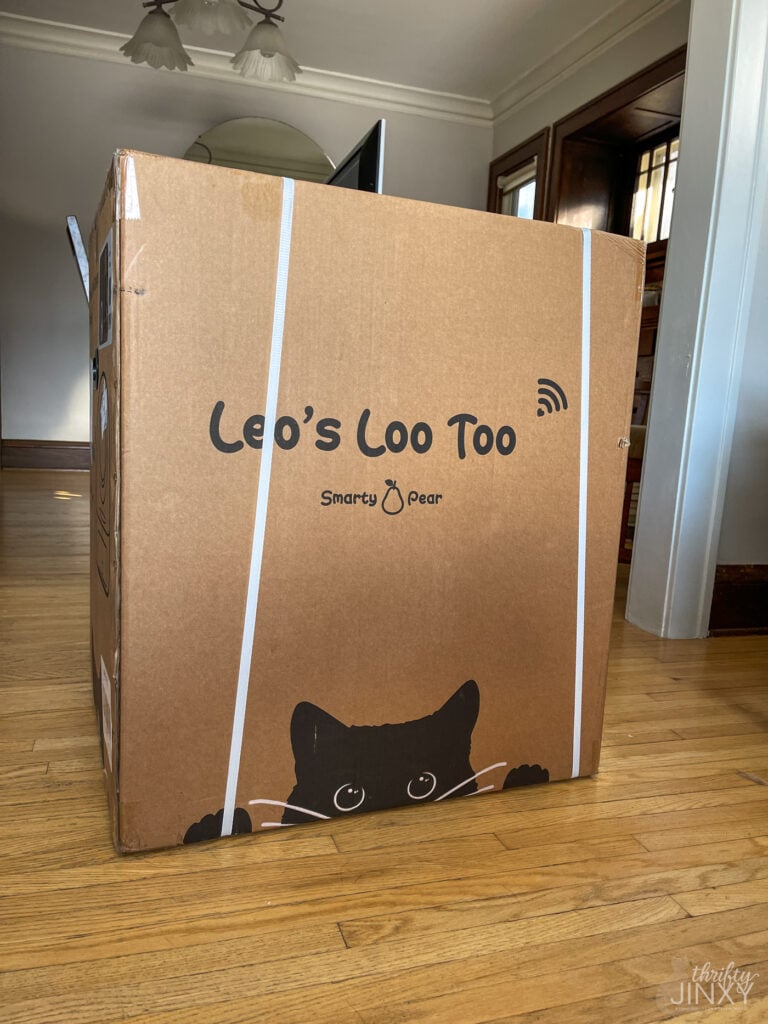 Leo's Loo Too Unboxing
I admit was a little intimidated when I saw the huge box from Smarty Pear on our front steps. I usually make my husband both carry in big boxes AND put together new products. But, since I wanted to see for myself how hard or easy it is to set up the Leo's Loo too, I took it on myself.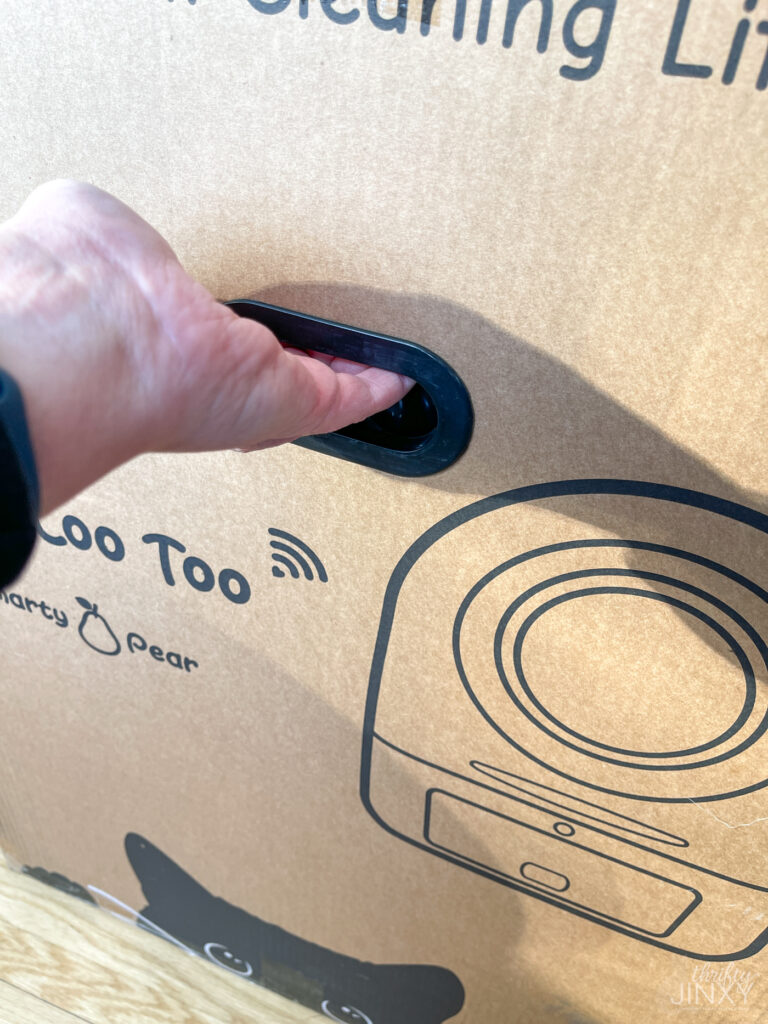 While the box is BIG, it's not that heavy at about 38 pounds. Plus it was made easier by the comfortable plastic hand grips built into the box. Those hand cut-outs on plain cardboard can be painful, so I really appreciated the protection for my fingers.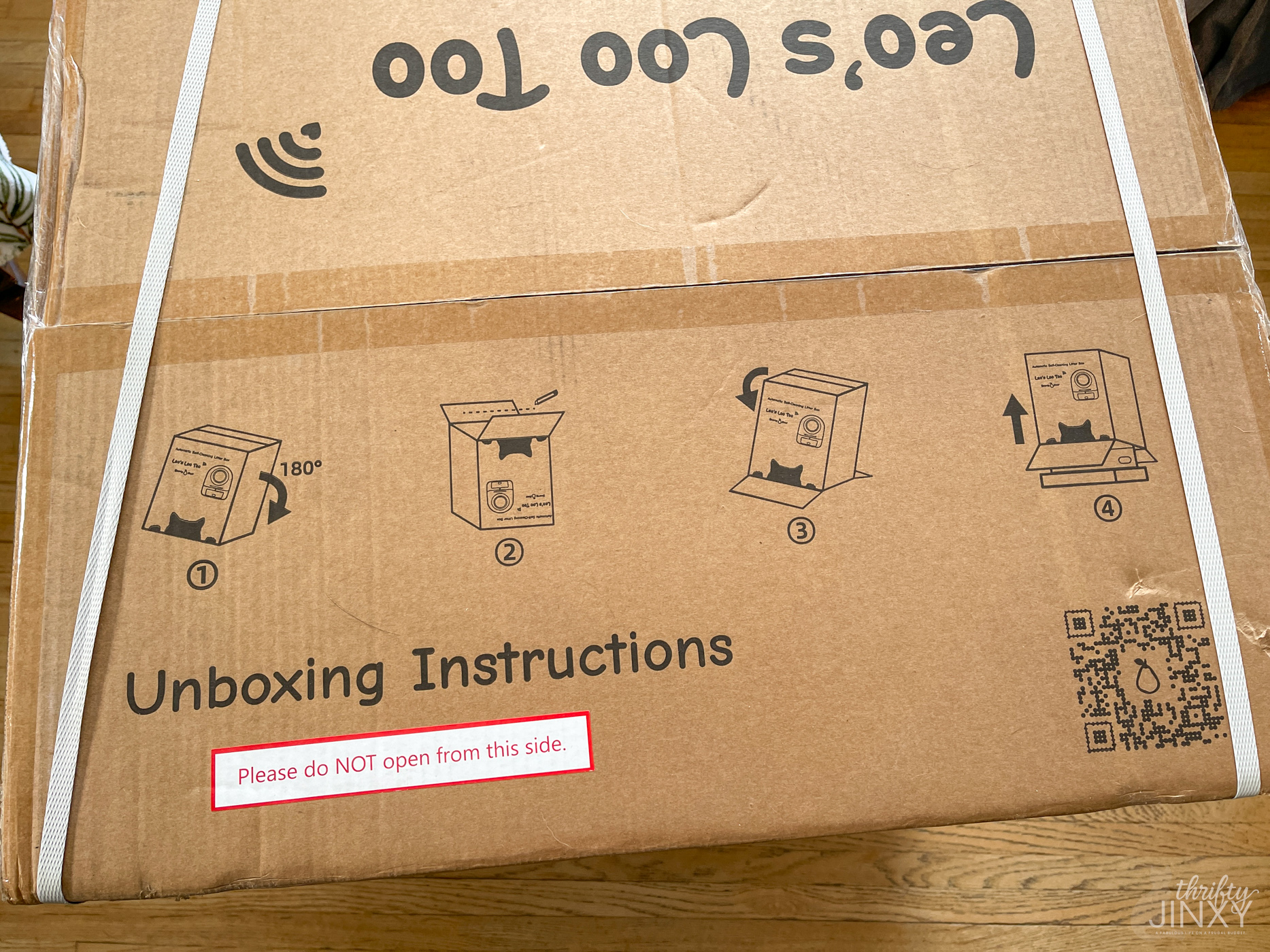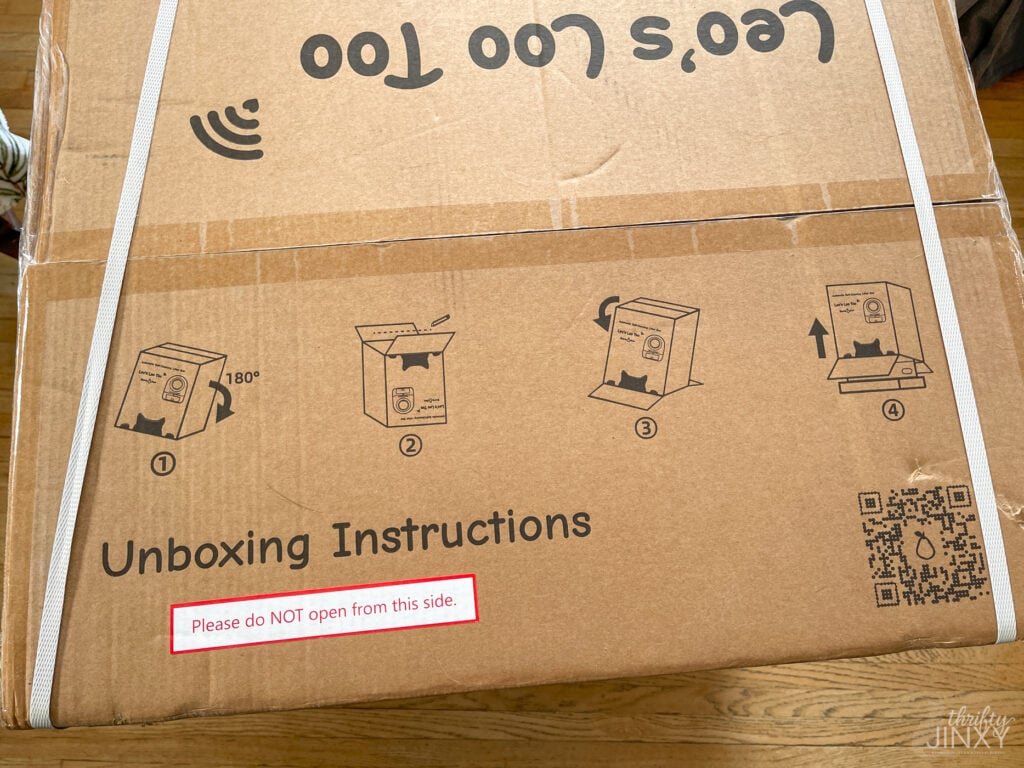 When it came to opening it up, Smarty Pear puts the instructions right on the top of the box. It's just a matter of tipping it to one side to slice open the cardboard on the bottom, setting it upright again, and then pulling the cardboard box off the litter box.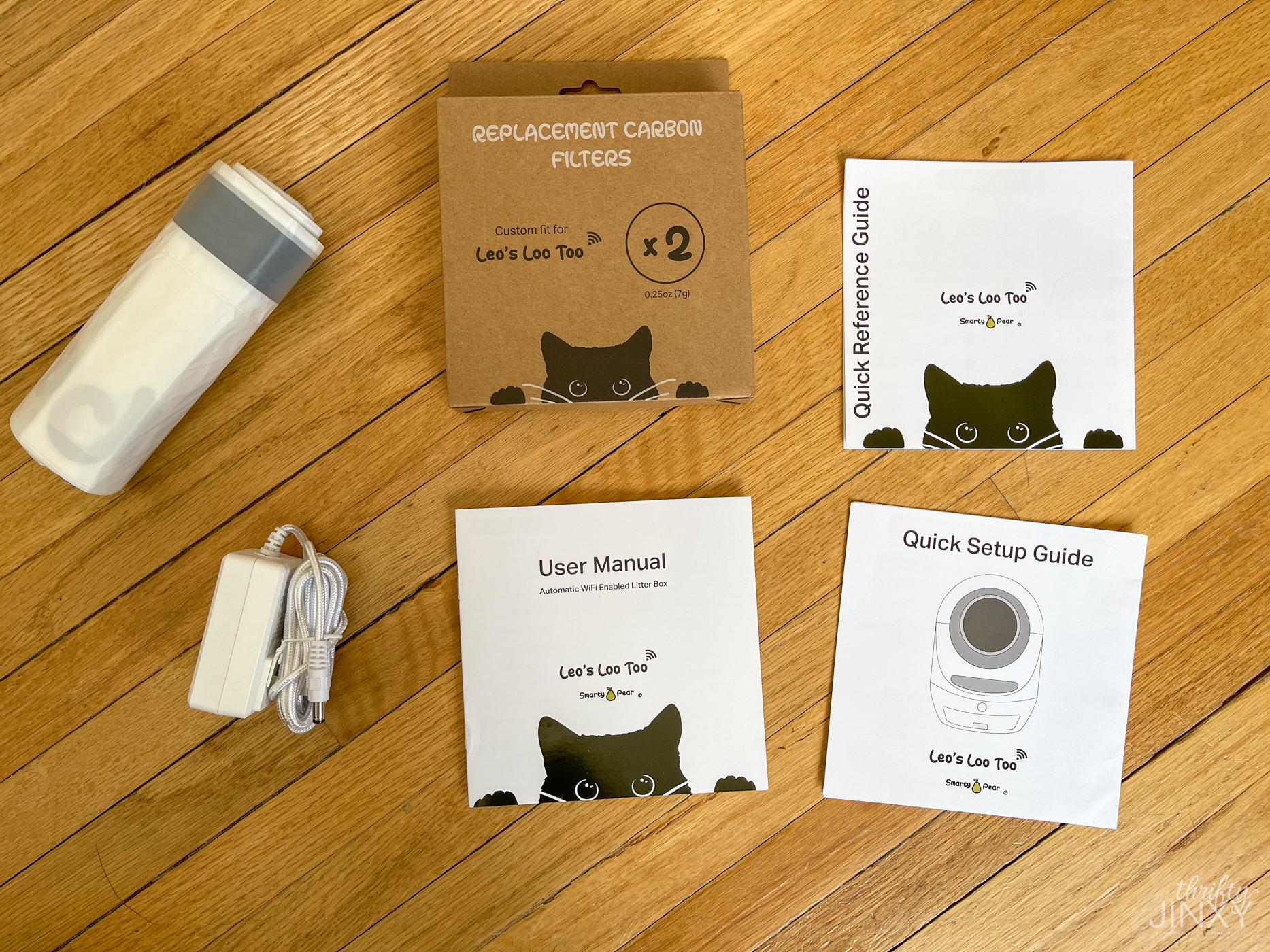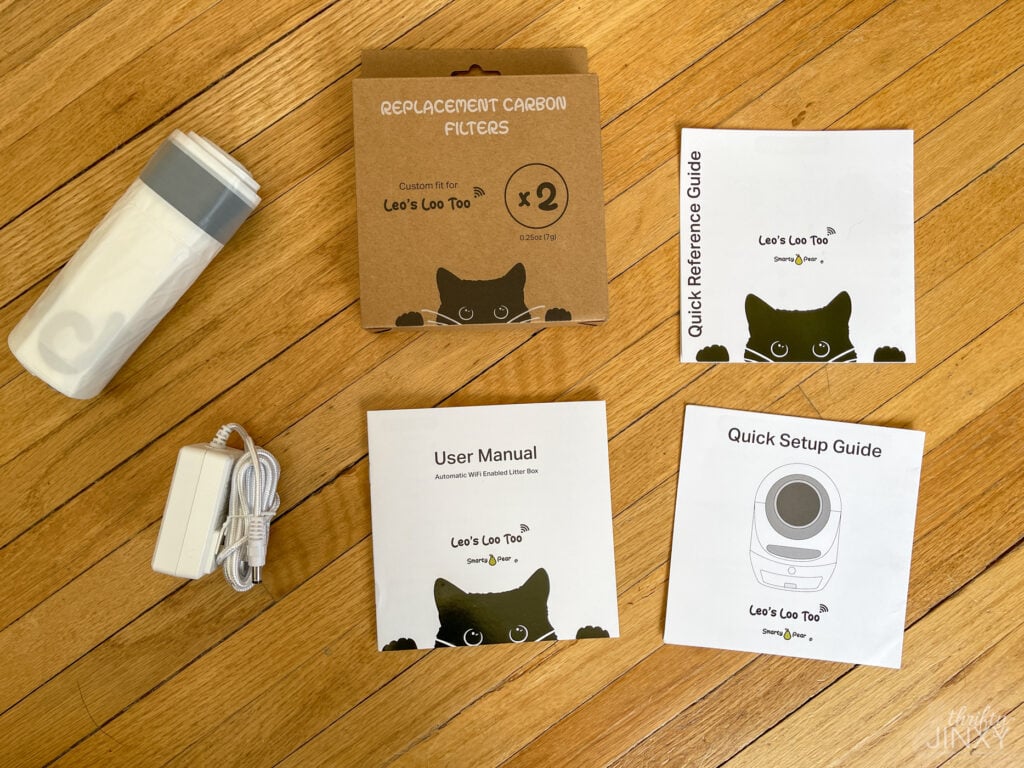 What's Included in the Box
The box includes everything needed to get started. Inside you'll find:
Power Adapter with 6′ Anti-Chew Cord
Drawstring Waste Drawer Liners (x10)
Charcoal Air Filter (x2)
+1 Filter Pre Installed Beneath Drawer
Quick Setup Guide
Quick Reference Manual
User Manual

Setting Up the Leo's Loo Too
Save Product Registration Information
Before setting up your product, you should snap a photo of the bottom where the product registration info is found. Save it for your records in case you ever need additional help or information.
Choose the Correct Placement
Your Leo's Loo Too should only be placed on a solid surface, which means NO carpet. That ensures that the sensors will work properly. You also need to keep it a minimum of 1 inch away from furniture or walls.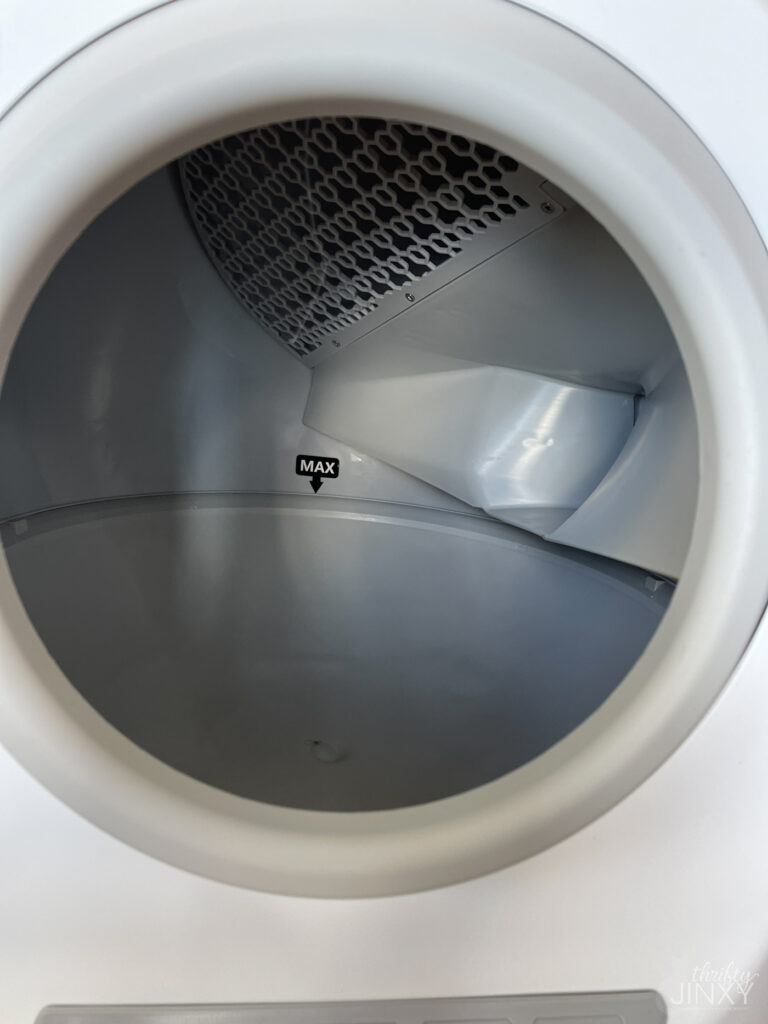 Add Cat Litter
Next up is adding the litter. Add up to 2.2 gallons (about 13 pounds) of clay clumping litter. Fill only to the MAX indicator inside the drum. If there is too much litter it will just dump into the waste drawer – no sense in wasting it!
Once the litter is added, plug in the Loo and hold the POWER button for 2 seconds to turn it on. The drum will do a full rotation and the light will flash.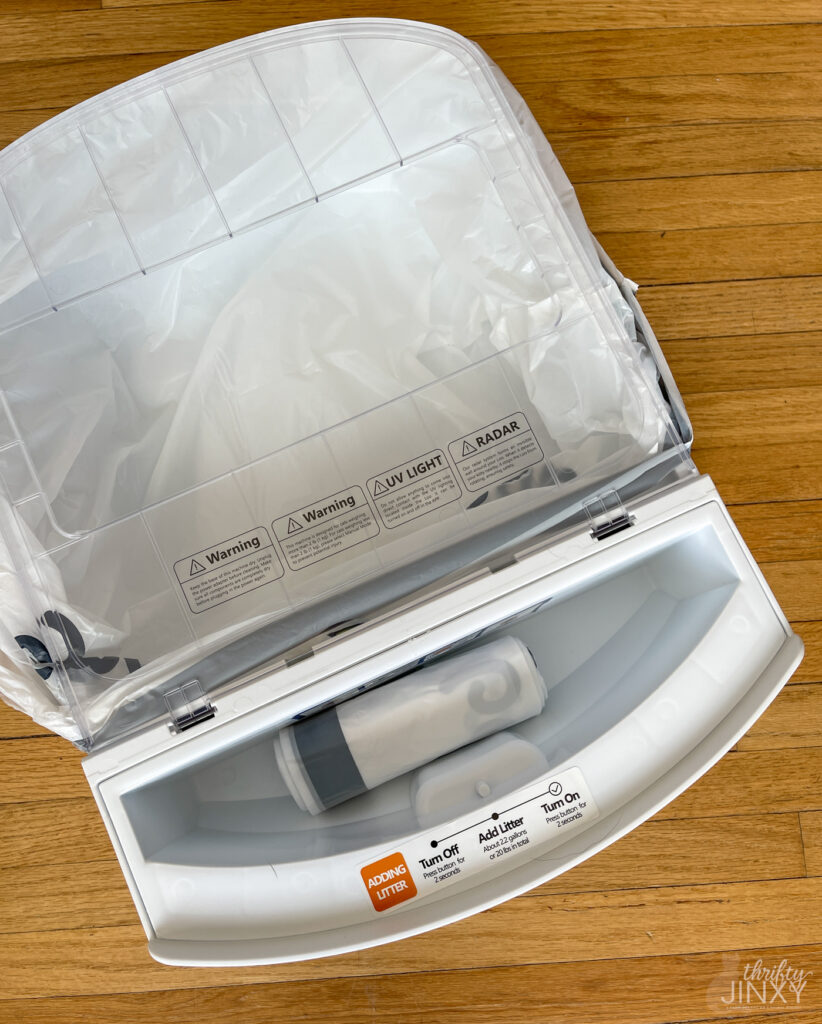 Prepare the Waste Drawer
Setting up the waste drawer is easy, but you'll want to follow these steps (which will become second nature after the first use.)
Remove the litter drawer and lift the top cover.
Spread the waste drawer liner bag evenly inside the drawer and smooth out all edges.
Replace the top cover and make sure the edges of the liner are smooth.
Reinsert the drawer.
Added Bonus: I LOVE that there is space inside the waste drawer to store additional bags. Very convenient!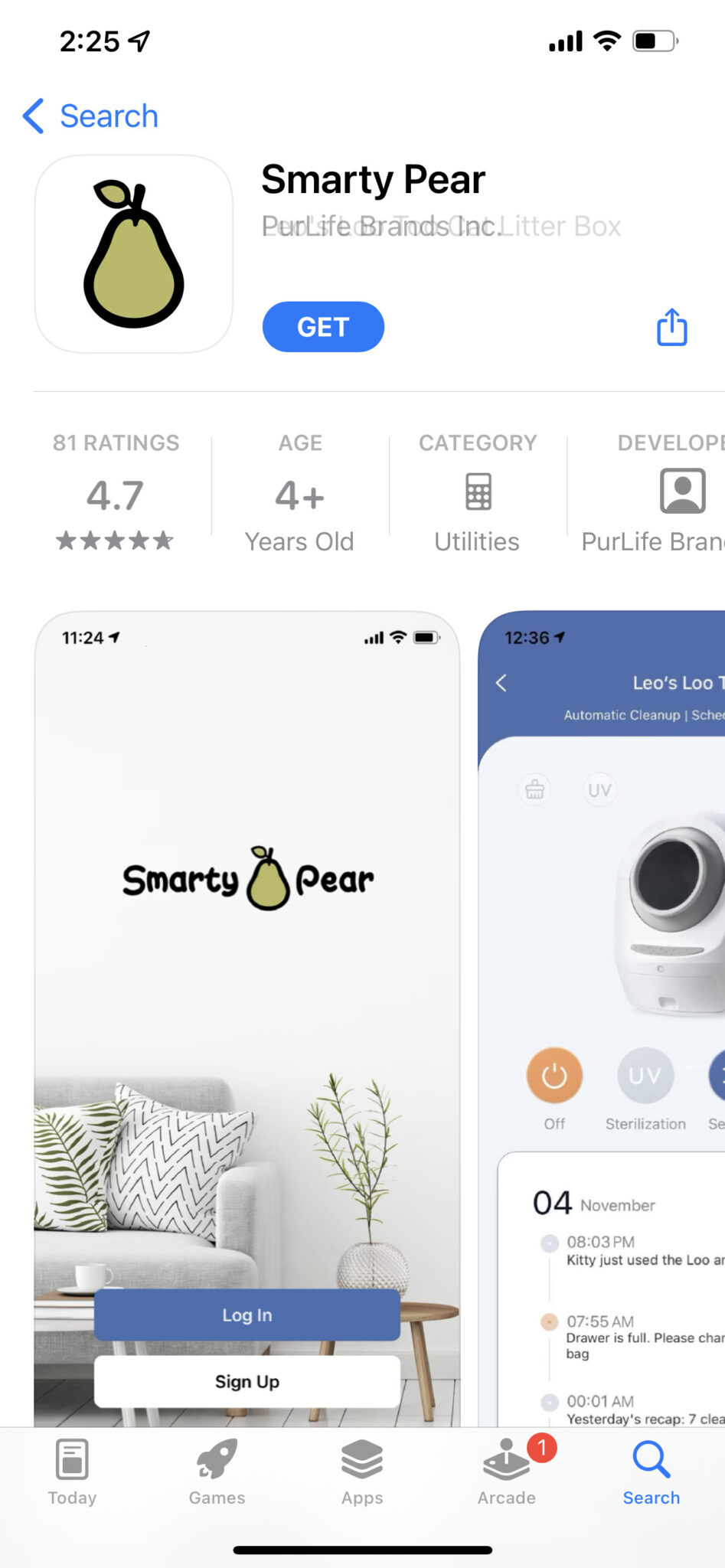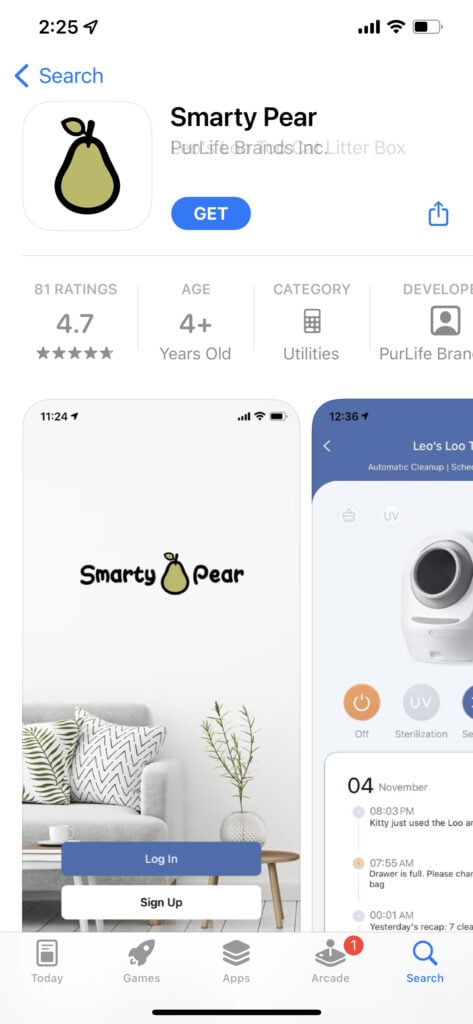 Pair with the Smarty Pear App
While using the app is optional, it makes things even easier and lets you see things even from a distance like when the drawer is full or when a cleaning cycle is in process. You can also see an activity record of when the Loo was used and even the weight of your cat!
You can also use the app to schedule daily cleanings or make adjustments to things like the number of drum rotations per cleaning cycle.
Additional Help
If you're the type of person who prefers to learn via video (which describes my husband perfectly and me not at all) Smarty Pear has video tutorials on their site that cover Getting Started, Acclimating Kitty, Monthly Cleaning and more.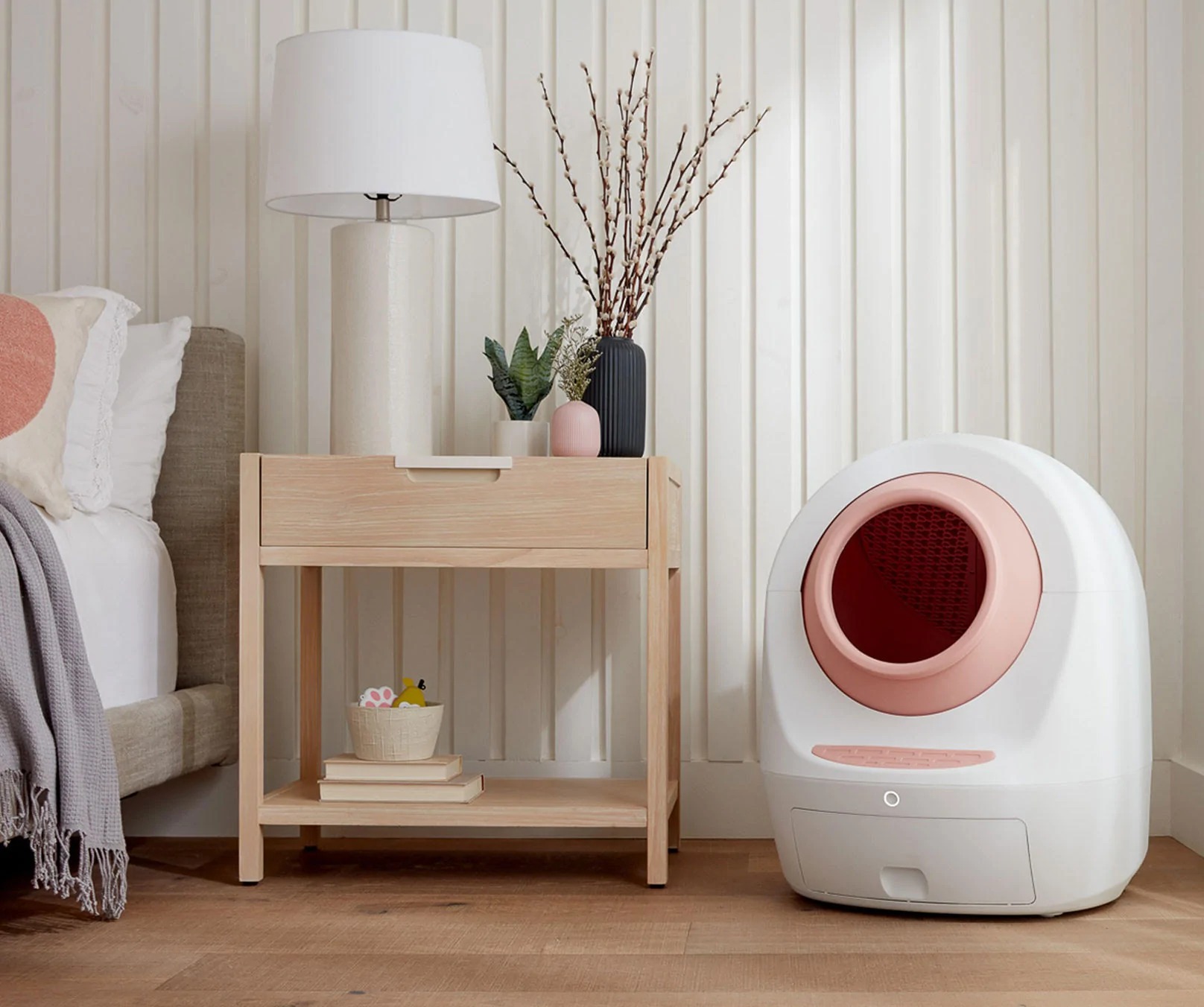 Buy the Leo's Loo Too:
The Leo's Loo Too can be purchased from Smarty Pear for the current price of $599.99. (Be sure to check out the Black Friday and Cyber Monday Sale info below). Shipping is free within the 48 contiguous US states.
If you have a friend or family member who is also looking to purchase (or if you have a whole bunch of cats) you can bundle and save $100 when you purchase 2, $200 when you purchase 3 or $300 when you purchase 4.

Smarty Pear Black Friday Sale:
Right now you can snag yours at a discount! THe Leo's Loo Too Black Friday deal has converted do a Cyber Monday Deal!! Save $50 when you use code CM50 at checkout!
90 Day Free Trial Period
If you are dissatisfied with a Smarty Pear product, you can return your product for a refund within 90 days of purchase. You will be responsible for paying the cost of return shipping.
Leo's Loo Too Warranty
Smarty Pear warrants the Leo's Loo Too against defects in materials and workmanship when purchased directly from Smarty Pear or a Smarty Pear authorized reseller for a period of one year. See details on their site. You can also purchase a 3 Year Extended Warranty for an additional $100.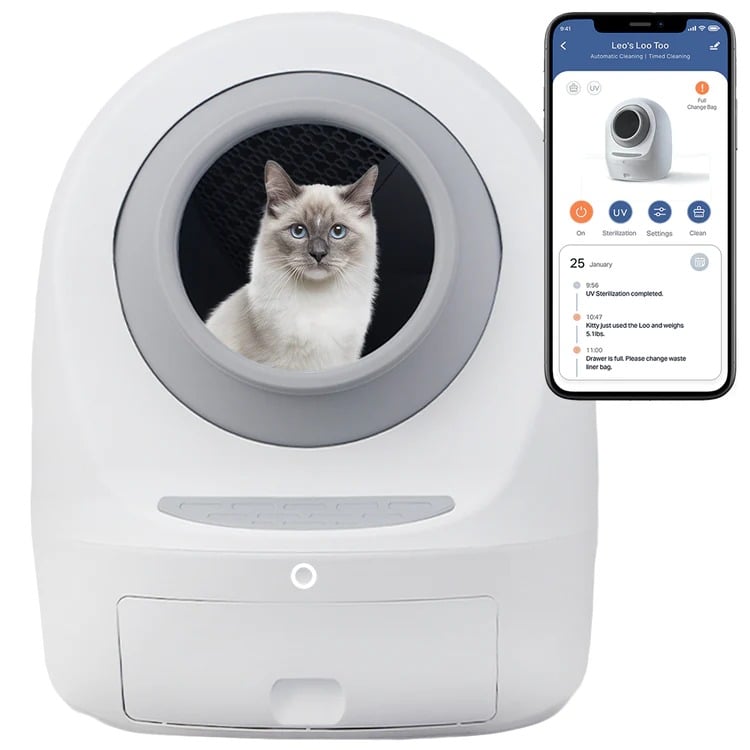 Update to Come – Leo's Loo Too Review
Since we just recently set up and starting using the Leo's Loo Too, I'll be back soon to give you an update as to how the cats are liking it, but I have a feeling it will be a hit. I'm already super impressed with the ease of use and the functions and my cats are already accustomed to climbing inside a covered self-cleaning box.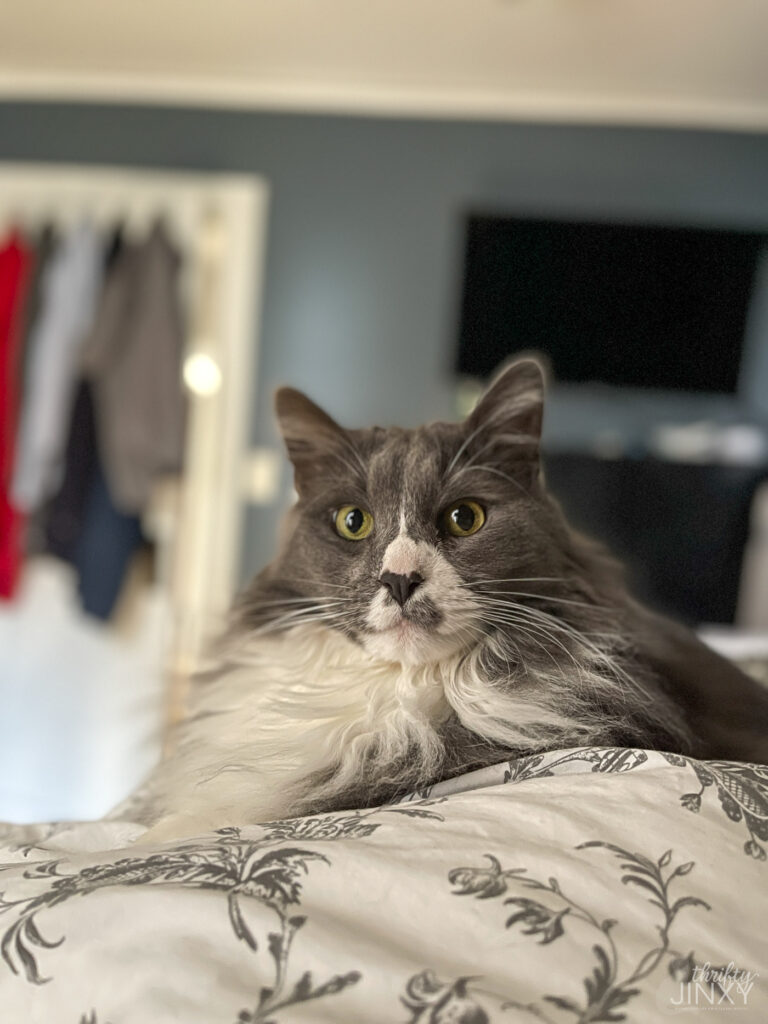 Leo's Loo Too FAQ
What Accessories are Available for the Leo's Loo Too?
Smarty Pear sells replacement parts for your Loo, including a replacement bladder and replacement power cord. They also sell accessories including additional waste bags and filters, a litter mat, charcoal air freshener and more.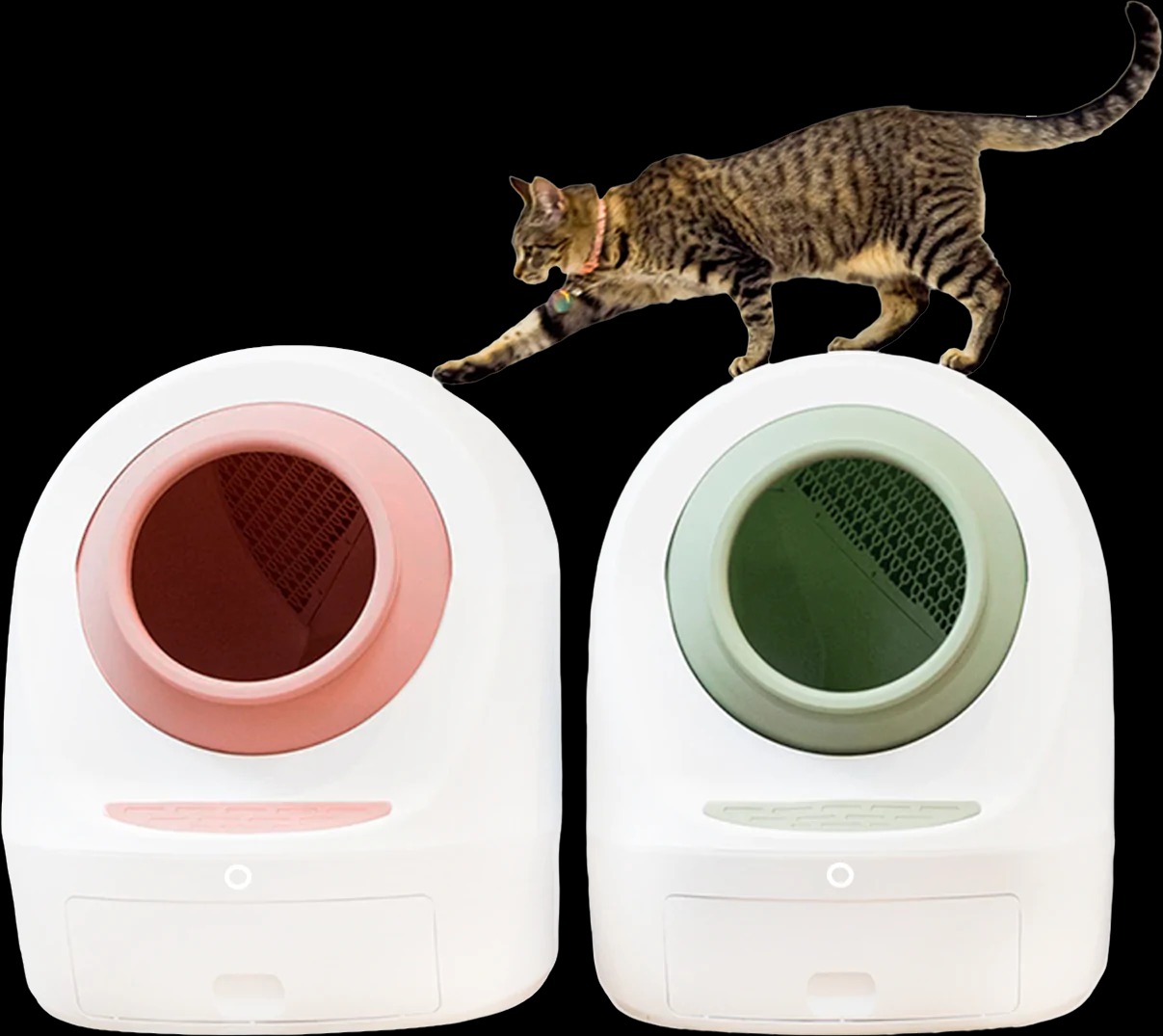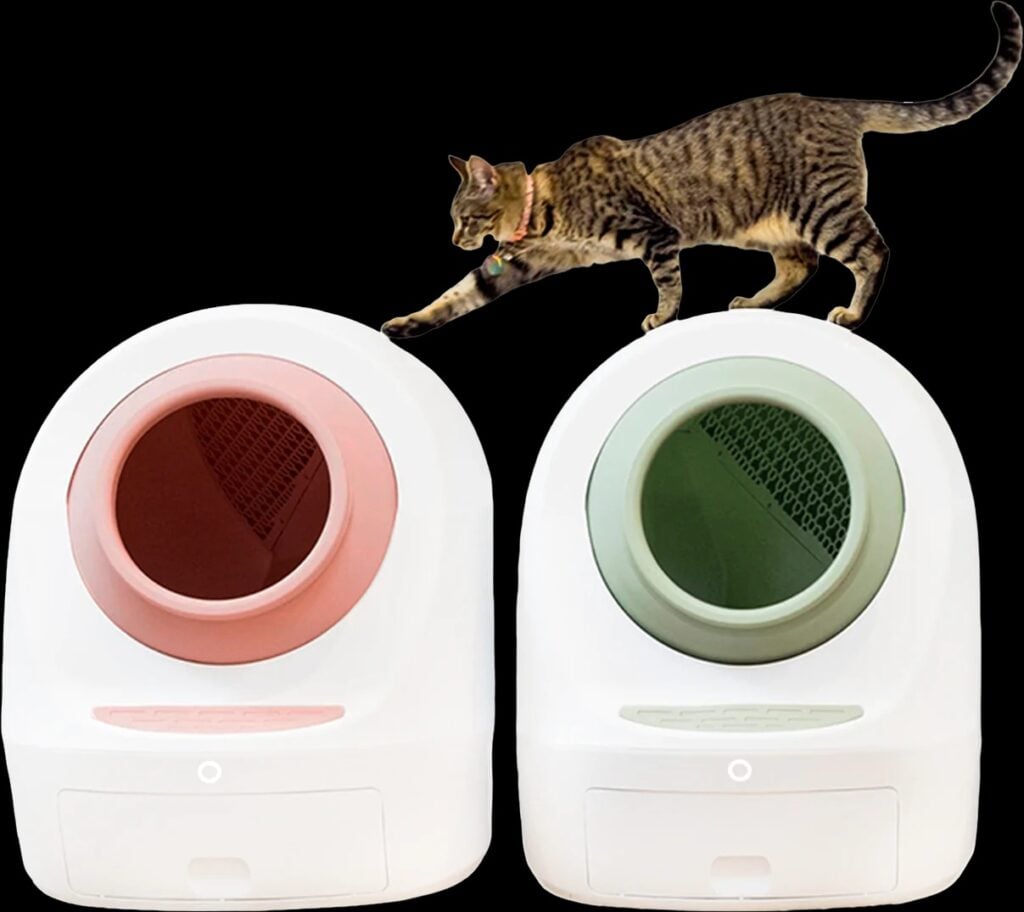 How Many Cats Can Use One Leo's Loo Too?
One Loo will support up to 4 cats. Of course, the more cats you have the more often you will need to change the waste bag. But also the more cats you have the less litter scooping you'll have to do by converting to the Loo!
If you do need more than one Leo's Loo Too, don't forget about the bundle deals I mentioned above to save when you buy more than one at a time.
Can I Use Other Bags with the Leo's Loo Too?
Leo's Loo sells replacement drawstring bags that are specifically designed to fit the waste drawer. While those bags definitely fit the best, I also tried it with an ordinary kitchen garbage bag and it worked fine.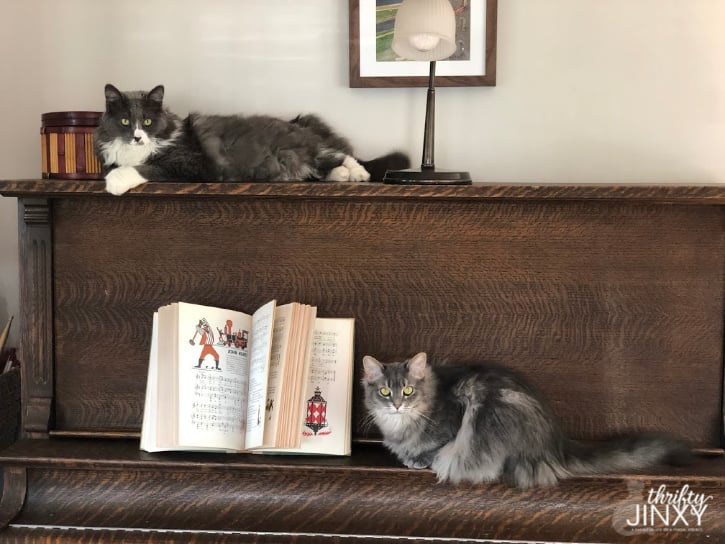 The Advantages of a Self-cleaning Cat Litter Box
Clean Litter Boxes = More Litter Box Usage
Cats love having a clean space and area, and the litter box is no exception to this. Nothing will make your cat want to use the litter box more than having a fresh and clean litter box every time they need to use it.
Hello Odor Control
It should be no surprise that the cleaner the litter box, the fewer odors you have. A self-cleaning litter box cleans after every use and gets to the mess quicker than you will. Not only is this perfect for anyone who leaves for work each day, but basically for anyone who doesn't want to be scooping up litter constantly just to prevent the odor.
You Can Set It and Forget It
As we showed above, using your self-cleaning litter box is as simple as keeping it full of litter and removing the bag from the litter tray when it's full. The self-cleaning litter box even has a notification when it's full and time to change the bag.
You will Save Money on Cat Litter
Cat litter isn't cheap, and certain types of self-cleaning litter boxes require specific types of cat litter to work. With the Leo's Loo Too you can use regular clumping cat litter AND it's specifically designed not to let unused litter go to waste. That means you can save a lot of money on cat litter over the years.
Are Cats Happier with a Clean Litter Box?
YES! Cats are always going to be happy with a clean litter box, which is why using a self-cleaning litter box is a great idea. This means that the cats aren't waiting on you to clean it, and it will stay cleaner for longer and more quickly – which is always pleasing to cats

PIN IT ON PINTEREST: