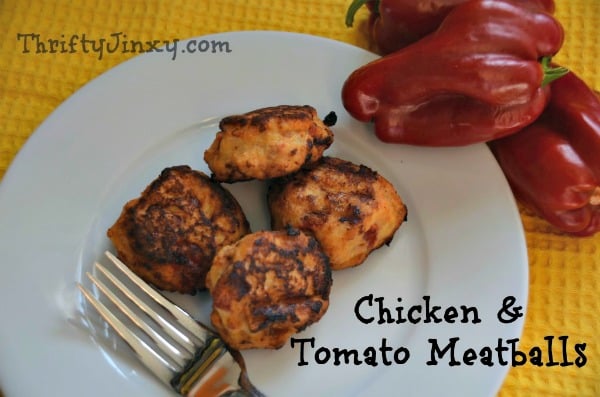 These yummy chicken and tomato meatballs incorporate tomatoes for a yummy flavor boost. Make a big batch and store them in the freezer. They make a perfect quick dinner or a fun appetizer for un expected guests.

Chicken and Tomato Meatballs Recipe

Ingredients:
1 slice white bread
2 Tbsp milk
1 pound ground chicken
1 can Diced Tomatoes with Basil, Garlic & Oregano, drained well (I also chopped them a bit smaller)
Salt and pepper to taste
3 Tbsp canola or vegetable oil
Directions:
Tear bread into small pieces. In a medium bowl, add milk and mash bread until it becomes a thick paste. Mix in remaining ingredients. Form small balls approximately 2″ in diameter.
To cook on stove top:
Heat oil in a large skillet. Drop chicken balls into oil and cook until first side is browned. Flip and continue to cook on the other side until brown and cooked through..
To grill:
Heat grill to medium high. Place balls on skewers and grill, rotating occasionally, until browned on all sides and cooked through.
Serve as-is or with dipping sauces – marinara, BBQ or ranch.