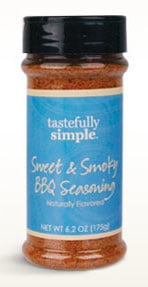 A long time ago I came across a recipe to make Crockpot rotisserie chicken. Unfortunately, I never clipped or bookmarked that recipe, but I DID remember the basic premise of how to do it.
Years later I had the opportunity to try Tastefully Simple Sweet & Smoky BBQ Seasoning, I thought it would be perfect for adding flavor to my own attempt at Crockpot rotisserie chicken, which it WAS, but it is no longer manufactured. Luckily, I have found a substitute with Smoke Kissed Sweet BBQ Shaker.
This sweet and savory barbecue seasoning is the perfect balance of sweetness and hickory smoke, this seasoning gives a smoke-kissed flavor. Touched off with a blend of salty and mildly hot spices, this blend goes great as a rub on your favorite meats or as an accent seasoning on grilled vegetables, baked potatoes or even french fries.
On to the recipe – – – Since we don't care for dark meat chicken in our house, I decided to make just two chicken breasts rather than a whole chicken. This recipe is so easy to make and it's great to come home to at the end of a long day!
Crockpot Rotisserie Chicken Recipe
Ingredients:
2 whole chicken breasts
Smoke Kissed Sweet BBQ Shaker
Prepare the Crockpot by crumpling up several balls of aluminum foil and setting in the bottom of the Crockpot. After washing and drying your chicken, rub all the surfaces with the Smoke Kissed Sweet BBQ Shaker. Set on top of the aluminum balls and cover crockpot. Cook on high 4-5 hours or until fully cooked through.