Make these delicious slow cooker chicken tacos complete with an easy peach salsa recipe made with canned peaches.
I have been a fan of Goya products for a looong time. One of my top 5 go-to ingredients for cooking is Goya Adobo. I put it in all the things where it would be expected, particularly Puerto Rican and Mexican dishes, but I also add it to spaghetti sauce, meatloaf, fried rice – – you name it.
It might be that my husband is a little bit addicted to it. I usually know if a dish has the right amount of Adobo he'll like it.
Goya recently sent me a few products to try and one that I was most interested to see was Adobo Light, which has 50% less sodium than regular Adobo. I know it's a good idea to try to reduce the amount of sodium in our diet, so I was anxious to try it.
Goya also has a new cookbook: Goya Healthy Tasty Affordable Latin Cooking. It is filled with nutritious meals, easy recipes and quick tips from Mexico, Spain, Argentina and beyond.
I took one of the recipes included in the book, Grilled Fish Tacos with Peach Salsa, and gave it a couple of twists.
I substituted chicken for the tilapia and cooked the meal in a slow cooker so that it would be all ready at the end of the day when we got home. You can see the original recipe here, or continue below to see my version.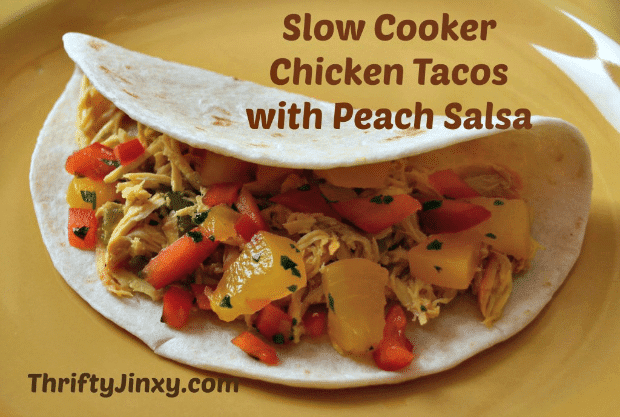 Slow Cooker Chicken Tacos with Peach Salsa
Ingredients:
For the Salsa:
1 can (15.25 oz.) GOYA® Peach Halves, drained and chopped (about 1 cup)
½ red bell pepper, finely chopped (about ½ cup)
¼ red onion, finely chopped (about ¼ cup)
1 GOYA® Whole Jalapeno Pepper, seeded and finely chopped
1 tbsp. finely chopped fresh cilantro
2 tsp. GOYA® Lemon Juice
GOYA® Adobo All-Purpose Seasoning with Pepper, to taste
For the filling:
2 boneless, skinless chicken breasts, about (1 lb)
1¼ tsp. GOYA® Adobo All-Purpose Seasoning with Pepper
1 packet Sazón GOYA® with Coriander and Annatto
1 medium onion, sliced thin
1/2 green pepper, sliced thin
1 clove garlic, minced
1/4 water
How to Make Chicken Tacos with Peach Salsa:
For the salsa, mix all ingredients in a small bowl and refrigerate until ready to use.
For the filling. Place chicken in the bottom of slow cooker. Sprinkle with Adobo and Sazon. Place garlic, onions and pepper on top. Add 1/4 cup water to cooker. Cook on low 4-6 hours. Once fully cooked, shred chicken using two forks.
To serve:
Serve filling in tortillas topped with the peach salsa. Enjoy!!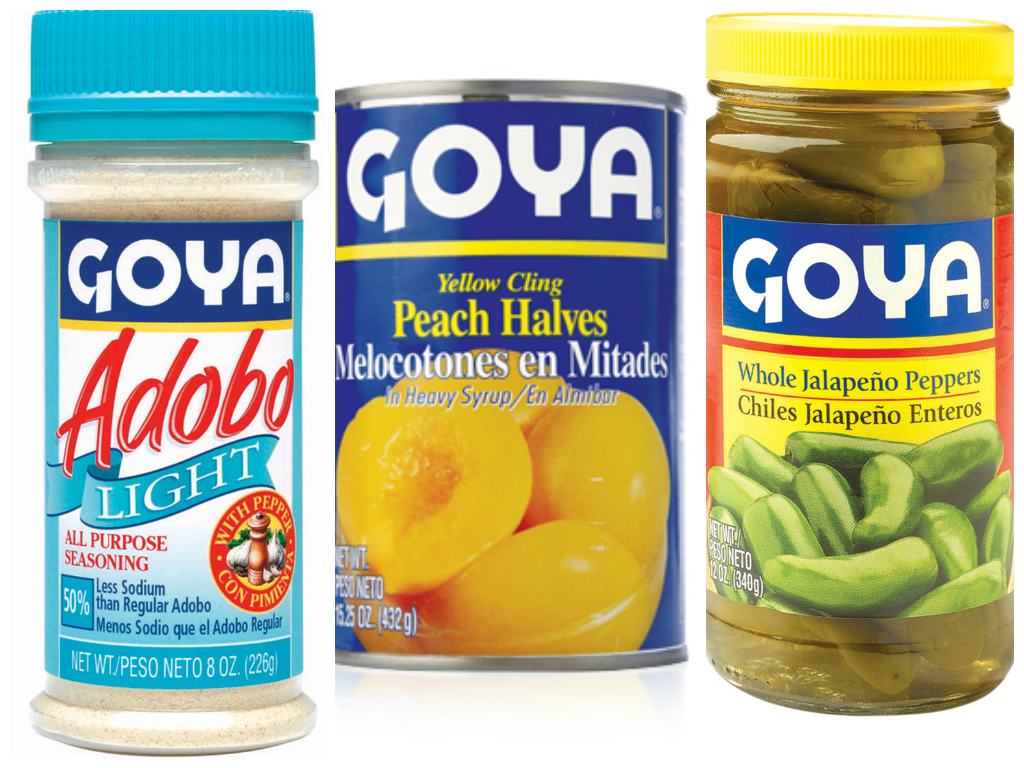 Disclosure: Goya provided me with products to create this recipe. Any opinions expressed are my own.