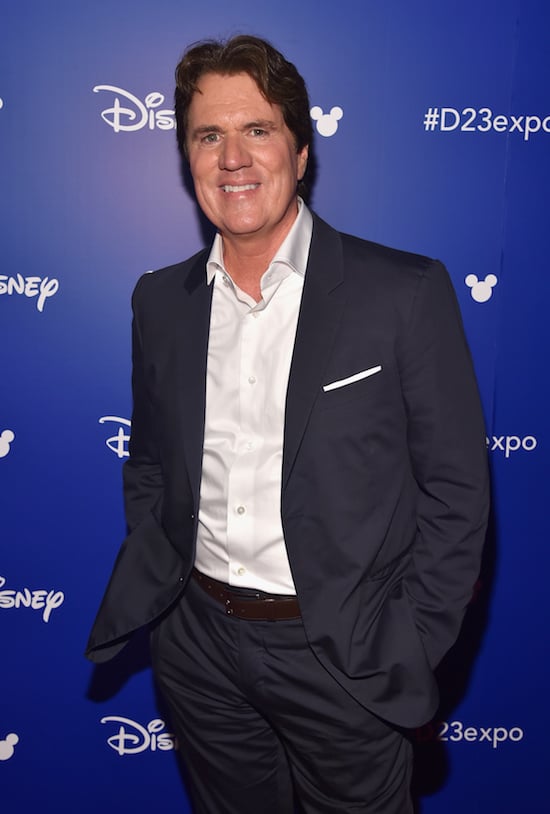 While I was interviewing the cast of Mary Poppins Returns, including Emily Blunt, Lin-Manuel Miranda, Ben Whishaw and Emily Mortimer, the one thing that came up in each and every interview is what an amazing director Rob Marshall is and how thrilled they all were to work with him.
This seems to be the unanimous opinion of everyone who has worked with him because I remember all of the cast of "Into the Woods" expressing the same opinions when I interviewed them several years ago.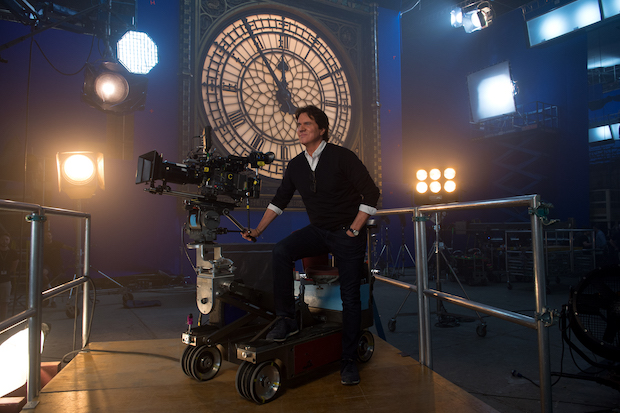 Even though I only had our short interview time and a brief time I had to chat with Rob Marshall at the Mary Poppins Returns world premiere after-party, you can sort of sense his "specialness" He's the kind of person you both could sit and talk with for hours and the type that we all secretly wish any boss we ever had could be. I know I would have quit a lot fewer jobs if that were the case!
While I don't get to have Rob as my director or boss, I did get the chance to interview him and hear what he had to say about makingMary Poppins Returns.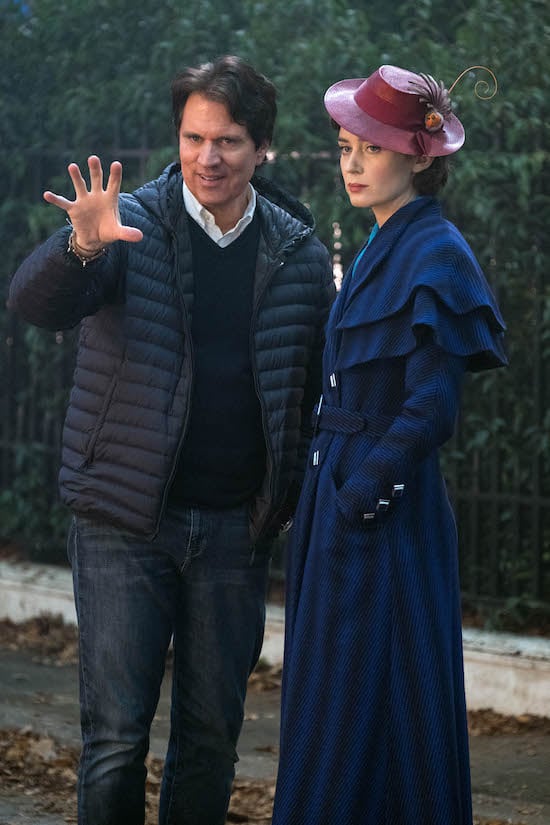 How Rob Marshall Convinces Actors Anything is Possible
"It's sort of interesting," said Rob, "when I work with Actors I really find they need to feel positive reinforcement and it's such a simple thing to do. It's like being a really good parent. I try and achieve that."
Rob referred to Ben Whishaw, who plays Michael Banks. Rob said, "he's never sung before, you know. He was sort of nervous about how to do that and I always feel that people can do so much. It's just feeling that they can and knowing that they can. I like to protect them in rehearsals. We had over 2 months of rehearsal. So it was during that time that you can fail and be bad and then learn to get better and not feel judged. That's a really important thing."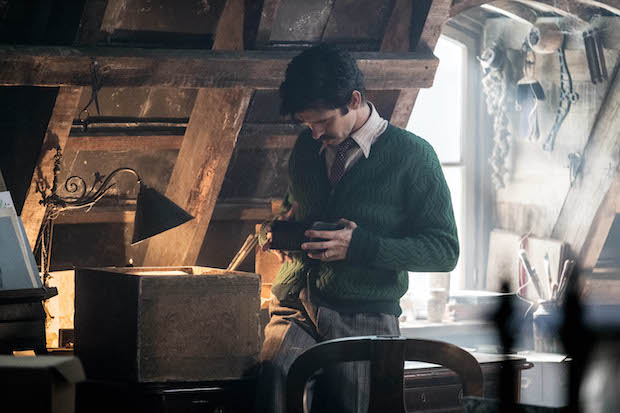 "I like to protect actors," added Rob, "to make them feel they can do things and try things. And everybody was so nervous on this film because we were following that extraordinary film that means so much to me and so much to so many people. So we knew we were doing the impossible, but I honestly felt like if we did it together from the right place with a great respect for the first film and found our own way at the same time then we would at least have done it in the right way and then you hope that it works.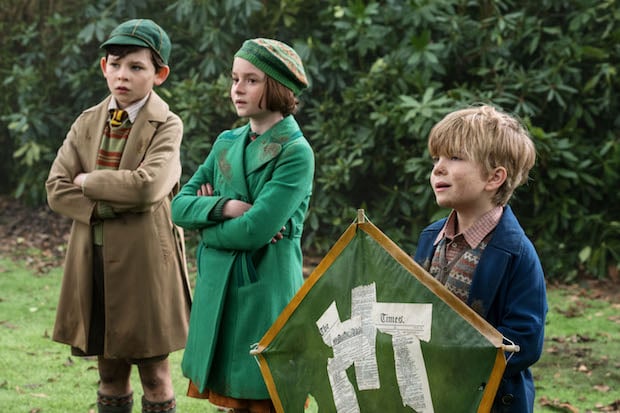 (A Different Kind of) Mary Poppins Returns Easter Eggs
We all love Easter eggs that are found in Disney animated films, but Mary Poppins Returns has Easter eggs by including a few pieces from the original movie, Mary Poppins. Rob stated that he had originally visited the Disney Archives. He found they "didn't really have the archives in the 60's, not much, there's some. What there is I saw. Do you remember the blocks from Mary Poppins? We replicated the blocks. They didn't want to give us the blocks, but we replicated them. They're in the attic if you look. And so is the snow globe. We replicated that as well. The only real thing is the table in the front hall, which I saw at Club 33 at Disneyland and I said, "That's in the movie if they let us have it" and they did. So that was really moving to me."
Rob also said, we "created our own version of the kite. Those very specific things from the first film I really wanted to hold onto if I could and that's for the people who love the first film. It's those first little Easter eggs. I use myself as honestly as a barometer the whole time asking 'What would I want to see? I wouldn't want to abuse it too much because it's very easy to sort of overdo it. I wanted to specifically and strategically place things that meant something to people.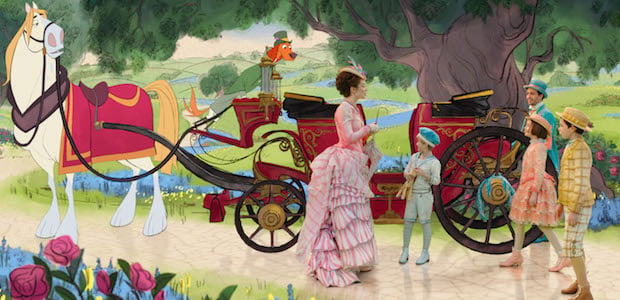 Creating the Animation in Mary Poppins Returns
Rob said, "because that was the most challenging part of the whole filmmaking, it's the first thing we shot. It's all hand drawn animation, every frame, so we needed to get that material to the animators right away. And the reason our post production was I think close to 14-15 months was because of the hand drawn animation. They needed that time. Can you imagine flip, flip – draw, draw? That's crazy. It's so hard."
Rob went to visit the animators and he said, "the majority of them came out of retirement to do this. It's kind of a lost art, although I have just to say I was somewhat hopeful because a lot of the artists there really were also in their 20's who were more interested in working on the hand drawn animation than the computer generated work. So that was really good.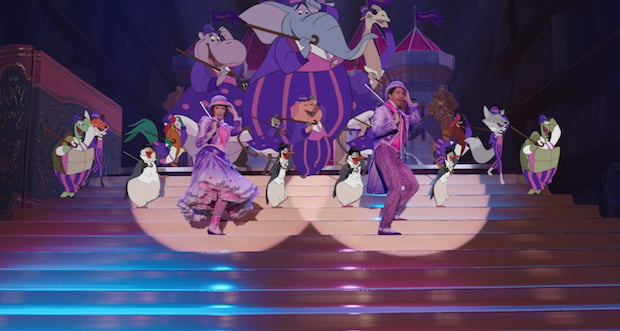 "In a funny way I thought it will seem fresh because we haven't seen it for so long you know. You haven't seen that beautiful artistry of that work. We started with the musical number A Cover Is Not The Book and we had to shoot it like literally 3 different times." Rob used the scene with Mary Poppins and the penguins as an example. He said the first time, "it will be Mary Poppins and then we would have reference dancers being the penguins. Of course they're not the size of the Penguins. So we set the frame and set the shot and film it like that. Then we would take them out and she would dance alone and pretend they're there. Then I would take Mary out and put just the penguin reference dancers in so that the animators would know exactly how all that is very specifically choreographed."
Working with Dick Van Dyke
"He's something else," said Rob. "I mean there's no one like him. I was so excited and nervous to even call him to ask him to do this because he's a hero for me. I mean that's the Dick Van Dyke Show for me honestly. Chitty Chitty, Bang Bang you know all of it. Bye Bye Birdie, all of it. Talking to him he just disarms you immediately. He's so joyous and it's just sort of who he is and he said yes so quickly. He was excited to be part of it."
"When he came onto the set he honest-to-God grabbed my arm as we were walking on and said, "I feel the same spirit here on this set that I did in the first film." And I thought 'okay, well that's everything. That's all I need to hear.' That was everything for me to hear that from him."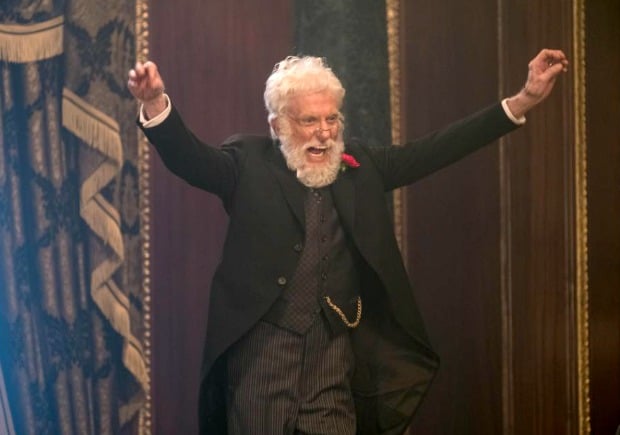 Rob also let us know that was Dick Van Dyke doing all of that dancing himself. He explained that when he got up onto the desk to dance, "I said to Lin and Emily, 'If he falls off that desk you're dead.' I said, 'you're spotting him'. I mean, who else? There's no one there. I said, 'You are spotting him. So if he starts to wobble I want you to jump in.' Of course he was perfectly fine. In fact, he doesn't even use Lin's hand. When you see the film, you see Lin is literally standing there he doesn't use him, he just goes right up."

For more about Mary Poppins Returns, see also:
My Mary Poppins Returns Movie Review
The Music and Magic of Mary Poppins Returns
How Emily Blunt Tackled Her Challenging Mary Poppins Returns Role: An Interview
Lin-Manuel Miranda Trips a Little Light Fantastic in Mary Poppins Returns
A Magical Night: My Mary Poppins Returns World Premiere Experience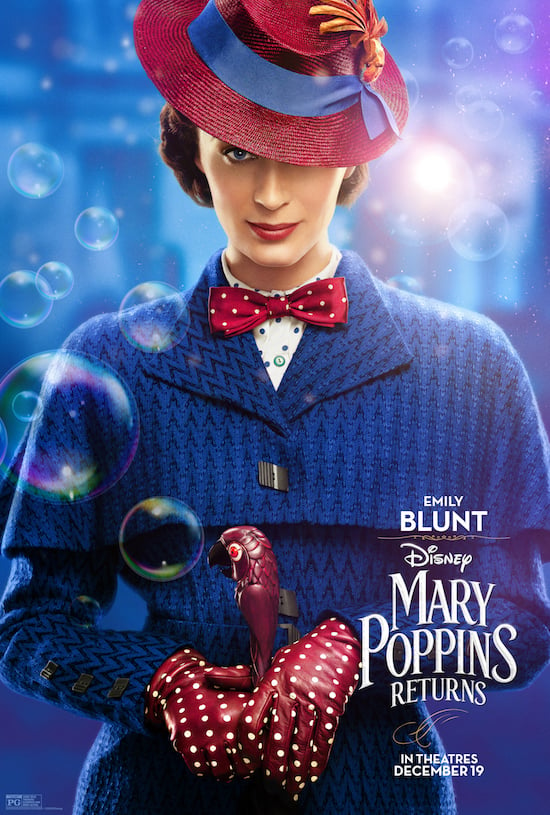 MARY POPPINS RETURNS arrives in theatres everywhere on December 19th!
Like MARY POPPINS RETURNS on Facebook
Follow Walt Disney Studios on Twitter
Follow MARY POPPINS RETURNS on Instagram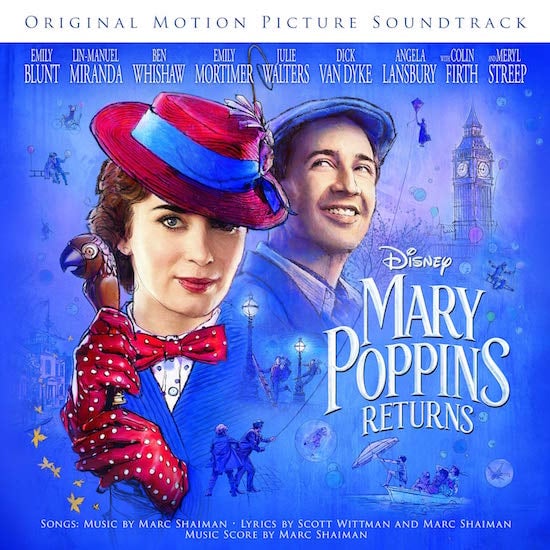 The Mary Poppins Returns Soundtrack is available NOW!