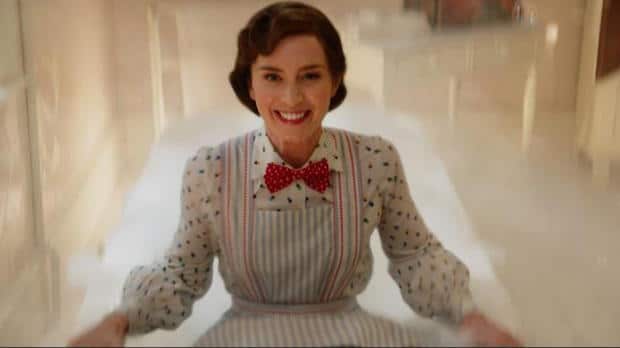 Stepping into the iconic shoes of Mary Poppins is a huge job. She's a character that has been loved by millions, especially since she was played so perfectly by Julie Andrews in the original Mary Poppins way back in 1964. If there were ever a woman who was up to the task to play the lead in Mary Poppins Returns, Emily Blunt has to be it!
It's hard to deny that Emily Blunt is pretty much all-around amazing. She's a gifted actor, she sings beautifully, and in the case of Mary Poppins Returns, she dances too! Besides all that she is a charming and hilarious person, which I noted the first time I interviewed her for her role in Into the Woods.
Last month I had a chance to interview Emily again and find out a bit about what it was like for her to play Mary Poppins and be a part of Mary Poppins Returns. Here's what she had to say!
The Moment Emily Blunt Realized She WAS Mary Poppins
Emily points to, "the arrival scene where I am dangling 60 feet from a crane and Rob Marshall played the amazing orchestral music from the speakers, like BLARED it from the speakers, so that it was very transporting and really exciting – but I was kind of terrified at that. I thought I was alright with heights and then I was up there and like I'm not. I think that was the moment because I had the coat, the hat, the umbrella, the feet."
"It was one of the only moments I allowed myself, because I kind of had to block out the fear of how iconic she was in taking this on for most of the shoot. But that was the moment where I allowed myself that moment. I was hit between the eyeballs with it."
The Challenges of Playing Mary Poppins
"The dancing was a bit daunting," said Emily, "because I'd never done those sort of big show-stopping Hollywood numbers, but the great Rob Marshall is an incredible choreographer, as well as an incredible director, so we were in safe hands. I feel like Lin-Manuel and I were sort of on a par with dancing abilities, so we were in it together, Thank God. If I had been dancing like Justin Timberlake, that would have been really embarrassing."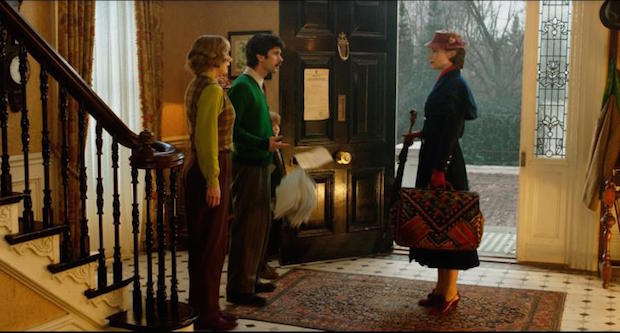 As another challenge, Emily said "I would say that on a deeper note, I think the initial idea of taking on the role of Mary Poppins because she is so iconic and Julie Andrews is so iconic and the character has this searing imprint on people's lives. It's often the first movie that anyone ever saw and so it was that, I needed to get over myself and sort of approach her as I would any other role and ignore everyone's sort of gasping reaction when I said I was going take on Mary Poppins."
"There's just so much energy coming at you that you have to allow that to be white noise and just approach her as I would any other character. So I think it was the initial overcoming of that and then I just completely fell in love with her. I was just so mad about her by the end. I just loved it, loved it."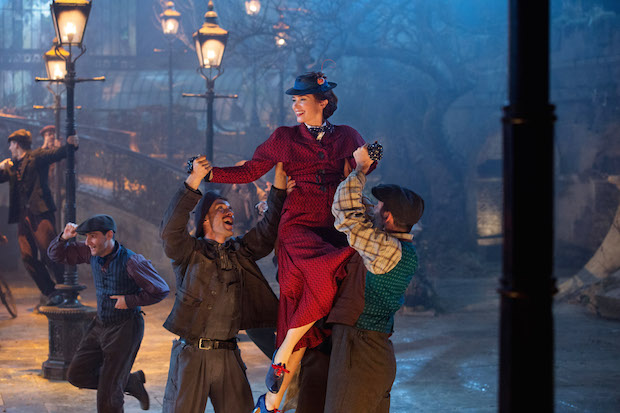 Emily's Favorite Mary Poppins Costume
When it came to her costumes, Emily "really loved the red suit with the skirt that kind of flowed out when I danced with 30 Lamplighters. I remember [Director] Rob Marshall really wanted like a Ginger Rogers type of look and it's not actually accurate for the time period to have a skirt that opened up like that."
So that's where [Costume Designer] Sandy Powell, the great Sandy Powell, created all those very tight pleats so that it looked very chic and sort of straight lined. And then when I turned, the whole skirt kind of opened up. She's just so exciting to work with. I mean all the costumes are so extraordinary but I think the red suit was pretty epic. I loved it."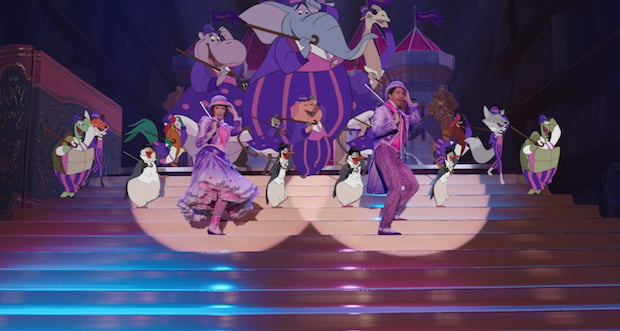 Emily's Favorite Scene in Mary Poppins Returns
There were so many scenes that Emily loved, but she said, I love the poignancy of the Ballad that I sing to the kids because it's sort of her revealing her most tender side because she's such a weird, eccentric lady and she's stern and shows great humanity and shows great depth because she comes into their lives to heal and to bring order to chaos and reintroduce the idea of Magic, but she doesn't let you know that so it's sort of exciting to play someone who's in command of the environment and yet pretends kind of not to be and expects nothing in return…"
"And then I loved that big, "A Cover Is Not the Book" number, with Lin. It was wild. That was really fun."
On Working with Dick Van Dyke
"Oh My God," said Emily. "It was so overwhelming I have to say because he's so sprightly and cool – just what a gorgeous human. He walked on set and he just said 'I feel the same spirit here that was there on the first movie', and of course, we all wanted to cry. We would sit around him and just want him to tell us stories about the original and he sang 'Jolly Holiday' to me. I was just like that's it, I could die now, that's it. I could die and be happy."
"And I think probably actually my other moment of 'Oh My God, I'm playing Mary Poppins' was in the scene with him where he has that beautiful monologue that was so gorgeous and we're all crowded around him and the music starts, and he finishes the monologue, crosses his arms and he looks up at me. I just remember looking at those iconic blue eyes and I was like 'WOW'. That was so wild."
For more about the movie, see my post about The Music and Magic of Mary Poppins Returns and my in-person experience at the Mary Poppins Returns World Premiere.
Heads up to all Mary Poppins Returns fans and Funko Pop! Collectors: The brand new MARY POPPINS RETURNS Funko Pop! Vinyl Figures are now available and they are so stinkin' cute! Get them all here:
Mary Poppins Returns Mary with Kite Pop! Vinyl Figure #468

Mary Poppins Returns Mary Pink Dress Pop! Vinyl Figure #473

Mary Poppins Returns Mary with Skirt Bag Pop! Vinyl Figure #467

Mary Poppins Returns Jack the Lamplighter Pop! Vinyl Figure #469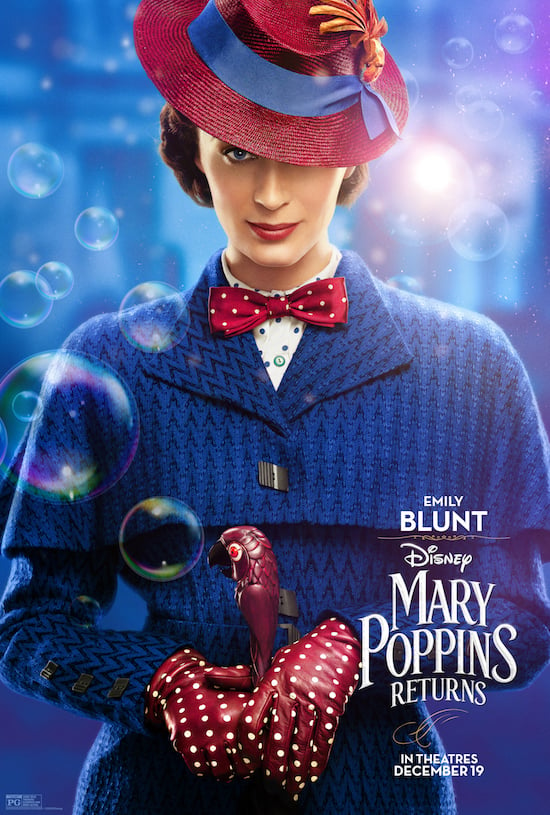 MARY POPPINS RETURNS arrives in theatres everywhere on December 19th!
Like MARY POPPINS RETURNS on Facebook
Follow Walt Disney Studios on Twitter
Follow MARY POPPINS RETURNS on Instagram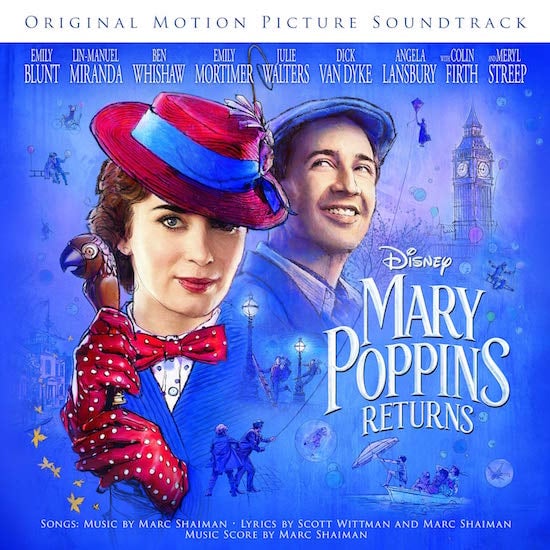 The Mary Poppins Returns Soundtrack is available NOW!