At the very center of Disney's INTO THE WOODS are the Baker and his Wife, played by James Corden and Emily Blunt. Last Friday I had the opportunity to interview them along with a table full of other bloggers. It was a blast! The pair are both hilarious and I swear they could sit and banter back and forth with each other all afternoon and everyone in the room would be entertained.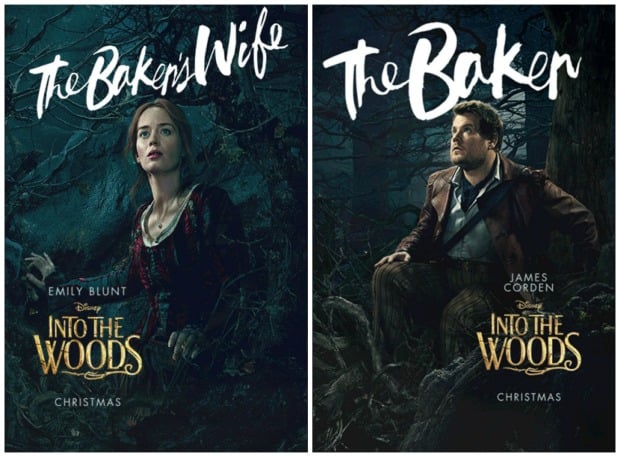 Emily and James chemistry on-screen may be due in part to their great chemistry off screen. The two have known each other for eight or nine years, having first met a polo match that was also attended by Princes William and Harry. They joked about how terribly British that is.
When Director Rob Marshall told Emily she had the part of the Baker's Wife, she asked who the Baker would be. When she found out it was James Corden she said, "I was so relieved and so thrilled because I knew that this couple needed to have real, lifelong chemistry and ease with each other. You needed to believe in them and that they've been together forever."
Emily noted that the baker and his wife were probably the only option each other had since they grew up in a small village. James noted that there are "always options" when you're "rocking this" – – pointing to his body.
Both Emily and James are parents and they were asked about working with the children in INTO THE WOODS – Lilla Crawford as Little Red Riding Hood and Daniel Huttlestone as Jack. James said, "They're both incredibly talented and gifted and also composed and assured. It's one thing being brilliant in the film; it's another thing just being brilliant to be around all day, and they are."
Emily added, "Lilla Crawford was doing eight shows a week playing Annie on Broadway. This is a girl who knows how to punch in and go to work, and show up, and be professional, and when she opens her mouth, she has a voice like a trumpet. And Daniel was completely unflappable – the coolest kid." James said that Daniel has "that thing which is unquantifiable – you don't know what it is, but it's just there. And he's so gifted, musically. He's the real deal. He really, really is."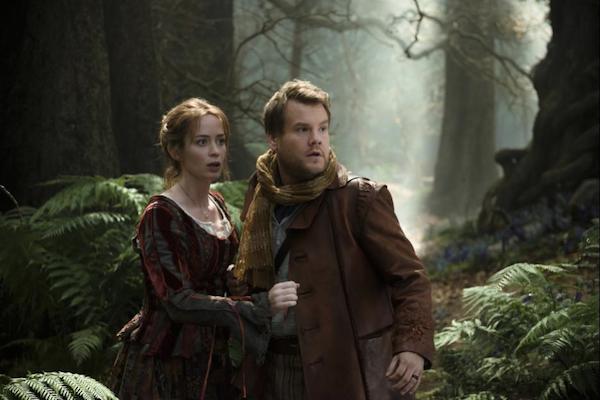 One thing I was excited to hear more about was James Corden moving into his role as the new host of The Late, Late Show (a post currently held by Craig Ferguson). He's says he is looking forward to "a job where I get to be creative every day, I get to have fun every day and talk to America before (or more likely while) they're falling asleep and at the end of every day, I get to go home and be a present father and husband. I just don't think there's ever a child when they're twenty or thirty, sitting in a therapist's chair going, 'you know, my dad was just around too much'."