These 80+ Pumpkin Spice Recipes feature everything from lattes and granola to cakes and cookies. Enjoy autumn with pumpkin spice all day long!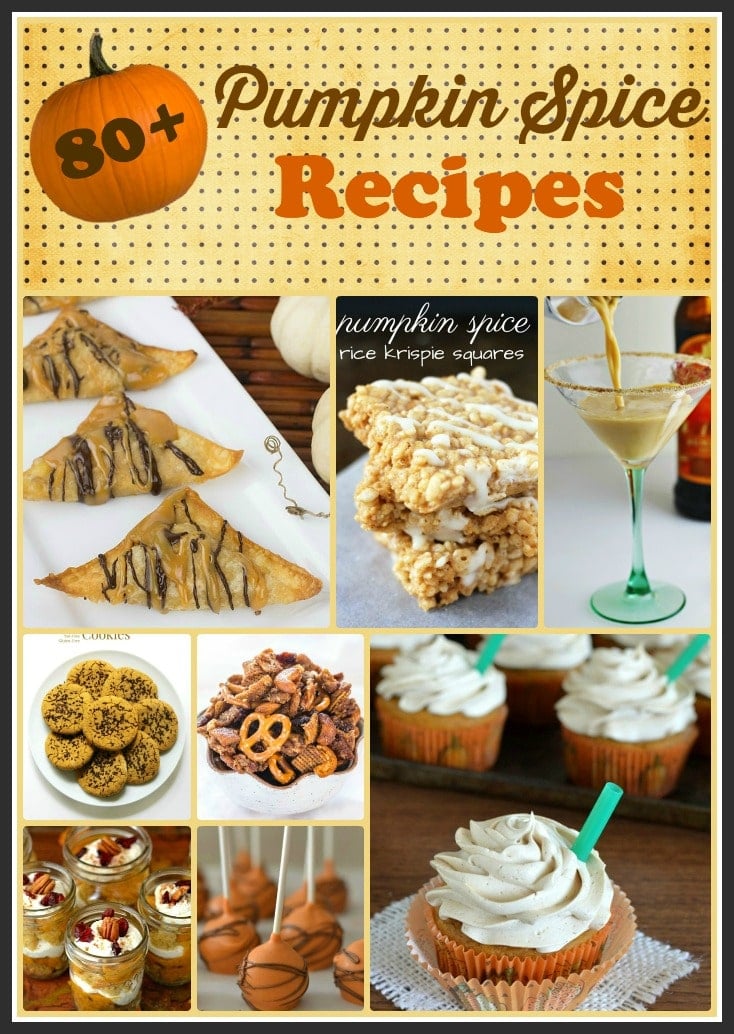 It's autumn again and you know what that means – – It's pumpkin spice season!! Starbucks may grab everyone's attention with their beloved pumpkin spice latte, but I'm here to say, who needs 'em!?!
We've got more than 80 pumpkin spice recipes. That means lots of ways to enjoy pumpkin spice -from lattes, creamers, granola, and even energy balls, to all of the cookies, cakes, and breakfast foods yograu can imagine.
It won't matter what time of day it is when you want your pumpkin spice fix – this list has you covered.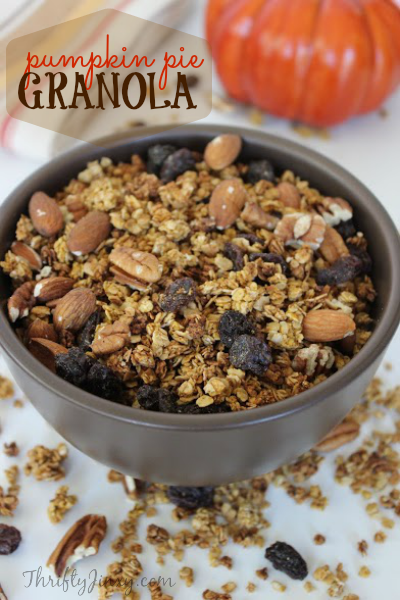 Before Christmas and winter get here with all their peppermint business, enjoy non-stop pumpkin spice treats! Not only are the recipes listed here absolutely delicious, but imagine how much money you'll save making those PSL's right at home.
Many of the sweets and treats here are suitable for any party or get together you have this season. Halloween and Thanksgiving will both be successes when you let your guests indulge in some of these instant hits.
80+ Pumpkin Spice Recipes
Pumpkin Pie Granola – Thrifty Jinxy
Pumpkin Pie Snack Bites – Strength and Sunshine
Pumpkin Spice Coffee Creamer – My Organized Chaos
Non-Dairy Pumpkin Spice Coffee Creamer – The Kitchen Wife
Pumpkin Spice Syrup – Teaspoon of Goodness
Pumpkin Spice Cake Pops – Flour on My Face
Pumpkin Pie Muddy Buddies – Thrifty Jinxy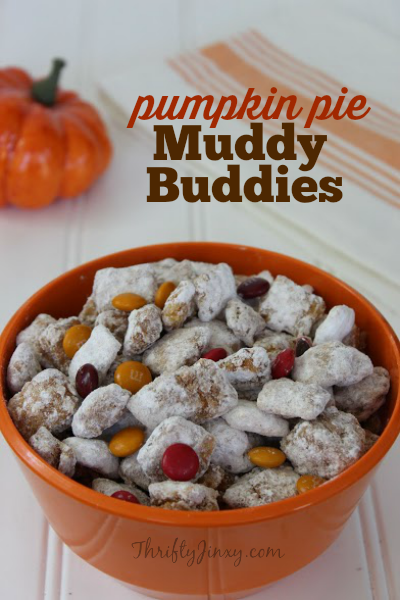 Pumpkin Spice Cake with Chocolate Snickers and Ganache – Frugal Mom Eh
Pumpkin Spice Cake Cups – Simply Stacie
Pumpkin Spice Pancakes – Flour on My Face
Pumpkin Spice Bars – Penny Pincher Jenny
Pumpkin Spice Cookies with Maple Icing – Frugal Mom Eh
Pumpkin Spice Oreo Truffles – Flour on My Face
Pumpkin Spice Cinnamon Pops – Life Love Liz
Pumpkin Spice Latte – Frugal Mom Eh
Pumpkin Spice Caramel Wontons – The Nerd's Wife
Pumpkin Spice Eggnog – 7 on a Show String
Pumpkin Spice Caramel Cookie Cups – Miami Mommy Savings
Pumpkin Spice Coffee Syrup – Nest Full of New
Pumpkin Spice Rice Krispies Treats – What Mommy Does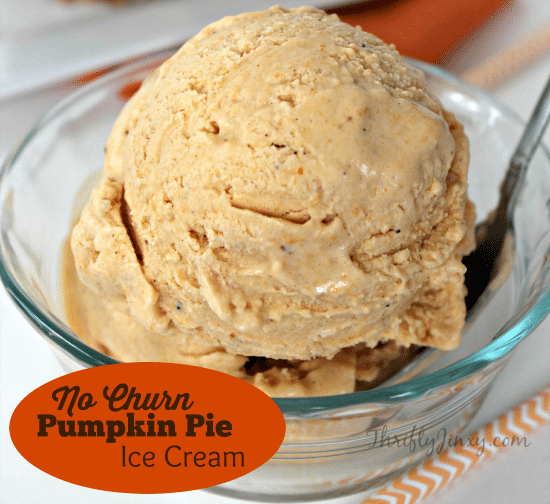 Pumpkin Spice Mini Cake Doughnuts with Pumpkin Spice Glaze – Inspired Savings
Pumpkin Spice Caramel Corn – Midget Momma
Slow Cooker Pumpkin Spice Latte – Mummy Deals
Old Fashioned Pumpkin Spice Cookies – The Rebel Chicken
Pumpkin Spice Cupcakes with Maple Cinnamon Frosting – Driftwood Gardens
Pumpkin Spice Frosting – Blommi
Pumpkin Spice Martini – The Classy Chapter
Pumpkin Spice Cranberry Trifle – Flour on My Face
Moist Pumpkin Spice Muffins – Become a Coupon Queen
Pumpkin Spice Fudge – My Dairy Free Gluten Free Life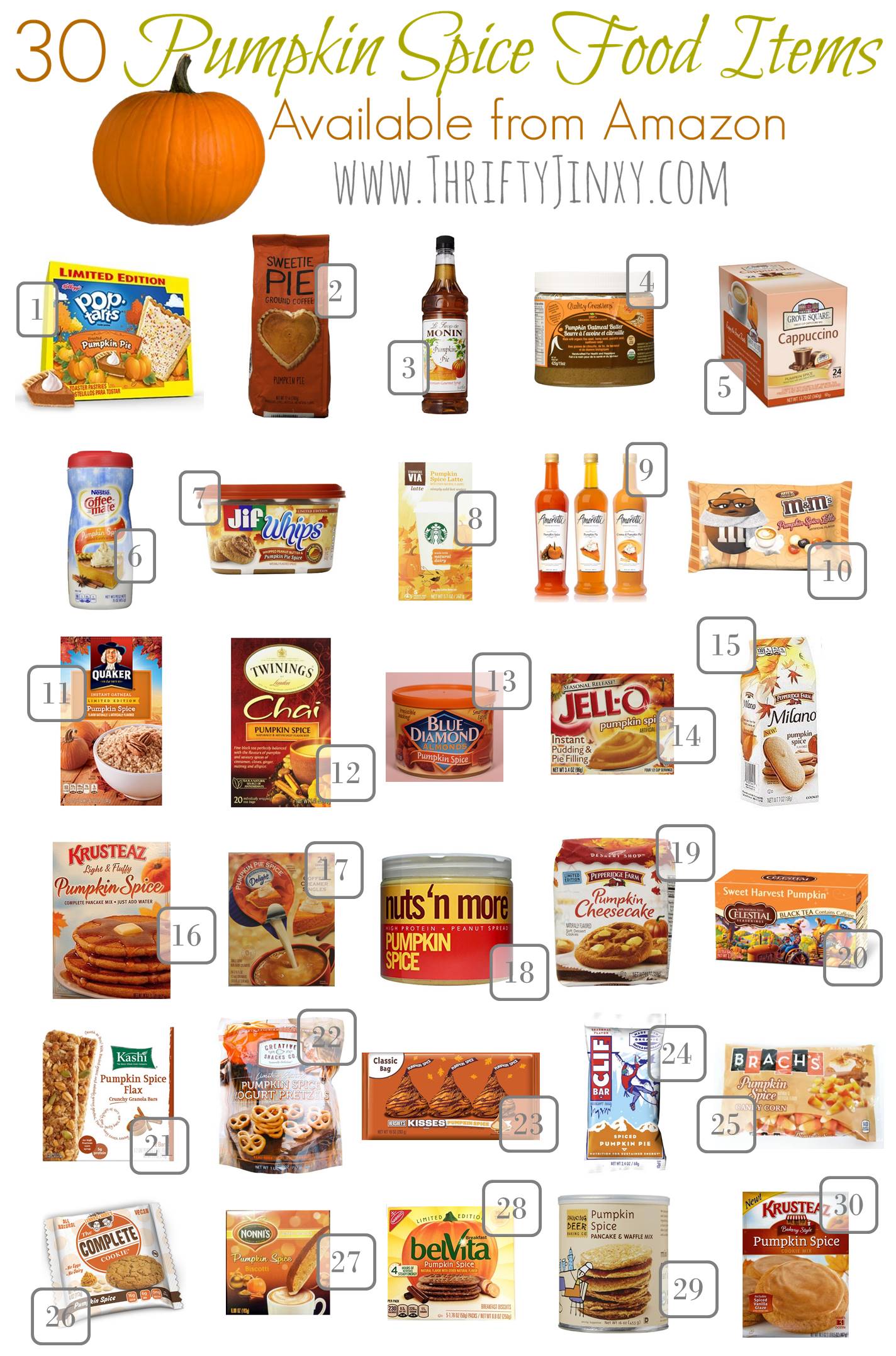 Pumpkin Spice Cookies with Cinnamon Cream Cheese Drizzle – The Frugal Fairy
Soft Grainless Pumpkin Spice Latte Cookies – Strength and Sunshine
Pumpkin Spice Thumbprint Cookies with Cream Cheese Filling – Jman and Miller Bug
Pumpkin Spice Dessert Bars – Not Quite Susie
Chocolate Pumpkin Spice Peanut Butter Oatmeal No-Bake Cookies – My Dairy Free Gluten Free Life
Pumpkin Spice Monkey Bread – Divine Lifestyle
Pumpkin Spice Oatmeal Cookies – The Nerd's Wife
Pumpkin Spice Rice Krispie Treats – Mommy Jenna
Fluffy Pumpkin Dip – Thrifty Jinxy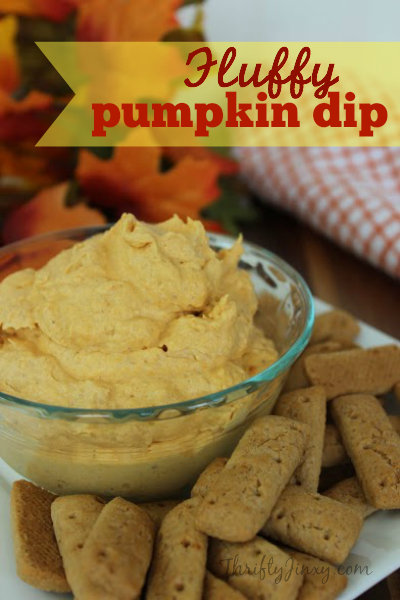 Pumpkin Pie Spice Buttercream Frosting – Slick Housewives
Pumpkin Spice Cake – Simmworks Family
Pumpkin Cupcakes with Chocolate Chip Cream Cheese Frosting – Sweet Little Kitchen
Pumpkin Spice Smoothie – Not Quite Susie
Kahlua Pumpkin Spice Martini – Home Cooking Memories
White Chocolate Pumpkin Spice Snickerdoodles – Lil Luna
Pumpkin Spice French Toast with Bourbon – Wicked Good Kitchen
Crock Pot Maple Pumpkin Spice Chex Mix -Averie Cooks
Pumpkin Spice Latte Cupcakes – Inside Bru Crew Life
Caramel Pumpkin Spice Rice Krispies Treats Pinwheels – Mom on Time Out
Pumpkin Spice Latte Krispie Treats – Inside Bru Crew Life
Pumpkin Spice Hot Chocolate – Cookies and Cups
Pumpkin Spice Snowballs – Crazy For Crust
Pumpkin Spice Granola – Gimme Some Oven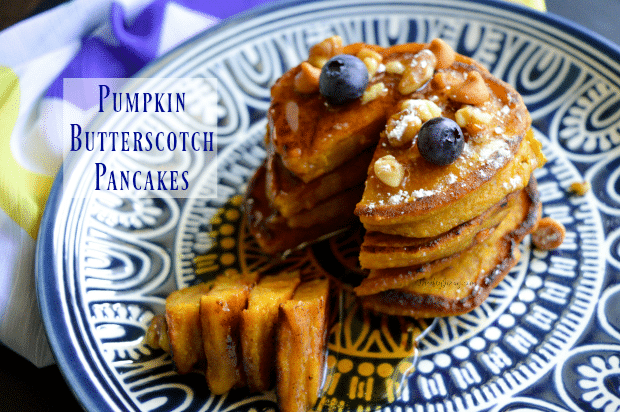 Pumpkin Pie Croissant – Just a Pinch
Pumpkin Spice Latte Jello Shots – That's So Michelle
Pumpkin Spice Cheesecake Burritos – Love Bakes Good Cakes
Spiced Pumpkin Whoopie Pies – The Chunky Chef
Pumpkin Spice French Macaroons – Foodie Misadventures
Pumpkin Spice Baked Donut Holes – A Step in the Journey
Pumpkin Spice Caramels – Mom on Time Out
Pumpkin Spice Overnight Oats – Organize Yourself Skinny
Blended Pumpkin Spice Coffee – Wonky Wonderful
Pumpkin Spice Truffles – Annie's Eats
Pumpkin Spice Turtles – Tastes of Lizzy T
Pumpkin Pie Frappe – Peanut Butter and Peppers
Salted Toffee Pumpkin Spice Fudge – Melissa's Southern Style Kitchen
Pumpkin Pie Spice Pretzels – Oh Sweet Basil
Pumpkin Spice Cheesecake Snickerdoodles – The Recipe Critic
Pumpkin Pie Spice Coconut Oil Granola – Lovely Little Kitchen
Pumpkin Spiced Biscotti – Shugary Sweets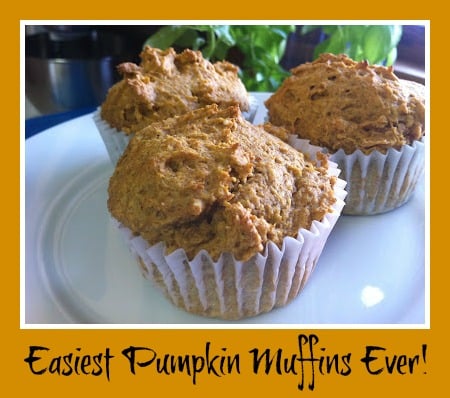 Pumpkin Spice Graham Crackers – Homemade Dutch Apple Pie
Pumpkin Spice Latte wth Pumpkin Spice Marshmallows – A Simply Pantry
Pumpkin Spice No Bake Cheesecake – Skinny Taste
Three Ingredient Pumpkin Spice Pudding Cookies – The Gunny Sack
Kahlua Pumpkin Spice Caramel Mudslide – A Little Bite of Life
Pumpkin Spice Mug Cake – Table For Two Blog
Skinny Pumpkin Spice Brownies – The Skinny Pork
Caramel Pumpkin Spice Latte – Whole and Heavenly Oven
White Chocolate Pumpkin Pie Spice Popcorn – Cooking Classy
Chai Pumpkin Spice Thumbprints – Pass the Sushi
Pumpkin Spice Apple Butter – Apple of My Eye
Pumpkin Spice Latte Bark – The Kitchen Prep Blog