With fall upon us, it's time for all things pumpkin! I'm not quite sure why we tend to keep pumpkin flavored foods relegated to the fall. Sure, that is when pumpkin comes into season, but since most of us use canned pumpkin in this day and age, we can really have it ANY time of year. To add to the roster of DELICIOUS pumpkin foods, we have an Easy Pumpkin Granola Recipe.
This Easy Pumpkin Granola Recipe is perfect just as it is for breakfast or for a snack.
It's also great in a yogurt parfait or sprinkled on ice cream. Whip up a batch and put it in Mason jars tied with a pretty ribbon as holiday hostess gifts or as little place setting favors at your Thanksgiving dinner. It's very versatile!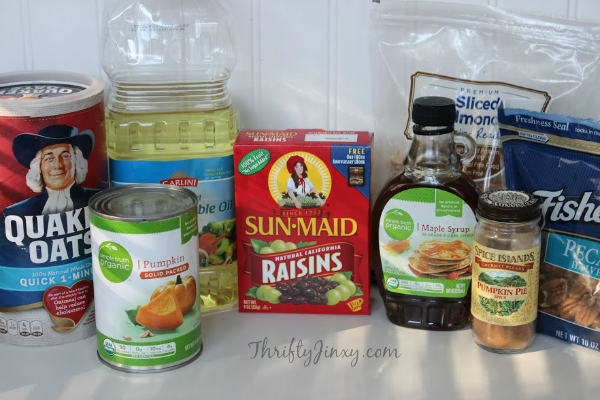 Easy Pumpkin Granola Recipe

(Yield 3 cups)
INGREDIENTS
2 1/2 cup Rolled Oats
1/4 cup Maple Syrup
2 tbsp Pumpkin Puree
2 tbsp Vegetable Oil
1 tbsp Pumpkin Pie Spice
1/4 tsp Salt
1/2 cup Raisins
1/3 cup Pecans
1/4 cup Almonds
DIRECTIONS
Preheat your oven to 350.
Mix together the oats, maple syrup, pumpkin, oil, spice and salt.
Spread mixture out on a non-stick baking surface in a thin layer. (I like to use a cookie sheet with a silicone liner.)
Bake for 15 minutes.
Break up the oats and bake for another 10 minutes.
Cool completely.
Add raisins and nuts and store in air tight container.