This has to be one of the easiest recipes ever and is just perfect for kicking off the fall season.  It's also very easy to make lots of variations – see the bottom of the recipe for some ideas.  If you make this using a spice cake mix rather than yellow only 2 ingredients are needed for the whole recipe, but I'm always much more likely to have a yellow cake mix on hand.  As a bonus,  these muffins are very low in fat because no butter, oil or eggs are used.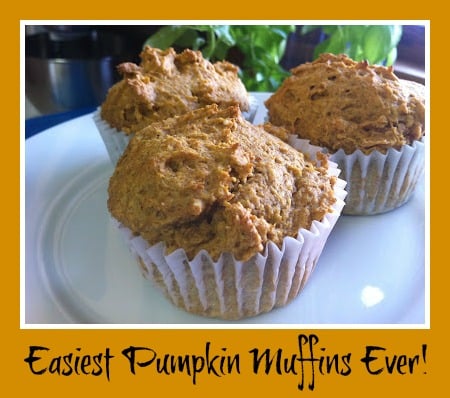 Super Easy Pumpkin Muffins from Cake Mix
Ingredients:
Yellow Cake Mix
1 tsp cinnamon
1/2 tsp nutmeg
1/4 tsp ground cloves
15 oz can of pumpkin (NOT PIE FILLING)
Directions:
Heat oven to 350 degrees.  Grease a 12-muffin tin or fill with cupcake papers.  Place cake mix in a large bowl.  Add spices and stir to distribute.  Add in pumpkin and stir until well blended.  (If it appears too thick, add a few tablespoons of water.)  Bake 20-25 minutes or until a toothpick inserted in center comes out clean.  NOTE:  These muffins do taste quite sweet!
Variations:
Use chocolate cake mix – omit spices
Use spice cake mix – omit spices
Add 1 cup chopped pecans
Add 1 cup chocolate chips
Sprinkle tops with brown sugar before baking