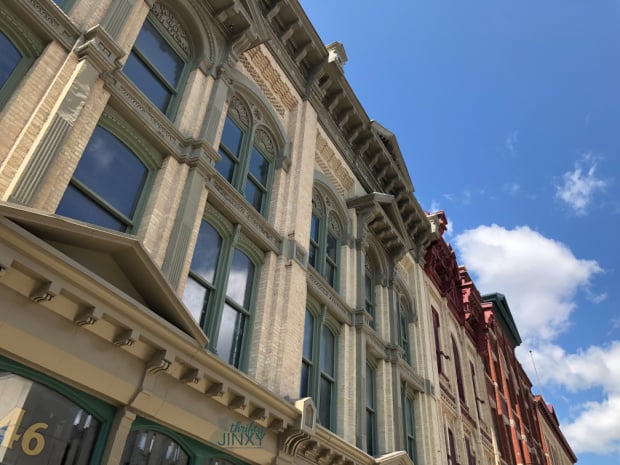 As we head into spring and summer, our minds start thinking about all the places we want to go and things we want to see. While you're developing your ideas, I want to put Winnipeg, Manitoba, Canada, on your radar!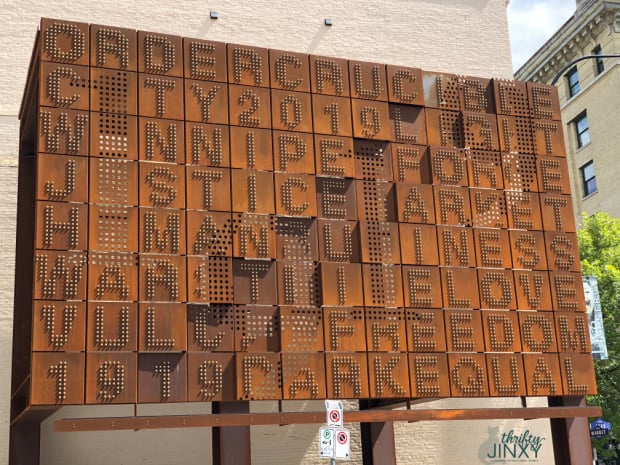 Planning a trip is usually both fun and challenging at the same time. It can be more challenging when you're planning for a family group that includes a variety of ages and interests. Our travel group often includes three generations – everyone from the 10-year-old boy to the 70+ Grandma. We love spending time together, but it takes a bit of planning to find the best options to satisfy everyone and make a trip the best it can be.
We headed to Winnipeg in the fall and found lots of options to keep everyone in the family happy and having a great time. Here are a few of our favorites: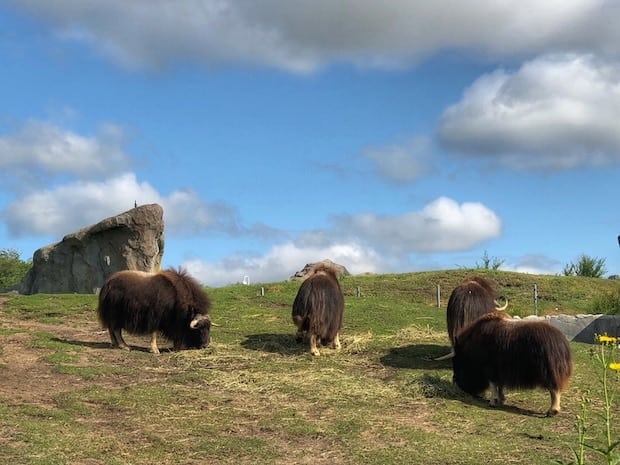 Assiniboine Park Zoo
There are a lot of zoos in the world and while many of them can be fun, they really need something special to make them stand out. The Assiniboine Park Zoo has that special something and it is a BIG something! They have an award-winning "Journey to Churchill" exhibit showcasing muskoxen, Arctic fox, wolves and the big one – – polar bears!
The experience inside the polar bear viewing area is amazing with a clear glass tunnel that allows you to walk under the water to see the polar bears swimming above you as well as beside you. Seals are also in the same area separated from the polar bears by only a clear wall. It's super exciting to see a huge polar bear lunging at a seal in the hope of a quick lunch!
You'll want to plan at least a half day at the zoo to experience all of the other exhibits as well, from the Grasslands and Boreal Forest to the Australian Walkabout.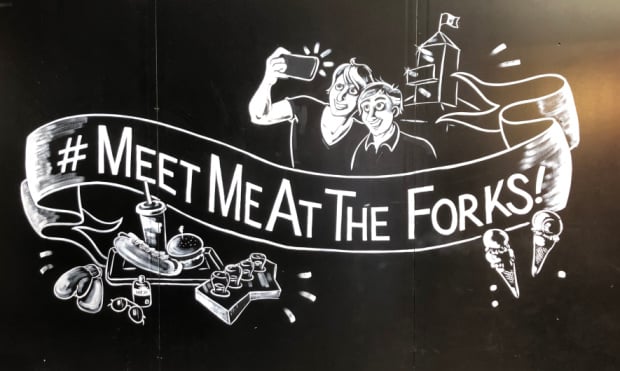 The Forks
The Forks sits at the junction of the Red and Assiniboine rivers and has a history spanning thousands of years as a meeting place. While originally a point for trading, over the last several decades it has become a site for education and entertainment. When visiting with your family you can visit Manitoba Theatre for Young People, Parks Canada Playground, Winnipeg Railway Museum and more.
We only had a short time to visit on our trip, but these are a couple of the highlights of The Forks that we had a chance to experience: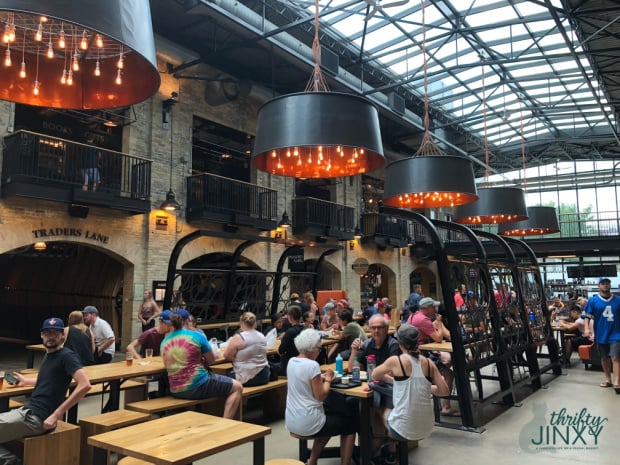 The Forks Market
I love a good food hall and The Forks Market is a great one! It's two levels with amazing food stalls on the main level with some eclectic retail and local artisans shops on the second. It's a fun and bustling atmosphere with amazing things to eat and see.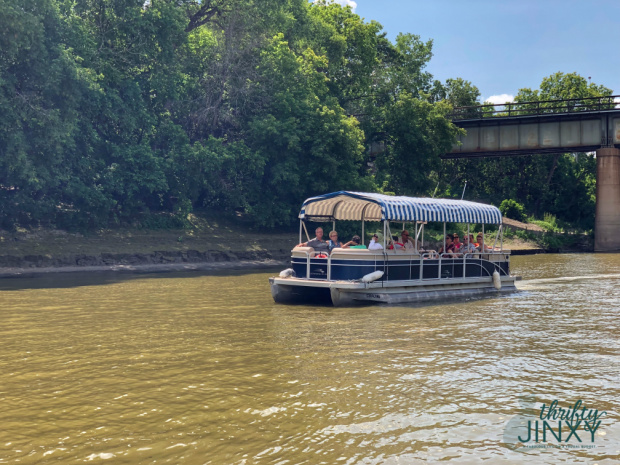 Splash Dash River Boat Tour
The fun and exciting Splash Dash River Boat Tour takes your family on a ride down the Assiniboine River to learn about the city and see some beautiful Winnipeg views. We loved the time on the river taking in the sites (including the Northwest Company Fort, the last remnants of St. Boniface Cathedral, and views of the downtown skyline) and feeling the wind rush through our hair when the boat got up to speed!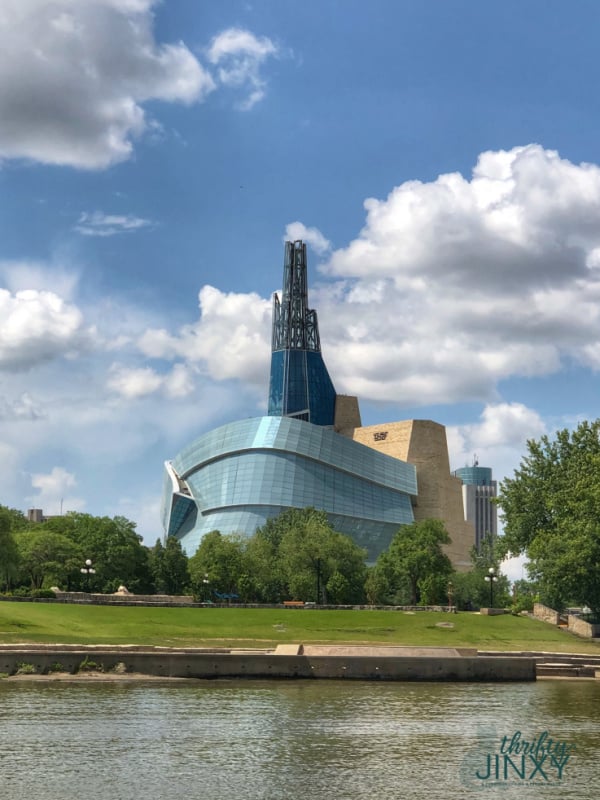 Canadian Museum for Human Rights
Months after visiting The Canadian Museum for Human Rights (CMHR), I still think about it often and feel its impact. CMHR is the world's only museum dedicated to human rights education and awareness. While the topic can be a somber one, walking through the museum is a fascinating experience (but I'll admit at times very emotional) and extremely educational, but never in a "boring museum" way. There are interactive exhibits throughout, drawing us into the experience using storytelling, art and technology. CMHR does a great job of making its content accessible for all ages.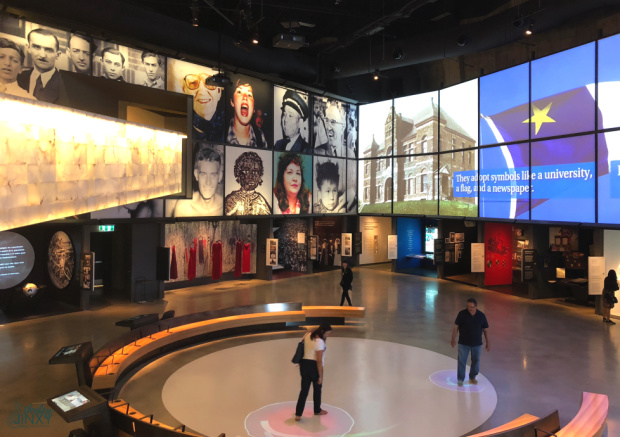 Fun Family Food in Winnipeg
There are so many delicious food choices available throughout Winnipeg, but two we found particular fun and family friendly are:
VJ's Drive Inn
VJ's at 170 Main Street is just the kind of small "greasy spoon" we love to find in every city we visit. Their specialty is burgers and hot dogs, with the VJ's Special burger being the star. What really steals the show is the fries. Just be prepared that there is no indoor seating, but they have picnic tables outside or, if it's raining, you can eat in your car like we did.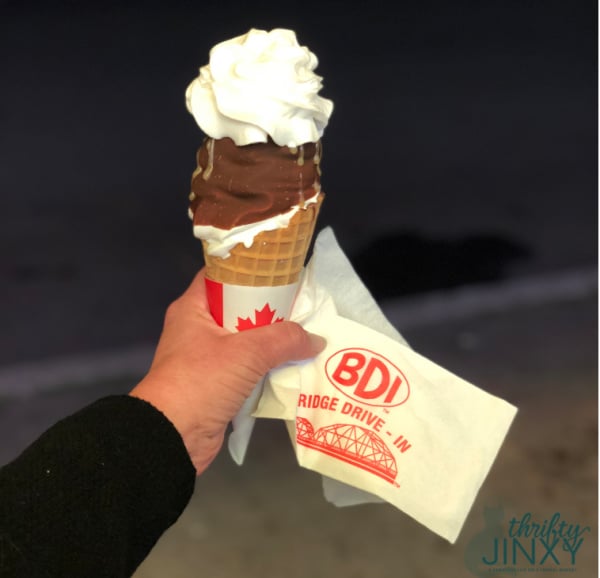 Bridge Drive-In
The ultimate "can't miss" stop for a sweet treat in Winnipeg is Bridge Drive-Inn! (As long as you're visiting March to October, the months they are open.) They have been serving up soft frozen treat creations for over 55 years. I had the Saltzburg, which was amazing. It's a Nutella-lined waffle cone filled with ice cream, then chocolate dipped with the addition of rock salt and caramel. So good! The Bridge is also located right next to a walking bridge, which makes it a great place to stroll while eating your ice cream.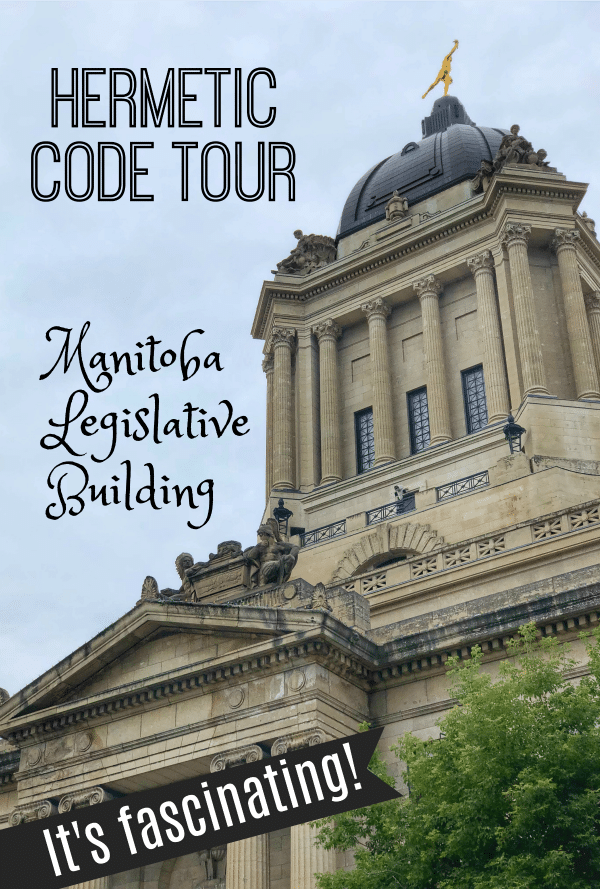 Hermetic Code Tour of the Manitoba Legislative Building
While not for the youngest of kids, I can't wait to head back to Winnipeg with my 10-year-old nephew, because I know he will just love the Hermetic Code Tour of the Manitoba Legislative Building! It is quite literally the most fascinating tour I have ever taken, full of mystery and intrigue. Read more in our review of the Hermetic Code Tour.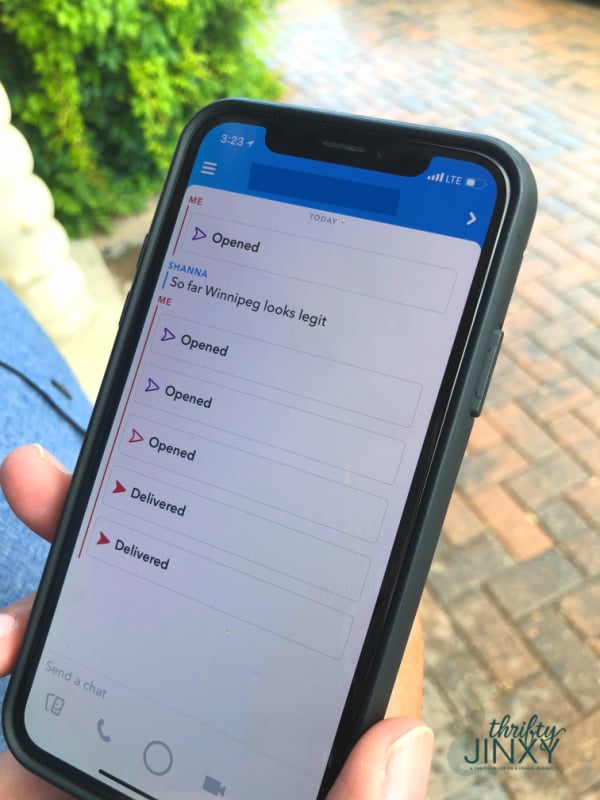 That's just the tip of the iceberg of the fun things to do in Winnipeg. You can visit Tourism Winnipeg to find lots more. Let us know if you go and what you end up doing and seeing. I know we'll be back and so will our friends – they were obviously impressed by hubby's Snapchat, saying Winnipeg looks legit. It is!