Get ready to make your next outdoor adventure better with this compilation of brilliant camping hacks to make your camping trip easier, more fun and more enjoyable.
Camping is an awesome way to get out and enjoy nature. To make your adventure even better, we've compiled some brilliant camping tips and tricks that will make your next camping trip even more enjoyable.
A weekend adventure is supposed to be exactly that –­ an adventure! It's a chance to escape the hustle and bustle of everyday life to enjoy some quality time with Mother Nature. Why not learn how to master it?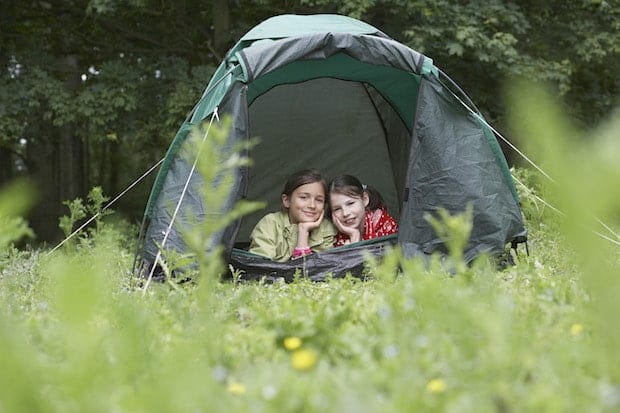 10 Brilliant Camping Hacks for Your Next Trip
Here are ten camping hacks for your next trip. Start implementing these camping tips on your next weekend getaway and see what happens!
Amazon Basics Rooftop Cargo Carrier Bag

Use a Cargo Bag
Camping is all about heading out into the middle of nowhere with your family in tow. You load the car up to the brim so everyone is squished together and can hardly move. You can hear it now, can't you? "She's touching me!" "No I'm not!" Oh, the joy. Not to mention all of those driving hazards you've created by blocking almost every window.
Instead of packing the car all the way to the top, use a cargo bag to keep your camping gear up on the roof and out of the way. It allows you to pack up all of your camping essentials in one spot (still weather protected!) so the kids can have their own space and hopefully get along for the car ride out of town.
Make Fire Starter Balls
You survived the multiple "are­-we­-there­-yets", and now you've arrived at the perfect spot to set up camp for the weekend. Everyone is getting settled in for a weekend of sweet adventure.
A fire is an essential part of the experience. But what if you can't find any kindling to get the fire going? No leaves, wood chips, nothing. Sure you could grab a stick and spin it back forth for a couple hours while your family points and laughs at you.
Instead, before you head out make yourself some fire starting balls to get the fire goin'. That's right; fireballs. Your family can't laugh at fireballs, can they? Nope.
Alternative Imagination White Sage 4 Inch Smudge Sticks

Burn Sage to Repel Mosquitoes
Now you've got fire, the most underrated technological advance in human history. Break out those marshmallows and get some s'mores cooking (arguably the second most underrated technological advance in human history).
While you're having your snack, you've been so distracted that you yourself have become a snack for a swarm of mosquitoes. Grab that can of the latest chemical that claims to make your skin invisible and…wait! There's a better way.
Gather up some sage and throw it on the fire (if you find yourself somewhere that sage doesn't naturally grow, you can pick some up HERE before you go). Not only will it smell great, but it will also repel those pesky mosquitoes. Tell that can of chemicals to kick rocks – you're becoming a master of Mother Nature!
Texsport Heavy Duty Over Fire Camp Grill

Use Herbs to Flavor Your Food
Speaking of throwing random herbs on the fire, forget marinating your steak for hours before you cook it over the fire. (Yes, you can cook steak on the campfire; another option is this handy camp grill that sits over your campfire.)
Gather up some rosemary and throw it in the fire while you're cooking to recreate that mouthwatering taste of a 5-star restaurant. You can do this with any herb that you prefer: lemon grass, thyme, oregano, etc.
Make a Whistle
There's nothing like a late night walk with a full belly to work off all that delicious food before you call it a night and hit the sleeping bags. But wait. Which way was camp? It must be…No, not that way. Now we're in the middle of nowhere with no clue how to get back.
You're prepared for this. Check out this handy guide to make a whistle out of the cap of an acorn. It can be used to communicate over long distances, to signal for help or even scare off some wildlife (I don't recommend trying to scare off a bear with a whistle or anything).
Gaiam Essentials Premium Yoga Mat with Yoga Mat Carrier Sling

Sleep on a Yoga Mat
Whew. You're safe back at camp, thanks to your whistle! Now let's go to sleep. On the lumpy floor of your tent. Ugh.
"Roughing it" doesn't mean you have to be uncomfortable. Air beds are expensive, you have to worry about blowing them up, and they're flat by sunrise, anyway. Stick a yoga mat under your sleeping bag and you'll be sawing logs in no time at all.
Stansport Camping Egg Container

Use an Egg Container
The sun's coming up, the birds are chirping, and the kids are complaining that they want breakfast. Omelets for everyone! You brought the ham, the cheese, the eggs…well, apparently the eggs didn't find your sweet 4×4 off­-road action as fun as your family did.
They say you've gotta crack a few eggs to make an omelet, but preferably you crack them yourself. Into a pan. Don't let them crack themselves in your cooler: keep your eggs intact with a handy-dandy egg container.
Go on a Scavenger Hunt
After breakfast, it's a good time for some family bonding. Away from any kind of data service, the kids' tablets and electronics aren't as fun as they are when you're home.
A good old fashioned scavenger hunt sounds like a great alternative! If you need ideas on how or where to start, check out this blog post about putting together a family scavenger hunt while you're camping.
Attach Your Keys to a Cork
A good way to cool down after all that fun is a quick dip in the lake. "Last one in is a rotten egg!" someone screams, and suddenly you're all running toward the lake. It's not until after you're neck deep that you remember you have your car keys in your pocket. Your ONLY car keys.
Don't get stranded because you lost your keys in the lake! That doesn't sound like a good time, and while it might make for a good family story, you'll be miserable in the meantime trying to figure out what to do. Instead, attach your keys to a cork using an eye screw. The cork is naturally buoyant and will float right to the top of the water. You can even paint it with a neon color to help you find it easier.
Virginia Boys Outdoor Camping Soap Bar

Peel Your Soap Into Shavings
The lake is like a public bathtub, albeit a huge bathtub. It's a good place to get clean when you're away from your nice cozy shower at home. You can take a bar of soap (hopefully all natural soap, so you don't hurt anything that lives in the lake) but what happens if you let go of it? It either floats away or sinks straight to the bottom.
Before you get straight to cleaning yourself, use a vegetable peeler on your soap to make convenient, single use soap shavings. No lost soap, and you're clean.
What other tips do you have for camping novices? Which hacks did you find the most useful? Get out there and show the wilderness who's boss!