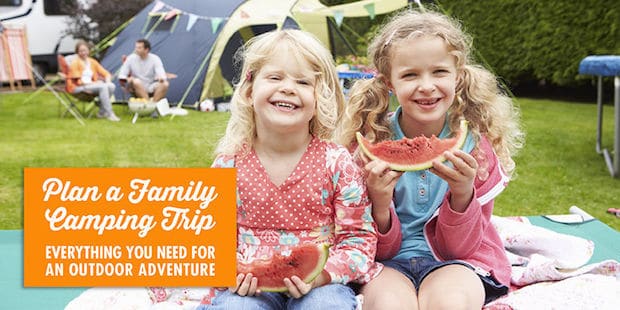 Spring is almost here and that means many of us are itching to get outside. If you have a bad case of cabin fever and want to get out and enjoy the warmer weather, family camping is a fun and frugal way to spend time together and to enjoy our beautiful planet.
If you haven't done much camping, you may want to try car camping first (versus backpacking) especially if your kids are small.
Ask camping friends for advice about good places to go, and go online to research destinations yourself. Keep it simple your first time out and chose a site that isn't too remote, so you don't have to go far if you forget to bring an essential item, or if you want to eat a meal (or two) at a restaurant.
You'll need to gear up, of course, and we can help with tips that will make your first family camping trip a success.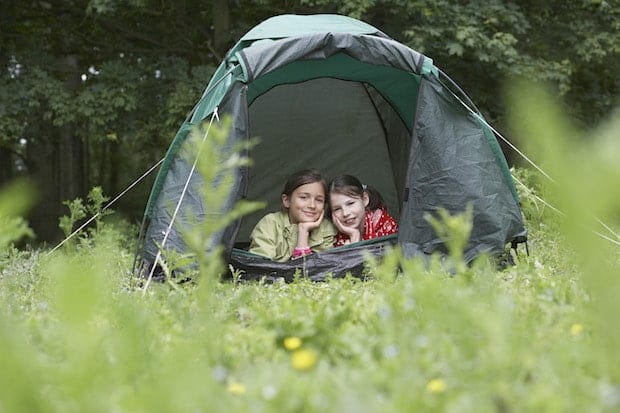 1. Stay Warm, Dry, and Comfortable
The most important thing to remember to pack is a tent big enough for your family. As long as you have a high quality tent, you'll be able to stay warm, dry, and comfortable while camping.
Although you can't pack your bed from home, you CAN invest in a super comfy sleeping bag and even a sleeping mat for a little bit of extra cushion on the ground. These are great for kids who are light sleepers or adults with bad backs.
Don't plan on packing your normal pillows on a camping trip. First of all you don't want to get your favorite pillow dirty. Secondly, normal pillows cannot withstand the humidity of the outdoors very well.
You'll want to pack a travel camping pillow or a pillow with a special moisture wicking covering so that the pillow will stay dry. You can even order one that is inflatable so it won't take up a lot of space when not in use.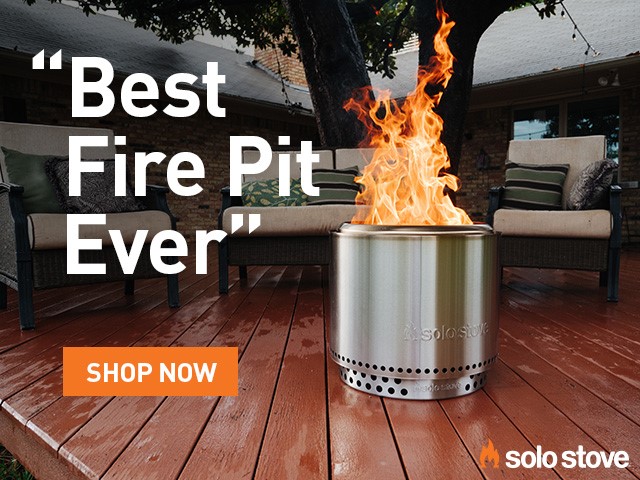 Add some atmosphere to your campsite with a Solo Stove Fire Pit! You can have the comfy glow of a campfire and, of course, make s'mores, all without a lot of excess smoke taking over.
Folding chairs are great to pack because you won't always have a picnic table near your campsite. You can purchase basic camping chairs or more elaborate models that include an umbrella or overhang built in, and some even have trays or tables attached. Make sure to bring enough chairs so everyone can sit around the campfire.
Bring along a camping hammock for the ultimate outdoor relaxation.
2. Food and Drink
For meals, you don't have to cook over an open flame like they do in the movies. A portable camping stove can be hooked up to propane to give you a lot of heat, so you can prepare many different dishes; it also ensures that food is thoroughly cooked.
Aluminum based pots and pans work best when you're cooking out of doors.
And just because you're "roughing it" you don't have to sacrifice your morning coffee (there are enough bears in the woods!). Just bring a camping coffee maker along with your favorite coffee and brew it right over the flame or on your camping stove.
If you get mess kits for every member of the family, everyone will have a plate, a cup, and eating utensils. Check out our list of the 25 Best Camping Recipes for some ideas of what to cook. This S'mores Cone Recipe is one of our favorites!
I recommend Investing in a high quality cooler because you'll use it all year round, not just for camping. We have a heavy-duty cooler that keeps ice solid for five days; it also has cup holders and a sturdy top so it can double as a seat. We have the COLEMAN 100 Quart Xtreme Wheeled Thermozone Insulated Cooler w/ 2-Way Handles and I highly recommend it! Whatever cooler you get, make sure it has wheels so you won't have to carry it. A cooler is surprisingly heavy once you load it up with ice!
Make sure to pack a reusable water bottle for each member of the family. You can assign everyone a different colored bottle so there won't be any confusion. I suggest grabbing water bottles with caps that can be clipped to a backpack for easy carrying.
Sitting around a campfire at night is one of the best parts of camping. Grab some waterproof matches or at least a waterproof container for your matches so you can start a campfire even if its damp outside.
3. Camping Safety
You should always pack a First Aid Kit for travel no matter where you're headed. I always take first aid items out of the boxes, put them in clear baggies, and include an index card with the dosing information in each baggie.
You should bringbandaids, disinfectant cream, pain reliever, allergy medicine, remedy for upset stomach, bug bite cream, bug spray, sunscreen, and maybe even a sleep aid if you tend to have trouble sleeping in a new environment. Don't forget to bring along plenty of hand sanitizer! You can even get special holders that can clip onto your backpack or belt loop.
Microfiber towels are ideal for camping because they absorb a lot of moisture and are light and easy to pack. The towels are perfect for drying off after a sweaty hike or a dip in the lake.
Water Resistant – Shock Proof Camping Lantern

4. Let There Be Light
You'll be surprised how much you appreciate your camping lantern, because it's dark out there! There are many different models to choose from; you may want a larger one for your camping table and smaller ones for inside the tent.
You can get a lamp with a handle, one that hangs on a clip, or even one that can be used as a "ceiling fan" in your tent! Don't forget to bring backup batteries if you choose a battery-powered lantern.
Headlamps may look a little silly but they are very practical because they leave your hands free. And kids seem to love them! Strap a headlamp on before going exploring or venturing to the restroom in the middle of the night.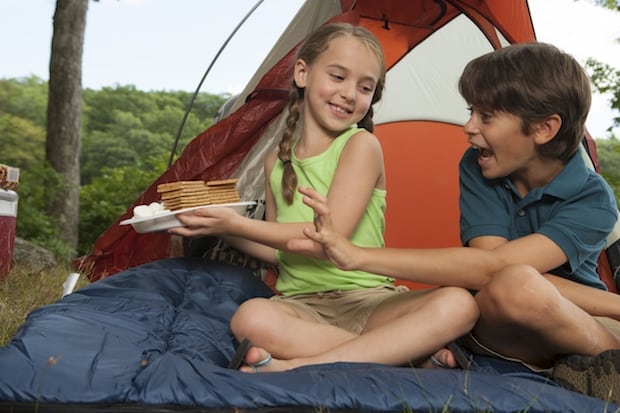 Just a few more camping essentials and you're ready to go! Pack a kickball so you can play soccer, kick ball, and four square. Other fun camping games include ring toss, ladder ball washer toss, disc slam, and more! This list of the 7 best camping games will give you more ideas.
A deck of cards doesn't take up much space but will provide hours of entertainment at night or if you have a bad weather day.
Last but not least, don't forget to pack graham crackers, chocolate squares, marshmallows and marshmallow roasting sticks so that you can make the traditional camping treat: S'mores!