This collection of the 25 BEST camping recipes has everything from breakfast to lunch to dinner to late night around-the-campfire snacks.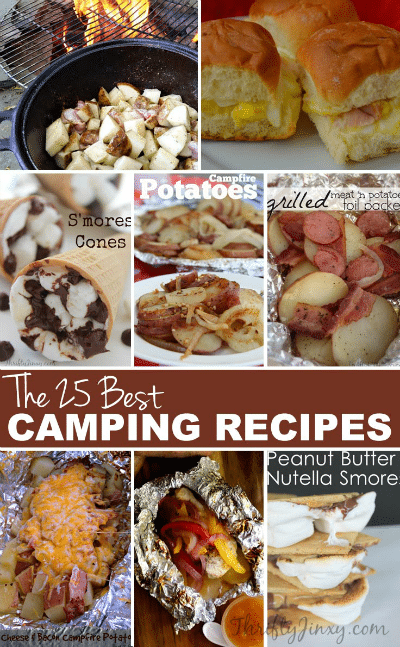 There are lots of things to love about camping, but like with many activities, one of the best parts is the food!
It's fun to make recipes that are "camping only" style recipes that you wouldn't make in your kitchen. It's also fun to adapt your favorite recipes from home into camping cooking styles.
And to make camping recipes you don't HAVE to be out in the woods in a tent! You can make them right in your own backyard, or even if your kitchen if you want.
Some of my favorites I want to enjoy all year longer whether they are indoors or out.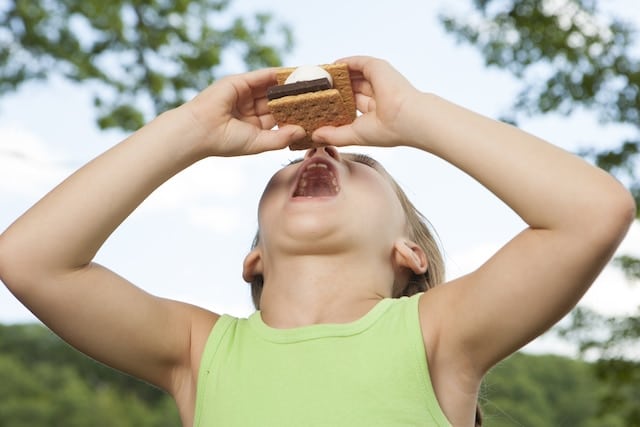 To give you some GREAT ideas for your next camping trip. We have compiled 25 of the BEST camping recipes. We have everything from breakfast to lunch to dinner to late night "around the campfire" snacks.
And while the list is called the "25 Best Camping Recipes" we actually have 27 on the list because we couldn't cut it down to only 25!
If you love this list of recipes, be sure to use the share buttons above or below to pin it on Pinterest or share on Facebook. Maybe your friends will end up making a recipe or two and share it with you!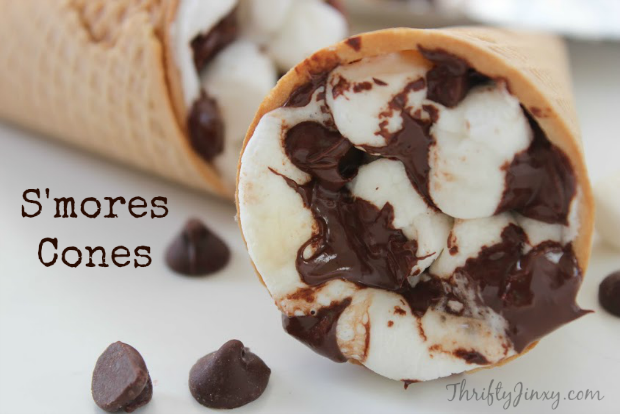 25 Best Camping Recipes
#1 – S'mores Cones Recipe
Enjoy the yummy taste of s'mores in a convenient to hold cone, which means fewer sticky fingers! These are fun to prepare and a perfect project to get the kids involved.
#2 – BBQ Chicken and Veggie Packets
This is a super easy recipe – chicken and veggies (peppers, onions, green beans) with BBQ sauce in a convenient foil pack.
#3 – Cheese, Bacon and Potato Breakfast Casserole
An easy, cheap recipe that can be made ahead of time. Once you get to your campsite, just cook it in your cast iron skillet.
#4 – Easy Philly Cheese Steak Sandwich
These are great as an easy weeknight dinner at home, or for camping just cook up the filling before leaving and then at the campsite add the filling and cheese to buns, wrap with foil and cook on the campfire or on the grill.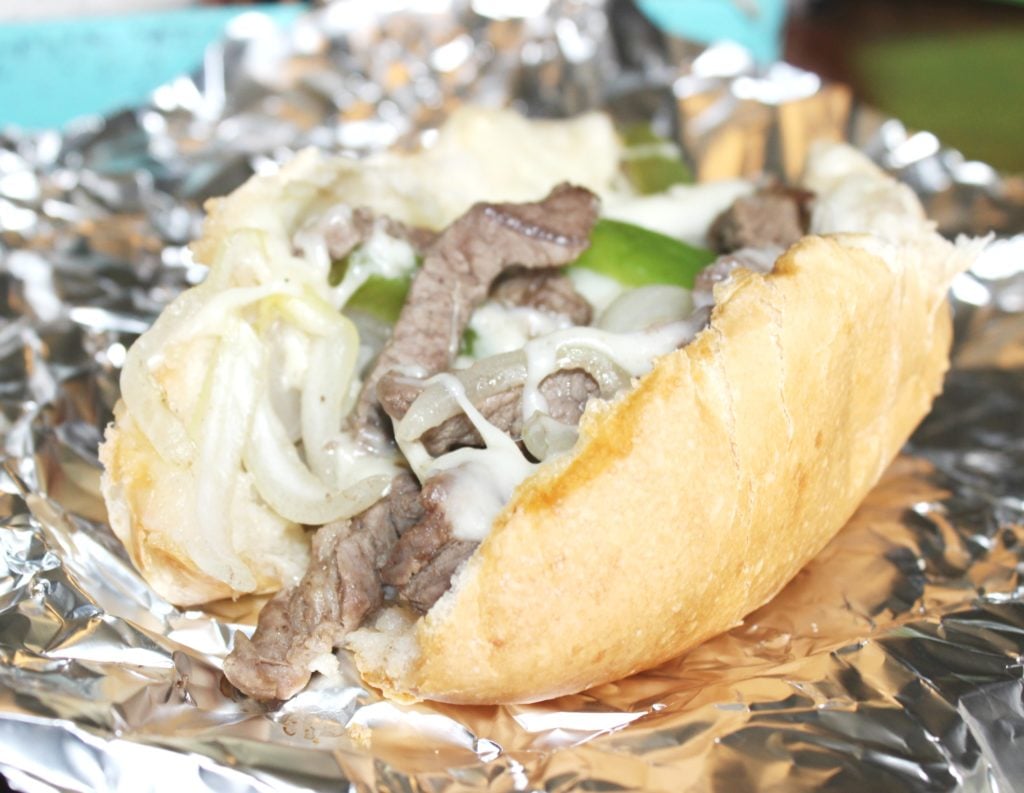 #5 – Barbecued Apple Crisp
Sliced apples, spices, and crisp mixture in a neatly wrapped foil pack, ready to put those warm coals or that cooling down grill to good use. A perfect dessert!
#6 – Cheesy Dutch Oven Potatoes
If you love cheese and bacon, you'll love this recipe – potatoes loaded with bacon and cooked to perfection over hot coals.
#7 – Chocolate and Marshmallow Stuffed BBQ Banana Recipe
Grill up dessert with this super easy recipe that utilizes a banana "boat" for yummy chocolate marshmallow stuffed goodness.
#8 – Omelette in a Bag
Shake up your ingredients in a bag and boil over the fire for an easy breakfast. Everyone can customize their own omelette with their favorite ingredients.
#9 – Potatoes on the Grill Campfire Potatoes Recipe
This quick and easy grill recipe makes for a great side with just about any meal. Enjoy seasoned potatoes loaded up with lots of garlic and onions. YUM!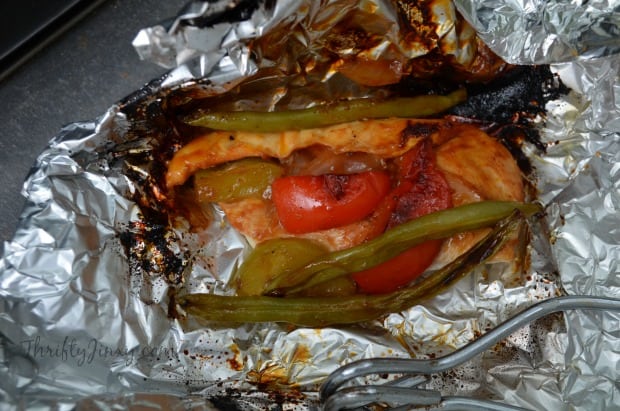 #10 – Campfire French Toast
Low maintenance cooking that will bring smiles to your little campers! Thick, moist, and full of flavor – top with strawberries, sugar, or your favorite toppings.
#11 – Campfire Ham & Tater Tots Foil Packets
Pull out those tater tots and ham from your freezer for this one. SUPER easy – just season, wrap, grill, and enjoy!
#12 – Campfire Breakfast
Eggs, bacon, and other fixin's, all scrambled together in a cast iron frying pan.
#13 – Turkey Burger Hobo Packets Recipe
Another easily customizable recipe – ground turkey patties with spices, onions, potatoes, and carrots. Easy peasy!
#14 – Grilled Zucchini Foil Packs
Cleanup is minimal with this side dish recipe that helps you use the abundance of zucchini from your garden. (Or is that just me who has waaaaay too much zucchini?)
#15 – The Perfect Grilled Corn Recipe
Corn…on the cob…on the grill? Yup! This is a simple way to get started with cooking side dishes over the campfire or grill.
#16 – Dutch Oven Texas Peach Cobbler
Delicious dough makes a yummy crust, then add peach filling and cook in a cowboy-style Dutch oven.
Lightweight Outdoor Camping Cookware Backpacking Cooking Picnic Bowl Pot Pan Set (11pcs)
Texsport Heavy Duty Camp 24
Stansport Outdoor 277 9 Cup Aluminum Camper-Feets Percolator Coffee Pot
Stansport Camping 12 Egg Container
Stansport 11220 Enamel Camping Tableware Set, 24-Piece, Blue
Stansport Cast Iron Cooking Tripod
Lodge Deep Camp Dutch Oven, 8-Quart
Grill Master 932°F Heat Resistant Oven Gloves
Adjust-A-Grill
Marshmallow Roasting Sticks
Outdoor Slim Fold Cook Station
Camp Chef Teton 2 Burner Lightweight Camp Stove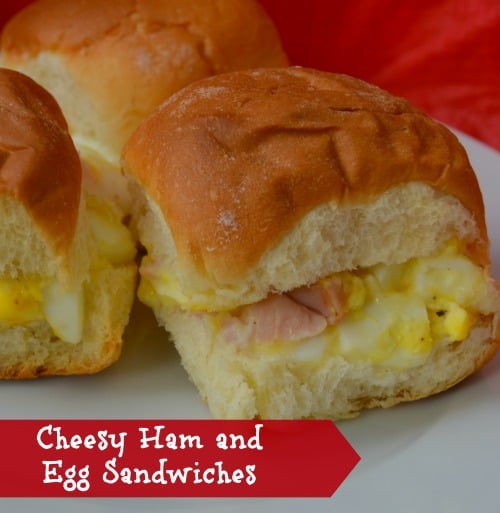 #17 – Cheesy Ham and Egg Sandwiches Recipe
Use up your leftover hard-boiled eggs and ham to make the filling in advance, then wrap the sandwiches in foil for an easy lunch while camping.
#18 – Peanut Butter Nutella S'mores
Just like it sounds…add peanut butter and Nutella to your regular s'mores for an extra delicious treat!
#19 – Foil Packet Dessert: Banana Nutella and Marshmallows in Gluten Free Tortilla
Another recipe using Nutella (because can you ever have too many?). This one uses gluten-free tortillas, but you can substitute regular tortillas if you wish.
#20 – Grilled Radish Packets Recipe
Subtle flavors of garlic and dill infuse radishes in this recipe. Slightly sweet, totally dilly and wonderful, the tender bits of radish goodness are great with fish, chicken, salads and more.
#21 – Foil Packet Pineapple Coconut Chicken
An easy dinner idea with minimal cleanup. There's LOTS of flavor in this recipe – pineapple, coconut, sweet potatoes, bell peppers, and more.
#22 – Cmpfire Philly Cheesesteak Sandwich
Warm, delicious melty goodness wrapped up in aluminum foil…sure to be a hit with the whole family.
#23 – Ranchy Potatoes Campfire
This simple side dish mixes up potatoes with bacon and ranch seasoning for a delectable delight.
#24 – Grilled Meat 'n Potatoes Foil Packets
There's no need for French fries…swap with this easy foil packet recipe which includes sausage, potatoes, bacon, and more.
#25 – 3 Cheese Bacon Campfire Potatoes
Make these for one meal and use the leftovers for another meal – they taste great whenever! Add scrambled eggs and green pepper to make them breakfast friendly.
#26 – Campfire Dump Cake
Super easy – cake mix + pie filling + Dutch oven = YUM.
#27 –Building An Awesome Campfire with Recipe & Printable
Ground beef, potatoes, cheese, and spices in a camp-style Dutch oven over hot coals. (Bonus: the post includes tips for building a great campfire!)