This Cheesy Ham and Egg Sandwiches Recipe is made with filling that can be kept in the refrigerator for a quick go-to meal – – or use as a party appetizer!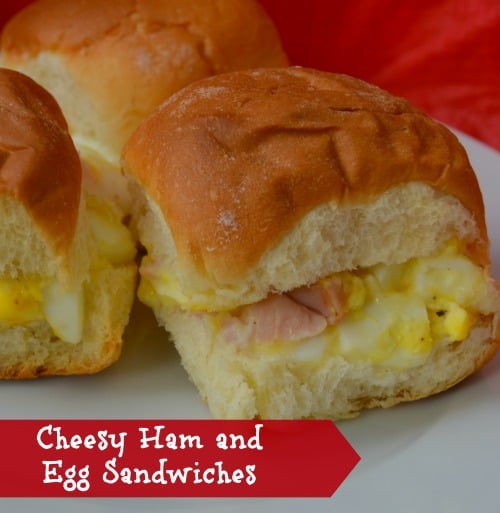 The holidays are here and for many of us that means lots of cooking! We bake Christmas cookies, plan menus for holiday parties and family get-togethers, and then still tackle that everyday cooking that needs to be squeezed in between all the holiday events, shopping and decorating.
Kraft has lots of ideas for recipes that make quick weeknight meals and easy entertaining. And right now they also have some great savings at Target stores! Print coupons here and save up to $20 on participating Kraft products, redeemable exclusively at Target.
I grabbed a few Kraft products at Target last night to make one of our favorites. This easy Cheesy Ham and Egg Sandwiches recipe is very flexible. I often make this right after Easter to use of all the leftover hard-boiled eggs and ham from the holiday.
You can mix up the filling and keep it in the fridge so it is ready for a quick weeknight dinner or weekend lunch.
Or making the sandwiches on cute little buns creates a fun party appetizer – one that can actually be quite filling! It's easy to double, triple or quadruple this recipe depending on how many people you will be feeding.
For Camping:
This is also one of our favorite camping recipes because you can just set the foil wrapped sandwiches on the edge of the fire or over a rack on top to cook. I actually made this recipe for the very first time while we were on a camping trip!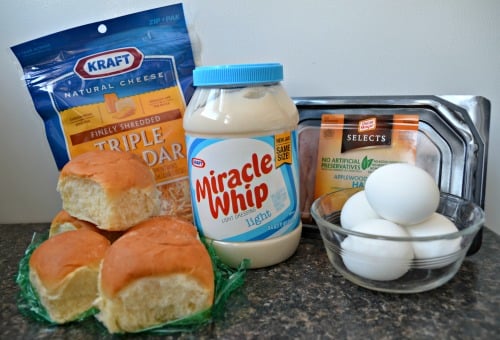 Cheesy Ham and Egg Sandwiches Recipe
Ingredients:
4 hard boiled eggs, chopped
1/4 cup Kraft Shredded Cheddar Cheese (I used the Triple Cheddar Blend)
1/4 cup ham, chopped
1 heaping tablespoon Kraft Mayo or Miracle Whip
Sandwich buns/dinner rolls
Salt and pepper to taste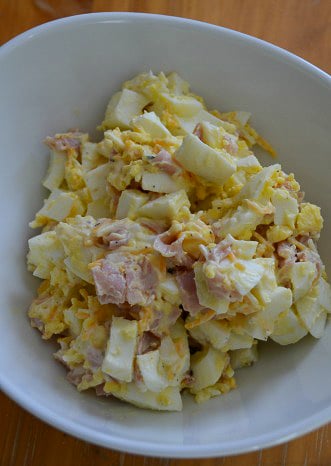 How to make cheesy ham and egg sandwiches:
Mix all together and then spread inside bread. Wrap in foil and heat in the oven at 400 degrees until warmed through – roughly 10-15 minutes. (If making a large amount for a party, set the sandwiches all inside a 9×13 cake pan, cover with foil and bake.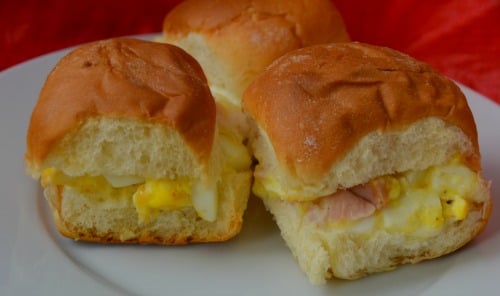 From shopping for gifts to planning family dinners, it's hard to keep up with all your holiday to-do's. This year, Kraft is helping out with great weeknight meals and entertaining ideas to make the season a little bit easier.
Plus, Kraft is offering up to $20 in coupons to make food shopping easier and to help you have a happy holiday season.
Cheesy Ham and Egg Sandwiches with Leftover Hard-Boiled Easter Eggs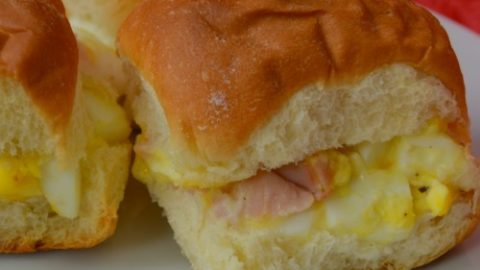 Ingredients
4 hard boiled eggs, chopped
2 slices American cheese, chopped up
¼ small diced ham cubes (or cut up 2 slices deli ham)
1 heaping tablespoon mayonnaise
Salt & pepper
Instructions
Mix all together and then spread inside buns (we used leftover dinner rolls from Easter also).
Wrap in foil and heat in the oven at 400 degrees until warmed through – appx 10-15 minutes.