Great Wolf Adventure Park provides lots of dry fun outside the water park at Great Wolf Lodge! Try the climbing wall, ropes course, bowling, MagiQuest and more!
People are shocked when I tell them we spent a whole weekend at the new Great Wolf Lodge in Bloomington, Minnesota, with our room meals and activities provided courtesy of Great Wolf Lodge, and didn't go in the waterpark. Yes! Shocking, right?
We all know that Great Wolf Lodge is known for their AWESOME water parks, and this newest waterpark is no exception. But, despite that very real fact, there is SO much else to do outside of the water park in the Great Wolf Adventure Park and that's where we spent a fun-filled weekend we are eager to replicate again.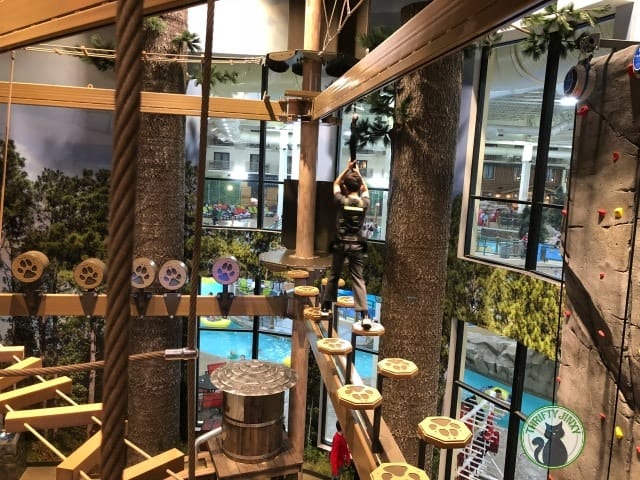 Great Wolf Adventure Park is filled with activities and experiences that are fun for the whole family. Our crew included everyone from 9 years old to 65+ (but there are also options for younger kids.)
There are lots of active experiences to work off that never-ending kid energy and ways for them to put their thinking caps on too. We tried every activity in Great Wolf Adventure Park! Check it all out…..
Great Wolf Adventure Park Activities
Howler's Peak Ropes Course
As I write this, I am really disappointed in myself that I didn't try the course myself and only took photos while the 9-year-old explored the course. It looks like SO much fun for both kids and adults.
It's an aerial adventure with the safety of a climbing harness that lets you tackle obstacles like rope bridges and suspended pathways. The challenges range from easy to difficult, but the helpful staff was willing to help make the toughest challenges achievable.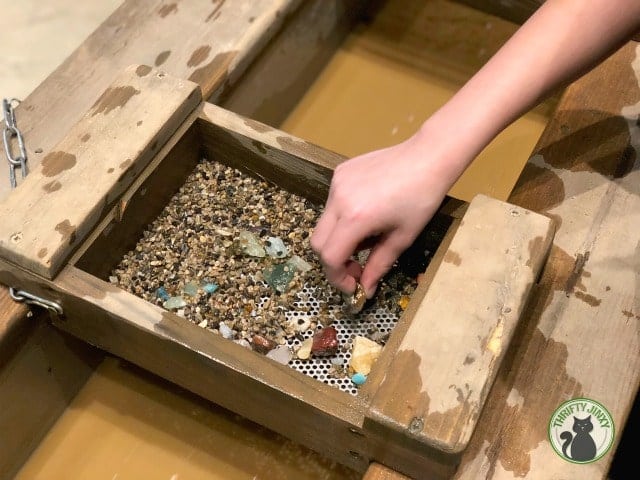 Oliver's Mining Co.
Kids get the experience of mining for gold and jewels at Oliver's Mining Co. Little R is a fan of Gold Rush on The Discover Channel, so it was extra fun to try some mining the "old fashioned" way to search for treasures in the hidden in his paydirt.
Each kid starts with a bag full of paydirt that has gemstones and minerals waiting to be discovered inside it. A handy identification card lets the kids figure out what type of stones and minerals they find before they are taken home in a collection bag.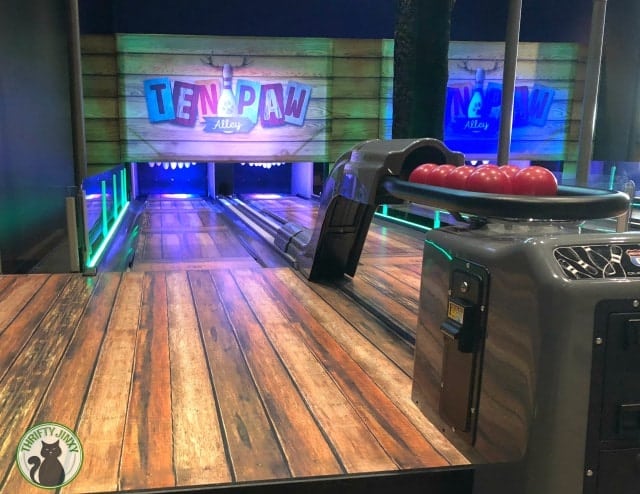 Ten Paw Alley
Bowling in Ten Paw Alley is a blast! Half-length lanes and five-pound balls make bowling a bit easier for everyone.
Kids even have the choice to play with or without bumpers. Kids who usually play with bumpers might be surprised (and encouraged) by how well they do without bumpers during this game.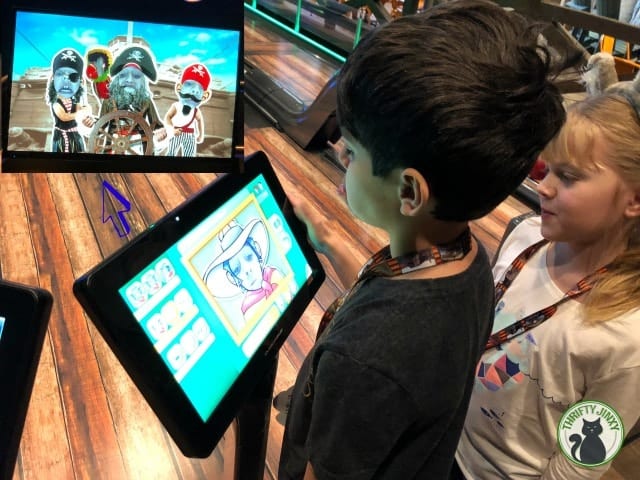 We also loved the feature of being able to incorporate our own faces into hilarious animated scenes that play on the scoreboard between frames. The kids saw their heads wind up on dogs, pirates, weight lifters, little old ladies and more. Watching the animated videos provided a lot of laughs!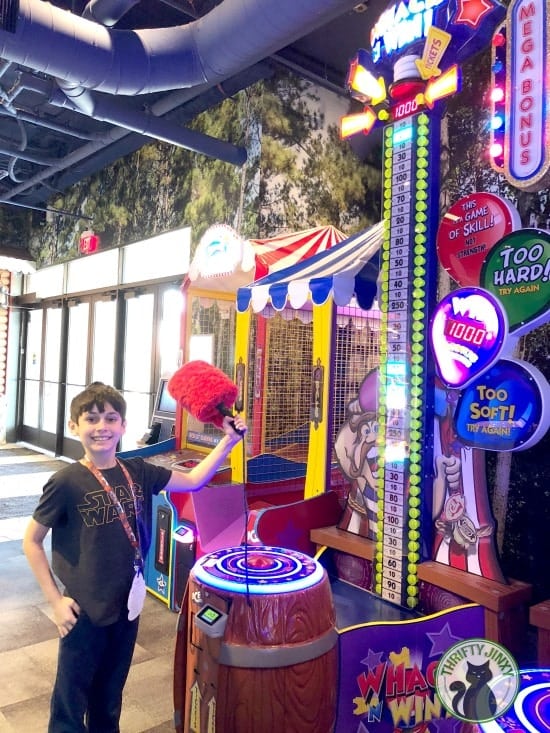 Northern Lights Arcade
We are big arcade fans and had a blast in the Northern Lights Arcade! We especially loved the carnival style games and did our best to rack up a lot of tickets to use toward some awesome prizes. There is a great variety of games from Skeeball to auto racing – really something for everyone.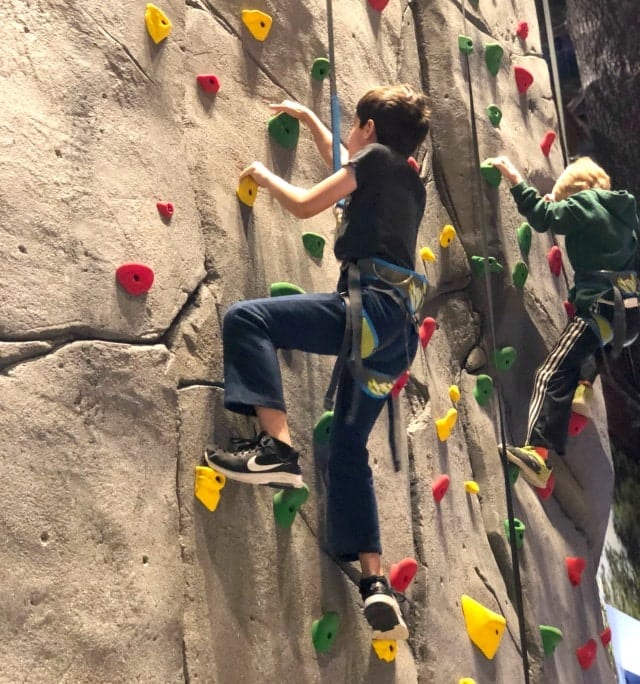 Rustic Ridge Climbing Wall
One of the highlights of Adventure Park is the Rustic Ridge Climbing Wall! It offers a 21 ft. climbing wall with a variety of routes to the top for a range of ages and skill levels. It's a fun, active experience that gives a great sense of accomplishment upon reaching the summit!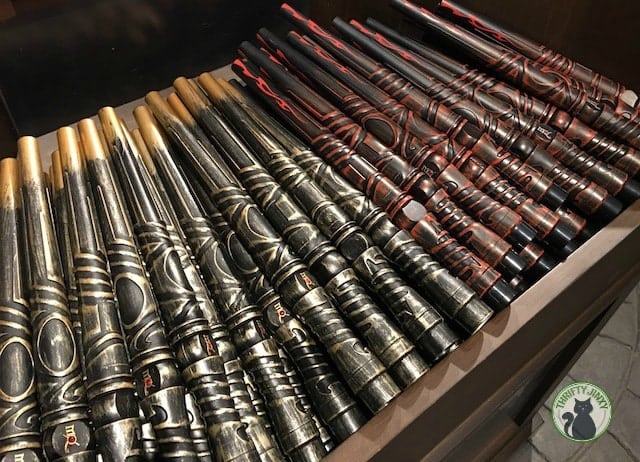 MagiQuest
Our #1 activity within Adventure Park was definitely MagiQuest! We became totally immersed in the quests to help the pixies, defeat the Goblin King and do battle with the fierce dragon!
With MagiQuest you first choose a special magic wand and then search Great Wolf Lodge for clues, treasure chests, crystals and other items you need to complete your quests.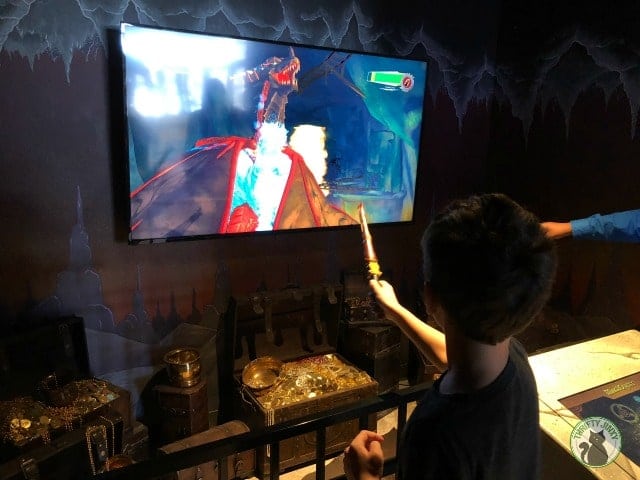 I put a lot of miles on my FitBit completing our quests, but love that we can play MagiQuest for just a few minutes at a time, or get lost in it for hours. Plus, we can pick up with MagiQuest right where we left off on our next visit to any Great Wolf Lodge!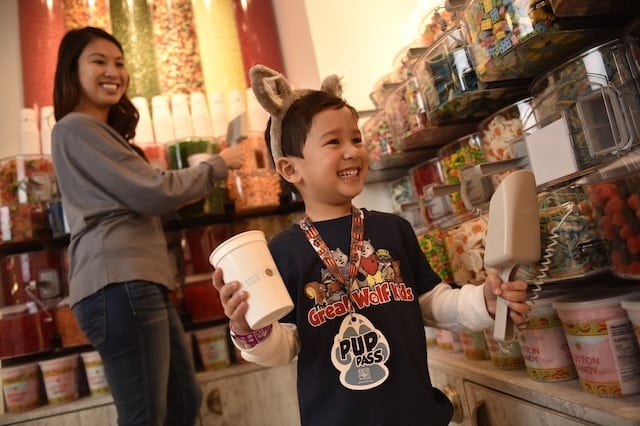 Great Wolf Adventure Park Paw Pass
With all these fun things to do at Adventure Park, you can experience multiple activities with a Paw Pass and end up saving up to 46% off the retail price of $127.92.
The $69.99 Paw Pass Package Includes:
One MagiQuest game game
Choice of classic/color wand, standard topper or Magi belt
One Creation Station animal (outfit not included)
One Clubhouse Crew Adventure
One Great Wolf Lodge Candy Shop candy cup
One pair of Great Wolf Lodge swim goggles
One Glitz Glitter Tattoo
One Leather Treaty wristband
One Paw Points game card for Northern Lights Arcade ($5)
One Oliver's Mining Co. Experience
Other Paw Pass packages are also available, including a Pup Pass that includes activities for younger kids.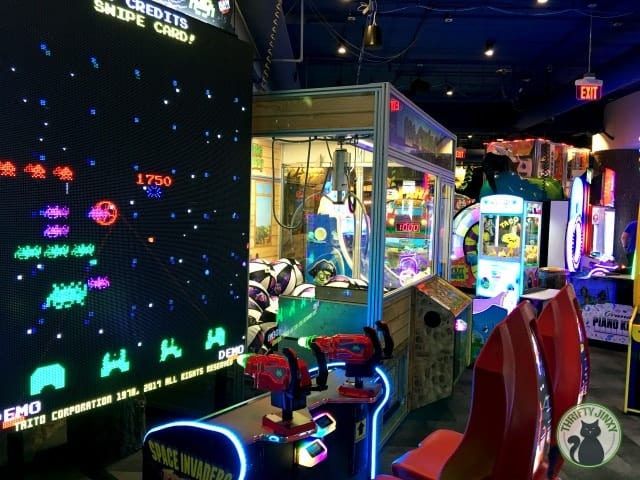 And I can't forget to add that the Great Wolf Resort Adventure Park has its very own places to get treats, snacks or meals with Hungry as a Wolf for pizza and pasta, The Outpost for adult beverages and Great Wolf Candy Company.
We had SO MUCH fun in Great Wolf Adventure Park. Being local in Minneapolis, we're happy to know that we can visit it any time, whether or not we're staying at Great Wolf Lodge Minnesota. It's great fun for any day, but even better with a day that ends with a stay at Great Wolf Lodge.