Plan the ultimate St. Patrick's Day party with these fun ideas for party decorations, food, music, games and more.
You don't need the luck of the Irish to plan a great St. Patrick's Day party. With a few simple preparations and these St. Patrick's Day Party Planning Ideas, you should be all set to have a great time with your family and friends.
St. Patrick's Day Party Planning Ideas

St. Patrick's Day Decorations
A party really isn't complete unless you have some cool decorations on your walls, doors and ceilings. Decorations help your party area to look fun and festive. Since St. Patrick's Day is synonymous with the color green, be sure to incorporate this color into the aspects of your party décor.
One way to accomplish this is to get balloons in a variety of shades of green and place them around your party space. Centerpieces make a great addition to any St. Patrick's Day party décor. You can make pot of gold centerpieces for your tables. Just use black bowls and fill them with yellow gumdrops, chocolate gold coins or lucky charms cereal.
You can find some very inexpensive decorations at your local dollar store, but for wider selection (and still low prices) you can try online sources like Oriental Trading Company.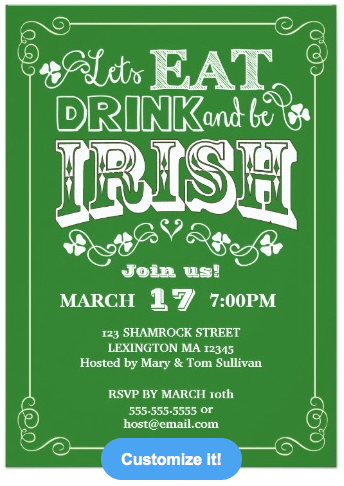 Invitations
You want to send out invitations at least three weeks in advance. Be sure that you include everything your guests will need to know such as the date, time and location. Also, include whether or not a specific dress code is in effect and whether or not the party is potluck. You should also send out a reminder about the party a week before the event.
Use your creativity when thinking of wording for your invitations. For instance, you can use something like "Everyone is Irish on St. Patrick's Day! Put on green clothing and bring your lucky charms to our festive St. Patrick's Day Party"!
To make it even easier, you can order St. Patrick's Day party invitations like the one above from Zazzle! They have lots of designs to choose from.

Irish Music
No party is complete without some great music playing. You need to have a playlist of songs that compliment St. Patrick's Day. Here are some ideas to get you started:
Whiskey in the Jar by Metallica
Green, White and Gold by Brendan Fortune
Beautiful Day by U2
If Your Irish Come to the Parlor by Paddy Noonan
Irish by Tonic
The Pub With No Beer by The Clancy Brothers
Patrick's Days by The Highland Rovers Band
Rocky Road to Dublin by Dropkick Murphy's
You can find LOTS of Irish music on Amazon – both on CDs and as digital downloads.

St. Patrick's Day Food
You can choose to serve traditional Irish foods at the party such as corned beef and cabbage, Irish stew, soda bread and Irish coffee.
Another idea is to serve everyday food with green food coloring. For instance, you can bake cookies and cupcakes by using green food coloring in the frosting and/or the dough.
If you are serving alcoholic drinks at the party, try serving them in green beer mugs or cocktail glasses. If you are not serving alcohol, you can make green punch that is served in a punch bowl. Check out all of our St. Patrick's Day recipes here.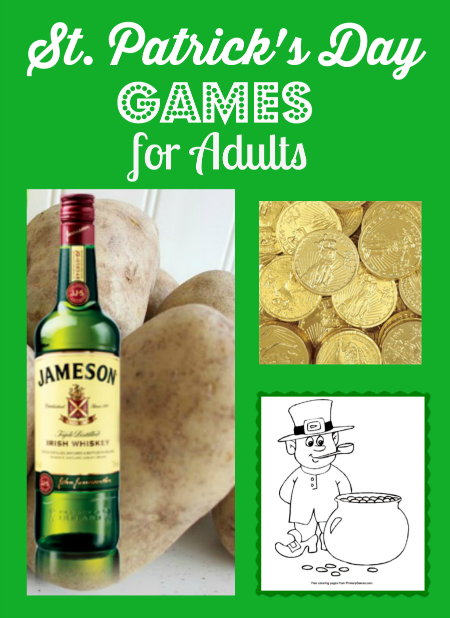 Party Games
Looking for some fun ideas to keep the party going? We have some ideas for Adult St. Patrick's Day games here.