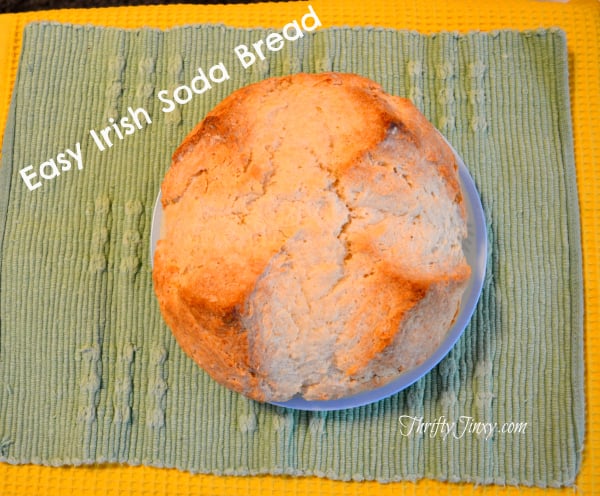 If you don't make anything else for St. Patrick's Day, I highly recommend this Easy Irish Soda Bread Recipe!  This moist, slightly sweet bread is just delicious.  If you like you can add raisins, but we prefer it just like this.

Easy Irish Soda Bread Recipe

4 cups flour
1/3 cup white sugar
1 tsp baking soda
1 Tbsp baking powder
1/2 tsp salt
1/2 cup butter, softened
1 cup buttermilk*
1 egg
1/4 cup butter, melted
1/4 cup buttermilk
*If you don't have buttermilk, just stir 1 Tbsp white vinegar or lemon juice into a cup of milk and let sit for a few minutes.
Preheat oven to 350 degrees.  Grease a heavy baking pan and dust with flour.
In a large bowl, whisk together flour, sugar, baking soda, baking powder and salt. Using a fork, blend in the butter thoroughly.
Stir in one cup buttermilk and the egg.
Mix well using your hands to knead it several times.
Form into a round shape and place on baking sheet. Cut an x on the top of the loaf with a sharp knife
Combine melted butter and remaining buttermilk in a small bowl. Brush over top of loaf
Bake 45-55 minutes, brushing the top again two or three times during baking.