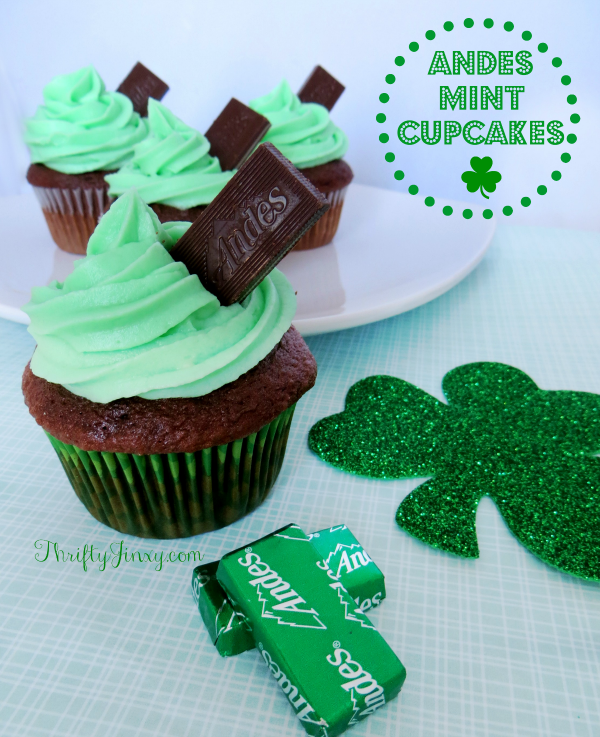 This Andes Mint Cupcakes Recipe is perfect for St. Patrick's Day or any time you're craving that chocolate and mint combination in a delicious cupcake!  Chocolate blends so well with many flavors (think chocolate peanut butter, chocolate and raspberry, etc.) but chocolate and mint is a classic combination!  These cupcakes are easy to make by starting with a boxed cake mix, but they are made extra delicious with a super easy homemade frosting.  A whole Andes Mint on the top of each makes a perfect garnish.

Andes Mint Cupcakes Recipe

Ingredients:
1 box of chocolate cake mix (plus ingredients called for on the box, i.e. eggs, oil & water)
2 sticks unsalted butter, room temperature
4 cups powdered sugar
2 tablespoons milk
¼ teaspoon peppermint extract
¼ teaspoon vanilla extract
1 bag of Andes mints
Green food coloring
Directions:
1. Make cake batter according to box instructions. Evenly divide into muffin tins lined with cupcake liners.
2. Bake cupcakes according to box instructions. Allow to cool in pans 15 minutes before frosting.
3. To make frosting, use an electric mixer to beat butter until light and fluffy.
4. Slowly add powdered sugar, scraping down sides of bowl between additions.
5. Add milk 1 tablespoon at a time, and then mix in both peppermint and vanilla extracts.
6. For mint green color, add 6-8 drops of green food coloring into the frosting until you reach your desired shade of
green.
7. Frost cupcakes and garnish with an Andes mint.