This DIY Father's Day Card Craft is fun and easy to make using colorful foam craft sheets and our printable template.
Father's Day will be here before we know it! While it can be difficult to know what type of gifts to get for Dad for Father's Day, one thing he is sure to love is a card made by hand.
This DIY Father's Day Fish Card is perfect for a fisherman OR a pet fish lover. Either way, it will let Dad know that he is o-FISH-ally awesome!
This card is fun to make with colorful Craft Foam Sheets. We have a printable FISH template that makes it easy to cut out the shapes you'll need to make your card.
The crowning touch is the Google Eye, which gives your little fish a lot of personality!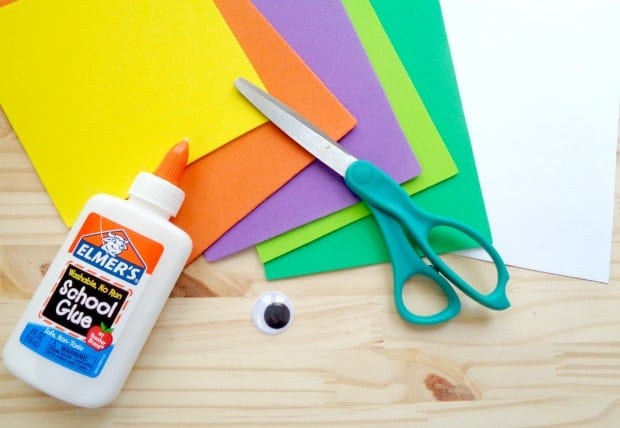 Watch Them Wiggle Eyes, Black

White Card Stock

Darice Foam Sheets, 6 by 9-Inch

Elmer's Washable No-Run School Glue, 4 oz, 2 Bottles (E304)

DIY Father's Day Fish Card
Supplies:
Black, Pink, Yellow, Orange, Puple, Dark Green & Light Green Craft Foam Sheets
School Glue
Scissors
White Poster Board or Cardstock
Pencil & Black Marker
Google Eyes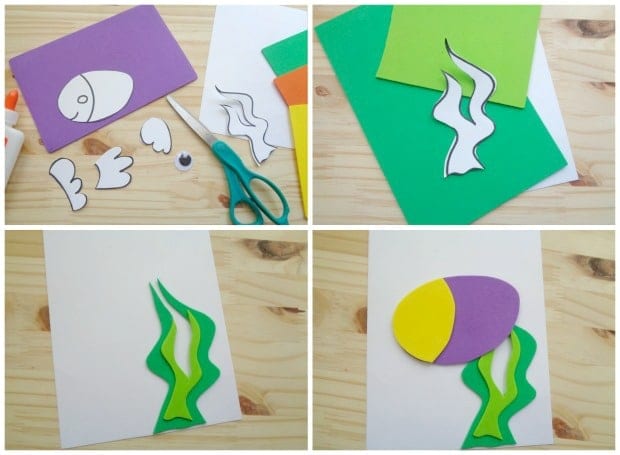 How to make this Father's Day Fish Card:
Begin by downloading and printing the FISH template.
Cut your template out into sections. Refer to photo.
Trace the body of your fish onto purple craft foam. Cut the head portion out of the fish template and trace this piece onto yellow craft foam and cut out.
Trace and cut out the fins from orange craft foam. Set pieces to the side.
Trace and cut out the seaweed from the dark green craft foam. Cut a smaller version out of the light green craft foam. Glue the pieces together.
Glue the seaweed onto your white poster board or cardstock.
Glue the body of the fish in the middle of the card, overlapping the seaweed. Glue the yellow head onto the body of the fish and then glue the orange fins onto your fish.
Glue a google eye onto the fish's head.
Cut a small smile from black craft foam and glue in place. Cut a rosy cheek from pink craft foam and glue above the smile. You could also use markers or construction paper for this step.
Draw bubbles above the fish with black marker.
Add your message with a marker or print your words and glue onto your card.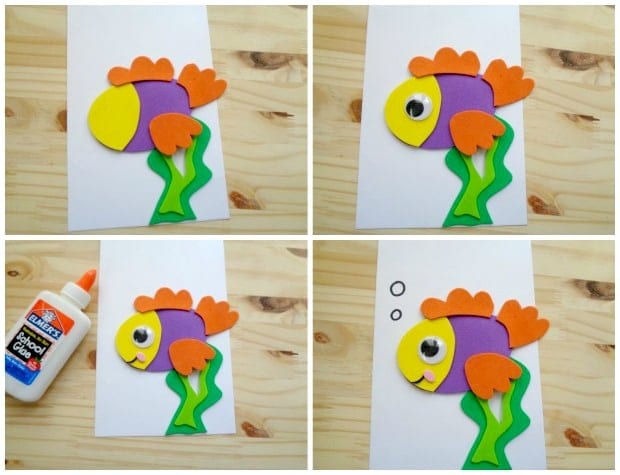 If you're also looking or some fun gifts dad might like for Father's Day, be sure to check out our gift guides! We have great ideas for everyone from Star Wars Lovers to Cooks to Coffee Lovers – you name it!
More Father's Day Crafts and DIY Cards: