The best way to prepare a turkey is from one that has been defrosted, but if you're in a pinch, here is How to Cook a Frozen Turkey without Thawing!
Usually the trickiest part of preparing the Thanksgiving meal is making the turkey. It can be EXTRA tricky if you have to try to cook your turkey from a frozen state without defrosting.
If you're looking at these instructions because you have to make a Thanksgiving turkey last minute and you haven't bought one yet, you can look for a fresh turkey. That will be easier. But, if you have to, frozen will work.
Of course, it is always better to defrost your turkey ahead of time. The best and easiest way to defrost a frozen turkey is to leave it in the unopened wrapper and place it breast side up on a tray in the refrigerator. You'll want to allow at least 1 day of thawing for every 4 pounds of turkey.
A quicker way to defrost your turkey is with the cold water method. Again, leave the turkey in its wrapper and thaw breast side down in a container with with enough cold water to completely cover the turkey while it thaws.
Change the water every 30 minutes to make sure the turkey stays chilled. This will take approximately 30 minutes per pound.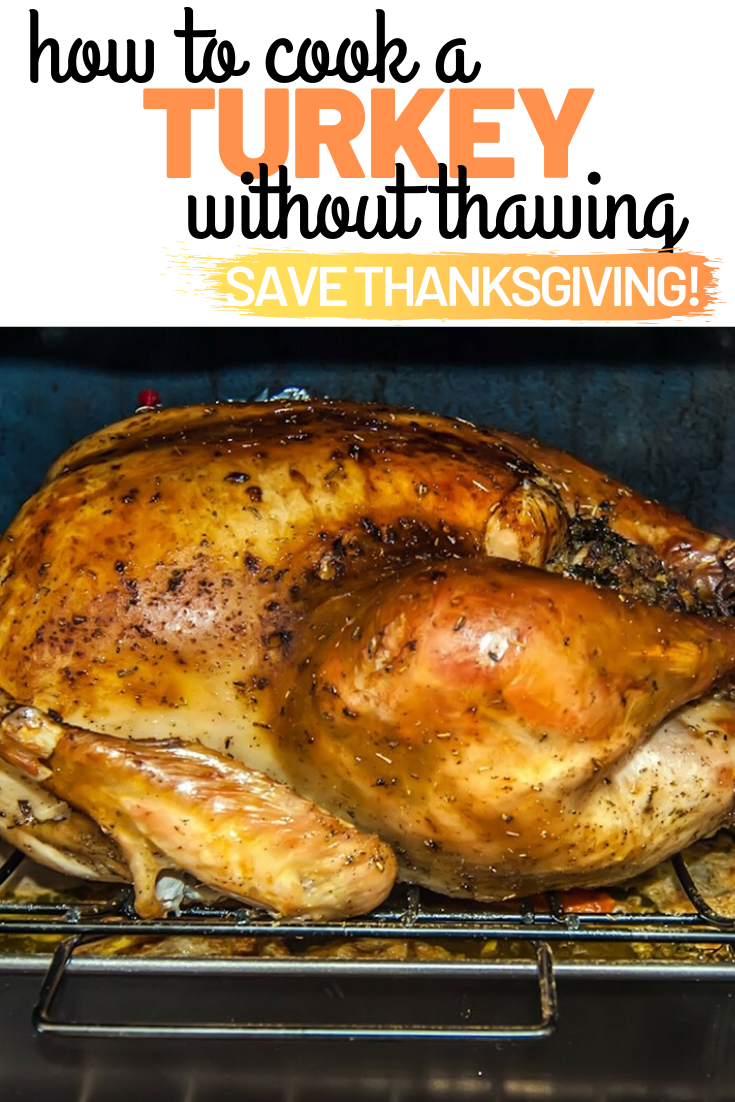 Another option besides cooking a whole turkey is to cook only a frozen turkey breast. Of course, this is also best when thawed first, but it takes much less time to defrost and to cook. You can even make your turkey breast in a slow cooker.
Then, as your last resort, we have instructions on how to cook a frozen turkey without thawing, which can be the case if you are the last minute Thanksgiving host, or if it's just your first turkey and you didn't realize you have to thaw it first!
Whatever the reason you have to cook it from frozen, here is how to do it.
How to Cook a Frozen Turkey Without Thawing
INGREDIENTS
1 frozen Turkey
1/2 cup Butter
1 Medium Onion
2 tsp minced Garlic
3 tsp Poultry Seasoning
1 tsp Salt
1 tsp Pepper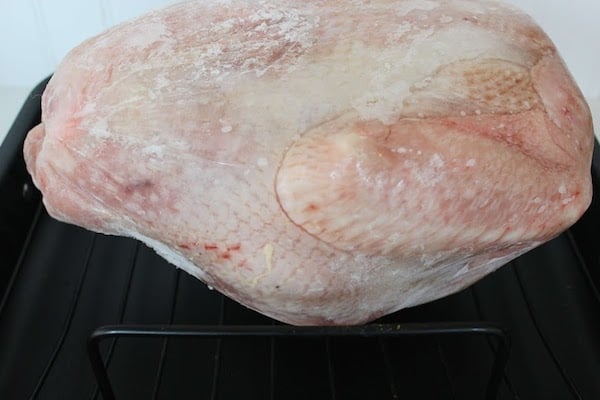 Cooking Frozen Turkey:
Turkey will take about 1 1/2 times to twice as long to cook from frozen.
Preheat oven to 325.
Remove wrapping from turkey and place breast down on roasting pan.
Place in oven for 3 1/2 hours.
Remove from oven and see if bag with liver, gizard and heart can be removed from the neck area. If not return to oven and continue checking every 15 minutes. If the bag is plastic, do not let it begin to melt or it will ruin turkey.
Flip turkey breast side up and return to oven for another 30 minutes.
Remove from oven and see if neck can be removed from the body cavity from between the legs. If not return to oven and continue checking every 15 minutes.
Peel outer skin off onion and place in body cavity along with garlic.
Rub body down with butter and season with salt pepper and poultry seasoning.
Return to oven to finish cooking. Use a meat thermometer to check for temperature in thigh of at least 175 and in breast of at least 160. Baste turkey with juices every time you check temperature.
When temperature is reached, remove from oven and tent in aluminum foil for 30 minutes to allow turkey to rest before carving.