I have received tickets to Everglades Holiday Park. Any opinions expressed are my own.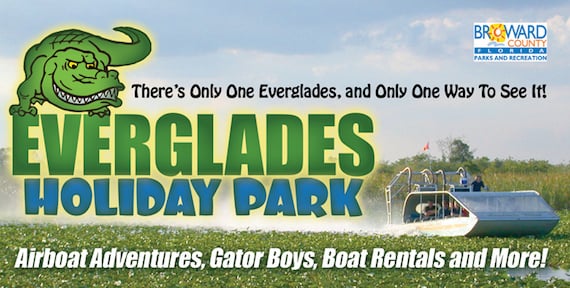 Are you a fan of the show Gator Boys on Animal Planet? My husband is ADDICTED to that show. So, we were pretty excited to find out that Everglades Holiday Park, home to the Gator Boys, is in Ft. Lauderdale, Florida – near my father-in-law's house! We're planning to travel there next month and can't wait to visit.
Most episodes of Gator Boys are filmed right there in our world-famous Everglades park filled with Alligators! We here that there's a good chance that during a visit there is a chance to see the Gator Boys filming. If we're lucky we might even get to meet one of the stars of the show!
Everglades Holiday Park Discount Tickets
For a limited time, you can grab this Everglades Holiday Park ticket deal and save on admission!
You can also sign up for their Kids Fishing tournament on March 22nd! You could win prizes and have fun outdoors with other kids while learning about fishing in the Everglades. It will be a real blast! Head over to www.GatorKidsClub.com and get all the details including the registration link. Let's go fishing!
For more info, visit:
https://www.facebook.com/EvergladesHolidayPark
https://twitter.com/EvergladeHolPk
https://www.pinterest.com/search/pins/?q=everglades%20holiday%20park
https://www.evergladesholidaypark.com/