Explore South Bend beyond Notre Dame with these fun experiences including chocolate making, river rafting, museums and great food!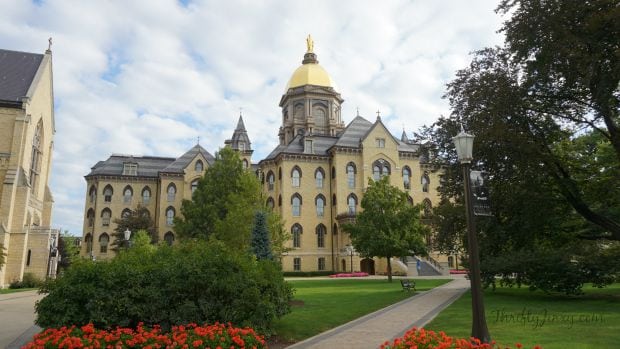 If you follow me on Instagram, you may have noticed me sharing a bunch of photos from Indiana earlier this month. To be totally honest, I have never thought of Indiana as a tourist destination, but my recent media FAM trips in the state have proved to me how wrong I was. There is a LOT to see and do in Indiana!
Over the years I have often passed right by South Bend many times while traveling on I-80 between Minnesota and New Jersey, but never stopped to visit except for a college visit when my sister checked out Notre Dame in high school. Never stopping was a big mistake!!
Last month I had a chance to spend several days in South Bend and came to realize what a worthwhile destination it is.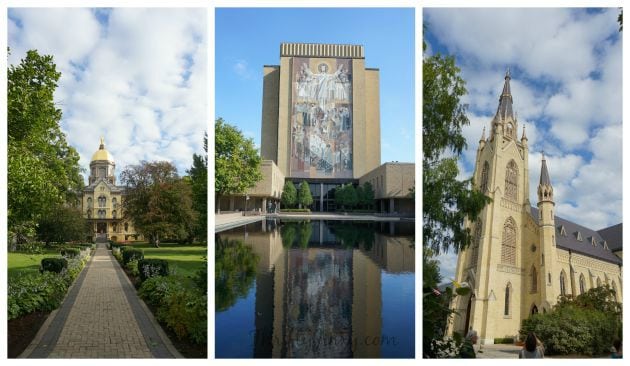 Of course, South Bend is most known for being the home of the University of Notre Dame. A tour of the campus is a must. Our tour, like most scheduled public tours, took us to see the Grotto, Basilica of the Sacred Heart (unfortunately we only saw the outside due to a wedding being held that day), the Main Building (known as the Golden Dome), and the Hesburgh Library (adorned with the "Touchdown Jesus" mural on one side).
Of course we also saw the famous stadium, although it was only from the outside. I need to visit again to see a game, but wouldn't dare do that without my husband on the trip because he would never forgive me. He is a BIG Notre Dame fan.
If you plan to take a tour yourself, get ready to walk because the tour involves about two miles of walking. I love getting in some exercise while seeing the sites!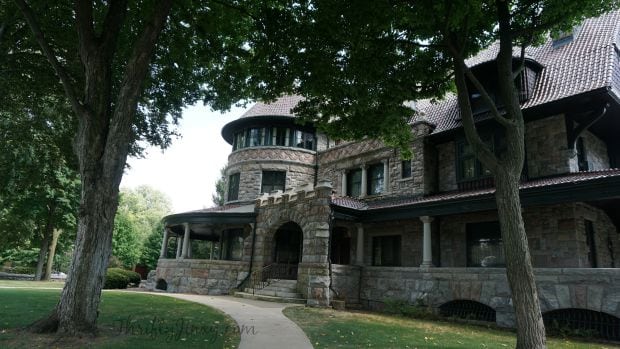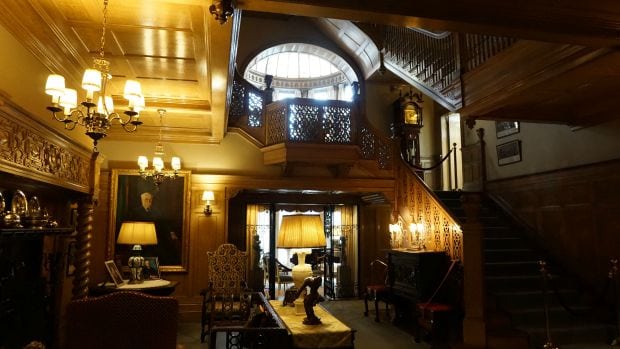 But Notre Dame is the only thing to see or do in South Bend. It's just the tip of the iceberg. South Bend is the site to some iconic parts of American history and you can learn about them at the Studebaker National Museum, The History Museum and Oliver Mansion.
The Oliver Mansion, also known as Copshaholm, is an impressive 38-room Queen Anne style mansion, once home to the J.D. Oliver family. J.D. was the son of James Oliver, inventor of the chilled plow, which spawned the Oliver Chilled Plow Works, for which J.D. served as president.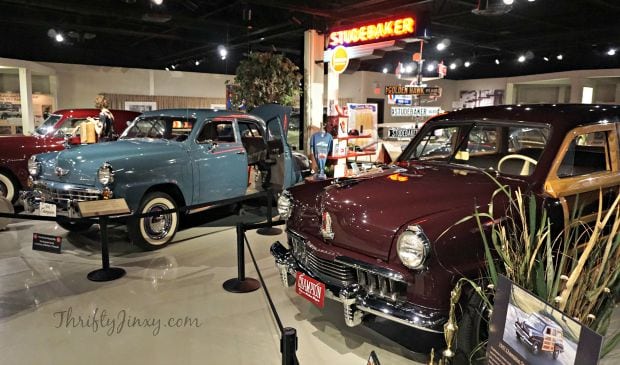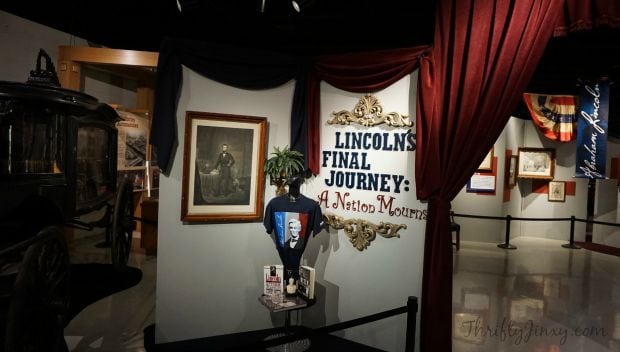 The Studebaker National Museum is a must for car buffs and definitely an interesting stop for everyone else. It houses cars, wagons and carriages all made by Studebaker. Currently at the museum through October 31st is the special exhibit Lincoln's Final Journey: A Nation Mourns.
Images and artifacts combine to tell the story of Lincoln's final night and the impact on the nation that followed. Included in the exhibit is the Lincoln carriage that brought President Lincoln and his wife to Ford's Theater the night he was assassinated.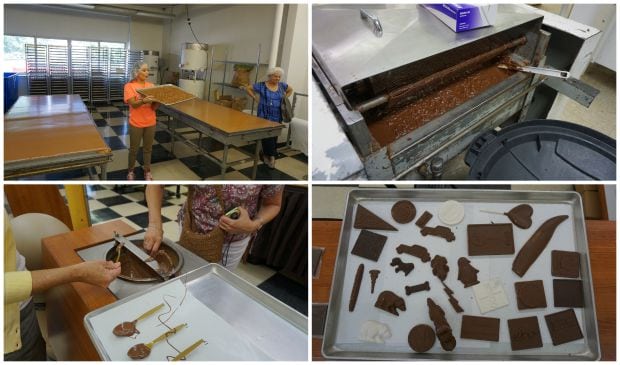 On our short trip we also toured South Bend Chocolate Company where we had a chance to see how chocolate is produced and packaged. We even had a chance to make our own chocolate spoon. Sampling the chocolate was definitely a highlight of that visit.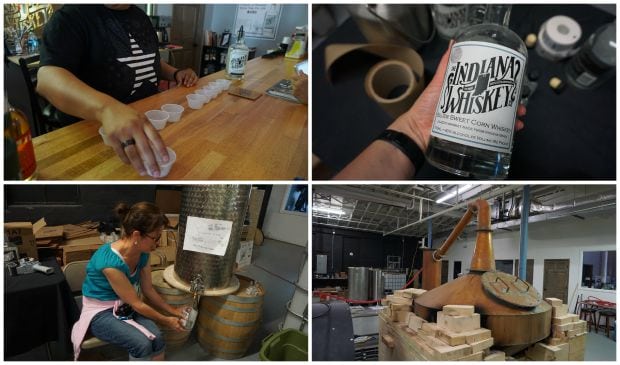 From chocolate we moved on to Whiskey with a visit to Indiana Whiskey Company. We not only learned how whiskey is made, but had a chance to bottle some ourselves. I can hardly believe that is the same way all their whiskey is bottled – by hand, one by one! And of course, we had a chance to do some sampling too.
Indiana Whiskey Company is unique in that everything involved in production, from stills to grains, is all made in Indiana. And the product is ONLY sold in Indiana. It's definitely a unique souvenir to take home to your whiskey-loving friends and family.
We enjoyed several DELICIOUS meals in South Bend at Tippecanoe Place Restaurant, Café Navarre, LaSalle Grill and South Bend Brew Werks.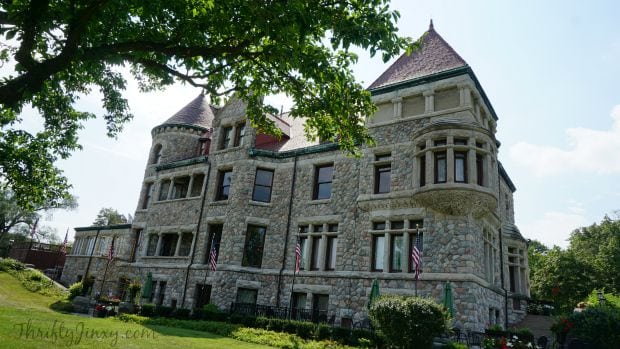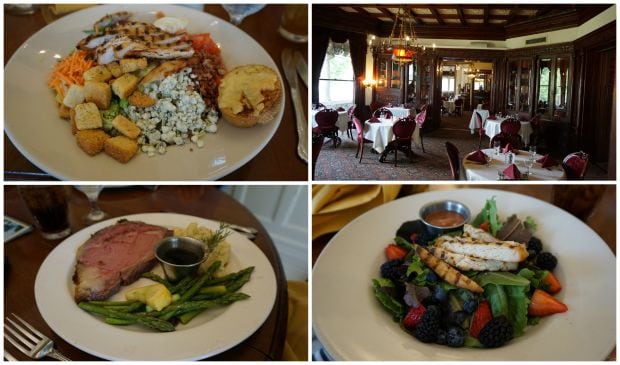 Immediately upon arriving in South Bend, we enjoyed lunch at Tippecanoe Place Restaurant. The Tippecanoe Place mansion was built by Clem Studebaker in the late 1880s. It's now home to a beautiful restaurant and event space. Wandering around the mansion was just as enjoyable as the delicious lunch, especially the beautiful salads.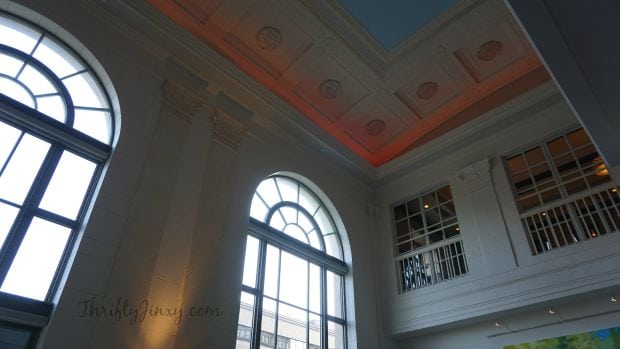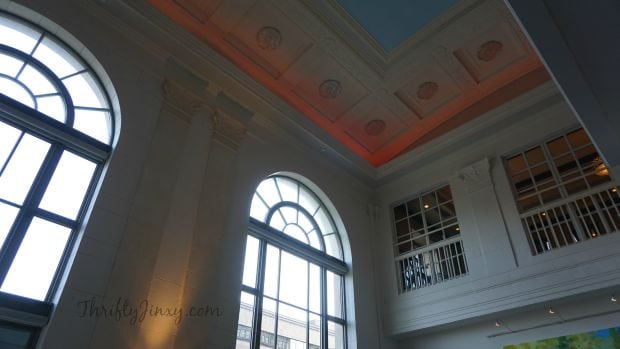 Dinner that night was in downtown South Bend at Café Navarre,voted one of the Midwest's best new restaurants by Midwest Living magazine. Dinner was fabulous. I loved everything from the Navarre salad, to the perfectly cooked filet mignon (never easy since I order it well done) to the amazing strawberry shortcake for dessert.
I also had to snap a picture of my friend's impressive braised pork shank. It was gigantic!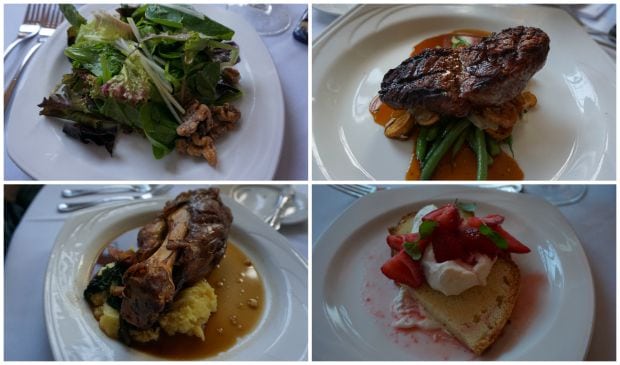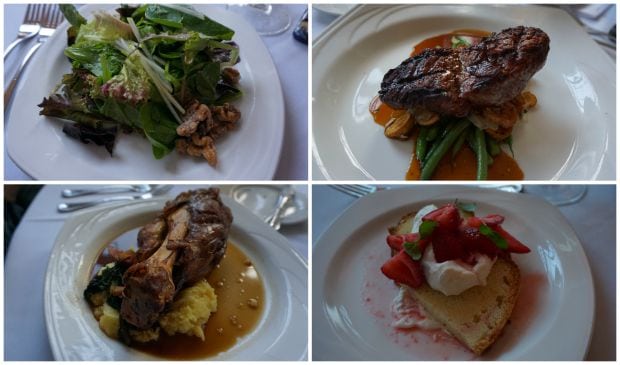 Unfortunately, my photos of dinner at LaSalle Grill didn't turn out well enough to do justice to the wonderful food. They hold the distinction of being the only restaurant in Indiana to receive the Four Diamond Award for 19 consecutive years. The menu features wood-fired steaks as well as seafood and bistro favorites.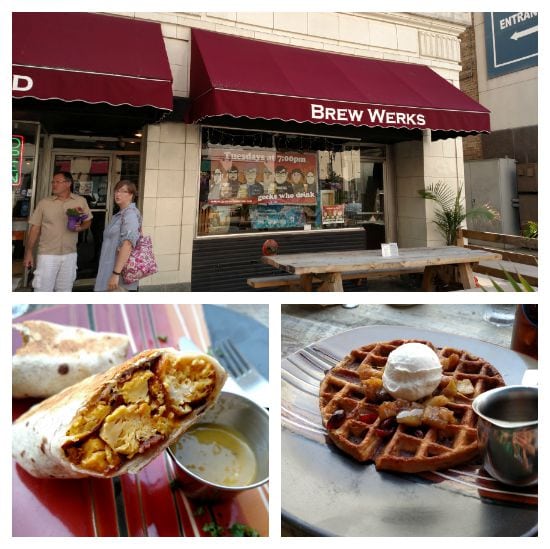 Just before departing the city, we enjoyed breakfast at South Bend Brew Werks. The story behind Brew Werks is just as amazing and their food and drinks. Drew Elegante, a University of Notre Dame MBA graduate, shows his love for the City of South Bend by creating many of the furnishings for the from rescued pieces from the area, i.e. old school chairs from St. Joe High School and handmade bar and table tops from reclaimed bowling alleys at Beacon Bowl. Brew Werks also gives back to the community through their #Beer4Good program. With every craft brew purchase you get a cap that represents a donation to one of their 3 community partners. You then get to choose which of the partners receives your donation. As of August, they had already raised over $16,000 for 2015! Since it was breakfast time (and I'm not a morning drinker), I didn't have a chance to try any brews, but breakfast was delicious! I loved my breakfast burrito and have been craving another one since I left.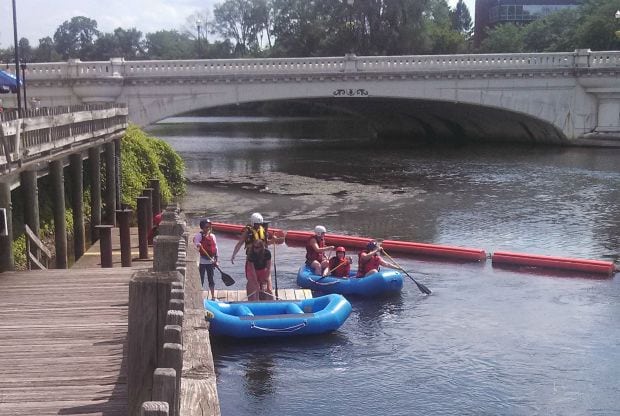 Something I never realized that South Bend had ended up being the MOST FUN I had on my visit. We went white water rafting on the East Race Waterway right in downtown South Bend!
The East Race waterway is 1,900 feet long and features class 2 rapids. It takes about 5 minutes to travel the length of the East Race – 5 super fun and exciting minutes! It was such a blast and I traveled the course three times. It's such a rush! It's also an extremely affordable activity at only $5 per person per ride. Check out our video:
I'm looking forward to heading back to South Bend again and sharing all of my favorites with my husband and family. Have you ever been to South Bend? If so, let me know some of your things to see, do and eat in South Bend!