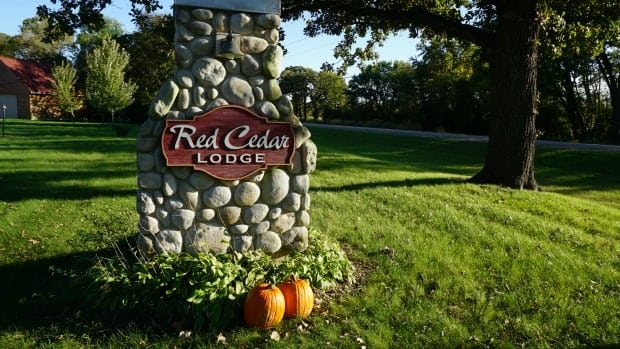 Time for some brutal honesty. When I told friends I was going on a trip to Iowa for a few days earlier this month I heard a lot of "Iowa? Really?". Yes, REALLY! While many of us here in Minnesota might consider Iowa a place to drive through on the beginning of our road trips elsewhere, or those more toward the coasts may think of it as a part of fly-over country, I found it more than worth my drive TO Iowa for a peaceful North Iowa escape at Red Cedar Lodge in Charles City.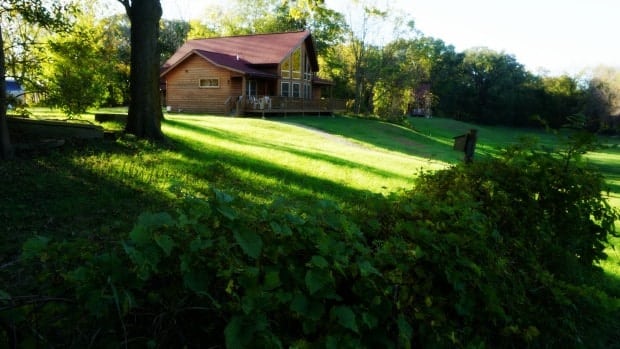 Red Cedar Lodge is nestled in the Iowa countryside along the pretty Cedar River. The beautifully maintained property is made up of three log-sided cabins, each with room for up to 8-10 guests. As a bit of a germophobe when it comes to travel lodging, I absolutely loved how spotlessly clean and up-to-date our cabin was. The beds are also super comfortable with lots of pillows and triple-sheeted with a duvet comforter.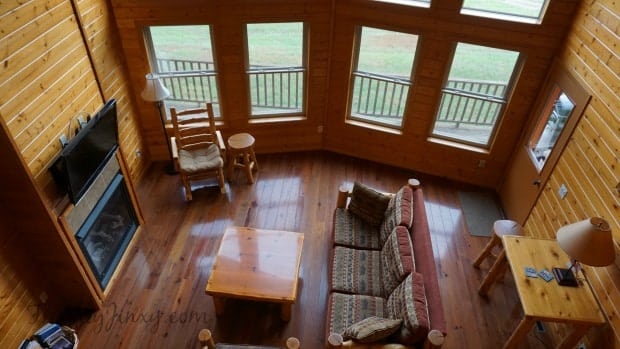 Cabins come equipped with a full kitchen, including full size appliances – refrigerator, stove, oven, microwave and dishwasher. It's also stocked with cookware, dinnerware and cooking utensils. There is also the option of cooking on the barbecue grill on the deck. (Which they replace every year. – No gunk-encrusted grills here!)
While I would be happy to spend the entire time in our cabin by working on my laptop (they have wireless internet) during the day while looking out the floor-to-ceiling, and cozying up staring at the fire at night, there are lots of fun things to do in nearby downtown Charles City.
My number one do-not-miss stop in Charles City is the Floyd County Historical Museum, one of the largest rural county museums in the Midwest. The highlight for me is the Legel Collection of artifacts from the Legal Drug Store spanning from 1994-1962. It's simply amazing. Art lovers should visit the Charles City Public Library to visit the impressive Mooney Art Collection, featuring the works of artists including Picasso, Dali, Rembrandt, Goya and many more.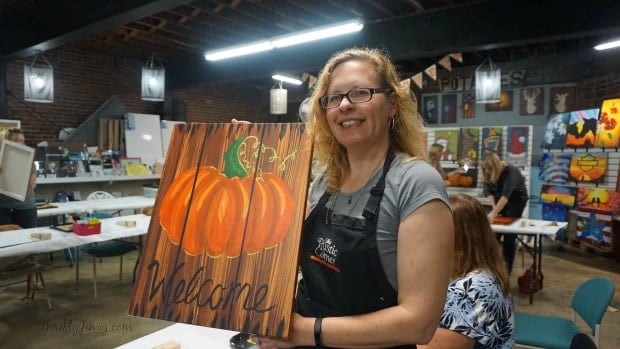 For shopping, we took a stroll down main street visiting several of the cute shops along the way, including The Rustic Corner, where we took a painting class with artist Robin Macomber. What a fun way to spend an evening!
The next time I'm in Charles City, I want to make sure it is during the summer so I can visit the Charles City WhiteWater Park. It looks like so much fun! I'll also want to be able to shop at the downtown farmers market (Wednesdays and Saturdays). This time I bought homemade cookies, peppers, fall gourds and even a bracelet with handmade glass beads.

While it would be easy to make all of our meals right in our cabin at Red Cedar Lodge, there are also great places to eat in Charles City itself. While in town we had yummy pizza from Cedar River Pizza Co. and a delicious lunch at The Pub on the Cedar (where I had the absolutely best bread stick I have ever had in my life).
You can find out more about the lodge at TheRedCedarLodge.com and more about the city at CharlesCityChamber.com.