At Mardi Gras Universal Orlando Resort, the best of traditional New Orleans Mardi Gras is transported to Orlando in a family friendly version with music, food, parade floats and more that everyone can enjoy.
Last week I had the thrill of visiting Universal Orlando Resort and what made the visit even MORE exciting was being there during Mardi Gras celebration.
The best of traditional New Orlean's Mardi Gras is transported to Orlando in a family friendly version that everyone can enjoy.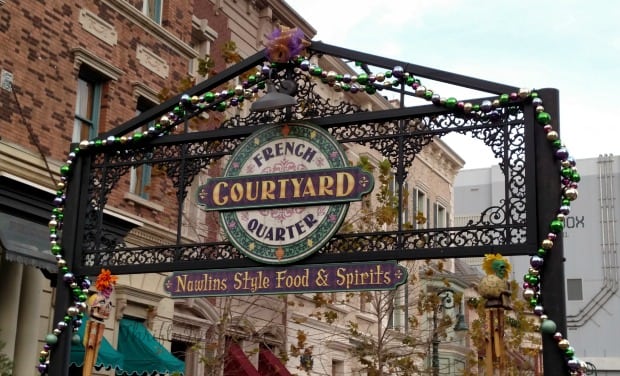 Universal Orlando Resort has created their very own French Quarter Courtyard where you can fill up on cajun cuisine like gumbo and jambalaya and top it all off with a light, fresh and hot beignet coated in powdered sugar.
We had a chance to savor several types of Universal Orlando Mardi Gras food and, while I loved all the dishes, I have to say the andouille sausage was my favorite.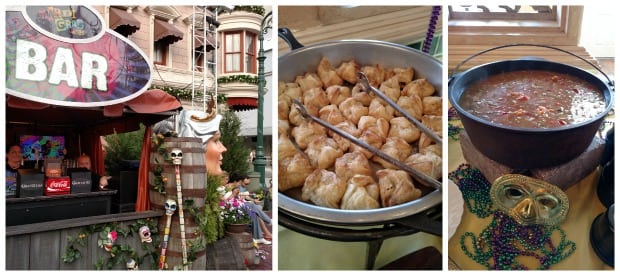 While savoring your food, you can listen to bands who have traveled all the way from Bourbon Street to entertain with authentic New Orleans music like blues, jazz, zydeco and more.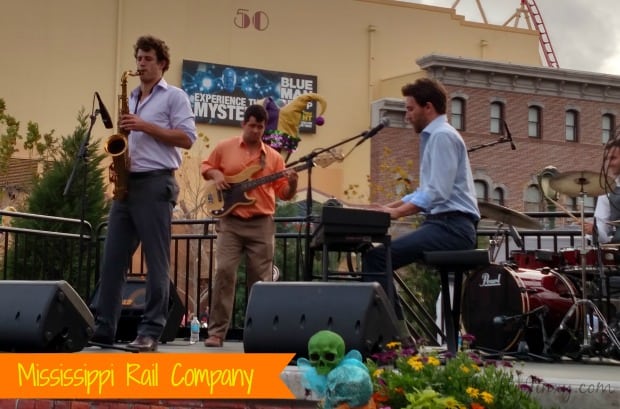 Around the French Quarter Courtyard, the streets are roamed by Mardi Gras performers in bright colorful costumes.
They have a lot of fun interacting with both children and adults and are more than willing to stop and pose for pictures with the crowd.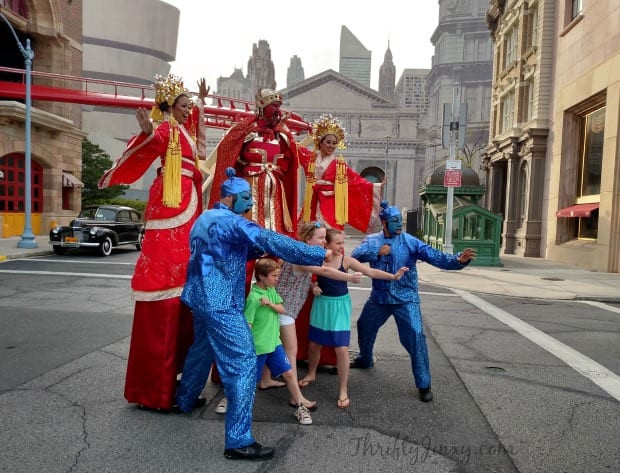 Once evening comes around, it's time for the Mardi Gras parade featuring 12 amazing floats engineered by Blaine Kern Artists – the same company that has been making floats for the New Orleans parades for over 60 years!
Before the parade started, I had a chance to see one of the floats up close and in the daylight. It is amazing to see the amount of detail that goes into making a float.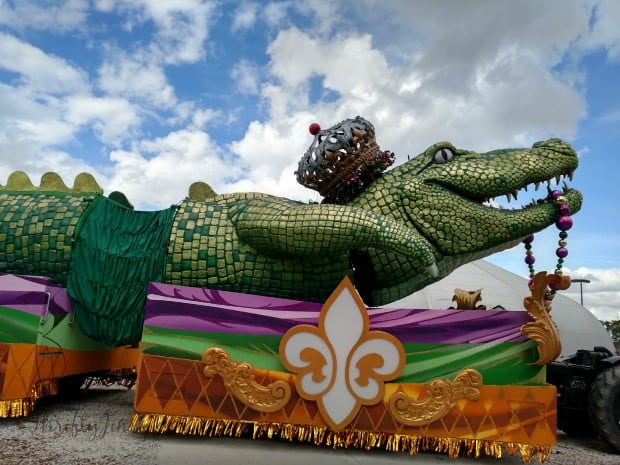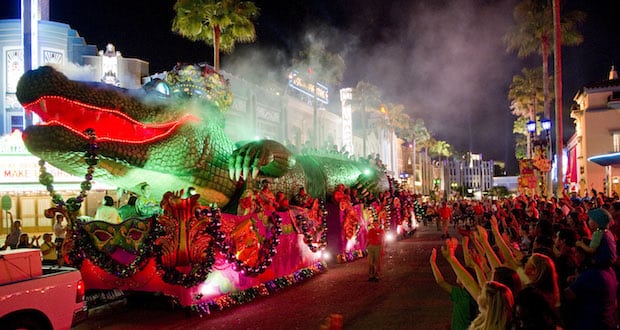 Jason Horne, the Mardi Gras creative director, explained the huge amount of work that goes into preparing not only the floats, but the entertainment, the performers and all the details that make the event a success.
I think that a big part of the reason the Mardi Gras here ends up being so fun is that Jason stresses to everyone involved that their job is to throw an amazing party and their goal is to make sure people have fun. Sounds like a great job!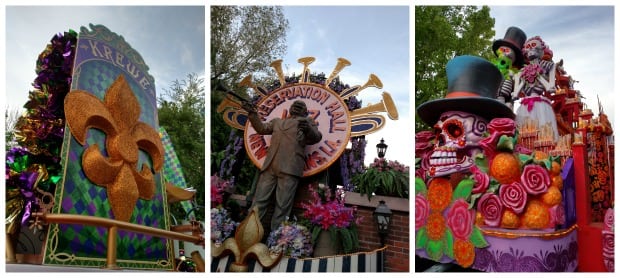 We got a taste of what being part of that team is like by riding a float in the Mardi Gras parade and throwing boatloads of beads to the crowd. I cannot believe how much FUN that was.
Over 1.8 million strands of beads are thrown every year and it's obviously fun to be on both the throwing and the catching sides of those beads.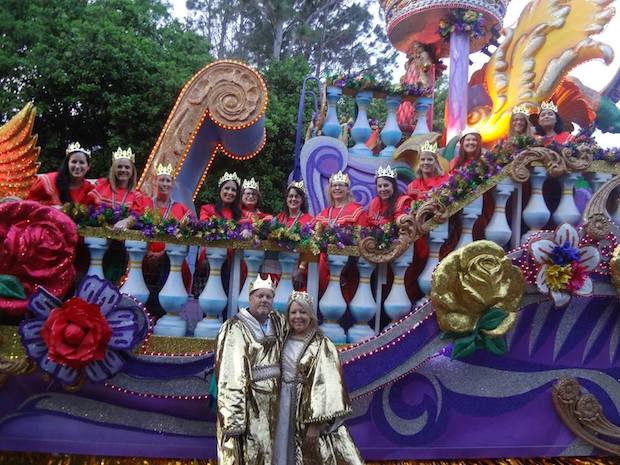 The Mardi Gras celebration at Universal Orlando Resort also includes and awesome lineup of concerts with artists from an array of musical genres including Phillip Phillips, Becky G, the B-52s, The Band Perry and more. (See all upcoming concerts here.)
We had a special surprise and got to meet MKTO before their concert. They were SOOO nice!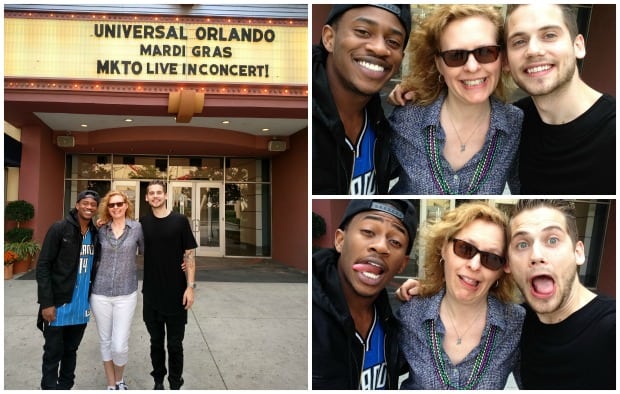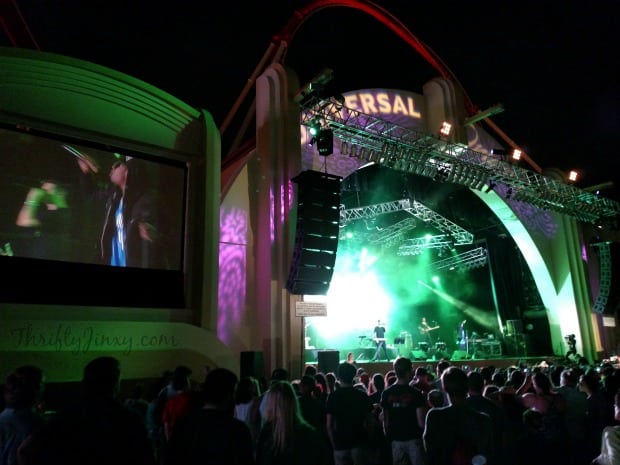 The Mardi Gras celebration at Universal Orlando Resort was so amazingly fun – even more so than I had imagined. (I know I have used the word FUN a lot in the last 500 words, but I really needed too – that's what it is!)
You can find out more about the event here and you have one more month left to plan to your visit and take part in Mardi Gras yourself.