Disney's INTO THE WOODS is one of those movies where I just had a suspicion that it was going to be good – really good. It has an amazing cast featuring Meryl Streep, Emily Blunt, James Corden, Anna Kendrick, Chris Pine and Johnny Depp. With talent like that all packed into one film you have to think that if those actors believe it will be good (and worthwhile for them to be a part of it), then it WILL be good. And guess what, I was RIGHT!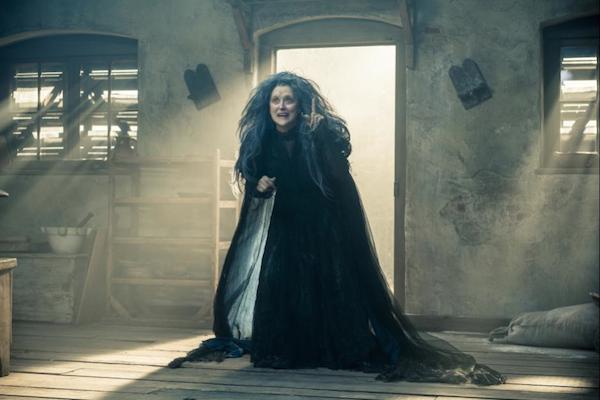 I had a chance to screen the film in an awesome location – the Samuel Goldwyn Theater, the official "Academy" theater, where the Oscar nominations are announced each year. I am sure you have seen pictures of it before with the huge Oscar statues on each side of the stage and it's deep red curtains. It was an exciting place to watch – and Chris Pine was even sitting a few rows behind us!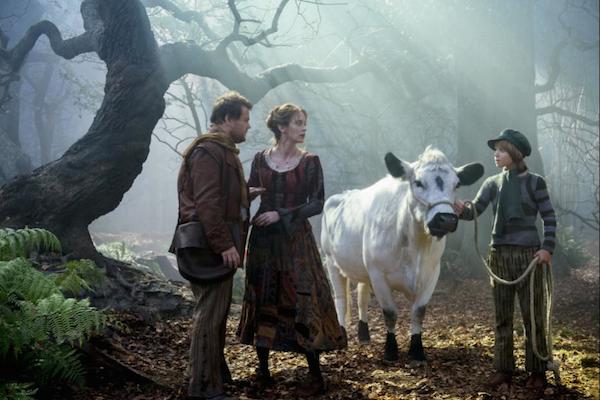 INTO THE WOODS is an absolutely gorgeous and thrilling adventure that puts an up-to-date twist on several of our most beloved childhood fairtyales including Cinderella, Little Red Riding Hood, Jack and the Beanstalk and Rapunzel. These favorites are woven together with a new story about a childless Baker (James Corden) and his Wife (Emily Blunt). Their greatest wish is to have a child and to do so they must complete a series of tasks laid out by the Witch (Meryl Streep).
The tasks presented to the Baker and his Wife are gathering objects such as a Cape as Red as Blood, Cow as White as Milk, etc – all objects that require them to interact with the classic fairy tale characters. The story itself is a captivating one, but even more so is the way in which it is presented.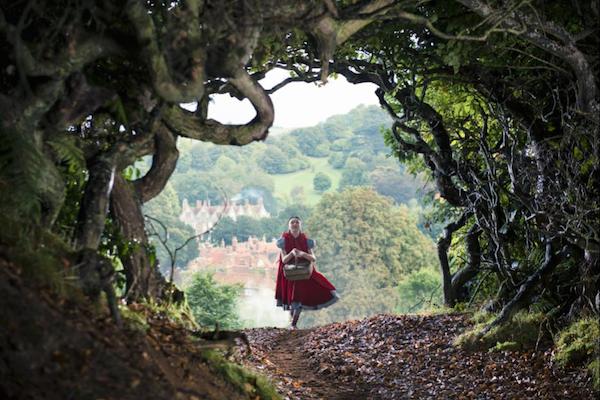 First of all, this cast can SING! While each sounds fantastic on their own, my favorite numbers are those in which many of the characters sing together – it is a rich blend of voices that is quite awe-inspiring. The fact that these musical numbers where so many sing together to create a beautiful sound helps further one of the main plot points that we are not alone and must all come together as a community to achieve our goals.
The film is also visually stunning. Even though much of the story is set in the dark woods, there is still a gorgeous layering of color with fantastical scenes. And then there are the costumes by Colleen Atwood – they are amazing! From the ugly stepsisters to Cinderella to the Witch, all of the costumes are top-notch and I definitely foresee some more awards for Ms. Atwood to add to her collection!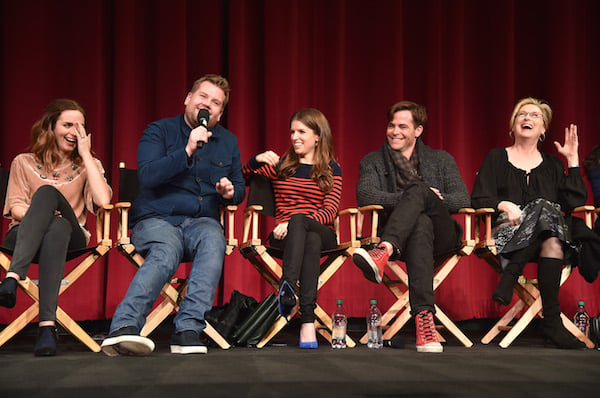 After the screening, we also had a chance to listen to a special Q&A with the cast and filmmakers of INTO THE WOODS. The panel included Director Rob Marshall, writer James Lapine, costume designer Colleen Atwood, cast members Meryl Streep, Emily Blunt, James Corden, Chris Pine, Anna Kendrick, Christine Baranski, and Tracey Ullman, and others. While listening to them talk you could just see and hear the great chemistry they have – no wonder the film worked so well!
Like INTO THE WOODS on Facebook: https://www.facebook.com/DisneyIntoTheWoods
Follow INTO THE WOODS on Twitter: https://twitter.com/intothewoods
INTO THE WOODS is rated PG and opens in theaters everywhere on December 25th!