Did you know one in four children has an undiagnosed vision problem? Right now when you purchase individual vision insurance from VSP Direct™ as a gift, a child in need receives a free eye exam and glasses. That means when you give the Gift of Sight from VSP, you give twice. Find out more at www/givevspdirect.com/eyegiveback. Thanks to VSP for sponsoring this post.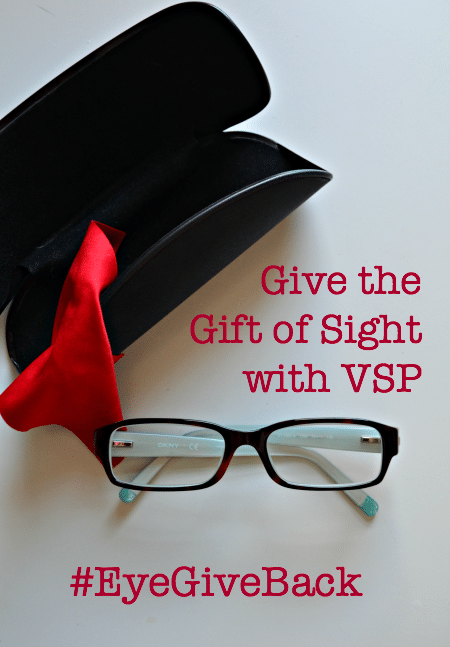 The women in my family have always needed corrective lenses. I clearly remember how I found out I first needed glasses. I was sitting with my parents and little sister in the Longhorn Cafe in our little town. I was trying to look across the room to read the specials on the blackboard and couldn't quite make them out, even if I squinted. My sister looked at me with a funny expression and said, "You can't read that?!?"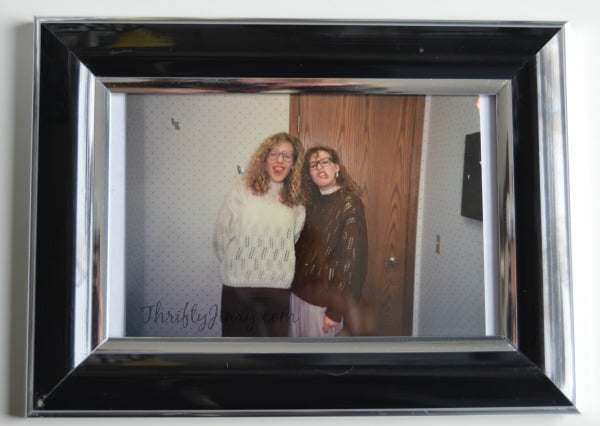 Since that time I have always worn glasses or contacts and a few years later my sister followed in the same direction and has always worn them too. At times we have had stylish glasses and at other times, like that period in the 90s above – NOT so stylish. (Do you like how we were also rocking the matching family picture sweaters?) Unfortunately, paying for eye exams, glasses and contacts can be expensive. I have been fortunate to be a member of VSP, the nation's only not-for-profit vision care company, for many years. When I was offered a chance to give a VSP Direct plan to a friend or relative, I knew I wanted to give it to my sister so she could enjoy the same benefits that I have.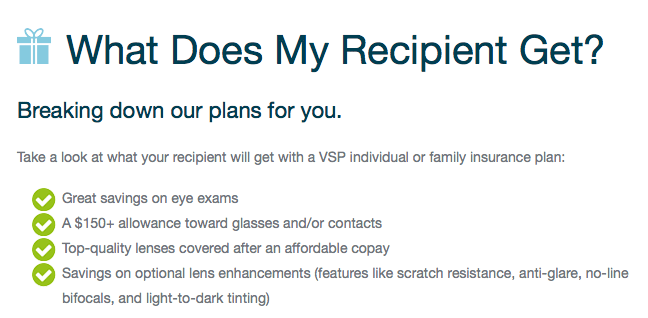 Those benefits include an eye exam with low co-pay and an allowance for glasses or contacts. There are lots and lots of places you can use the plan – actually there are 30,000 providers, the largest doctor network in the industry!! VSP Direct also offers the lowest out-of-pocket cost in vision care with a typical annual savings of $227. To top it all off, they have a 1000% satisfaction guarantee.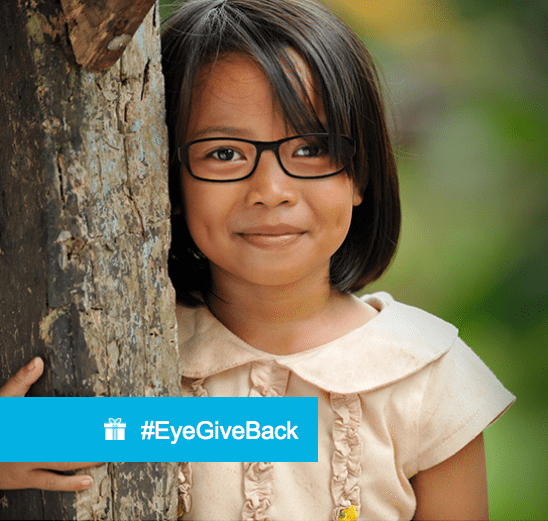 By giving my sister this awesome plan, I not only gave her the gift of sight, but this purchase also provided a free eye exam and new glasses to a child in need through VSP's #EyeGiveBack program. One in four children has an undetected vision problem. Ten million students in the US have vision conditions that can impact learning, with 20% of kids struggling to read because of vision problems. About 76% of kids don't receive the recommended three eye exams by age five. That is a troubling fact since annual comprehensive eye exams can ensure that correctable visual problems don't become permanent. Now through December 31, 2015, when you purchase a plan as a gift, VSP will also donate an exam and glasses to a child in need, up to a total retail value of over $115,000.
To learn more about VSP Direct and give the gift of sight to a loved one AND a child in need, visit www/givevspdirect.com/eyegiveback.