First, just let me start out by saying that sitting down to write about this interview is very intimidating. I mean, we're talking about the 18-time-Academy-Award-nominated Meryl Streep! That is big stuff!
And the thing is, if Meryl weren't involved I would probably be hyperventilating just as much about Tracey Ullman and Christine Baranski – I love both of them as well.
Put all three of them together and we have three amazing, talented and brilliant women. And I came to find out that they are hilarious in real life and EXTREMELY nice as well!
I had a chance to interview the three of them Friday morning at the Montage Hotel in Beverly Hills, along with 24 other bloggers. I have never heard a conference table full of bloggers be so quiet as while we were anxiously awaiting their arrival and fiddling around on our smartphones.
We were especially honored by this interview because we were the ONLY people Meryl offered an interview that day. The quiet was instantly broken as Meryl, Tracey and Christine Baranski walked into the room to our applause and Tracey commented on the "lovely smell of estrogen" in the room filled with women. We dove right into the interview.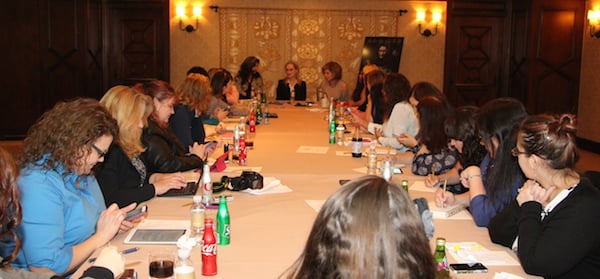 Just watching the three of them together, you can see the friendship and Meryl and Tracey confirmed that they have been friends for over 30 years, first working together on the film Plenty back when Tracey was a pop star in her early 20s. Meryl and Christine first worked together on Mama Mia. Christine said: "We had to do research by being friends, so we just hung out all the time, doing 'research,' – we had a lot of fun with all of that research." But Meryl noted they had known each other "a hundred years".
Christine agreed saying, "We have. We have, because we're theater babes, and we're Connecticut moms, and our kids are roughly the same age, and all three of us had long marriages, and shared parallel experiences. It's a trick, being an actress, and wife, and mother, and having that longevity. That's a real achievement in my opinion – that's the greatest achievement. Not just having a career, but holding your life together. And look at Meryl with four kids." Meryl noted "It's a tribute to our husbands." and Tracey added "Yes. Fantastic fathers."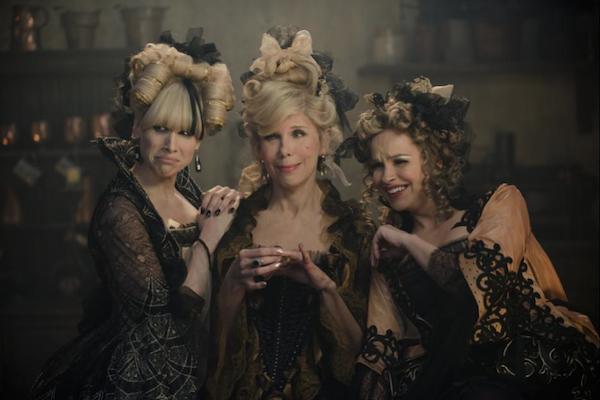 The women, who all have grown children of their own, were asked for a bit of parenting advice. Meryl stated that raising little kids now is so different from when their children were young. She sees this represented in Into the Woods in that it's harder and harder to keep the worst parts of the world out.
To keep children in a little tower is impossible and all of the bad stuff comes in. She noted that people have worried this film may be too dark for kids. And added "Kids know so much now and they're aware of so much, and yet they're so resilient and innately hopeful."
Tracey asked Meryl if she thought they would have taken their daughters to see Into the Woods when they were younger. Meryl responded "Are you kidding?!?! You let them watch Cops!" (and then went on to describe her daughter Gracie coming home from Tracey's house and imitating the crack addicts being pulled by their hair.) I laughed extra hard at that because we have always bugged my mom about the fact that she lets my nephew watch Cops!
Meryl said that her daughters would have loved it and she would have taken them to see it at seven or eight. Christine agreed with that age, but added that visuals can really affect kids and although you can explain it away you never know what images will really get to them.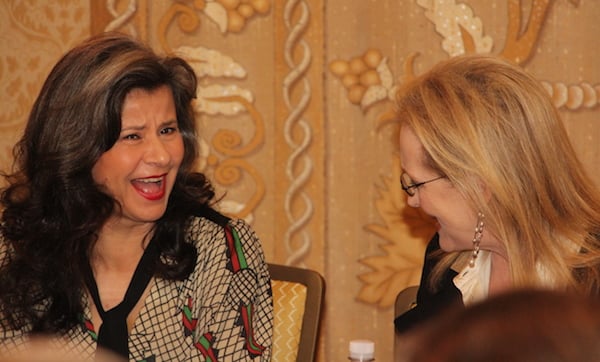 This led into a discussion of which fairy tales the actresses most enjoyed or were affected by as children. Meryl was really marked by Bluebeard and the idea of man who would take serial wives, one after another, and kill them in the castle. She was terrified by that and thought it may be why she stayed married to just one man
She also remembers visiting the library at age 8 and seeing pictures of the Kindertransport, especially a picture of the children's bodies where they had suffocated. She said, "I have never forgotten that. It made me ask my parents questions about the Second World War and the Nazis and what that was. Kids want to get ready for trouble. That's why my son used to draw lots of monsters. Boys draw lots of scary things, because they want to get ready. "
Christine added: "And they're intrigued by it. Look at our fascination with violence in our culture. It's just a part of it. I was always telling my kids, as I read to them, that there was such a thing as the world of the imagination. I said, "You're safe. If you're in the world of the imagination, you can go anywhere, and you can come back from that, so you're safe. We will read this book, and it'll take you places, but don't worry. You will come back. Movies are like that. But it can be tricky when a child is too young. They don't know how to do that. So, I think we need to be careful. Just take care of them and their little psyches."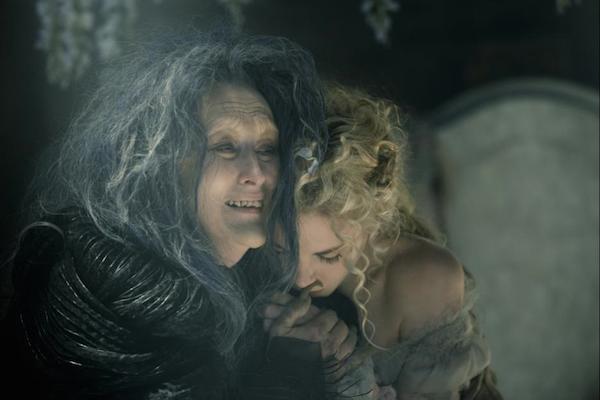 Meryl, Tracey and Christine also discussed the exposure to media that kids have today. Tracey mentioned how disturbing it is to see a child in a highchair with headphones on engrossed in their iPad while the family eats dinner (although she admits to using a video of "The Little Mermaid" to occasionally get some sleep when her girls were young.) Christine literally hauled her TV set out of her home after her young daughter was disturbed after seeing male strippers on Sally Jesse Raphael. Even though she made a living on TV, she didn't have one in her house.
The women also discussed what types of roles they enjoy playing. I enjoyed listening to Tracey speak about how magnificent Meryl was in her role as Margaret Thatcher. It's delightful to see such a close friend still be so enthralled with Meryl's acting ability.
When discussing other roles they enjoy, Christine pointed out that the point is really if you feel like the project you are working on or the character you are portraying is helping to move the culture forward and show women in a deeper, more complicated way. Meryl shared that every person has a choice whether you're an actor or a mom raising kids. You have a choice about what you're putting out into the world and it matters.
I was just so genuinely impressed by all three of these women. They are strong, intelligent, funny, remarkable women who have held their own in a rough industry. Their words left me feeling uplifted and encouraged to be that type of woman myself.