These fun and easy DIY Playing Card Valentines use a regular deck of cards with cute phrases to make the perfect greeting card for Valentine's Day.
What are the most fun kind of valentines? The ones you make yourself! These cute playing card valentines are super easy to make and lots of fun too.
They are easy enough for kids to make themselves, but perfect for grown-ups (especially those who love to play cards) too. You can usually get a package of two decks of 52 playing cards at the dollar store for only $1.
12-inch Titanium Scrapbooking Paper Cutter
&
We only used regular typing paper for our cards, but construction paper or cardstock will make a sturdier valentine. The other thing I plan to differently when I make these cards again is to use a paper cutter to more easily cut straight lines. I don't know why I didn't think to take mine out of the closet this time! If you do scrapbooking you probably already have a paper cutter, if not you can find one for under $10 here.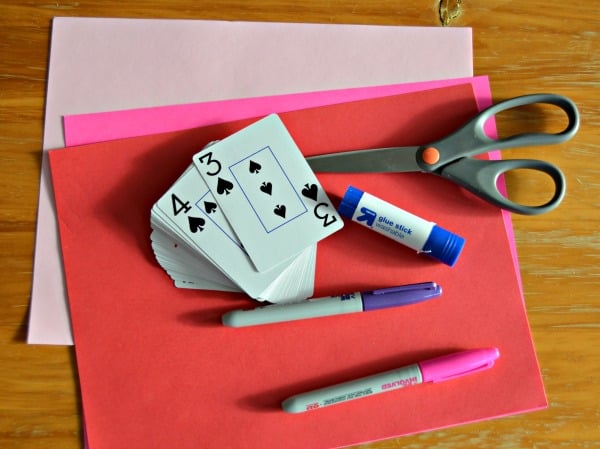 DIY Playing Card Valentines
Supplies:
Colored Paper
Playing Cards
Scissors
Glue Stick
Markers
Directions:
Cut paper in halves or in fourths. Use a glue stick to attach playing cards to valentines. Write phrases on Valentines using markers. Choose from phrases listed below or create your own.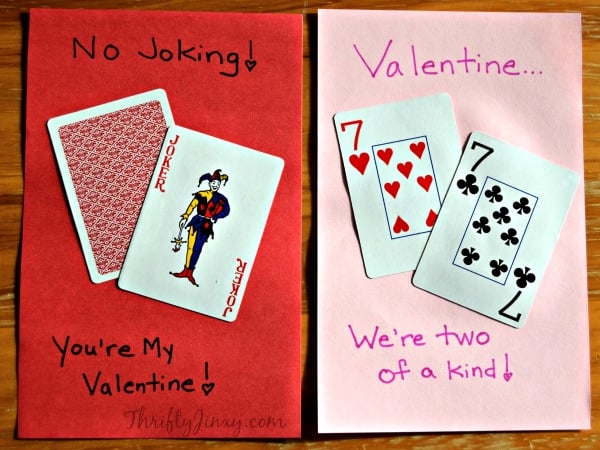 Playing Card Valentine Phrases:
Aces: You're Aces Valentine!
2: You're "2" sweet.
Any two cards of the same number: We're two of a kind.
Queen: You're queen of my heart.
King: You're King of my heart.
Joker: No Joking! You're my Valentine!
Any card: You suit me.
Any card: I'm betting on a Happy Valentine's Day.
Any card: You're the real deal!
While looking at supplies to make these, I also found some adorable Valentine playing cards that would all be fun for little Valentine gifts. Check them out:
Love You Playing Cards

Love Me Playing Cards

Vera Bradley Cute Heart-Shaped Playing Cards with Decorative Case, Standard Card Deck Packaged in Gift Box, Love You Lots

Lucky in Love Playing Cards Las Vegas Wedding Favor Gifts, 3 Decks

&