If you're looking to create some handmade valentines that also include a little great, this Hershey Kiss Ring Valentine Craft is just the thing! It's easy to create the rings using only Hershey Kisses and pipe cleaners. Then, if you like, you can print out our Valentine Ring Cards below to attach to your rings to give them to friends, classmates, family members – anyone you want to treat on this special day.

Hershey Kiss Ring Valentine Craft

Materials for each ring:
1 Hershey's Kiss
1 Pipe Cleaner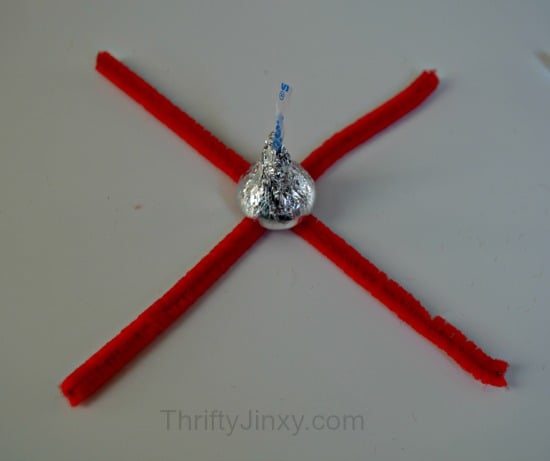 To make the ring, cut the pipe cleaner in half. Lay the pipe cleaner in a cross and place the Kiss on the intersection, flat side down.
Pull the edges of the pipe cleaner up to the center and use one of the ends to wrap around the remaining pieces to secure in place.
Clip off the shortest pipe cleaner end (you don't really need it!) Use the two remaining pieces of pipe cleaner to form into a ring. That's it!
If you want to turn your ring into a Valentine, attach it to one of these printable Valentine cards.