Sometimes a big disappointment can lead to something better than what you had originally been hoping for. That's how we ended up experiencing The Congo Trail Canopy Tour on our recent trip to Costa Rica, and we couldn't be happier.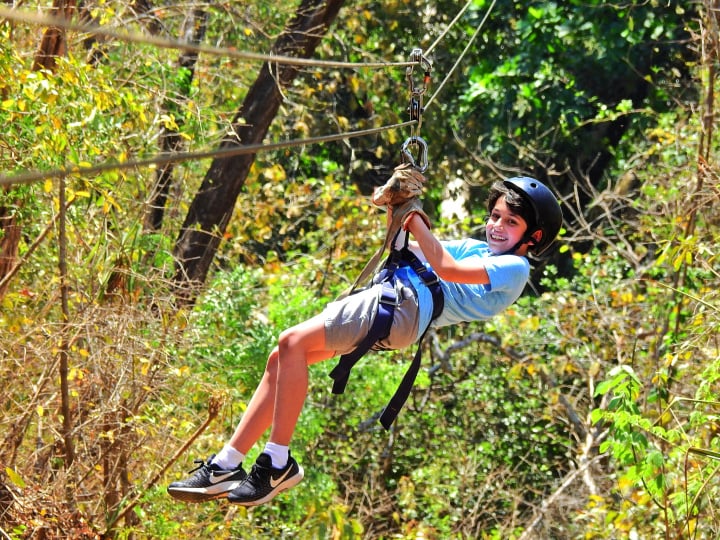 Before our trip, the one thing that the 10-year-old really, really wanted us to do was to go zip lining in Costa Rica. Arriving at the airport, he saw advertisements on the walls for Diamante Eco Adventure Park and soon had his heart set on going there.
The next day, while he was researching on their web site he was devastated when he saw that they required a minimum weight of 85 lbs. to do the entire zip line circuit. He is 12 pounds shy.
After that, zip lining was basically dead to him and he didn't want to go, but I found The Congo Trail Canopy Tour online and saw that the reviews were FANTASTIC and we convinced him to give it a try. We are so glad that we did!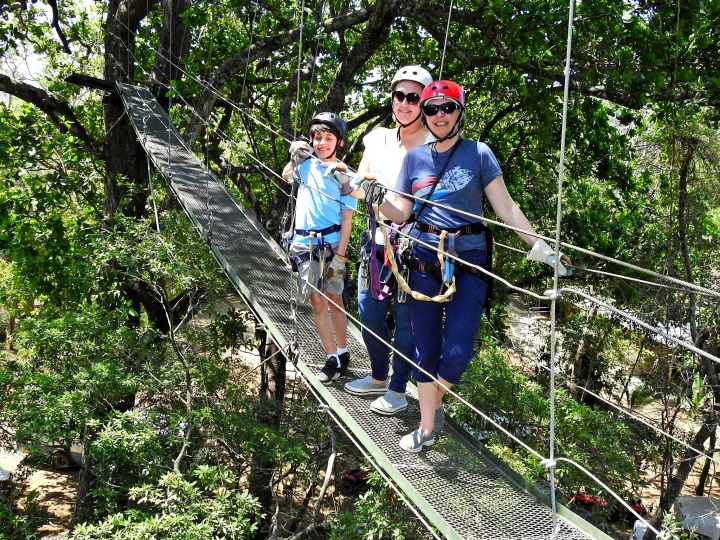 Transportation to The Congo Trail Canopy Tour
The Congo Trail Canopy Tour is in Guanacaste, tucked in the jungle a short distance from where we were staying in Playas del Coco. We easily drove there in our rental car using Google Maps, but they also offer transportation from surrounding area hotels and vacation rentals.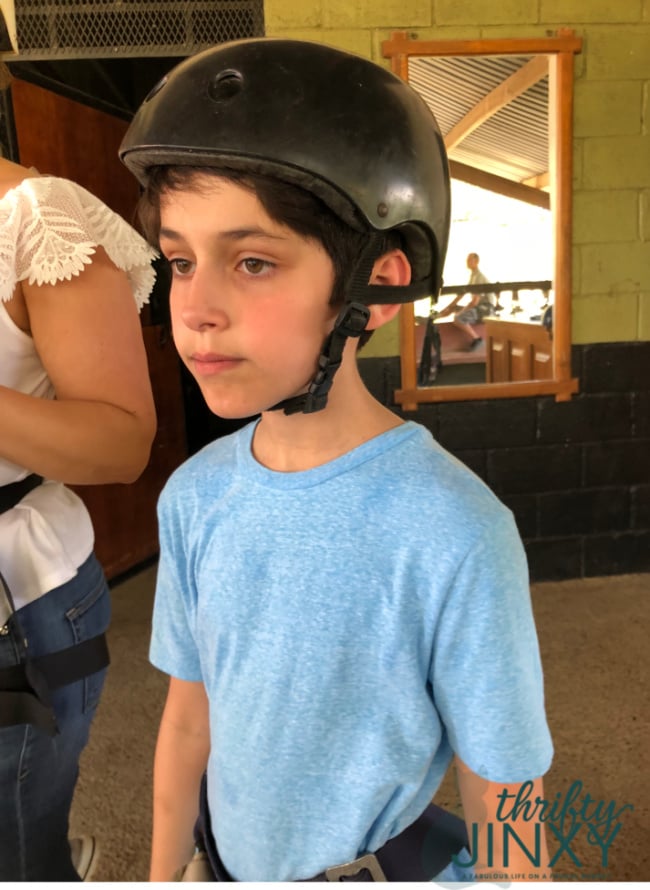 Congo Trail Zip-Line Tickets
Once we arrived at Congo Trail we bought our tickets (which can also be purchased ahead of time on their web site.) We were happy to see that the price is about HALF of the zip-line adventure we had planned at the other location. We paid $39 per person.
After getting our tickets, we climbed to the start of the zip line adventure and got suited up in our protective gear. That includes a harness, helmet, and thick, leather-palmed protective gloves.
How to Zip Line
Once we were suited up, we received instructions on the dos and don'ts of zip lining. These include things like the proper body position of leaning back and crossing your ankles, as well as where to place your gloved hands and how to use them to pull down on the zip line cable to break when necessary.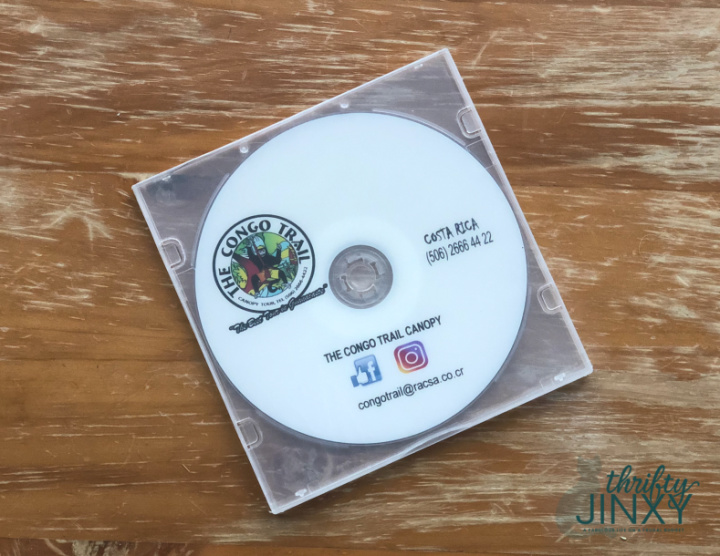 At this point, you're also offered the option of having a photo taken of yourself zip lining or the option of getting a CD containing multiple photos throughout the adventure, along with video. I highly recommend opting for the CD! At the price of $45 for a group of up to four people, it's definitely worth it. Thanks to our photographer, Donald, who took most of the photos you'll see in this post.
The Congo Trail Canopy Tour is made up of a series of 14 zip-lines. If you have never been on a zip line before, it works by walking/climbing to a raised platform. From there you're attached to a zip line cable that lets you zip to the next platform. This process is repeated until you have completed the full circuit. Be prepared that there is a fairly strenuous climb in the middle of the circuit that gets you up to a higher level. The benefit of being at this high point is that the view is beautiful!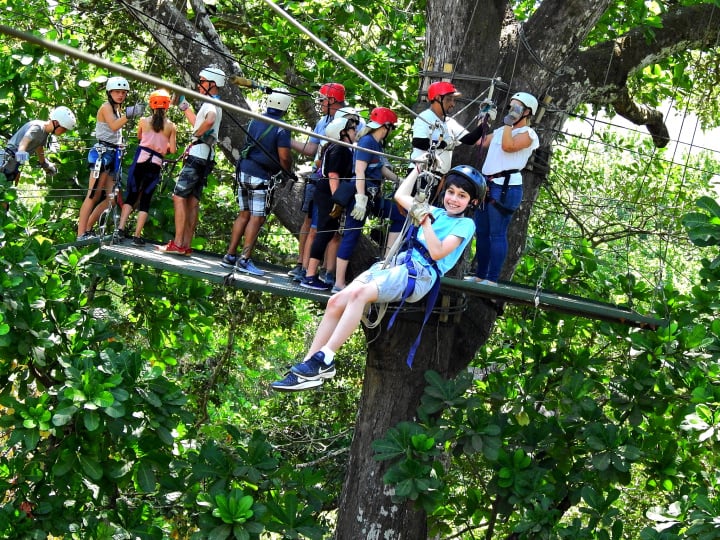 The Congo Trail Canopy Tour Experience
Making our way through the canopy tour was amazingly fun! The route takes you through the canopy of giant Guanacaste trees that stretch for miles. The views are breathtaking and we even spotted a couple of howler monkeys in the trees!
The guides on our tour were both professional and fun. They made sure we were safe and secure and also shared information about the forest and Costa Rica with us. The guides all speak English, but are happy to chat in Spanish, if you prefer.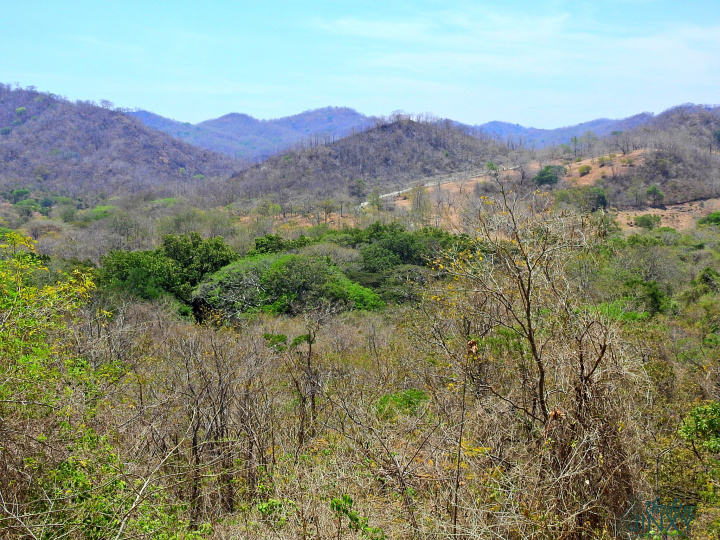 We all appreciated that most all of the zip line platforms were in the shade and that there were stops along the way with both cold water to drink and paper towels. Seating was also available after that big climb in the middle of the tour.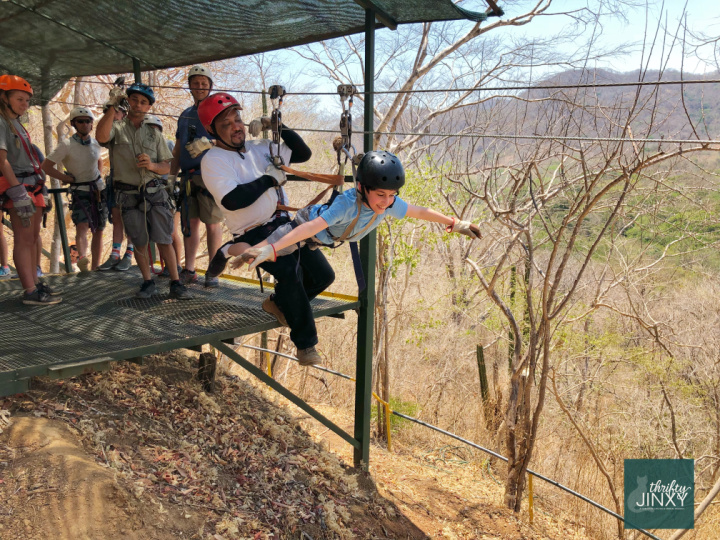 A big highlight for the 10-year-old is that he WAS able to do two of the lines "Superman" style – that is harnessed so your body is parallel with the ground. One of the lines also has the option of going upside down.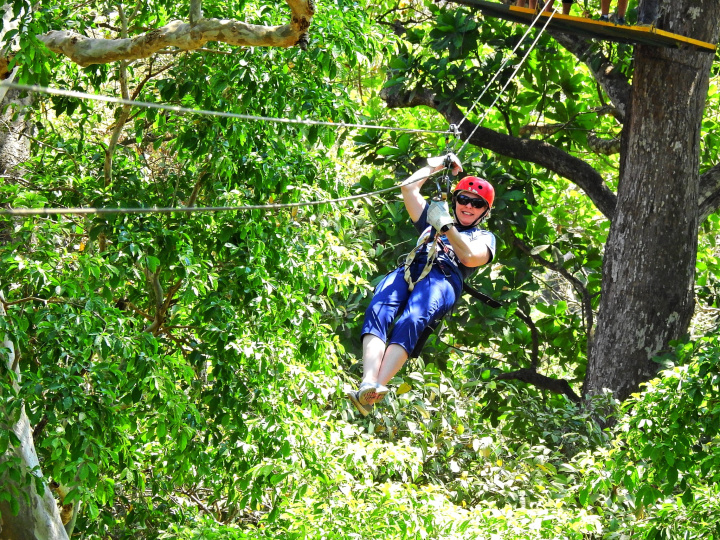 The Congo Trail Animal Sanctuary
After zip-lining, we took a tour of the small Congo Trail animal sanctuary that rescues abandoned and confiscated animals. Keeping wild animals as pets has been banned in Costa Rica since 2013 and when these animals are confiscated, they need a safe place to go, as many cannot be returned to the wild.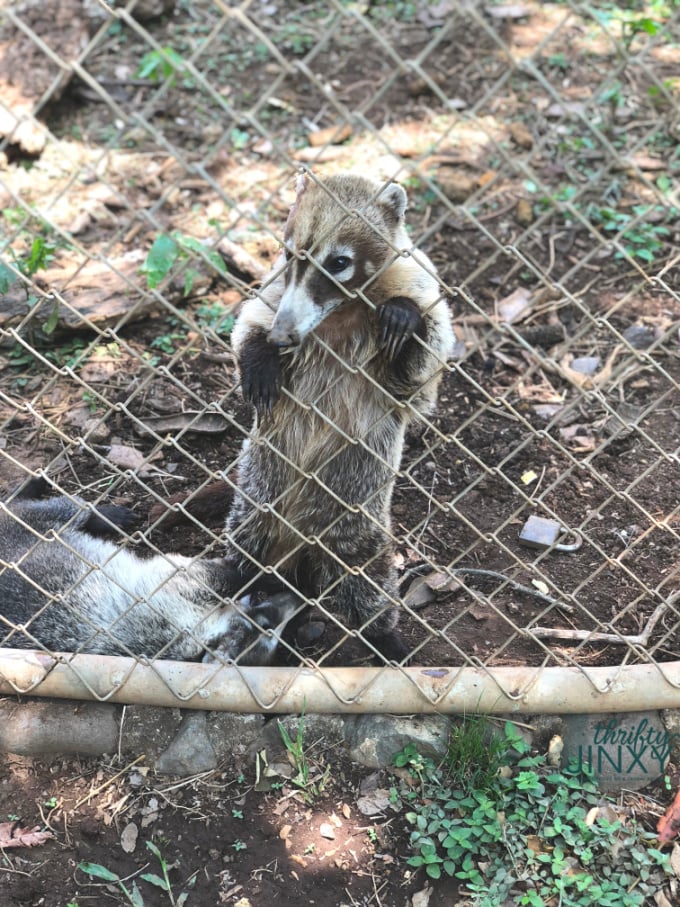 At the Congo Trail Animal Sanctuary, we saw several species of monkeys including howler, spider and capuchin. There are lots of parrots, including some who talk, and lots of snakes. My favorite animal had to be the coatimundi – it's just so darn cute! The many goats also tried their hardest to be cute so we would offer them the carrots we were given to feed them.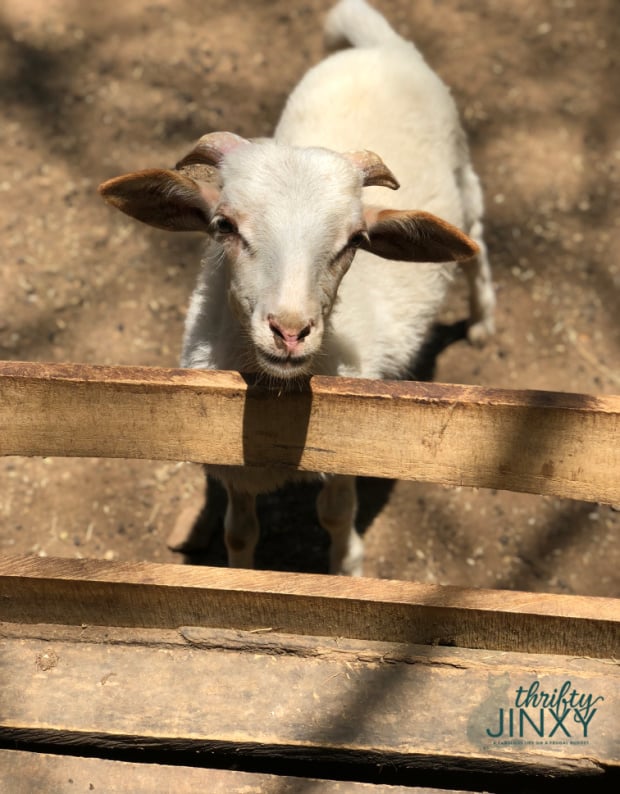 We were beyond thrilled with our Costa Rica zip line adventure and there is no doubt that we will return to The Congo Trail Canopy Tour on our next trip!