What's your idea of a perfect Christmas? Falling snow? Family gathered around the fire? A crazy moose that wants to teach kids to be good at Christmas?
If the moose answer threw you off, you'll want to watch a special Christmas episode of Coop & Cami Ask The World – "Would You Wrather Get a Moose Angry" tonight on Disney Channel to see what we're talking about.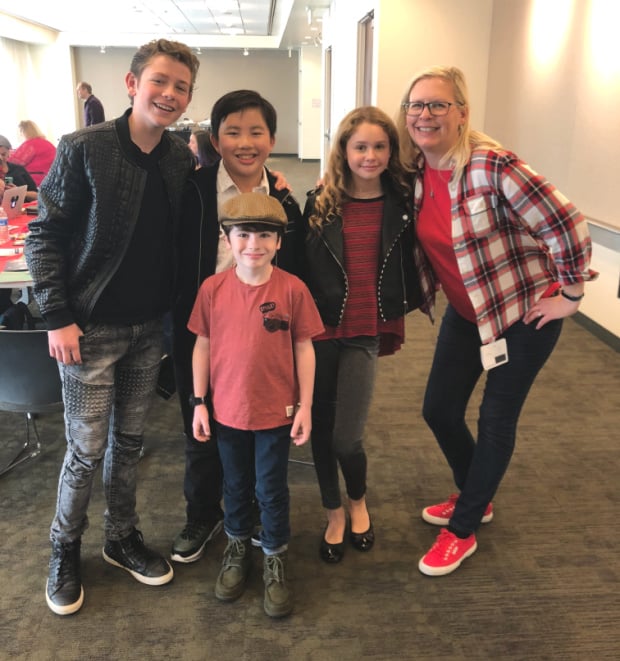 Last week, while in Los Angeles for the Mary Poppins Returns premiere, after talking with tWitch Boss and Allison Holker, hosts of Freeform's Disney's Fairy Tale Weddings and Pop-Up Santa, and Sherry Yard, judge on "The Great American Baking Show: Holiday Edition", I also got to meet with the very fun cast of Coop & Cami Ask The World for some Christmas fun.
After watching a sneak peek of tonight's episode, The kids from the Coop & Cami cast shared more about the show and how THEY like to celebrate Christmas. On hand were Dakota Lotus as Cooper (Coop) Wrather, Ruby Rose Turner as Cameron (Cami) Wrather, Paxton Booth as Ollie Wrather and Albert Tsai as Fred.
About Coop & Cami Ask The World:

The live-action family comedy follows Cooper (Coop) and Cameron (Cami) Wrather, two middle school siblings who co-host Coop's online show "Would You Wrather." With the help of their little brother Ollie and Coop's best friend Fred, the duo fields offbeat questions and results to the show's millions of followers (aka Wratherheads) who help them solve problems – both mundane and madcap. Every day is an adventure in the Wrather's hectic household, which also includes their older sister Charlotte and mom Jenna, as Coop and Cami tackle adolescence and everyday family situations with humor and heart. You also have to love the catchy Coop & Cami theme song!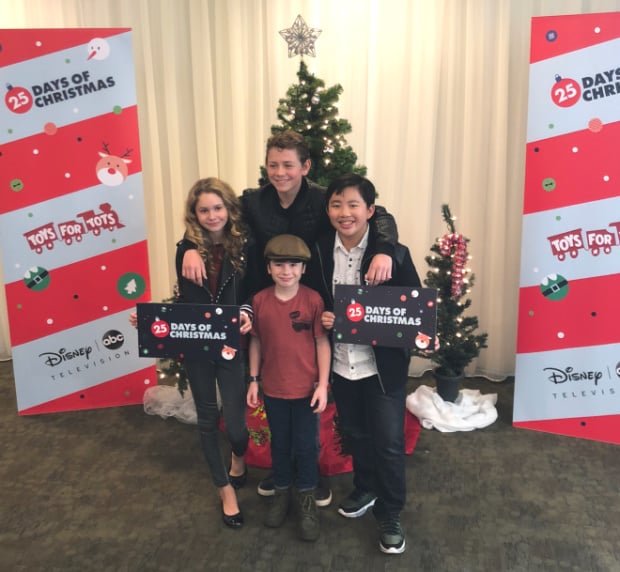 In this special Christmas episode "Would You Wrather Get a Moose Angry" the kids work together to try and make their mom's (Jenna's) wish of a classic Wrather Christmas come true, but a major snow storm and a disgruntled moose disrupt their Holiday plans.
Check out a preview of the episode:
Talking to the cast, they were all very excited to have worked with a real reindeer for this episode. Paxton Booth said, "They let us pet it and we got photos with him. He actually had fuzzy antlers." The only incident, said Dakota, was "he did eat some of the props".
The reindeer isn't the only crazy action in this episode. Paxton has some fun stunts, which meant he had to wear a harness. Dakota called Paxton "our test pilot. He does all the stunts on the show" and Ruby agreed "he's the most serious stunt man." Paxton said he doesn't have a dream stunt he would like to do because it's just "what stunt they do next, 'cause they always come up with the most crazy stunts ever."
The cast also shared some of their own personal favorite Christmas traditions. Dakota says his is "just spending time with family." Albert agreed and also said, "I love decorating the tree and putting up all the festive décor. I also like baking during the holidays." Paxton said, "My favorite part is my grandma comes home for Christmas and that's the one time of year I get to see my grandma." Ruby said added, "The holidays are really just about spending time with family, but the thing my family does every year is that we have a crazy neighborhood with decorated yards [like in the Christmas episode] but it's like 10 times that but on every house, and every year we go to see them."
Tune in to Coop & Cami Ask The World – "Would You Wrather Get a Moose Angry" Friday, December 7, 8:30 p.m. ET/PT on Disney Channel