Do you ever see someone on TV and think they seem so nice, happy and fun – and wonder if they are like that in real life? Well, in the case of tWitch and his wife, Allison Holker, I confirm that YES they are just as fun and nice as you would hope they would be and seem like a truly happy married couple!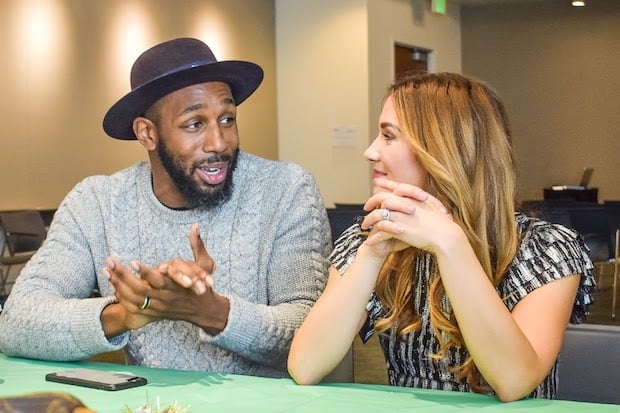 That makes them the perfect hosts for Freeform's Disney's Fairy Tale Weddings: Holiday Magic! Last week while I was in Los Angeles for the Mary Poppins Returns premiere, I also had a chance to swing by ABC Studios to chat with Stephen "tWitch" Boss and Allison Holker.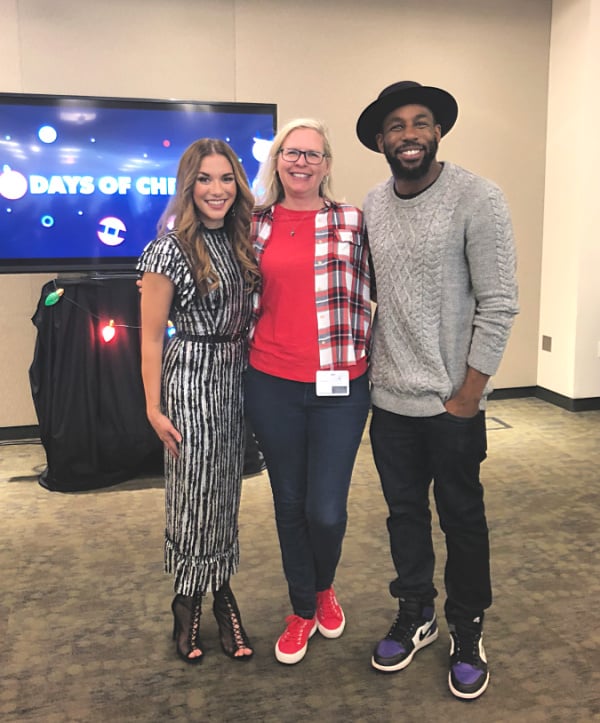 You may have already seen Disney's Fairy Tale Weddings, which showcases magical weddings, proposals and anniversary celebrations at Disney destinations. Now the wedding magic takes on a festive flair with an all-new installment of "Disney's Fairy Tale Weddings: Holiday Magic." This year's stunning and romantic weddings take place at Walt Disney World Resort, feature a spectacular "Mary Poppins Returns" theme and a special performance by country music superstar Martina McBride. Tune in Saturday, Dec. 8, at 8:00-9:00 p.m. EST/PST or watch in the Freeform app.
tWitch and Allison themselves have been married for five years, after being together since 2010. tWitch explained that they met on "So You Think You Can Dance." Allison said, "They do an All-Star episode where they brought some contestants back to perform with the new contestants and that's when we met." tWitch said, "We shared a dance. I know this sounds like a fairy tale, because it's our fairy tale." Allison said they had "literally never gone on a date. We never really had a real conversation because I was so shy to talk to him because I had a crush. But we shared a dance at a party and we've been together ever since."
They are both excited to be hosting Disney's Fairy Tale Weddings. "We felt completely honored," said Allison, "because I feel like we have a very happy marriage." (To which tWitch agreed.) Allison explained, "being part of other people's lives and celebrating their wedding, which is one of the biggest things they're going to experience in their lives is really, really special. It bonds us with these people… It kind of makes us feel that we relive our marriage and our wedding."
Allison and tWitch are also the hosts of "Pop-up Santa Holiday Special". The show teams up with sponsors to create heartwarming moments for worthy recipients. A surprise baby shower at a military base, a home giveaway and a celebration for two very special children at Children's Hospital Los Angeles and more are all included. The special also includes celebrity guests like ballerina Misty Copeland, former NFL athlete DeMarco Murray, a special Marvel guest and more. The "Pop Up Santa Holiday Special" airs throughout the month on Freeform and in the Freeform app.
Both Allison and tWitch are so happy to be a part of Pop-up Santa because it does such great things for deserving people and brings joy to the people who watch it. tWitch said, "I think it's really needed right now. It's like pillars of positivity, light and giving – doing what you can to give."
What are tWitch and Allison's own holiday traditions? Every year they all dress up to take photos with Santa. "Last year," said tWitch, " We were teh Grinch and the Whoville people. Allison was Martha May, our daughter was Cinty Lou, I was the Grinch and then we just had Maddox (their son) fixed up with this little hair, and we all took a picture with Santa." This year they're going with a classic Christmas character them with tWitch as a gingerbread man, Allison as a snowman, their daughter as a reindeer and their two-year-old son as Santa. How cute!