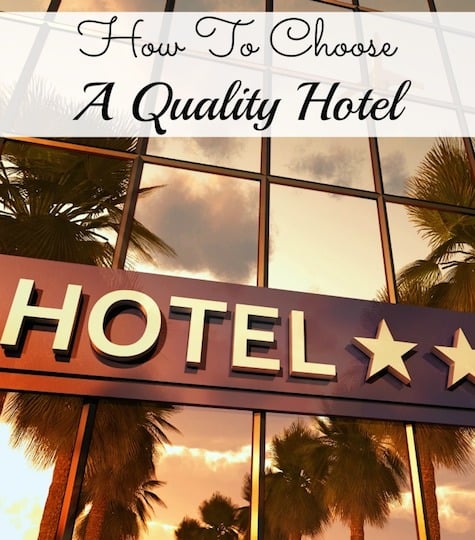 Vacation time is one of everyone's favorite parts of the year, right? Along with adventures of new places, amusement parks and beautiful scenic views, the kids and adults alike enjoy staying in hotels along the way. We have put together some of our best tips for How To Choose A Quality Hotel that are sure to help you make the most of your stay along the way.
HOW TO CHOOSE A QUALITY HOTEL
READ THE ONLINE REVIEWS CAREFULLY. A hotel or motel doesn't have to always have 5 star ratings to make it a quality hotel. It does however need to have at least 75% positive reviews from other people who have stopped there. Make sure to look for things that are important to you within the reviews. Perhaps you don't mind a bit outdated look, but the cleanliness of the room is important. Or maybe you need your hotel to be within walking distance of restaurants, shopping or event centers. Read reviews carefully and weigh what is important to you.  You may want to check a variety of different review sites.  I often find Hotels.com and Trip Advisor helpful.
STICK WITH WELL KNOWN CHAIN HOTELS. While this isn't always the only quality hotel out there, some franchises have very strict standards. Going with a well known chain will help you to have a better experience as some things will be standard at any hotel within the chain. Popular chains include Marriott, Best Western, Radisson, Hilton, Choice Hotels, etc.
WATCH FOR THE TERM "SUITES" OR "EXTENDED STAY". If you are going to be traveling and staying in the same hotel for several days at a time, these terms are important. While they often offer more space, a small kitchen and a few amenities needed for a family to be comfortable and maybe save money by making a few meals at the hotel, they may offer less care to your room during your stay. You may be responsible for making beds and basic cleaning unless requested specifically.  Be sure to ask before booking!
STAY NEAR CONVENTION CENTERS OR EVENT CENTERS. Most convention centers and large event centers are typically surrounded by nicer quality hotels. Not only do they cater to large crowds and pickier clientèle, they are prepared with anything you might have forgotten and need on the road.
CALL THE HOTEL DIRECTLY. Does a particular review or description leave you feeling uncertain? Contact the hotel customer service line to ask specific questions. While they are suppose to make you feel better about booking, they are also typically pretty up front about things. Worried about it being a safe area for your kids? Most hotel staff will be willing to let you know if they would be okay with their kid staying there.
CALL THE AREA CHAMBER OF COMMERCE. Along similar lines, there is much to be said about an objective outside party giving you advice and tips on places to stay. The area Chamber of Commerce will have staff that knows the area and is happy to answer questions about safety, cleanliness or general location.
Taking the time to read all reviews, check out what others have to say and research the area will help you tremendously in knowing how to pick a quality hotel for your next vacation. Remember that things like overall décor or size of a room won't matter much if you plan to be out and about doing family activities during your stay.
Disclosure: This post contains affiliate links that help support our site with no additional cost to you. See our complete disclosure policy here.