Cool down with the delicious frozen treats in our fun roundup of 15 Homemade Popsicle Recipes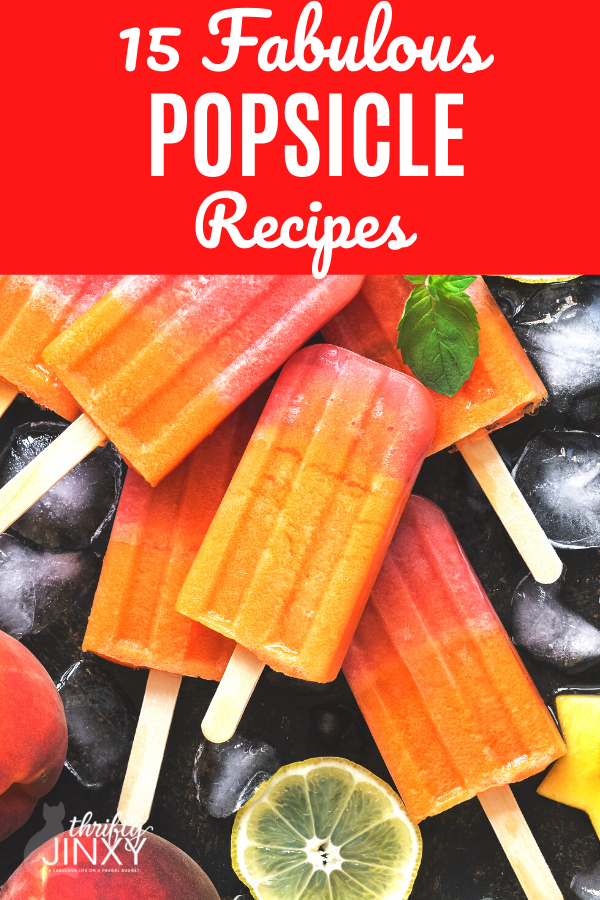 It's the good 'ol summertime and that means it is HOT in many parts of the country. It took forever for summer to reach us here in Minnesota this year, but now we are having a long string of 90 degree days.
What better way to cool off on a steamy day than with an ice cold popsicle? We have asked some of our favorite bloggers to share their most delicious cool treats and they offered these unique and delicious homemade popsicle recipes to us. Enjoy and STAY COOL!
Berry Veggie Smoothie Ice Pops
Fruit Freeze Pops
Ready to make your own popsicles? If you don't have popsicle molds already, there are several inexpensive choices. Here are a few of them to get you started, but if you browse the site, you'll find lots more!
Lebice Popsicle Molds Set – BPA Free – 6 Ice Pop Makers + 6 Extra Silicone Lids + Silicone Funnel + Cleaning Brush + Recipes E-book

Popsicle Molds with Sticks Ice Pop Maker | 6 Pieces BPA Free Silicone Funnel and Cleaning Brush | Clearance Sale by Mamasicles

U.S. Kitchen Supply 18-Piece Classic Reusable Jumbo Ice Pop Mold Set

Ozera 2 Pack Silicone Popsicle Molds, 4 Cavities Homemade Ice Pop Molds Red Oval, Popsicle Maker with 50 Wooden Sticks & 50 Popsicle Bags for DIY Ice Popsicle

Homemade Popsicle Molds Shapes, Food Grade Silicone Frozen Ice Popsicle Maker-BPA Free, with 50 Popsicle Sticks, 50 Popsicle Bags, Funnel and Ice Pop Recipes(10 Cavities)

Nuby Garden Fresh Fruitsicle Frozen Pop Tray

Thanks to all these fabulous bloggers for sharing their recipes with us. If you have a recipe you would like to share, click "Contact Us" at the top of the page to see how you could be featured.