Ask any kid who their favorite reindeer is and chances are that they will answer "Rudolph!" Well, that's a great choice and is an especially fun one for baking. With a bright red M&M nose, this Rudolph Peanut Butter Cookie Recipe is easy to identify as Santa's lead reindeer.
The homemade peanut butter cookie recipe we use for these cookies is easy to whip together, but if you just want to do the fun part of decorating with your kids, you could start with a refrigerated cookie dough instead.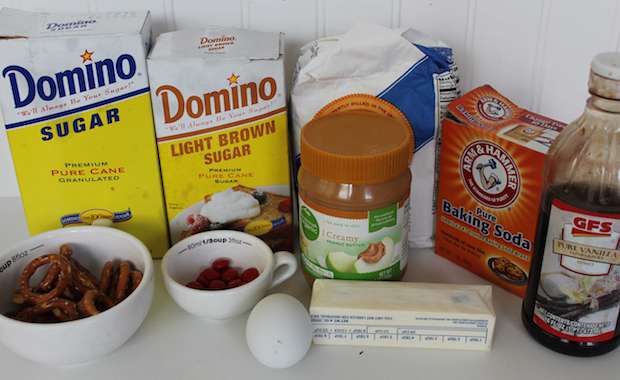 Rudolph Peanut Butter Cookie Recipe

INGREDIENTS
1/2 cup Peanut Butter
1/2 cup Butter
1/2 cup Sugar
1/2 cup Brown Sugar
1 tsp Vanilla
1 Egg
1 1/3 cup Flour
1 tsp Baking Soda
1/2 tsp Salt
48 Red M&M's
96 Mini Chocolate Chips
Mini Twist Pretzels
Mini Pretzels
Red M&M'S
Nestle TOLL HOUSE Semi-Sweet Chocolate Mini Morsels
&

DIRECTIONS
Break pretzels into pieces to use as antlers.
Preheat oven to 350.
Cream together peanut butter, butter, sugar and brown sugar until smooth.
Add egg and vanilla and beat until smooth.
Whisk together flour, baking soda and salt in a separate bowl.
Slowly add dry ingredients to the creamed mixture, beating until incorporated.
Roll into 1/2-3/4″ balls and place on cookie sheet several inches apart.
Sprinkle with sugar and gently make an indentation slightly off the center of each cookie.
Bake 12-14 minutes.
Place an M&M in the indentation of each cookie.
Insert 2 mini chocolate chips (pointy side down) above the M&M to be the eyes.
Insert 2 pretzel pieces to be the antlers.
If the antlers won't stick, place some chocolate chips in a sandwich bag and microwave 30 seconds and knead until soft. Clip the very tip of the corner and pipe onto cookie to act as glue.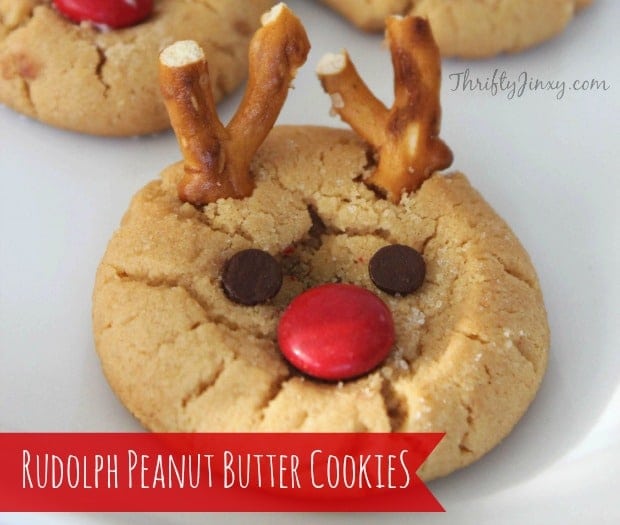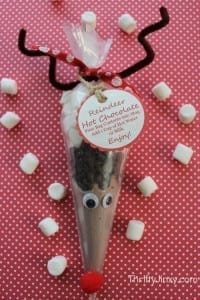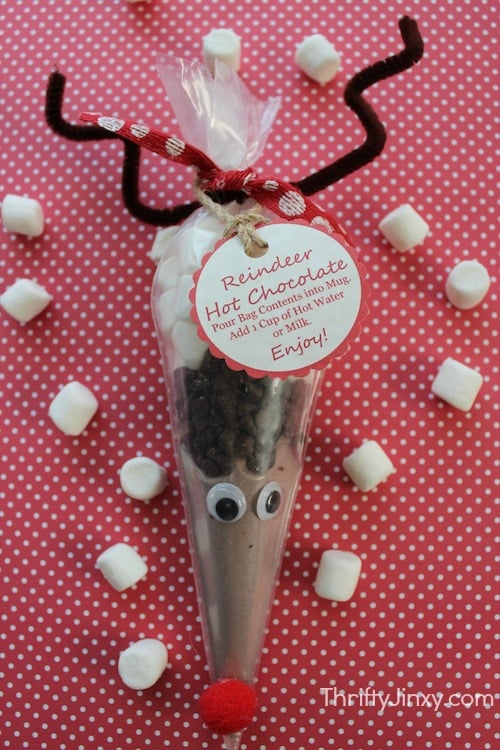 For some extra fun, team up these cookies with our with our with our Reindeer Hot Chocolate! Packaging the two together would make a really fun Christmas gift.