Remember trying to stay up to hear the hoof-steps on your roof as a kid? It meant Santa was here and you were about to find a new toy under the tree when you woke up. That magical memory can start early when you have a reindeer themed party and possibly an early gift.
Below you'll discover some festive and fun options to help get your little ones excited for Santa's sleigh and his 8 flying reindeer – PLUS RUDOLPH! Click any of the images or products and you'll find even more options for the perfect holiday party.
What better way to serve cookies than on this red reindeer plate. You can use it again at night by letting your kids place a cookie for Santa on it before bed.

Magical Reindeer Food
Pulling a sleigh around the world can be a tiring task. Let your kids celebrate the magic of Santa by having them place these fun tubes of reindeer food out so that dancer, prancer and the entire gang can enjoy a late-night and mid-flight snack.

Reindeer Napkin
Ready for a fun novelty napkin? These beverage napkins feature Rudolph with his glowing red nose and are the perfect accent to help protect your tables while keeping the theme of the party alive.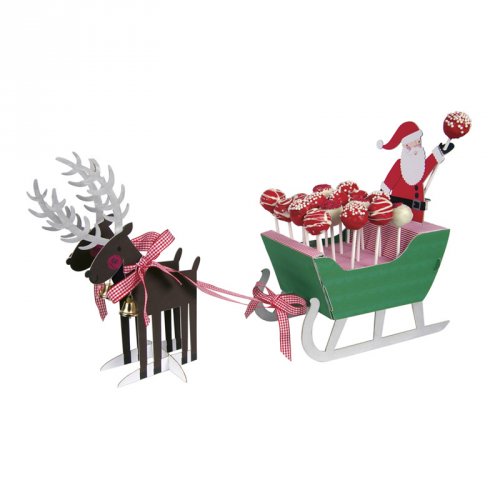 Santa & Reindeer Cake Pop Set
Cake pops are always a hit at a party and what better way to serve them during Christmas than in this fun stand and set.

Reindeer 3 Votive Candles Hobnail Set
These votive candle holders make the perfect present and fun decor item for your party. Whether it's a white elephant gift or something for your table, they are a perfect accent piece for a reindeer themed party.

Reindeer Hugger
Whether you're watching a game or simply celebrating and don't want your drinks to get warm, these reindeer drink huggers are a festively fun way to enjoy a frosty beverage.

Reindeer Stadium Cup
Glassware isn't always an option, especially if you have a lot of guests or little kids. That's why these fun reindeer themed plastic stadium cups are a great alternative. Everyone can have one and keep it after the party as a fun favor.

Santa & Reindeer Swizzle Sticks
Ready to take your holiday cocktail game up a notch? These fun swizzle sticks are the perfect accessory to highlight your holiday spirits.
For the extra touch that is unique and keeps your reindeer theme, this wooden garland is the perfect decor piece.

Reindeer Sunglasses
Are you looking for that extra something to make your guests smile? Maybe you need a last minute gift that is unique and works great for a good friend. These fun reindeer glasses are the perfect option.