This Skillet Peach Raspberry Crisp is the epitome of sunshine and summer! It incorporates both fresh peaches AND fresh raspberries for a delicious dessert!
Summer is right around the corner and fresh peaches and raspberries are on the way! This amazing dessert combines both into one delicious Skillet Peach Raspberry Crisp! It is the epitome of sunshine and summer!
While this dish may taste like summer, it smells like winter in the sense that it's hearty and warm and is irresistible to pass up.
Perfect for any season, this skillet dessert will make you want to skip the main meal and eat dessert first. Isn't that a perk of being an adult anyway?
To make this mouth-watering Skillet Peach Raspberry Crisp dessert, all you need is a little time and some juicy fruit. It is a super easy recipe to make and everyone in your family is sure to love the deliciousness!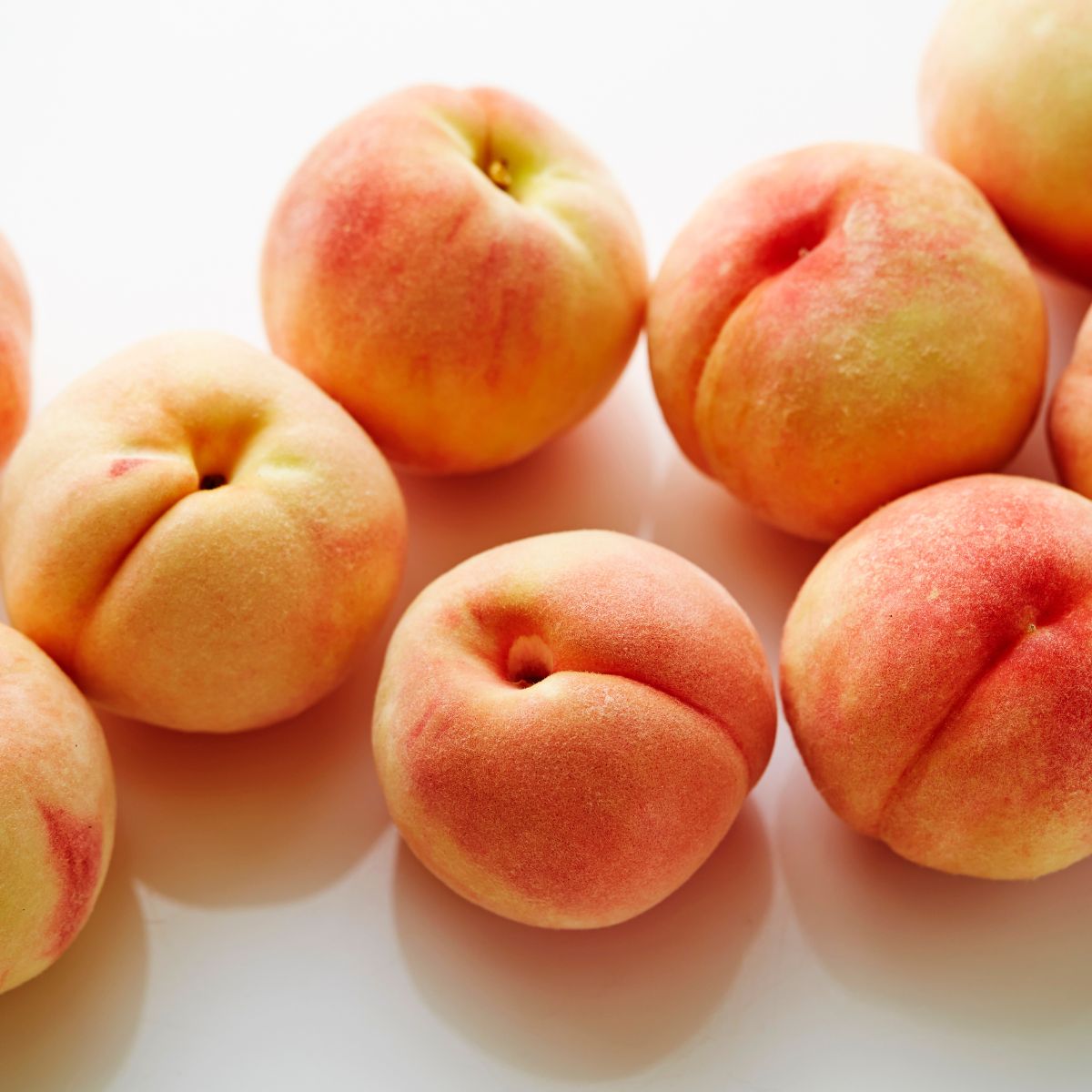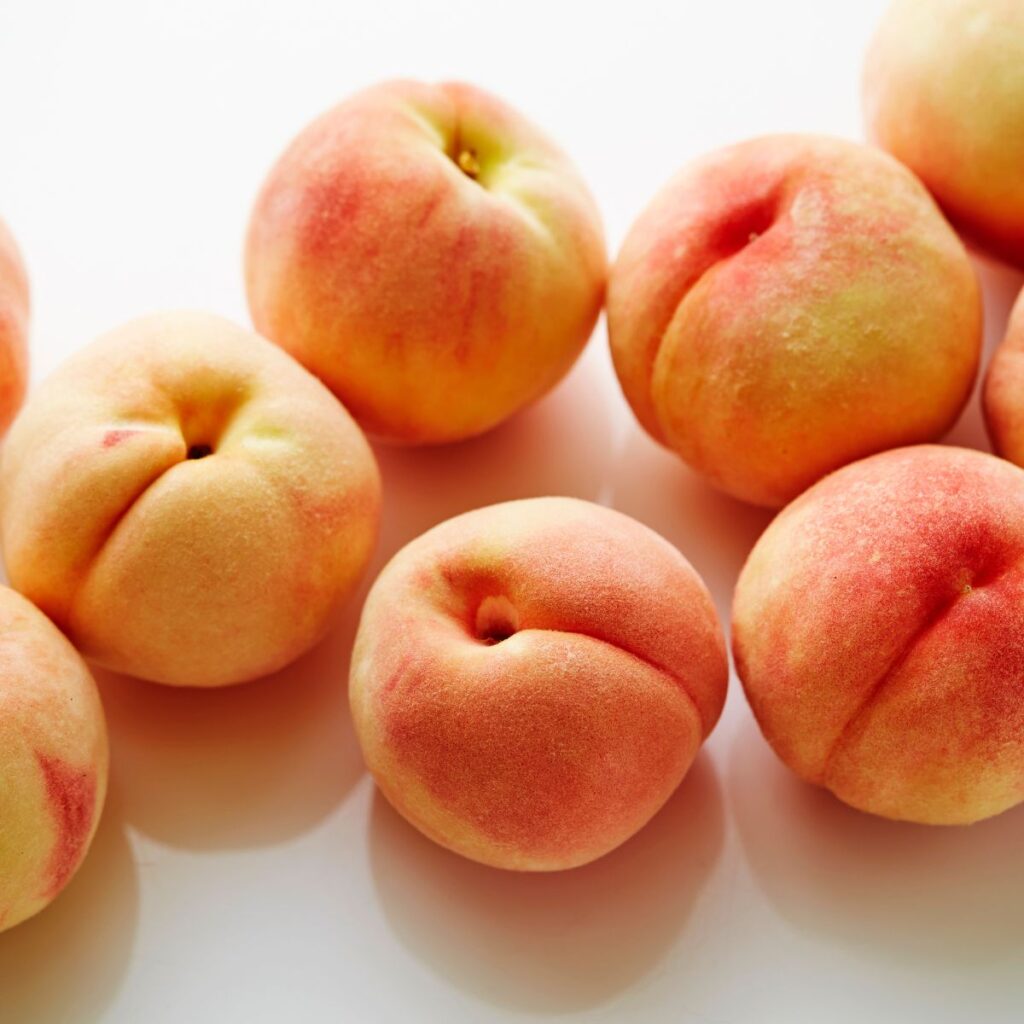 Love sweet juicy peaches? If so, be sure and try our Copycat Sonic Peach Iced Tea! It is an oh so simple recipe using fresh peaches, sugar, and tea bags. The best part is, you don't have to visit Sonic as it can be made in a matter of minutes at home!
And if you're looking for another crisp recipe, our Classic Rhubarb Crisp recipe is one of our most popular ever!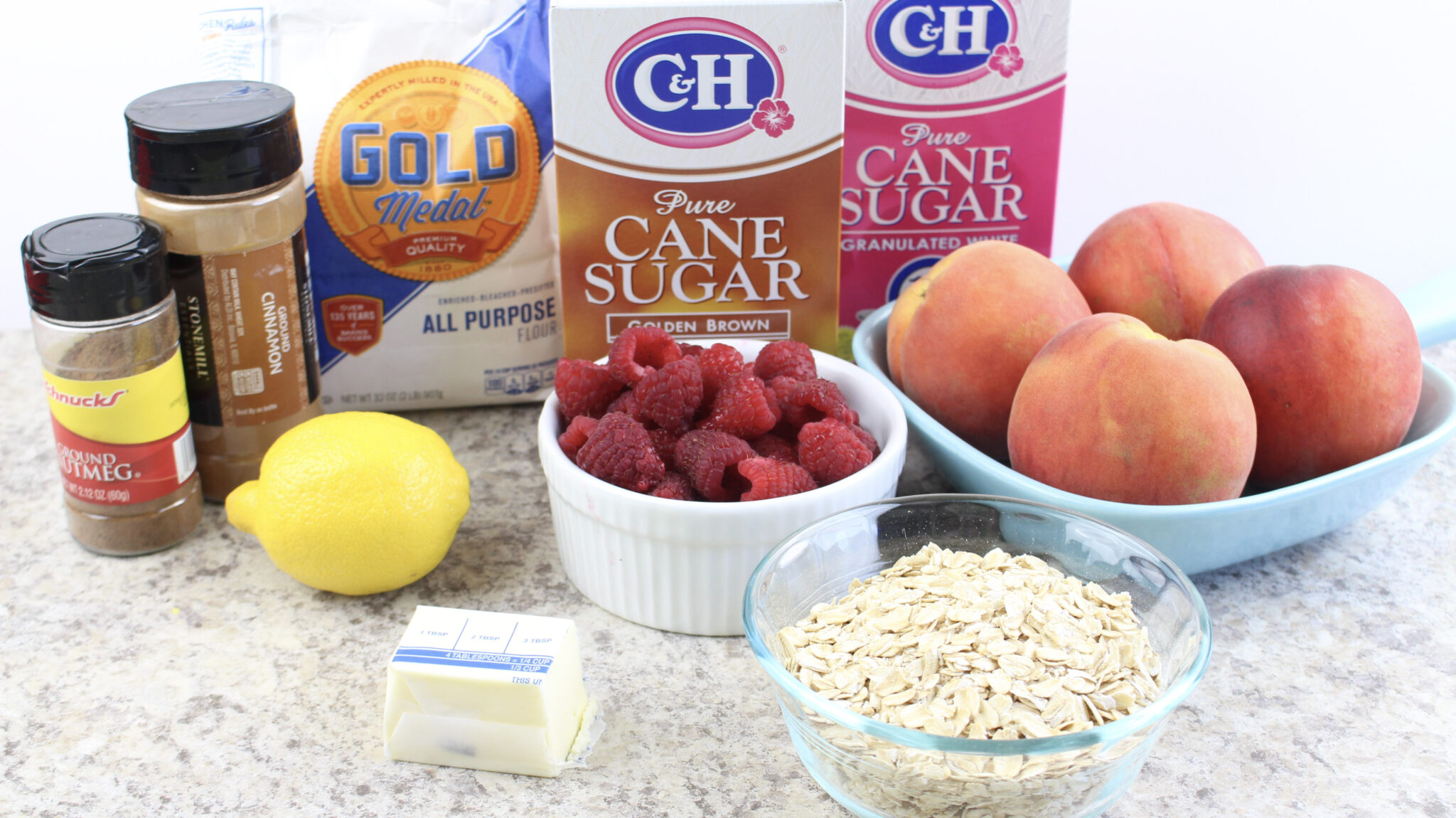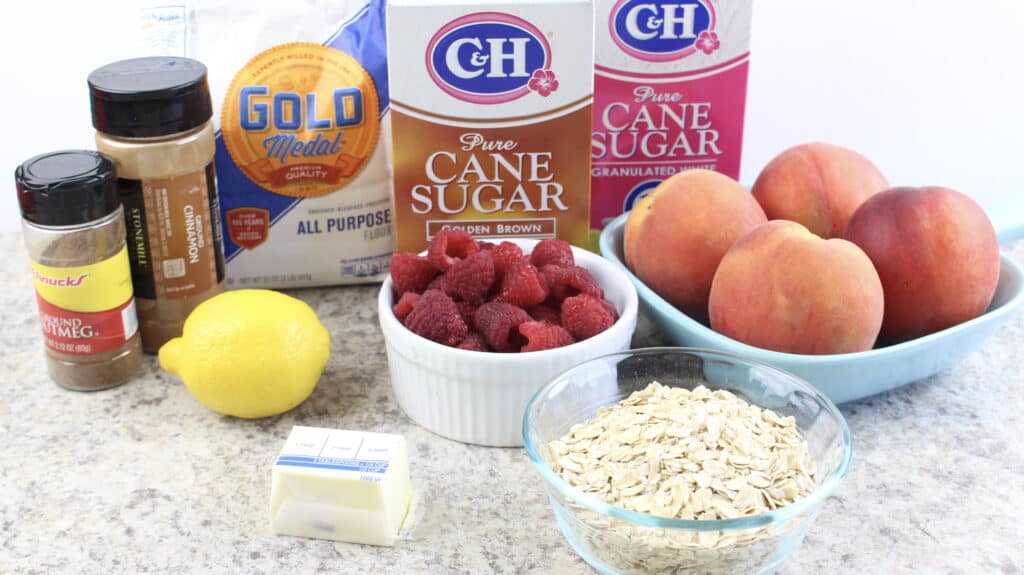 Skillet Peach Raspberry Crisp
YIELDS: 6 servings (10" or 12" skillet)
Ingredients:
4-5 large peaches, peeled and pitted
1 1/2 cups fresh raspberries, rinsed
1 Tablespoon fresh lemon juice
1/3 cup all-purpose flour plus 3 Tablespoons, divided
1/3 cup granulated sugar
1 1/2 teaspoons ground cinnamon, divided
1/3 cup brown sugar, packed
2/3 cup rolled oats
4 Tablespoons butter, melted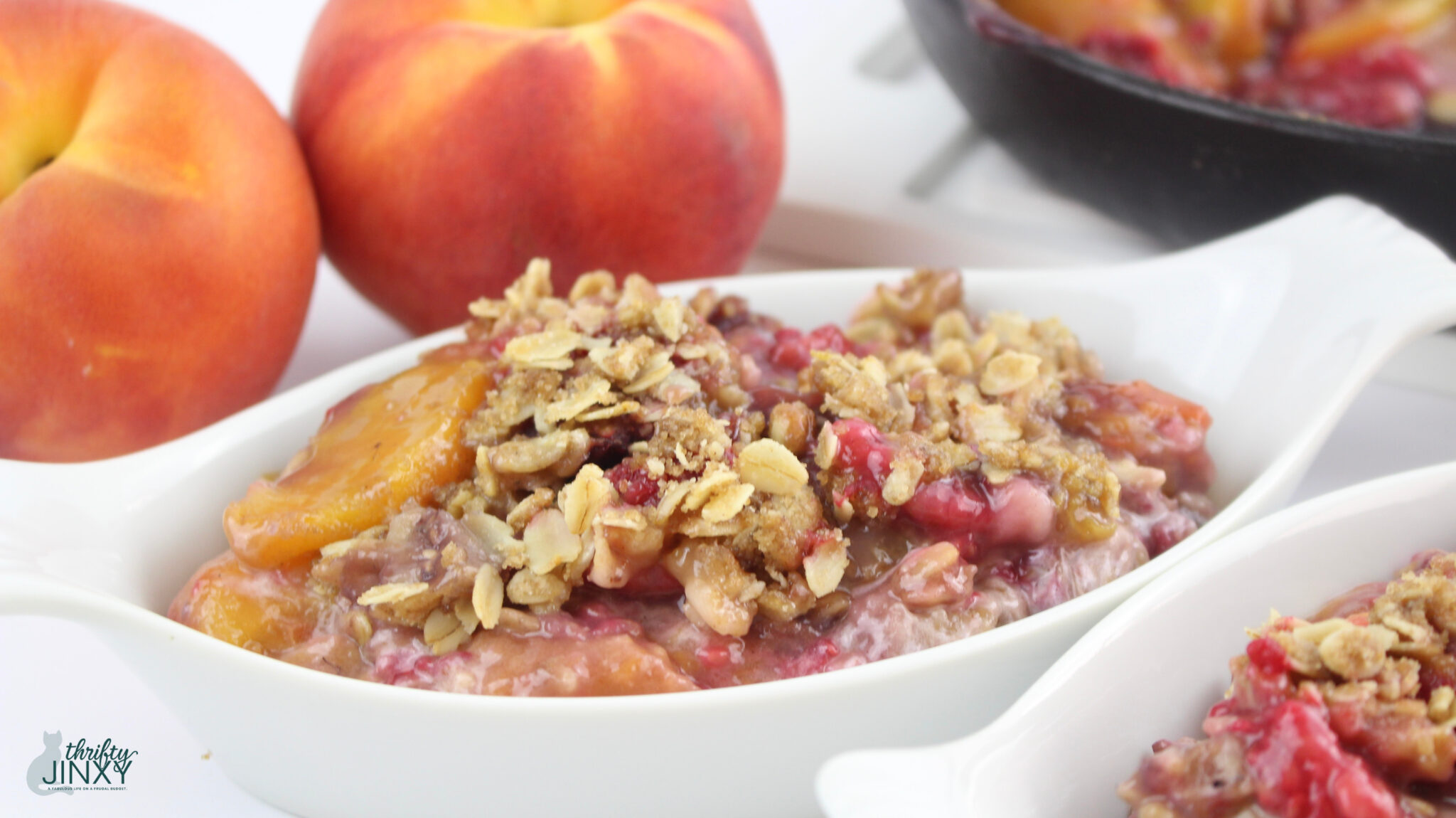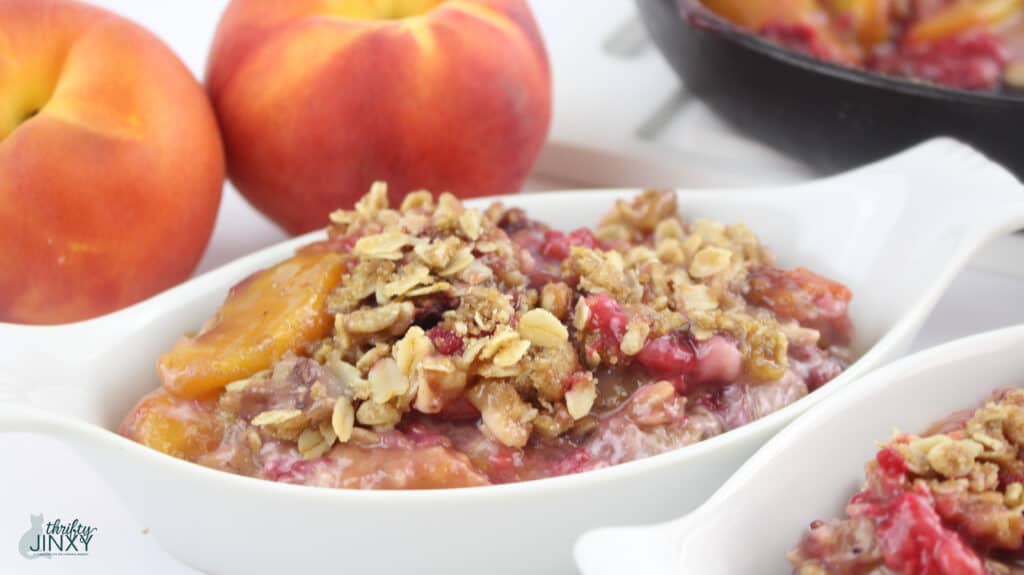 How to make Peach Raspberry Crisp
1. Preheat oven to 375°. Lightly grease a 10 or 12 inch iron skillet and set aside.
2. Thinly slice each peach (about 1/2 inch thick) and place the peach slices in a large mixing bowl.
3. Add the raspberries, lemon juice, 3 Tablespoons of flour, granulated sugar and 1/2 teaspoon cinnamon.
4. Gently stir about 3-4 times or until the flour is absorbed.
5. Spoon the fruit mixture into the greased skillet.
6. In a medium mixing bowl, add the rolled oats, brown sugar, 1/3 cup flour, 1 teaspoon cinnamon.
5. Add the melted butter. Toss to coat evenly.
6. Sprinkle the oatmeal mixture on top of the fruit, covering the fruit entirely.
7. Bake for 25-28 minutes or until the fruit is bubbly and the oatmeal crisp is golden brown. Remove from oven.
8. Allow to cool for at least 10 minutes before serving. Best served with a scoop of vanilla ice cream or whipped cream.
PIN ON PINTEREST:
Pin it for later!