This week Kubo and the Two Strings hits theaters everywhere on August 19th! We have been waiting for this day a long time and it's almost here! While at the Kubo Press Junket in Los Angeles last month, I had the opportunity to interview the stars of the film: Charlize Theron, Art Parkinson and Matthew McConaughey. You may not recognize the name Art Parkinson, but if you watch Game of Thrones you will recognize him as Rickon Stark.
In Kubo and the Two Strings this trio plays the main characters of Kubo (Art), Monkey (Charlize), and Beetle (Matthew). The story tells followers the adventures as Monkey and Beetle join Kubo in his quest to master his magic powers and save his family.
Art, Charlize and Matthew all shared what attracted them to being a part of Kubo and the Two Strings from LAIKA Studios. Matthew McConaughey called out the fact that with all their projects LAIKA doesn't "really pander down to the age group. They deal with adult themes in a way that's digestible for kids. There's always a good moral to the story, that's learned in the middle of the adventure. I liked their previous work and this script had all that."
Charlize loves directness. She said, "I was raised with a lot of directness and I think in storytelling we sometimes forget that with children. There was something about this story that was just so clear, and I love that. And I … like that there's nothing about this that shies away from very, very real issues and things. At the end of the day I think that makes it very powerful and refreshing because we don't see a lot of that. I was very excited to be a part of that."
Art replied, "I think it's a very family-oriented film. It's a very relatable family-oriented film because some of the problems that the family faces in the film is very relatable to every family. So I think that's definitely what drew me to the project."
After seeing Kubo and the Two Strings myself, I can see why all three of them felt that way about being a part of the film. I can also say that I'm really glad that they did want to be a part of it. The movie just wouldn't be the same without any one of them!
See Kubo and the Two Strings in theaters August 19th!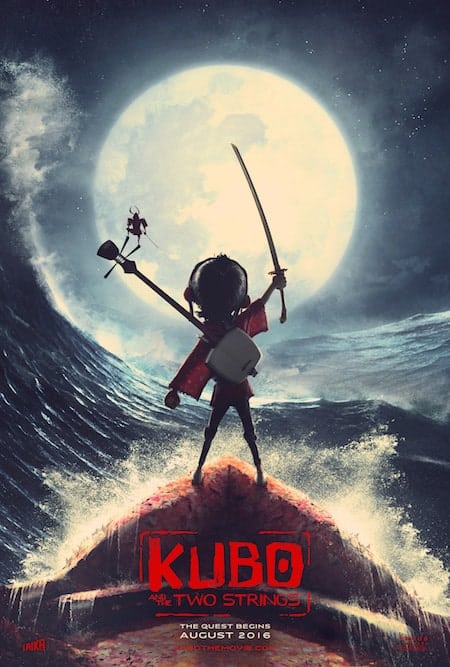 For more information, follow Kubo and the Two Strings on social: