At the heart of the classic Nutcracker story, whether it is the book or the ballet, is the young girl, Clara. In Disney's THE NUTCRACKER AND THE FOUR REALMS, Clara again takes center stage, this time played by the talented Mackenzie Foy.
On the day of The Nutcracker and the Four Realms red carpet premiere, I had a chance to sit down with Mackenzie to learn a bit about her experience with making the film.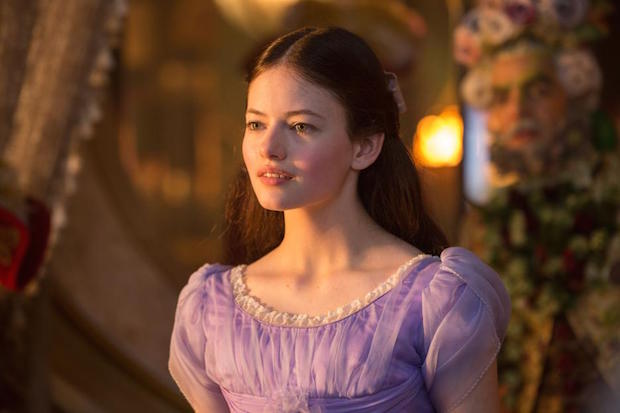 On Portraying a Classic Holiday Character:
Mackenzie summed it up saying, "It's really fun. What's beautiful about the Nutcracker is that it's such a beloved story throughout many, many years, so it's really, really, really fun to be able to play a character that so many people all over the world can relate to and have a childhood connection from seeing the ballet when they were young, and I think that's really important to be able to do."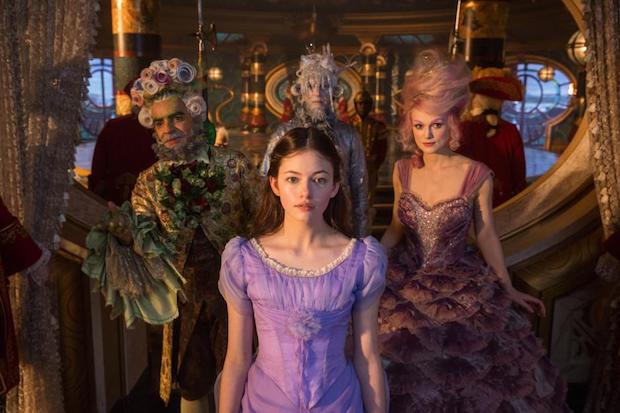 The Costumes:
When asked which of her costumes was her favorite, Mackenzie answered "I wear quite a few costumes in the film which was really, really fun. They were all handmade – all very, very intricate, which is really amazing. I really love the purple party dress because that one has a bustle and it's really fun. Actually I have a couple bustles in the film. There is a lot of detail that went into the costume design, from the tights, to the shoes, to the many skirt layers, and the bodices, and the corset. So I have a very high respect for all of the costumes, and also they have kind of a different character to them, and they kind of go with Clara's evolution, which I really like."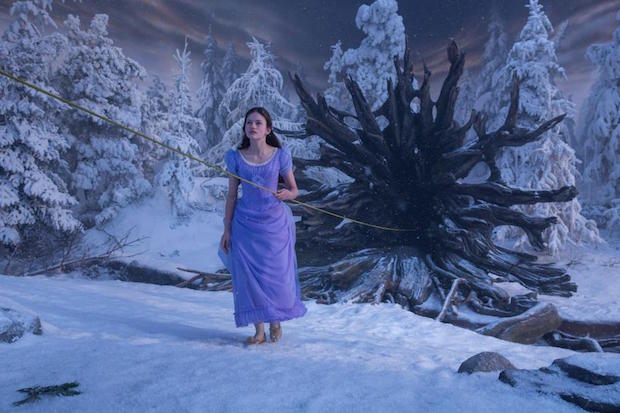 Playing the Role of Clara:
Mackenzie said that playing "every character, no matter how big or small, has its own challenges because they're all unique, and you have to do the research in order to properly create them. But I would say with Clara, and her being a main role, the story follows my character, so I have to make sure that everything is in line. I have to make sure the past is in my head, and I have to make sure I know where she's going and there is an emotional complexity with all of those things. With a bigger part, you have to go more in detail to all those things, especially how they relate to every single character in the film."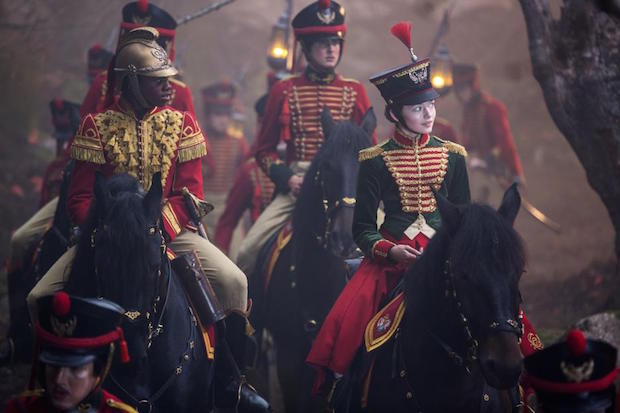 Training for the Role
Mackenzie told us, "I actually did a lot of stunts, which was really fun. I did horse training, which was awesome. I went to this place called The Devil's Horseman. These are film horses, so they're like proper stunt people. It was really, really cool being around these horses – it's what you think of in the English countryside, that's what it looked like there. It was actually amazing training outside on these beautiful horses."
The Movie's Message for Young Girls
"As for young girls" said Mackenzie, "I hope they see this film. I hope they see that Clara is unapologetically herself. Even though she's this young inventor in her time period and it wasn't really socially acceptable, she still says 'This is who I am. This is what I love to do, and I'm going to do it.'  I hope they see that and know you can do that. You can be interested in science, you can be in interested in mechanics, and you can still wear dresses and like those kinds of things."
About THE NUTCRACKER AND THE FOUR REALMS:
All Clara (Mackenzie Foy) wants is a key – a one-of-a-kind key that will unlock a box that holds a priceless gift. A golden thread, presented to her at godfather Drosselmeyer's (Morgan Freeman) annual holiday party, leads her to the coveted key—which promptly disappears into a strange and mysterious parallel world. It's there that Clara encounters a soldier named Phillip (Jayden Fowora-Knight), a gang of mice and the regents who preside over three Realms: Land of Snowflakes, Land of Flowers and Land of Sweets.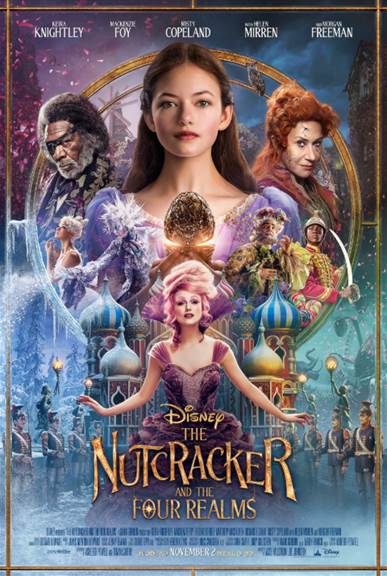 Clara and Phillip must brave the ominous Fourth Realm, home to the tyrant Mother Ginger (Helen Mirren), to retrieve Clara's key and hopefully return harmony to the unstable world. Starring Keira Knightley as the Sugar Plum Fairy, Disney's new holiday feature film "The Nutcracker and the Four Realms" is directed by Lasse Hallström and Joe Johnston, and inspired by E.T.A. Hoffmann's classic tale.
Like THE NUTCRACKER AND THE FOUR REALMS on Facebook
Follow Disney Studios on Twitter:
Follow THE NUTCRACKER AND THE FOUR REALMS on Instagram
THE NUTCRACKER AND THE FOUR REALMS opens in theatres everywhere on November 2nd!
Buy your tickets for THE NUTCRACKER AND THE FOUR REALMS today!