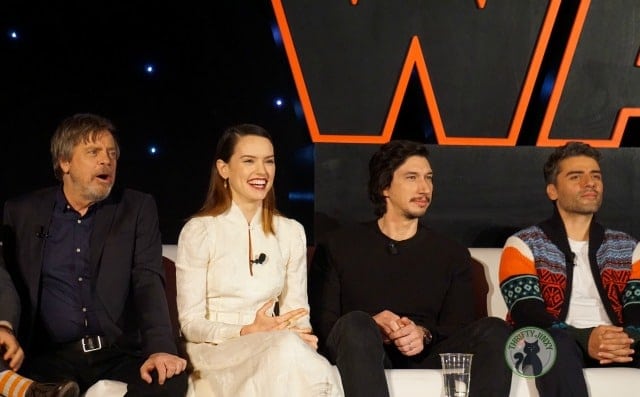 Without a doubt, the highlight of my month has been attending the STAR WARS: THE LAST JEDI press conference in LA last week. While celebrity interviews are always fun, seeing and hearing the entire cast up on stage at once was thrilling! Let me take a step back and set the scene!
We gathered at the InterContinental Los Angeles Downtown Hotel (which happens to be in the tallest building west of Chicago), with a group of roughly 170 international press, to wait our turn to enter the auditorium where the press conference was to be held. We were in such a rush to get in and score a big seat that I didn't even notice the dramatic decor of the room until I was safely settled in my chair in the second row. The room had walls draped in black fabric with the title of the movie looming large over the stage.
We then had a few minutes to grab our own photos in front of the stage before the cast made their way into the room led by a pair of ominous Praetorian Guards dressed in red. The cast at the conference included:

The Last Jedi Cast

Director Rian Johnson
Mark Hamill – Luke Skywalker
Daisy Ridley – Rey
Adam Driver – Kylo Ren
Oscar Isaac – Poe Dameron
John Boyega – Finn
Kelly Marie Tran – Rose Tico
Laura Dern – Vice Admiral Amilyn Holdo
Domhnall Gleeson – General Hux
Gwendoline Christie – Çaptain Phasma
Andy Serkis – Supreme Leader Snoke
If you would like to see the complete press conference for yourself, you can watch the video below, or keep reading to see some of the highlights.
The cast did an admirable job of avoiding any spoilers throughout the 45-minute press conference moderated by Entertainment Weekly's Anthony Breznican. Perhaps the best example of spoiler-avoidance was Mark Hamill's response to this question:
With Luke training Rey in this movie, it seems like he is in the position Yoda was in The Empire Strikes Back…. Does he learn some of Yoda's lessons now that he's the teacher?

Well, you're assuming that I train Rey. Do I? …. But, I can promise you my part is twice as big in this one as it was in The Force Awakens.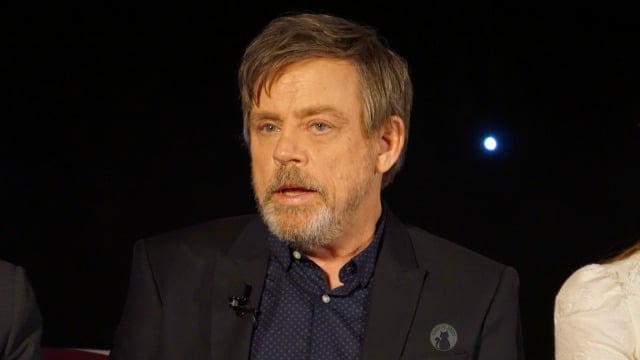 What differentiates The Last Jedi from The Force Awakens and also from the Empire Strikes Back as a second chapter in a trilogy?

Rian Johnson – It looks a little darker, but we were first and foremost trying to make it feel like a Star Wars movie. That means you have the intensity and you have the opera, but it also means it makes you come out of the theater wanting to run to your backyard to grab your spaceship toys and make them fly around. So, we're going to some intense places in the movie, but I hope it is fun and funny.

John Boyega – The story is moving forward. J.J. had a blueprint/foundation in The Force Awakens and now it's about challenging the characters. All of the characters are under intense pressure. Everyone has their reckoning. There is a lot going on!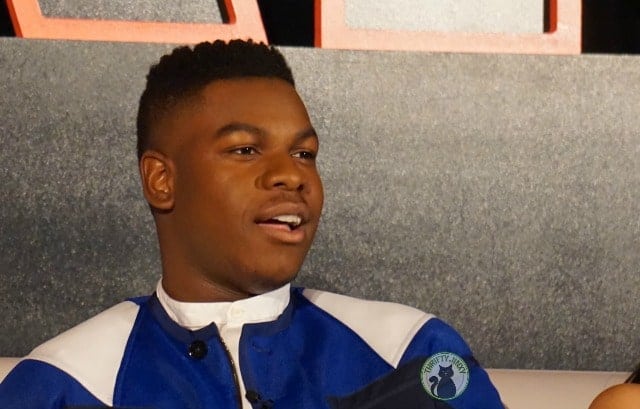 Oscar Issac – Often with the second chapter of three, because the first one sets the tone and the world and the new characters and introduces them, in the second one you don't have to spend so much time doing that and can really delve into the story of what's happening. Rian has challenged every character deeply, including the droids, with the biggest challenges they've ever faced. That's how you are able to get to learn about them on all sides.
Daisy Ridley – Since eople responded really well to John and I being a team in the first film, I was nervous about not being a team in this one. For me personally the film was a challenge to be in different combinations of people.
Andy Serkis – I was blown away when I saw the movie. I was so caught up not in the least because it was really intimate and very emotional. I wasn't expecting that at all. It's very, very powerful and it touches you. What Rian has done incredibly is made this dance between these great, epic moments and hilarious antics – literally flipping on a dime and going into the heart of these characters and really caring.
Gwendoline Christie – I was delighted by the film. Star Wars has always resonated with us so deeply because it's our foundation story of good against evil and where that balance is. We see elements of characters we've never seen before. Things that can be unexpected.
There's something about this film, I think because the world we live in is a changing and evolving place, that it retains the simplicity of those elements but it really resonates with what it is to follow your own human, dark, narcissistic tendencies – where that will take you. I loved taht and it's done so beautifully esthetically too.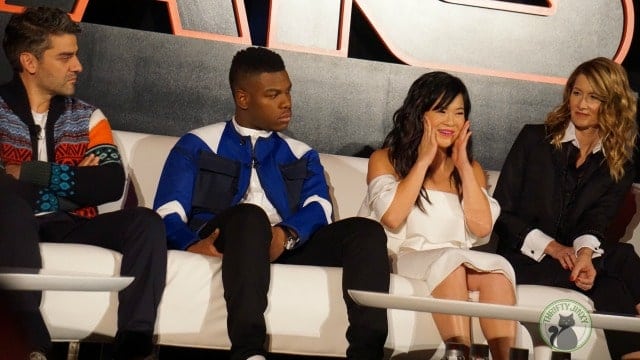 There are many more female characters in this movie and that is going to mean a lot to little girls. What does it mean to you?

Daisy Ridley – Growing up in London, obviously I knew there was a disparity in films but I wasn't so aware of it growing up in a liberal household. I was never really made to feel any one way. When I got involved withthe film, I knew it was a big deal, but the response was so beyond anything I could have imagined. It's not like I ever took it for granted but it was just so monumental in the response and how people felt about it. What's great about everyone is that it's not like, "She's a girl. This is a guy." It's just great characters that are happily falling into broader categories now. So, I'm thrilled.
Kelly Marie Tran – I agree it feels like both an honor and a responsibility at the same time. At the beginning when I initially found out I got this role I just felt like I wanted to do the whole thing justice. I'm so excited! The girls in this movie kick some butt. Every single one is so good and I can't wait for everyone to see it.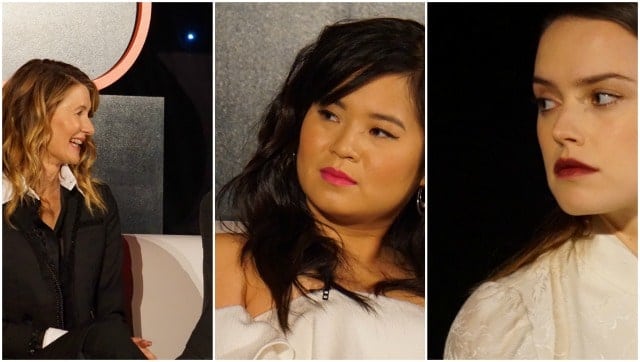 Laura Dern- I just want to pay tribute to Rian for being one of the most brilliantly subversive filmmakers I've ever been able to bear witness to. I n the case of the look of my character, I was moved by the fact that he really wanted her strength to first lead with a very deep femininity. To see a powerful female character also be feminine is something that moves aways from a stereotype that's sometimes perceived that strong female characters must be like the boys. I thought that was a really interesting choice.
Gwendoline Christie – I wasn't cast in the first Star Wars film yet when I heard about the casting and I was utterly delighted to see there was a more representative selection of actors that were going to be in these incredible Star Wars films. That has continued. Everything that my amazing colleagues have been saying is absolutely right. You get to see women that are not being strong just because they're acting like men. They're doing something else and you're seeing a developed or at least a developing character that's showing some complex character traits. I'm just delighted about that. I'm delighted that something as legendary as Star Wars has decided to be modern and to reflect our society more as it is.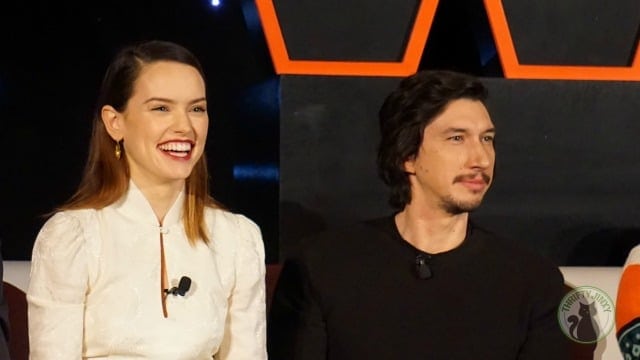 Like STAR WARS on Facebook
Follow STAR WARS on Twitter
Follow STAR WARS on Instagram
Follow STAR WARS on YouTube
Visit the official STAR WARS: THE LAST JEDI website
STAR WARS: THE LAST JEDI opens in theatres everywhere December 15th!