Gwyneth Paltrow is a super busy woman these days. Not only does she have a starring role in the #1 box office hit, Iron Man 3, she also has a brand new cookbook on the shelves, "It's All Good". It's a collection of health-centered recipes for REAL food. As its tagline states, they are "Delicious, Easy Recipes that will make you LOOK GOOD and FEEL GREAT."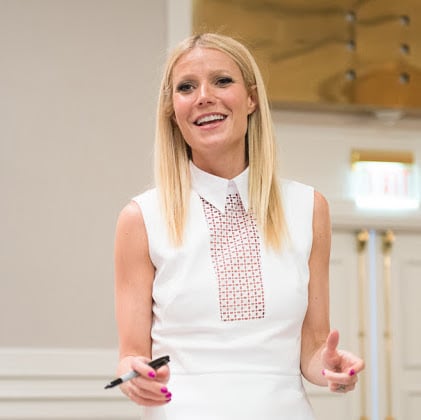 The day of the Iron Man 3 premiere, we had the opportunity to interview Gwyneth and she gave each of us a signed copy of her wonderful book. I had planned to work and/or catch some sleep on my long flight back from LA, but ended up reading her entire book on the plane. Talk about inspiration. I had the urge to rush home and purge my kitchen of any junk and make a mad dash to Whole Foods the next day. This was mostly due to the fact that the recipes looked and sounded so delicious, but were also things I could really feel good about eating and feeding to those I care about.
At the interview, Gwyneth shared about writing her book and her thoughts on food.
Q: How did you get into writing cookbooks?
Basically, started writing down my recipes because I was always a cook and a foodie, and my friends would call me and and ask questions like: I have a guy coming over and I have no idea what to make. Or, what temperature do I roast this at? Or what's an easy dinner? So I started writing them all down, and then when my dad died. He was the one taught me cook and we learned together and our connection to food was such a part of our relationship. So I thought it would be really nice because I sort of felt him in the kitchen, and felt it would be nice to write the recipes to kind of pay homage to him and our relationship at the same time. And it was cathartic. I really felt him there.
Then this book I did basically because my son has really bad eczema, so I did the food allergy tests and he's really allergic to gluten and cow's milk. I felt so bad for him not having regular ice cream and, meat balls and stuff. So I started to make basicallya mini-encyclopedia of totally yummy comfort food that's on his die It has been incredible because so many people are trying to avoid gluten either for weight or they're allergic to it.
Q: What advice do you have regarding the best nutrition?
A nutritionist once told me the way that we've changed our diet in the last fifty years is crazy. If you showed our grandmothers and great grandmothers the way we were eating, they'd say, 'This isn't even food. What are you doing?' Because of the convenience of it, of course, we've gotten use to it and I'm the same. Like, I buy turkey jerky and horrible things that I shouldn't buy. The nutritionist said to me that when you're at the supermarket to shop the periphery. That's where all the fresh food is. That's where the chicken, fish, beef, whatever- everything fresh is on the periphery. Just avoid those aisles. It really makes sense because that's where all the processed food is – all the preservatives and conservatives are all there preserving all this food product that's not really food. My philosophy is always that I try to cook really healthy at home because I can't control what they eat away from home or at friend's houses – Nor do I want to. I want them to be autonomous and make their own choices and have a life. But I think that's their balance and my balanc. I try to cook healthy at home, and then out I'll eat whatever I want to.
Q : How do you keep your kids healthy when you're away from home?
We were just in Paris on the Iron Man press tour. Try eating gluten free in Paris. It is a nightmare. My poor child. So you know what I try to do? I mean, he totally ate a croissant; he ate bread, and it was inevitable. But one day I said let's go find Japanese food. Asian foods are amazing for avoiding a lot of that stuff. Or even Mexican food, with the corn tortillas and guacamole. It's awesome and it doesn't feel like health food, but I'm avoiding what he's not supposed to have. So I just try to get a little bit more creative about it.
So, now that I'm home, I'm starting to try a few of the recipes from "It's All Good". Today I made this delicious granola and I'll even share the recipe with you. I think it's one of the best Gwyneth Paltrow recipes.
I only made 1/2 batch at a time and made a few adjustments like changing the oven temp to 375 degrees, only cooking 18 minutes and subbing raisins for the figs (next time I WILL get figs).
Quinoa Granola with Olive Oil + Maple Syrup
1/2 cup extra virgin olive oil
1/2 cup good-quality maple syrup
3 cups quinoa flakes
Course sea salt
1 1/4 cups roughly chopped raw walnuts
1 1/4 cups roughly chopped raw pumpkin seeds
3/4 cup roughly chopped dried figs (stemmed discarded)
3/4 cup roughly chopped pitted prunes
Preheat oven to 400 degrees F.
Whisk together the olive oil and maple syrup in a large mixing bowl and add the quinoa flakes, stirring to combine thoroughly. Evenly spread the quinoa on a parchment-lined baking sheet and sprinkle with a pinch of salt. Roast, stirring now and then, until the flakes are dried and crunchy and a lovely golden brown, about 25 minutes. Let the quinoa mixture cool completely before mixing with the remaining ingredients. Store in a glass jar for up to 2 weeks.
See Part ONE of An Exclusive Interview with Gwyneth Paltrow Just Hours Before the Iron Man 3 Premiere
Disclosure:
Disney sponsored my travel, accommodations and activities
during the #IronMan3Event. Any opinions expressed are my own.