I know it was a busy Memorial Day weekend, but did you have a chance to see TOMORROWLAND? If you haven't yet, this week would be a great time to take your family to see Disney's lated film, rated PG. Need some more convincing? Maybe George himself can influence you! See our previous George Clooney interview here, and then read on to hear what else he had to say.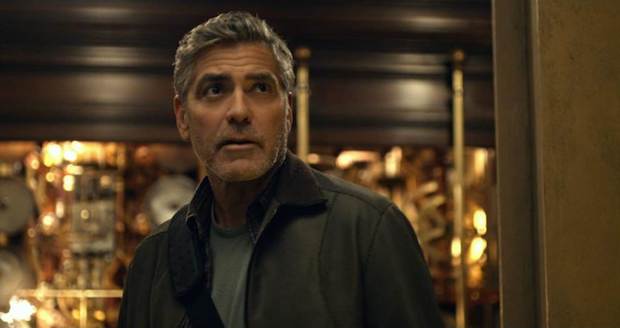 George has some brilliant young co-stars in Britt Robertson and Raffey Cassidy and we asked him what it was like working with these talented young actors. In typical witty Clooney-fashion, he started by saying, "I didn't like them." He then genuinely added, "Britt is fantastic. Her career is just at the very beginning and is going to be really fun. Raffey is spectacular and she was just 12 at the time. She is way too talented for her age, and sweet and funny. It was fun for me because if you saw me speaking to a 12-year -old at the grocery store the way I speak to her, you'd call child services." He said that they were like a little family of three where Raffey is the adult driving the car and and George and Britt are the two kids arguing and bickering all the time.
"But they were fantastic and I think they're having a really fun time with this, which is how it's supposed to be. When I work with younger actors, I always have to try to remind them that this is the fun kind of job that most people don't get to do. If you get to be an actor and work, and somebody pays you for it, you've caught the brass ring."
In response to the next question, "What was your favorite scene or favorite fun memory while filming Tomorrowland?", George's first answer was again a ringer – "I don't remember much of it. I was drunk most of the time."  But, what George said he really enjoyed was that the film wasn't all done to green screen. They built actual sets where the actors got to "play". He enjoyed the driving scenes where young Raffey was behind the wheel. "It was just old fashioned, three people sitting in a truck for five days, arguing and doing fun stuff. And that's really fun for actors, because you don't have to do any make believe. It's all just right there."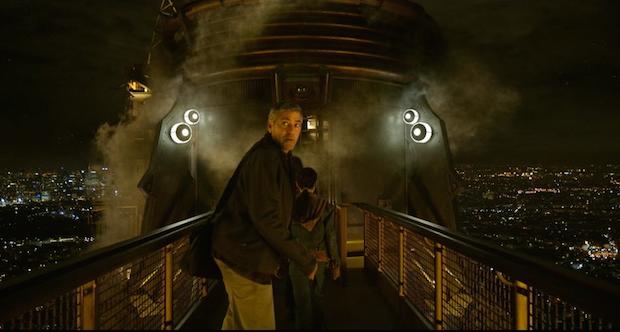 Taking it to a bit more of a serious level, the next question for George was "Where there any scenes that were emotionally hard for you to film?"  George answered, "Emotionally hard, no. Because I find movies in general aren't emotional. You're involved in them, but it's not really that something honestly terrible has happened. It is still make believe. But, I did find the moment where I have to let Raffey's character go was tricky. We had shot it once and she kind of clicks out, but her eyes are still open and we drop her out, and it literally feels like I'm murdering her. It's so disturbing and it was really awful, so we went back and re-did it where she sort of completely goes out, because otherwise it really felt horrible. There are all kinds of weird balances in this film. In my relationship with her we're walking a very thin line. Thankfully, Brad is  really good at what he does and he made it much simpler.

TOMORROWLAND is rated PG and in theaters everywhere NOW!
Like TOMORROWLAND on Facebook: https://www.facebook.com/DisneyTomorrowland
Follow Disney Pictures on Twitter: https://twitter.com/DisneyPictures
Visit the official TOMORROWLAND website: www.Disney.com/Tomorrowland