So, this happened on Friday – – I MET GEORGE CLOONEY!! Let me back up a little bit. I have been mentioning here over the last month or two that I was headed to Los Angeles for the TOMORROWLAND press junket. Well, last week was the week and I have to say that meeting George Clooney was the highlight of my trip. (My year? My life?) Over the last few years I have been fortunate to have the opportunity to meet and interview a lot of celebrities and, by this point, I am usually pretty calm and collected about it. But let me tell you – – I was FULL of butterflies waiting for George to come into the conference room for our interview. This was my "pre interview" Instagram post:
When he finally arrived, those butterflies started going nutso. Believe it or not, he looks even more handsome in person. Like WOW quality handsome. But, not only that – He was funny! He was friendly! He was witty! He was fun! He was genuine! I may wear out the exclamation point key on my keyboard! Seriously (and with no exaggeration) he was everything you could hope for – at least everything I had hoped for.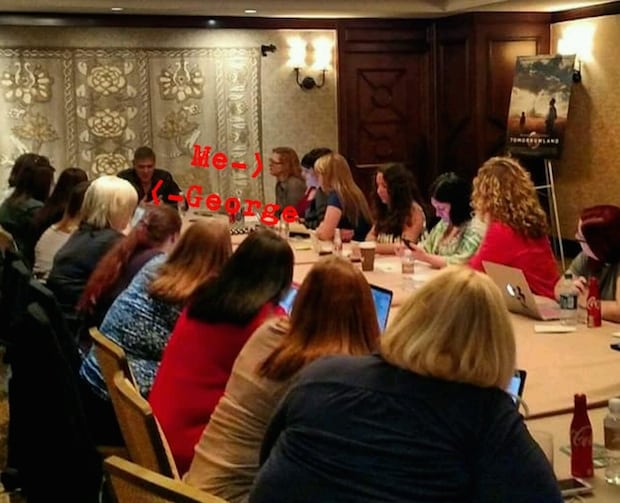 Our 20-minute interview flew by. I'm very glad that we have a transcript of the recorded interview because I was content to sit and listen to him and stare into those beautiful eyes (yes – we had eye contact!) and this somewhat hampered my memory capabilities. But, what he said was equally as special as his good looks, so I'm happy to share that with you.
When asked about what drew him to working on TOMORROWLAND, George Clooney first off mentioned Director/Producer/Writer Brad Bird and the fact that he just doesn't make bad films. Then, upon reading the screenplay, the loved how it contradicted with the bad news that we are inundated with in our lives. "What I loved was the idea of the script saying the future isn't just automatically inevitable and that you have to participate – or you don't have to just accept how it ends. I was born in the early 60's, so I grew up in the era where the individual actually had effect – the civil rights movement, the Vietnam movement, the women's rights movement. I was raised that there was a version of this where you could affect the future and you didn't have to just accept it. The Russians weren't necessarily going to just blow us all up with the nuclear bombs. So I really loved the idea of hearing this again – this idea that we're not just necessarily doomed, that there's something that you can do about it if you pay attention."
George thinks the jet pack featured in TOMORROWLAND would be a pretty cool invention to have today and laughingly described how he would use it. "So you're at LAX. You get your bags. You've got to get to Studio City. It's 4:30 on a Friday. It would be the greatest moment ever, just blasting right over all the traffic. I think it would be fantastic, although I don't know that I want everybody to have one because they'd just be circling my house yelling "Hey! What's Amal gonna wear to the Met Ball??" I don't know if I want everybody to have a jet pack."
George was then asked what the message of the TOMORROWLAND would be for young people. He stressed that it's a summer movie and isn't meant to be an "eat your spinach" lesson-learning kind of thing. On the other hand, the movie does say the idea of the movie is that the future is yours to decide what it will be. "When you look at the world you see how sort of tragic it can feel and it has always been that way. It wasn't particularly great in 1968 either. There were assassinations and there were wars and there was civil unrest and riots, but we weren't as inundated with it, and so there was always still a hopefulness that the future was still going be alright. I feel as if we have to get to that point where we all understand that the individual is not helpless."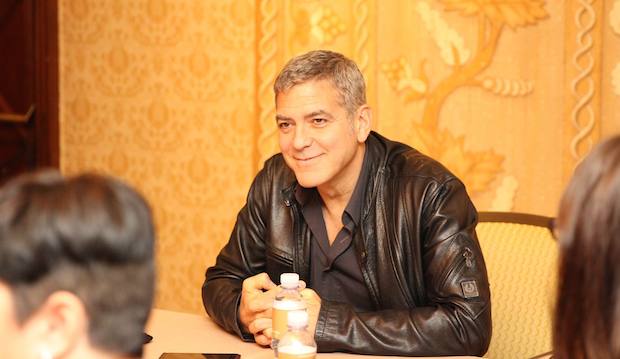 While George Clooney recognizes that his status enables him to do things others might not, that urge to do so has been there since his childhood. "An advantage since I've become successful is that I understand that I have a voice that I can amplify things, so I can make Darfur louder or there are things I can do to try to affect change. But I was like that when I was 10, because I was told that your voice has to matter and has to participate, even if only two people hear you, because those two people may change. I would say my parents taught me that and their parents taught them that, and I feel as if there's a world where we have to constantly remind not just young people, but also ourselves, that we're not just stuck here."
"I also think we have to find a way to put news back in perspective. Part of the responsibility of news in general is not just to report on it, but put it in perspective. My father was an anchorman in Cincinnati, Ohio. When he was covering a story about some skinheads at Fountain Square who were going to rally, seven guys showed up saying horrible things. He had to cover the story and in the camera it looks really awful. There are about 2,000 people yelling at them. My dad said okay and they went upstairs to Carew Tower, which is the tallest building in Cincinnati, and had the camera shoot down on the park with these seven little tiny people in a town of 400,000 who are just yelling and being jerks. It's a town that otherwise is functioning perfectly and people are getting along and working together and you realized in perspective it meant nothing. It meant absolutely nothing. I feel we're losing perspective of the things that are going on in our world. We think it's just nothing but apocalyptic stuff and I don't believe that necessarily is true. There's an awful lot of good and it's hard to report good because it doesn't sell. So I think that maybe along the way, it would be nice to remind ourselves that there's an awful lot of good that's being done too."